21 Amazing Outdoor Wedding Ideas
If you're hosting a wedding in the great outdoors, you'll definitely want to put some of these amazing ideas to use.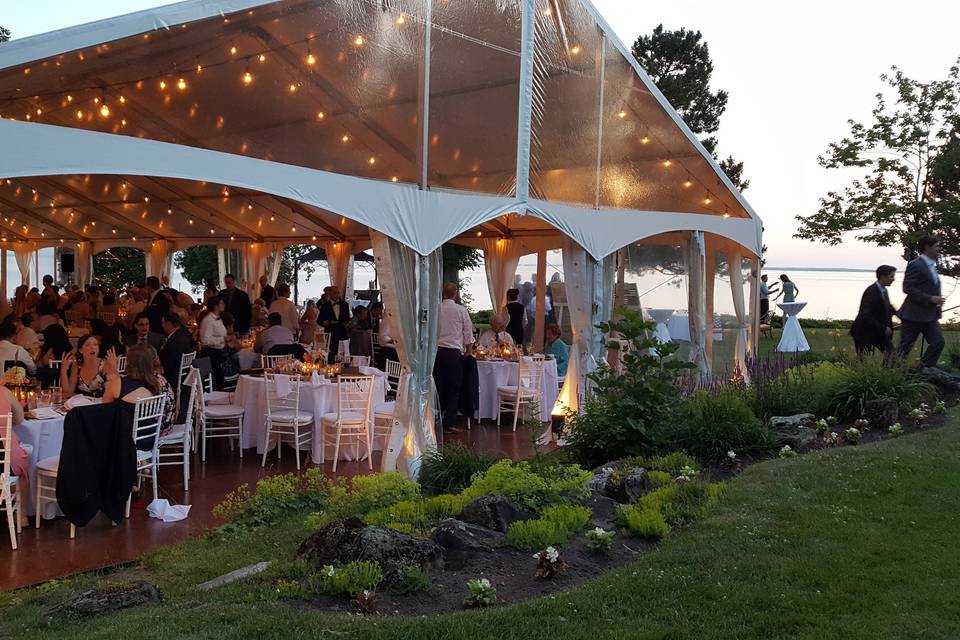 Looking for some fun and fresh ways to make your outdoor wedding more memorable? Well, we're here to help you put together one truly epic event. From lawn games to grazing tables to food trucks, there are plenty of ways to take your open-air celebration to the next level. We've rounded up a few of our favourites to point you in the right direction. P.S. you may want to show this list to your wedding planner so they can help you prioritize what will work with the wedding plans you've put together so far.
Here are a few amazing outdoor wedding ideas.
Bring on the fun and games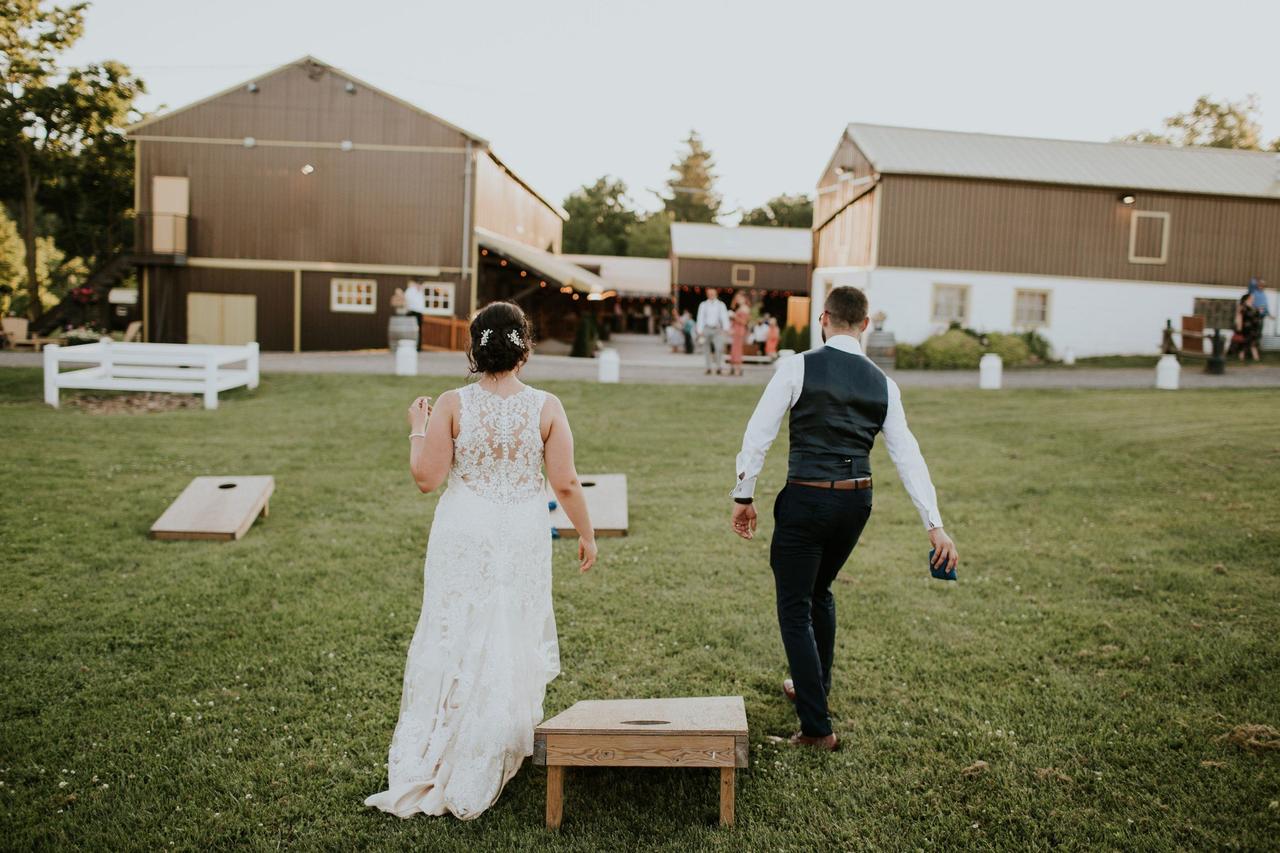 Outdoor wedding venues typically have a lot more space to work with than ballrooms, lofts, and restaurants. That means you can set up fun lawn games like corn hole, giant Jenga, hoola hoops, bouncy castles, fair games, and whatever else you can dream up.
Put up a grazing table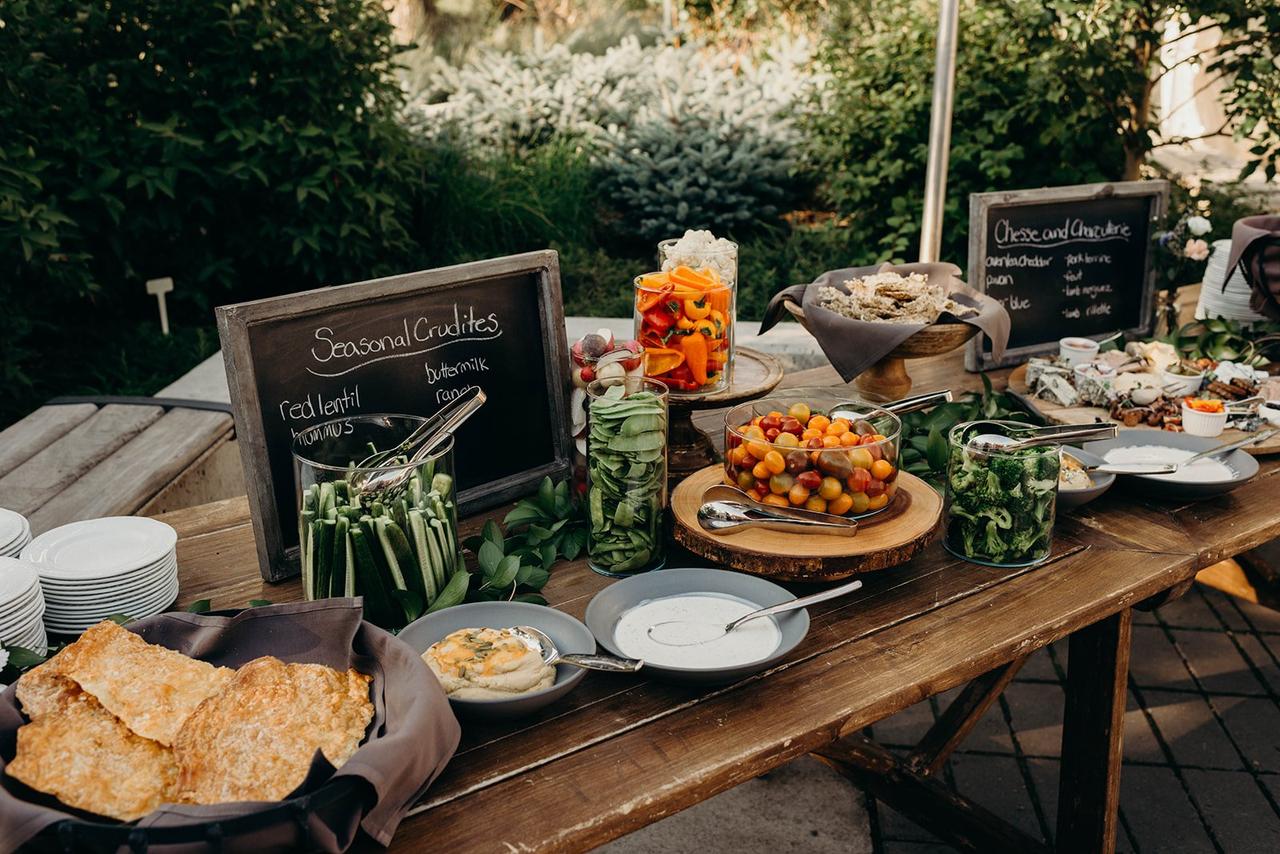 Have a grazing table at your cocktail hour, in case your guests get a bit peckish post-ceremony. From charcuterie to fresh fruit to crudites, you can pack it with just about anything. P.S. If you want to save money, you can totally craft it yourself with goodies from your local grocery store.
Serve dinner from a food truck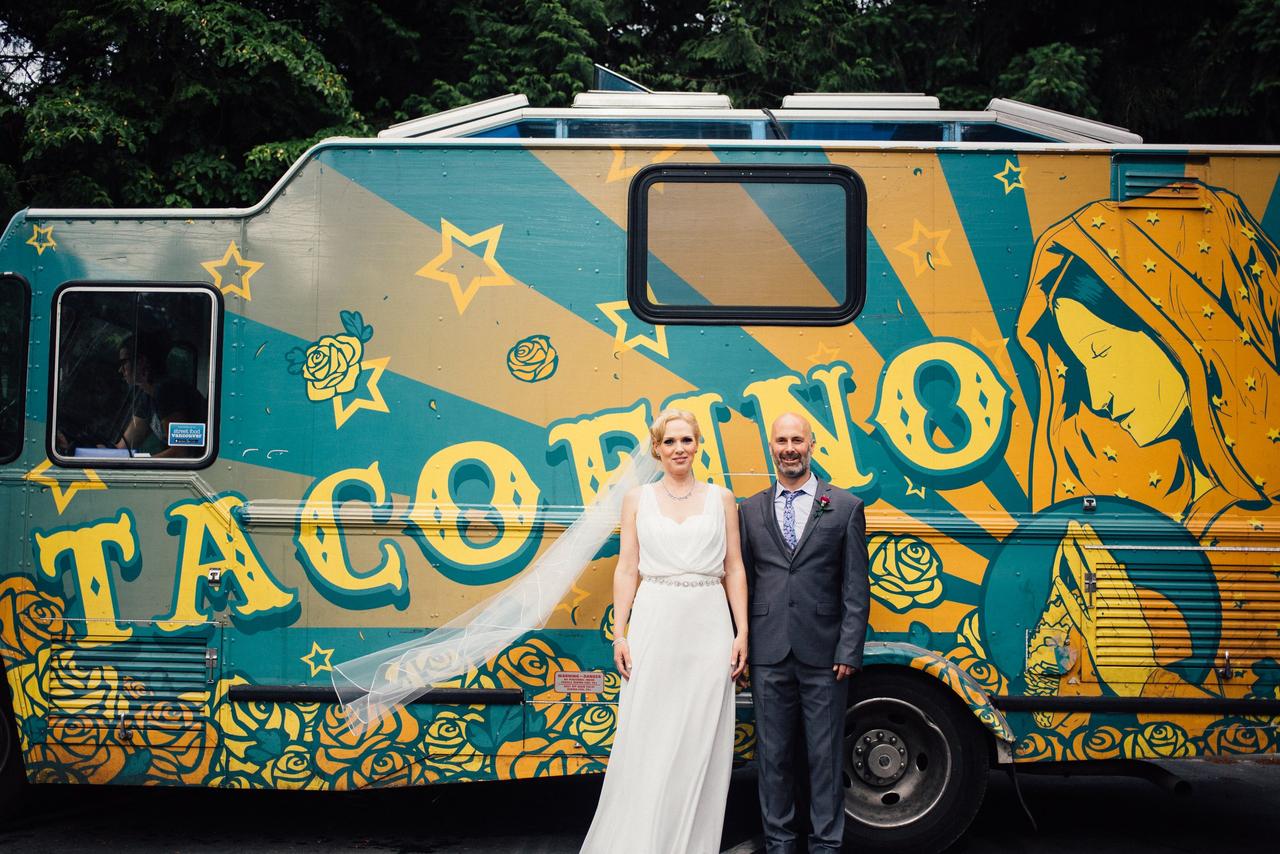 Food trucks are one of the hottest catering options for weddings, and if you're hosting your celebration outdoors, you can totally jump on the bandwagon. Check out our listings section to see what food truck options are available in and around your wedding destination.
Roll out the red carpet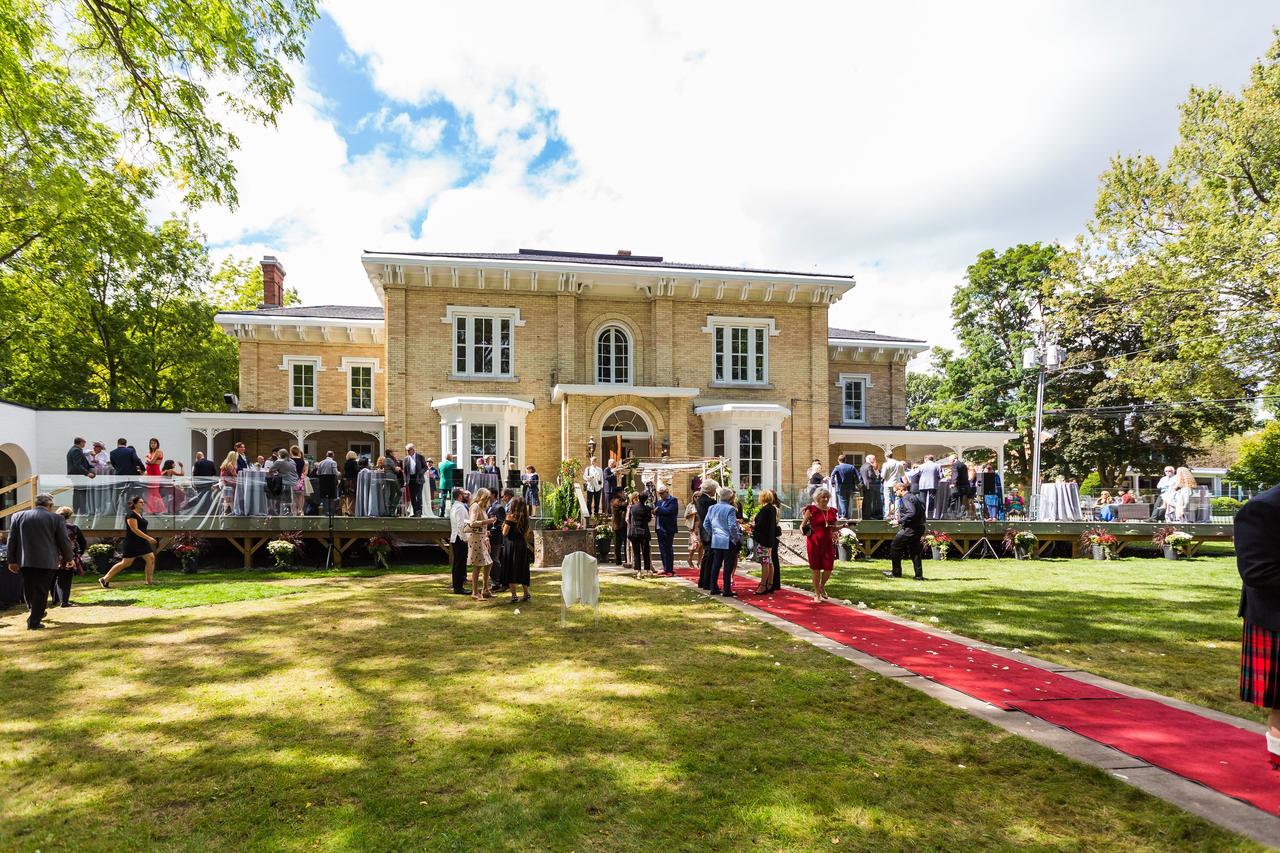 Make your guests feel like total VIPs by rolling out the red carpet for them. This will also not-so-subtly show them where the entrance to your outdoor wedding is, so you won't need to go overboard with signage.
Create a drink station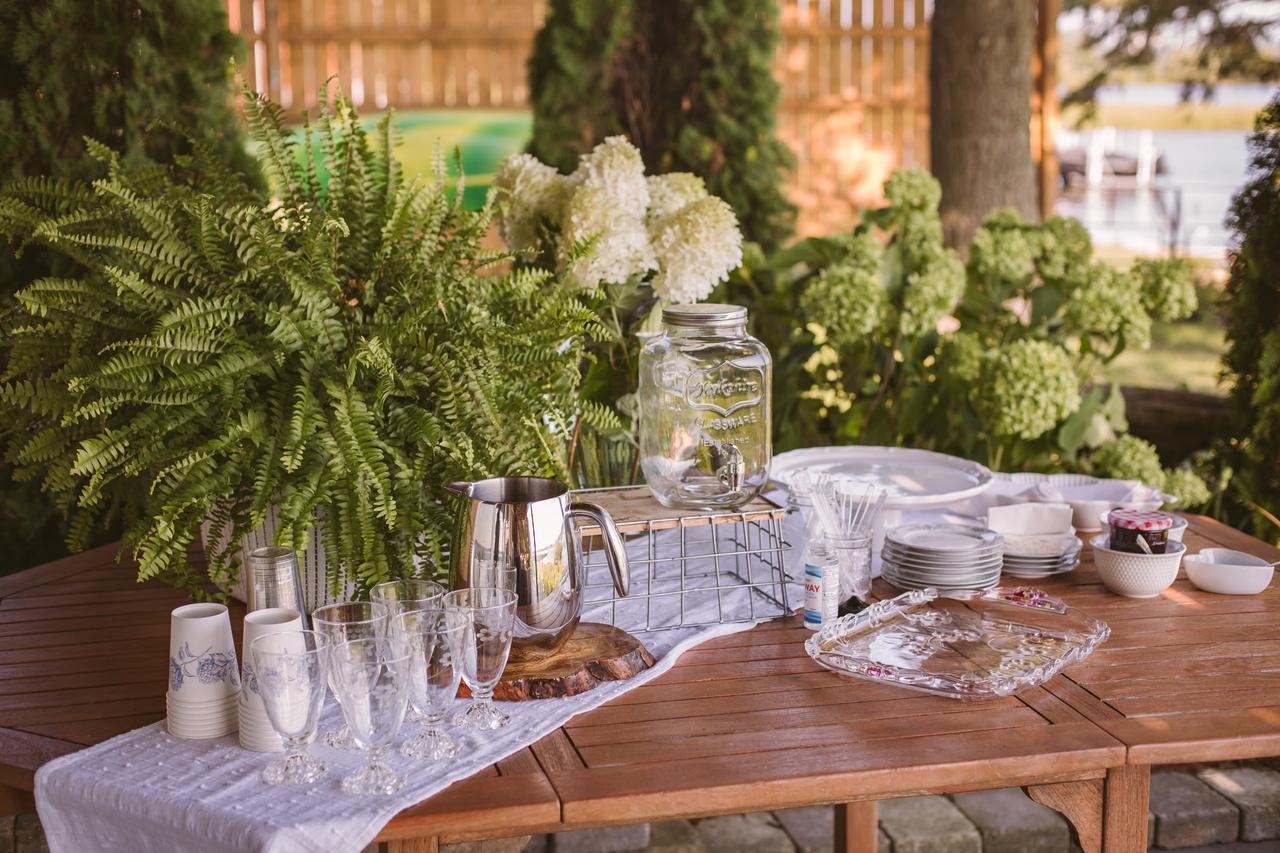 If you've chosen a wedding date in the summer months, your guests are gonna get hot. Create a self-serve drink station so that your guests can pour their own beverages when they get steamy. It doesn't have to be boozy—lemonade, ice tea, and infused waters are just as great (if not better) than alcohol!
Bust out the picnic tables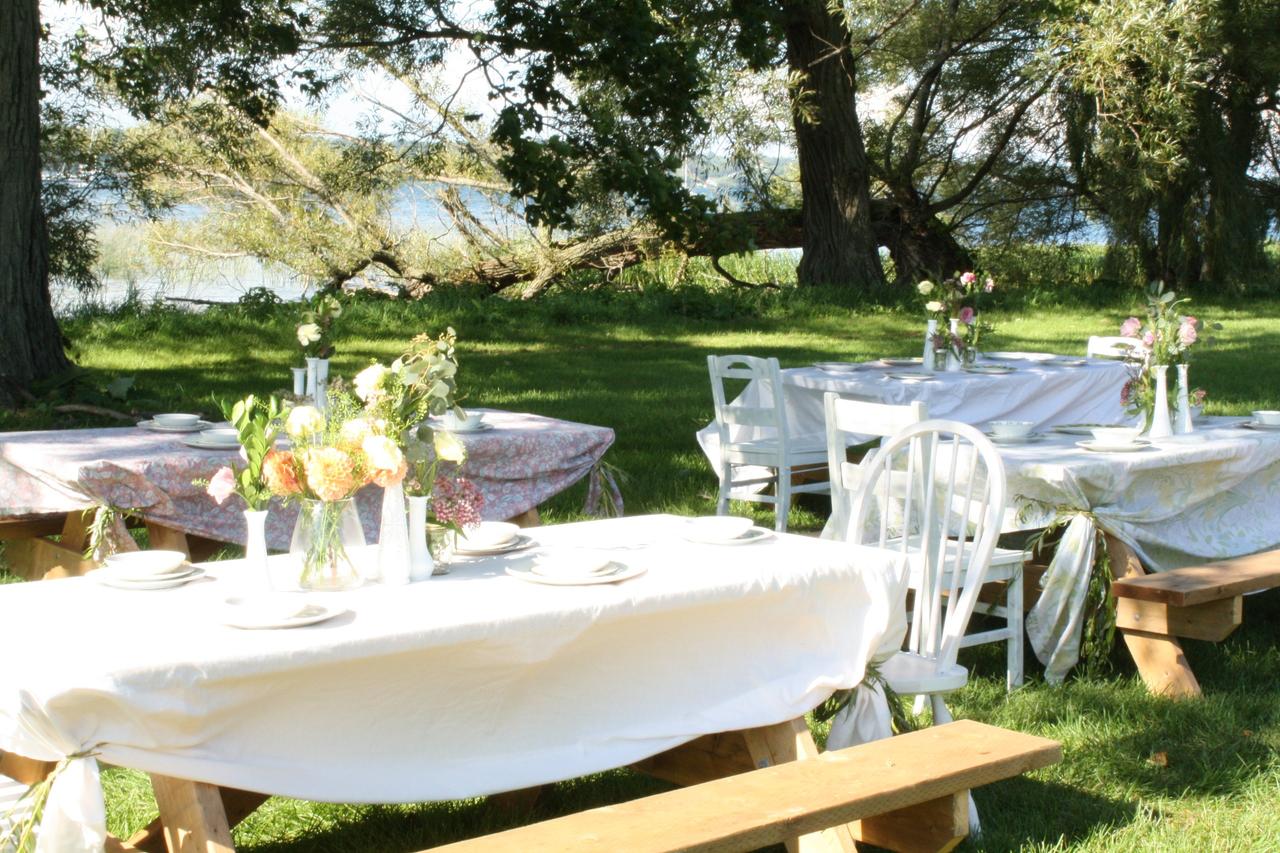 Instead of traditional round table seating or long, family-style tables, have your guests eat dinner at picnic tables. They'll add to the charm of your outdoor wedding and save you from renting tables and chairs, because the seating comes built into the tables!
Stock up on greenery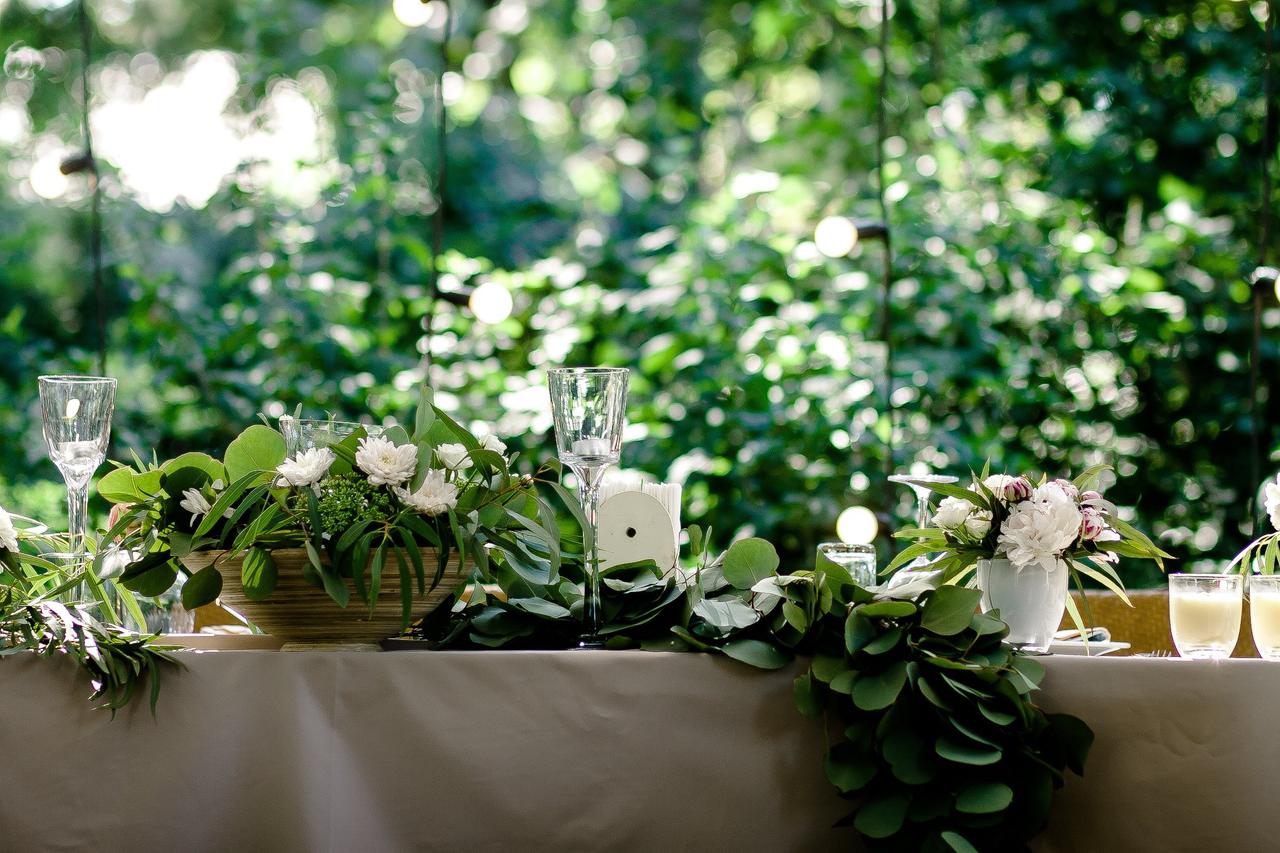 Outdoor weddings and greenery are a match made in heaven. Of course, you'll probably want to add a few beautiful blooms, but branches, sprigs, and leaves are truly where it's at.
Have a bonfire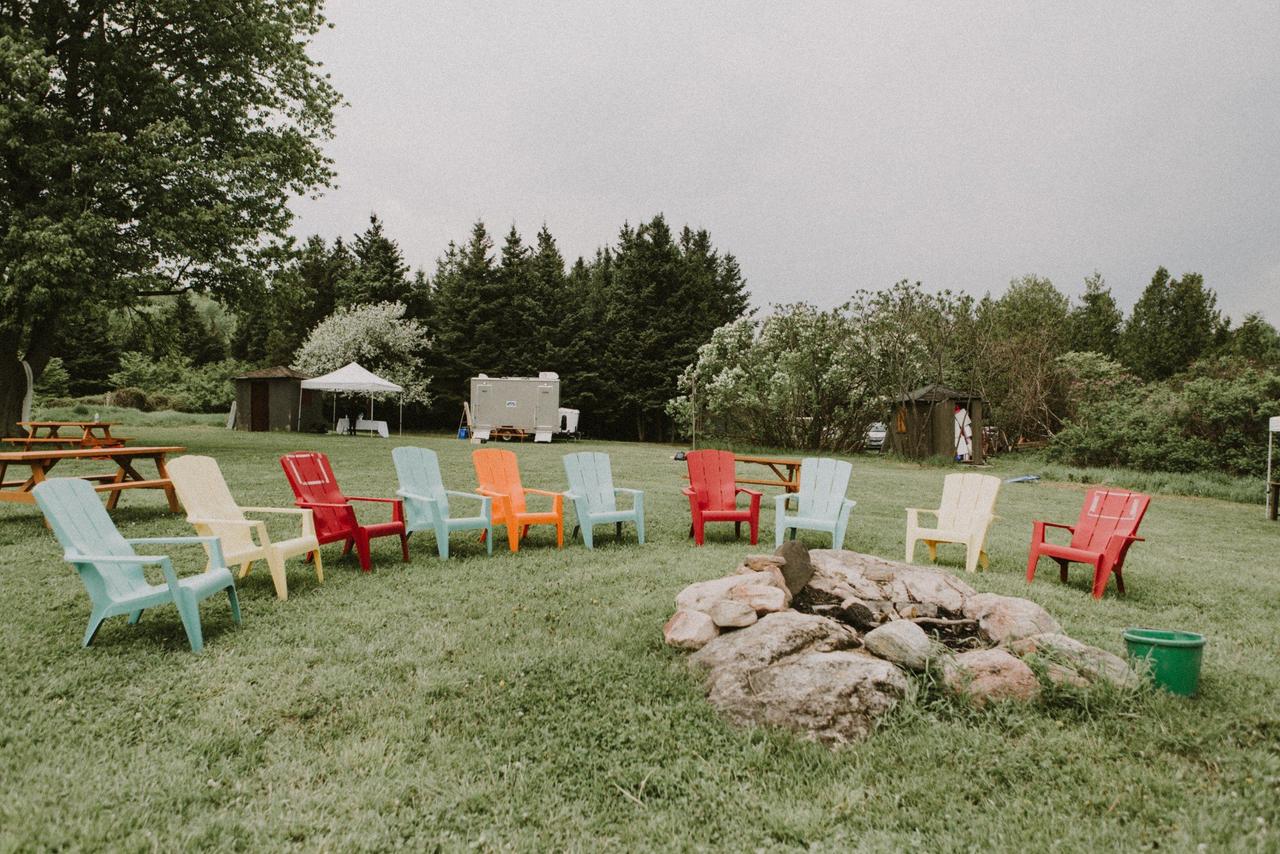 Take advantage of all the open space you have by hosting a bonfire after the sun goes down. Offer your guests marshmallows to toast or put up a s'mores station to really enhance those campfire vibes.
Cover the place in string lights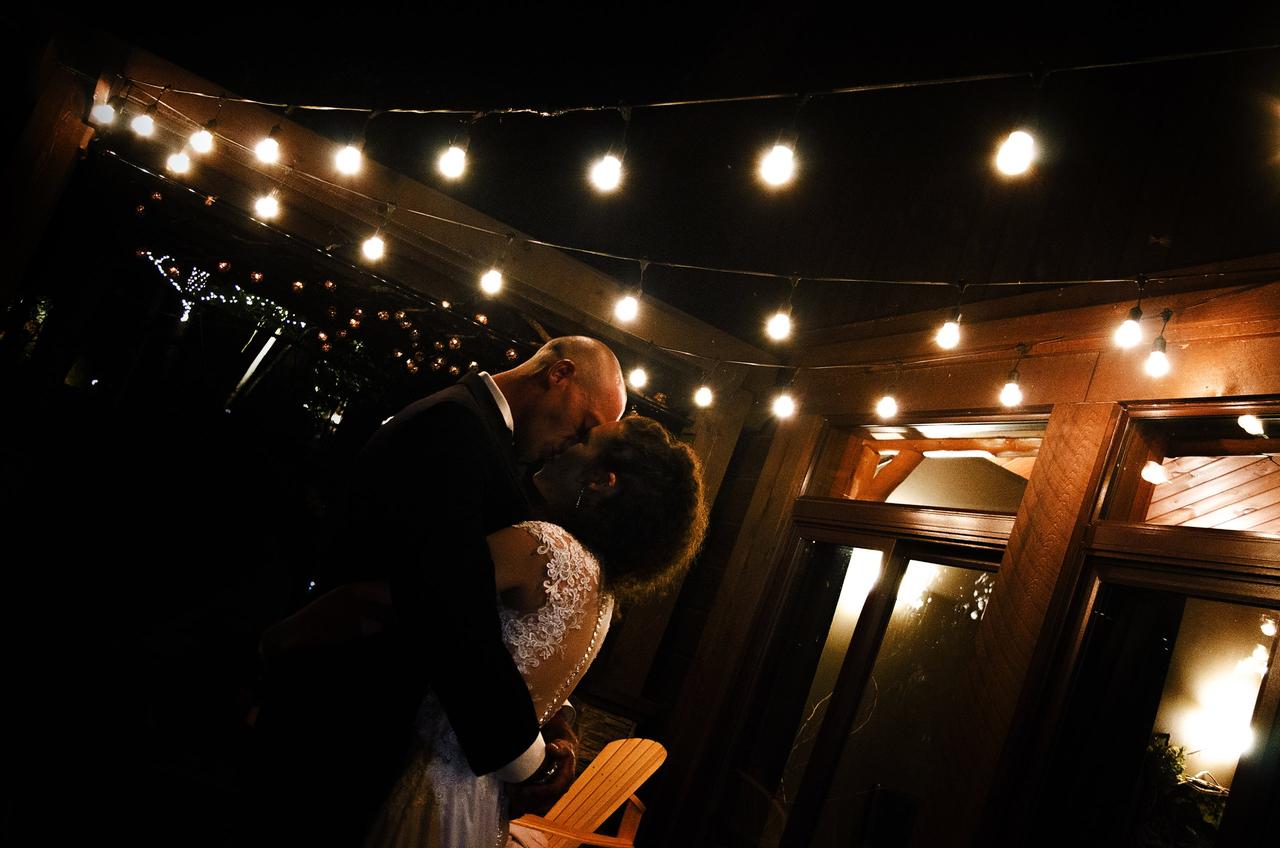 Drape string lights everywhere possible! From the beams overhanging the patio where you're hosting your reception, the top of your marquee tent, and the trees surrounding your dancefloor — honestly, the more, the better!
Scoop up ice cream from a classic truck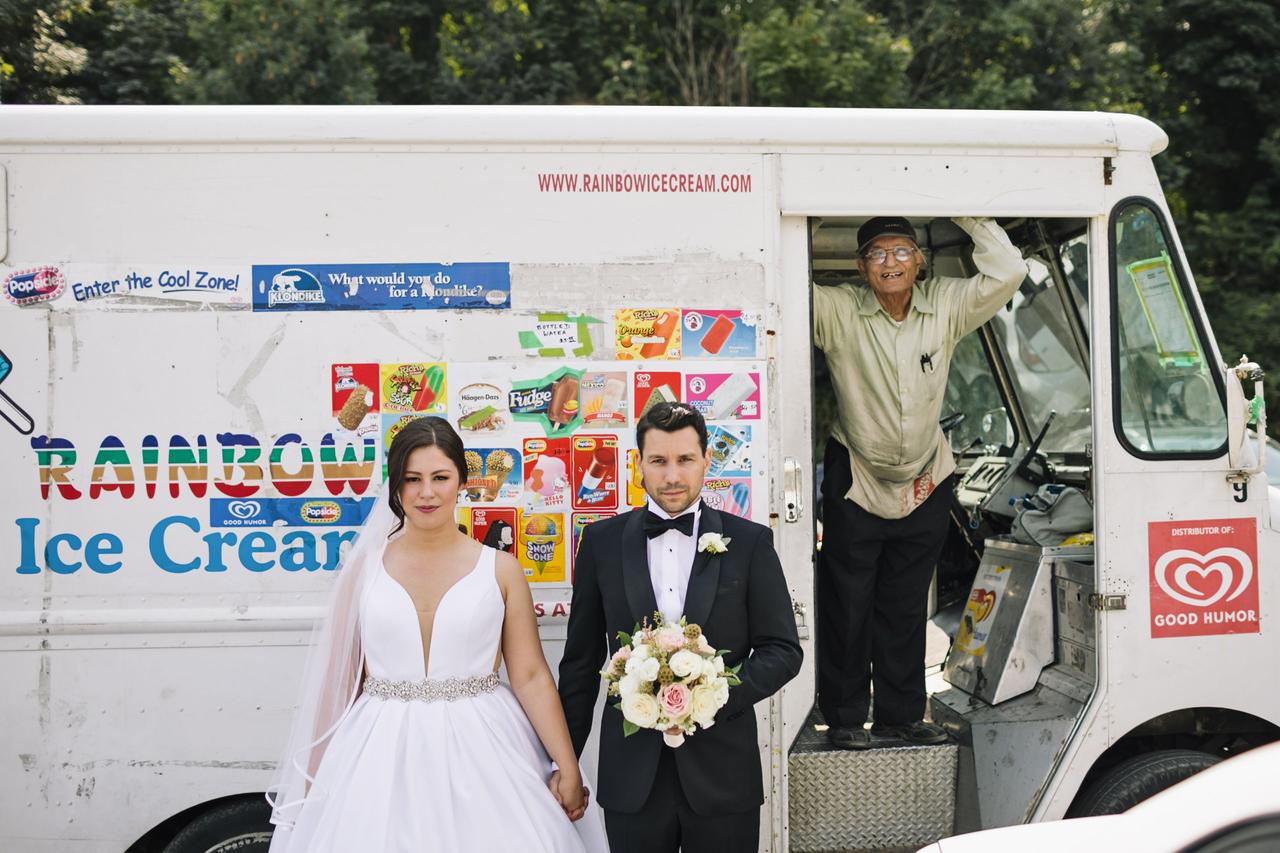 You're probably going to be serving cake for dessert at your wedding, but there's no such thing as too many sweet treats. Hire an ice cream truck to swing by your reception so everyone can indulge in a frosty treat or two.
Seat your guests on hay bales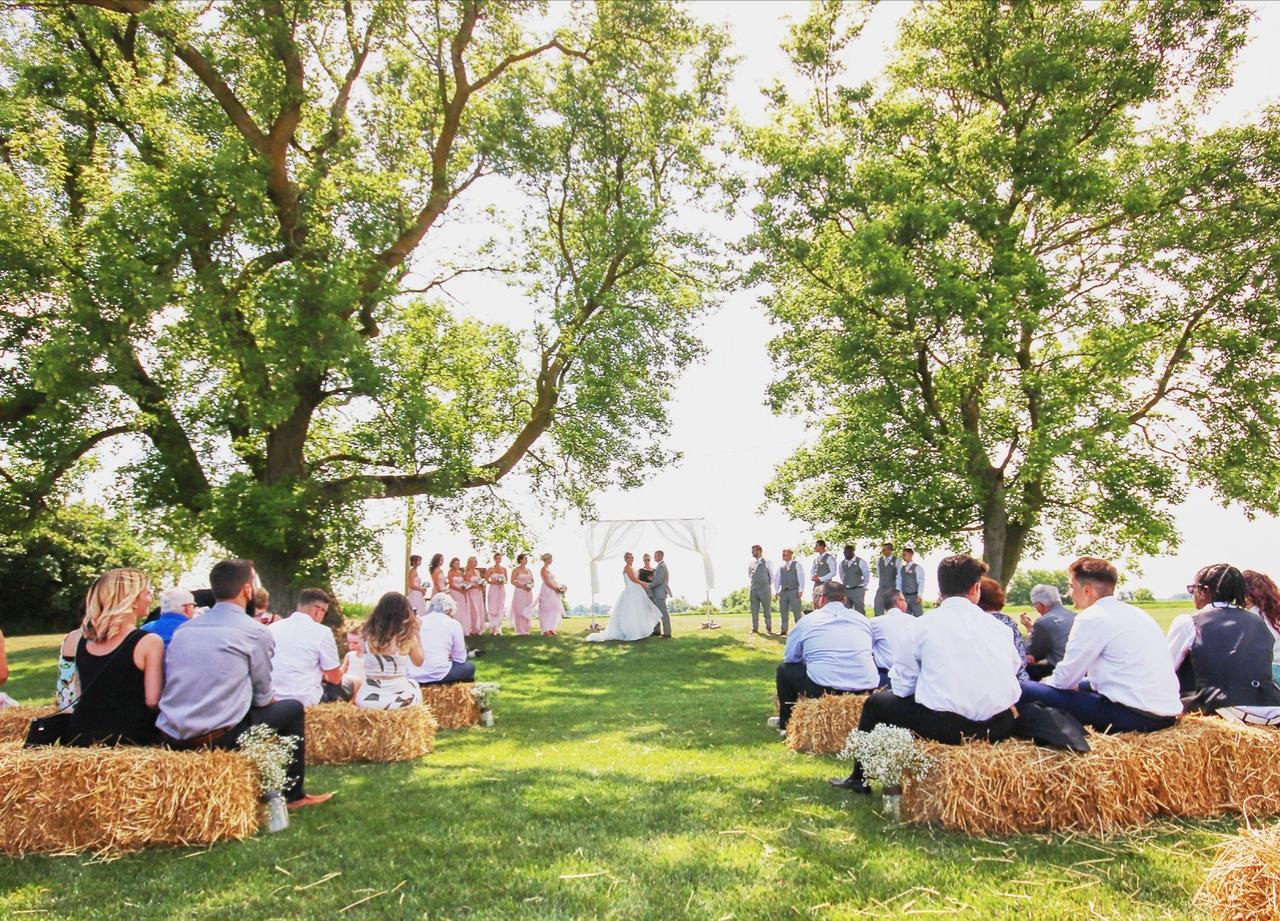 If you're looking for a non-traditional ceremony seating option, go with hay bales. Don't forget to cover them with blankets or throws so that your guests stay comfortable until the time you say your "I dos".
Make a barrel bar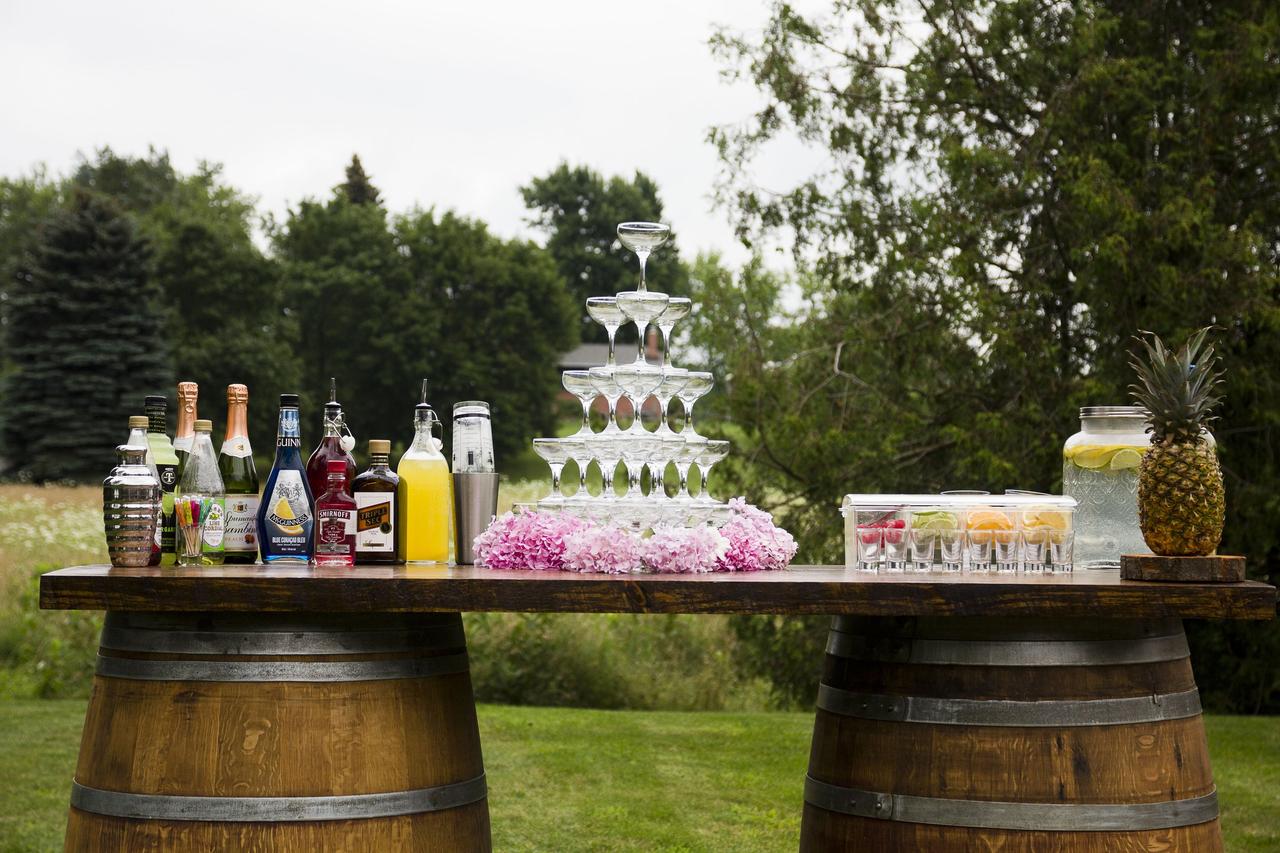 Barrel bars are fan favourites for outdoor weddings because they're both decorative and functional. If your venue already has a built-in bar, you can use barrels to hold floral arrangements, card boxes, or favours.
Bring the indoors outside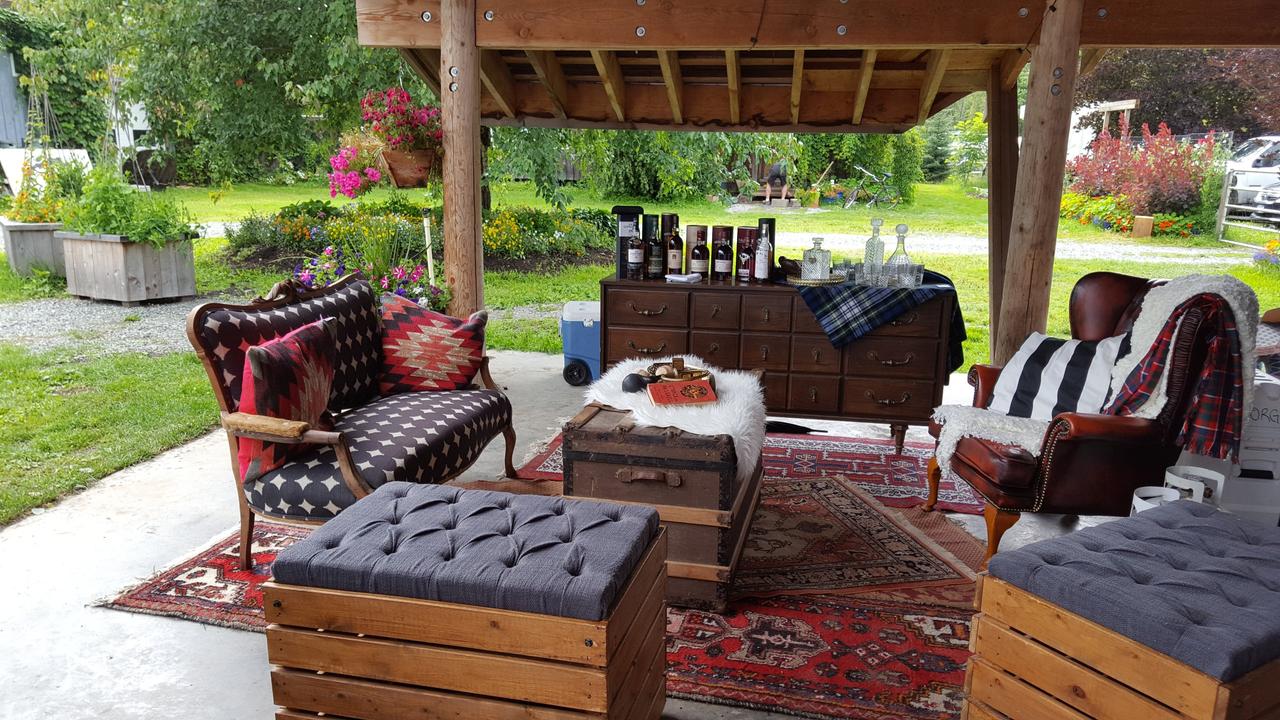 Create an outdoor lounge area with indoor furniture to give your outdoor space a little elegance. Go crazy with fur throws, velour couches, and unique rugs to make the space pop.
Use chalkboard signage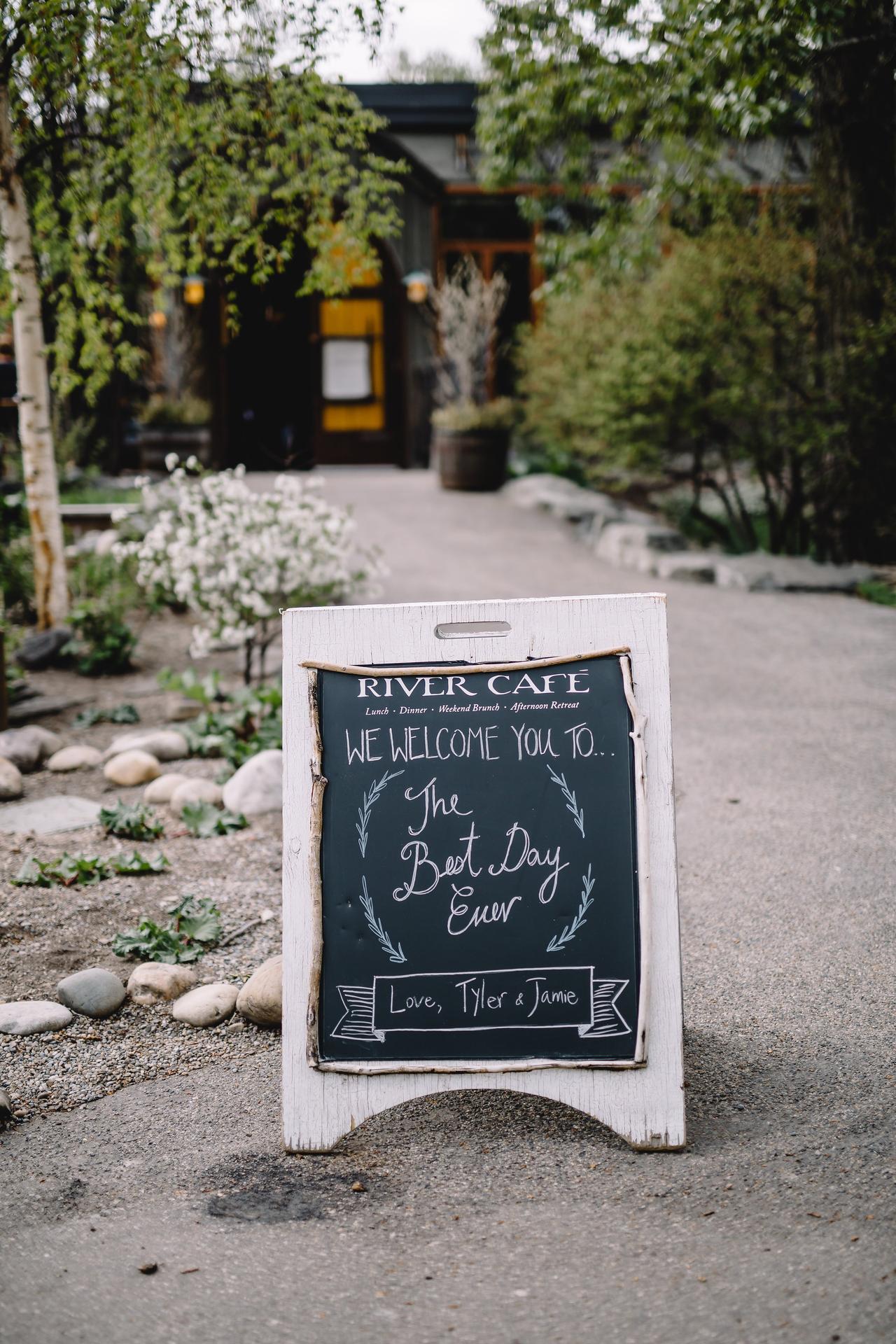 Of course, you can use any type of signage that you want at your wedding, but we think chalkboards work especially well for outdoor weddings. If you can't find any you love in stores, you can DIY your own with antique frames and a few coats of chalkboard paint.
Give your guests parasols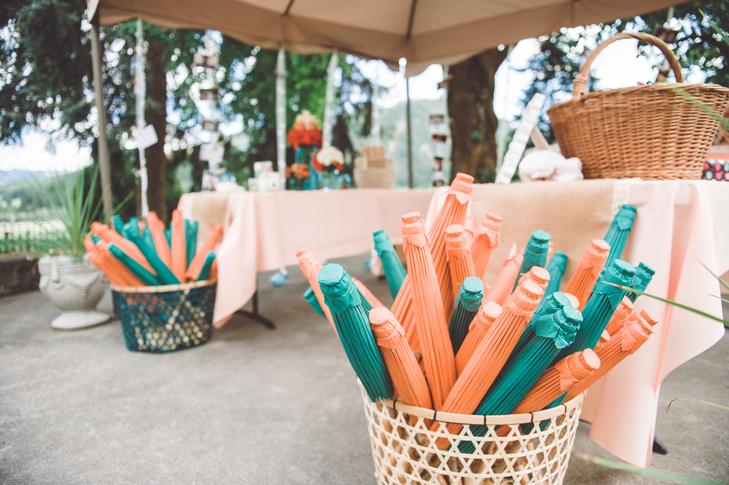 If the weather is calling for cloud-free skies on your wedding day, you may want to offer your guests some shade in the form of parasols. These can totally double as wedding favours, too!
Offer up blankets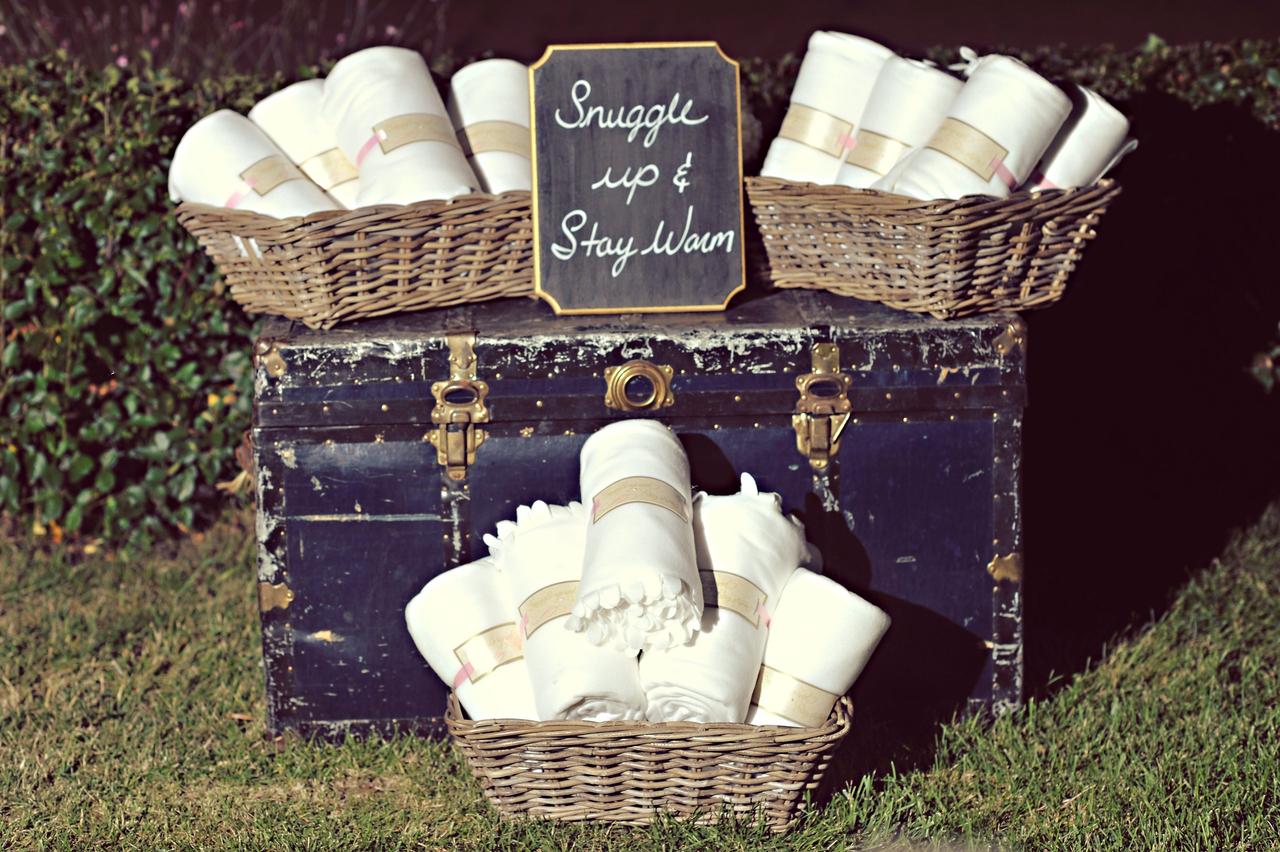 Even if your wedding is on a warm summer day, it can get chilly, especially after the sun goes down. Create a blanket station so that your guests can snuggle up in a throw, if they need to.
Fairy light walkway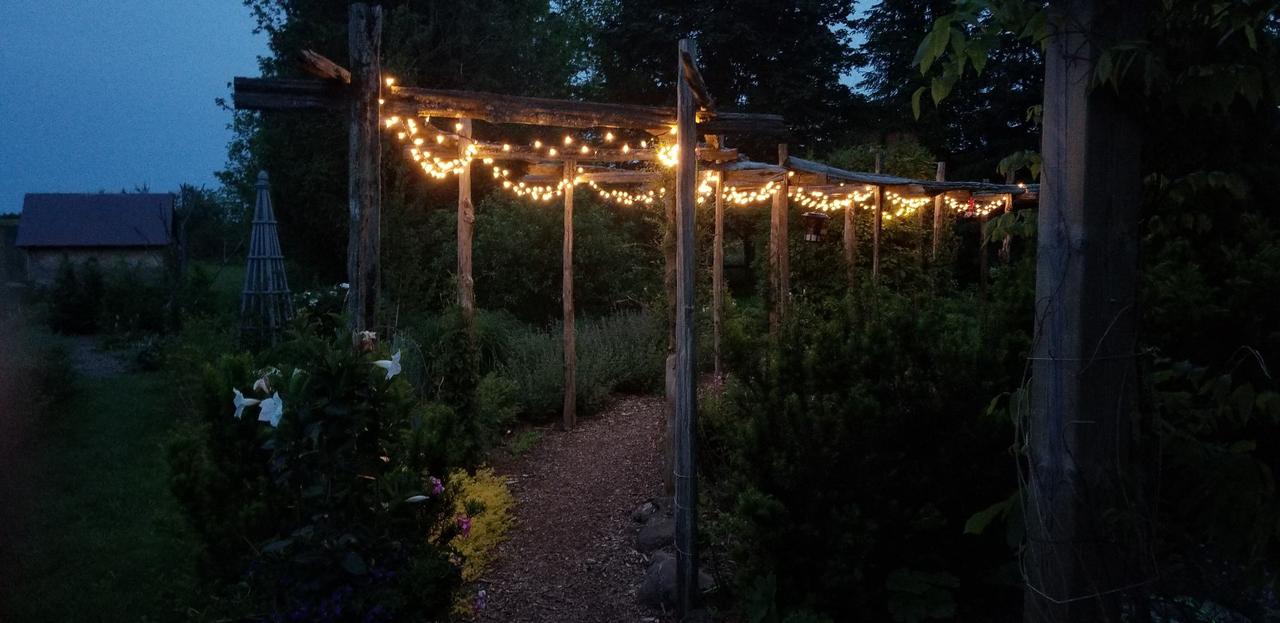 Create a pathway from your ceremony area to your reception area with glowing archways covered in string lights. It'll show your guests where to go and be an awesome backdrop for your wedding portraits.
Put up a marquee tent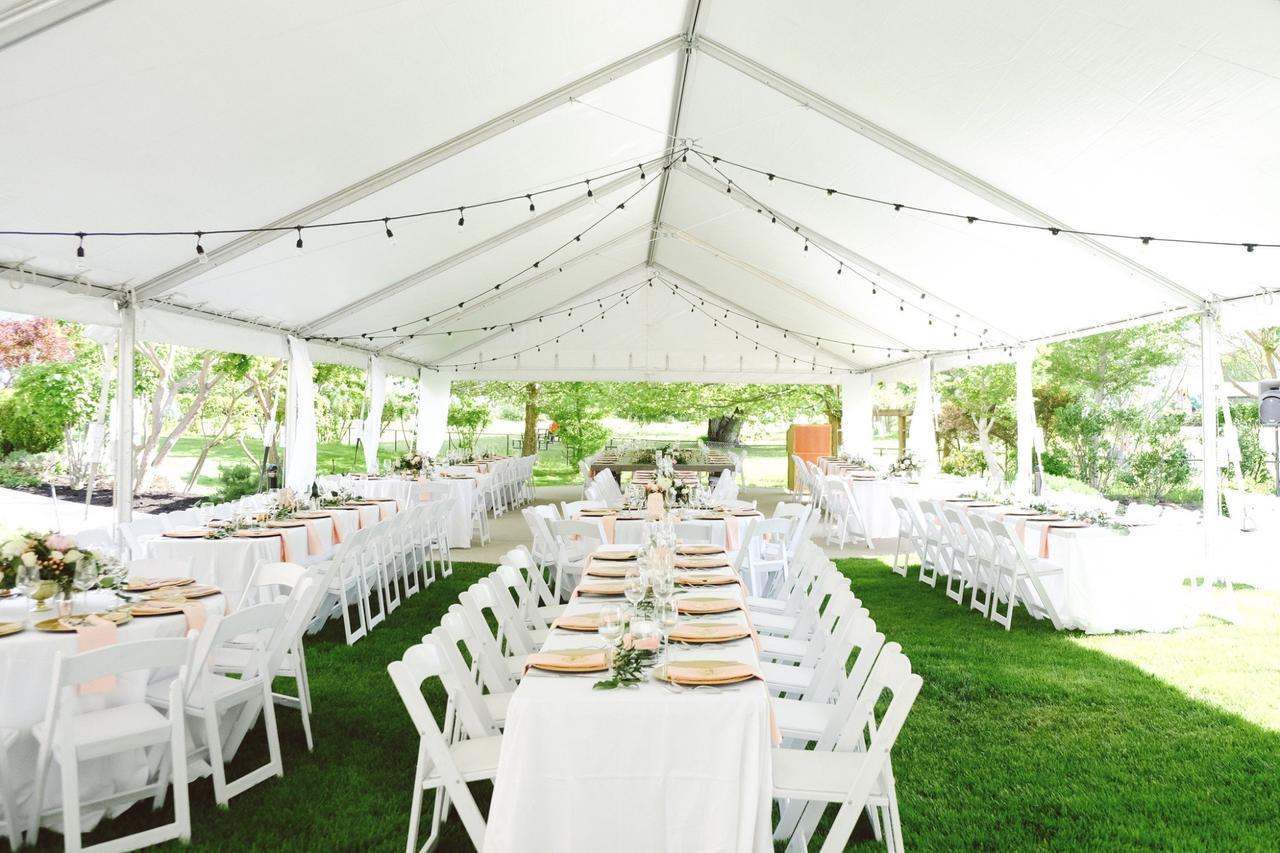 If you don't have a covered patio area at your outdoor wedding venue, you're probably going to need to rent a marquee tent. This is a great place to host your reception dinner and will give your guests somewhere to take cover if it starts to rain (you always need a plan B!).
Embrace the Mason jar decor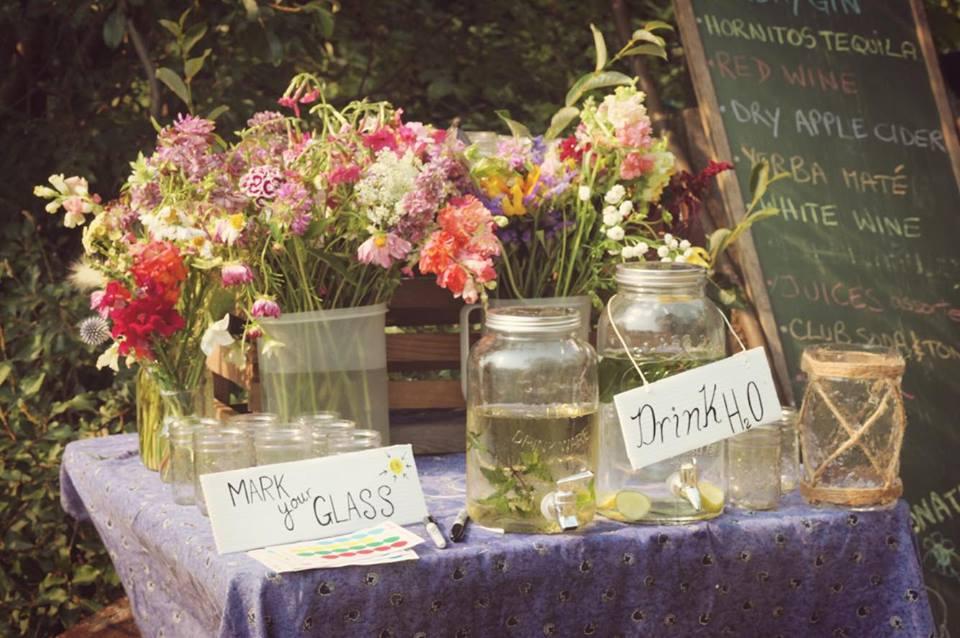 Mason jar decor was basically made for outdoor weddings. You can use them as drinking glasses, to hold bouquets or as little lanterns filled with fairy lights. The possibilities are endless!
Romantic altar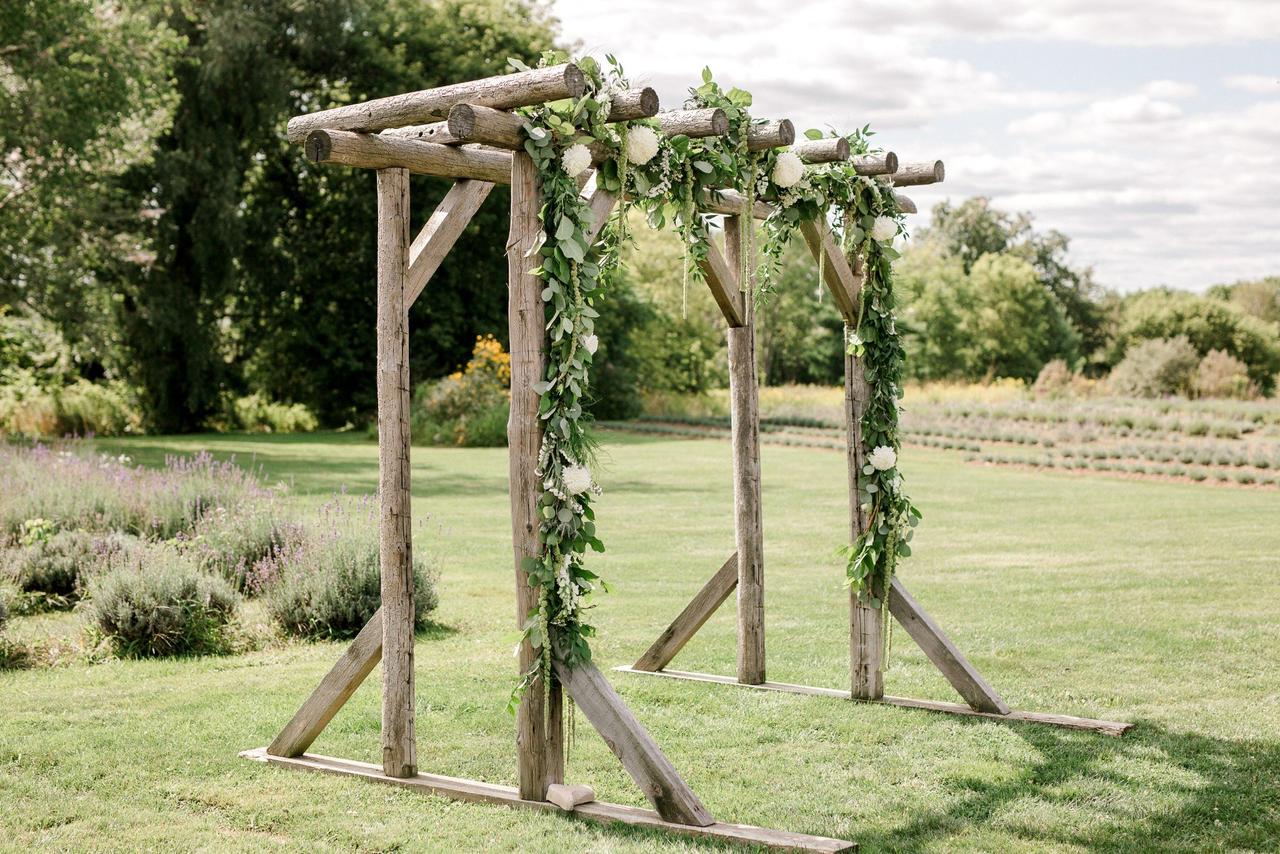 Create a killer backdrop for your ceremony by putting up a beautiful, romantic wedding altar that you can say your vows in front of. We love how wooden archways mesh with more natural backgrounds, and you can always take it to the next level with flowers and linens.
Tree planting ceremony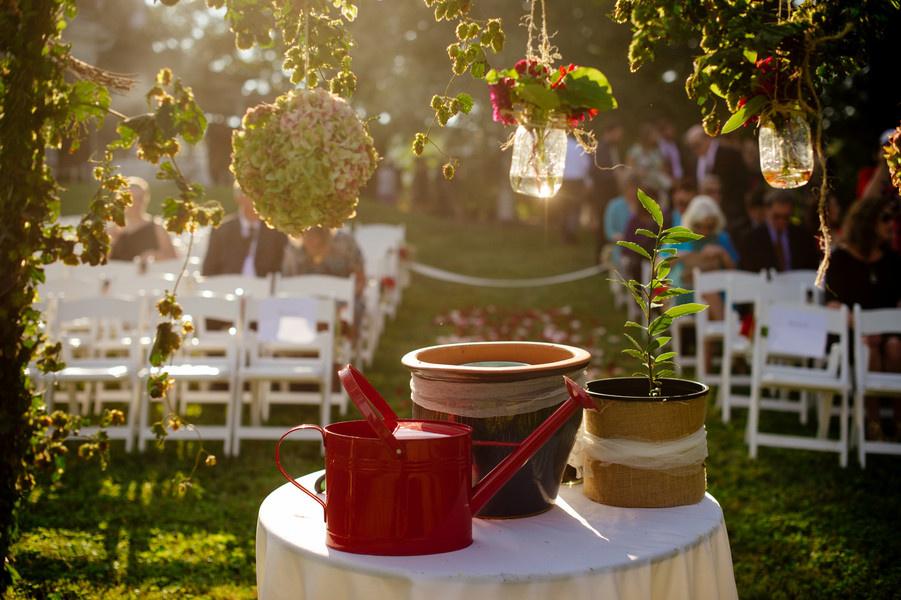 A tree-planting ceremony is a ritual of unity that involves you and your partner planting a seed together that'll grow with your love. It can get a little messy (I mean, it's gardening, after all), so it's a perfect event for the great outdoors.
Find more outdoor wedding ideas in our Real Wedding galleries »