What is a Tree Planting Ceremony?
If you and your partner were born with green thumbs, a tree planting ceremony is the perfect sentimental addition to your wedding ceremony.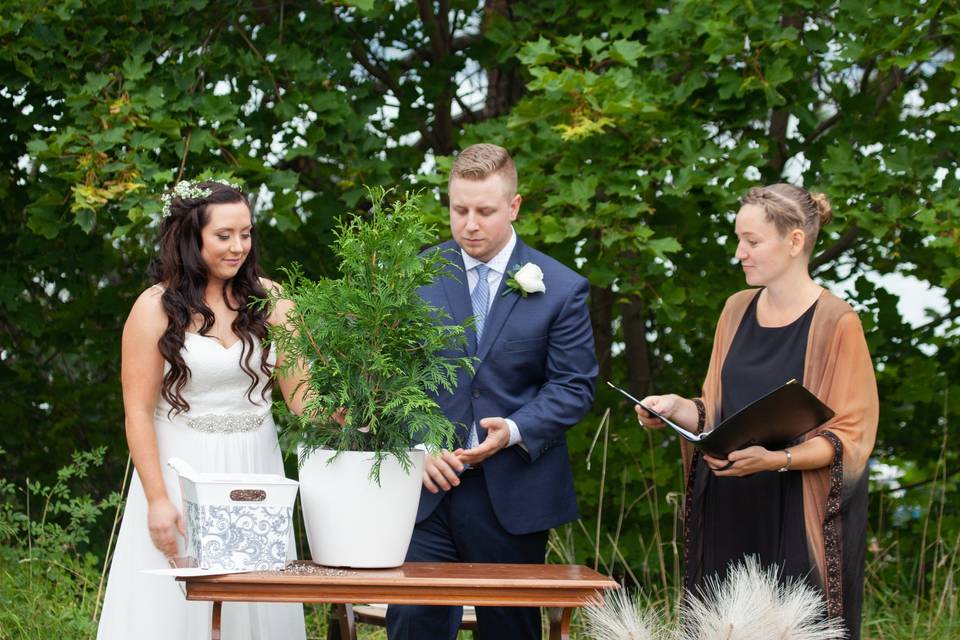 Are you and your fiancé(e) a pair of amateur horticulturists? Do you love a good gardening sesh? Well, good news, we've found the perfect wedding ritual for you: a tree planting ceremony. Not only is it a fun way to shake up the traditional wedding itinerary, but it'll leave you with the ultimate keepsake: a tree that'll grow with your relationship. It can be worked into any wedding ceremony (both religious and non-religious), so every couple can take part.
Here's everything you need to know about a tree-planting ceremony for your wedding.
What exactly is a tree-planting ceremony?
Exactly what it sounds like! You and your partner will channel your inner gardeners and plant a tree or shrub right at your altar (don't worry, you won't get too dirty). The plant is meant to symbolize your relationship, which is pretty darn precious. Its roots will intertwine and it will grow bigger and stronger as your love does (aw!).
What do we need for a tree-planting ceremony?
You won't need an entire gardening kit at your disposal to make it happen, just a plant of your choice (a tree is the most common, hence the name of the ceremony), a pair of spades, gloves (if you're worried about getting your wedding attire dirty), two vessels filled with soil and a third vessel where your brand new plant child will live. Keep in mind that if you're hosting your wedding in the comfort of your own home, you can plant your sprout right in your yard, instead.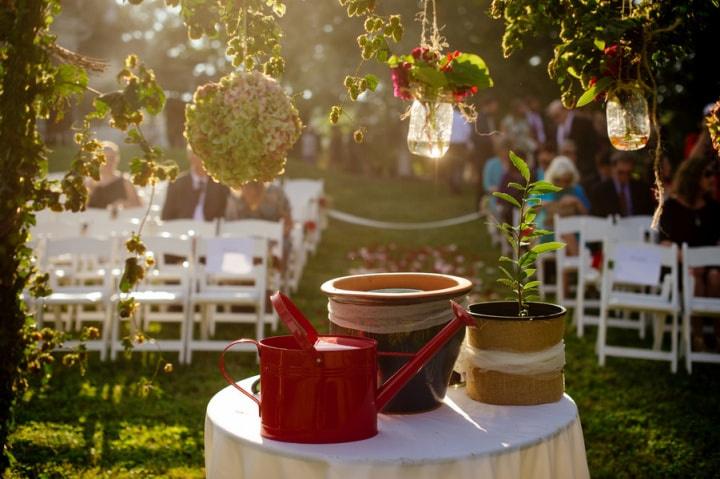 When does the tree-planting ceremony take place?
Now, you may be thinking, "when is the appropriate time to whip out a spade at my wedding?". Well, I'm here to tell you. Usually after the wedding vows have been said - though it can really be worked into any part of the ceremony - your celebrant, commissioner, justice of the peace or officiant will introduce the tree planting ceremony, then ask the two of you to start gardening. You and your partner will add the soil from the two smaller vessels into the one that holds the tree. Word to the wise, you'll probably want to have the job 90% finished before your ceremony so that the two of you aren't gardening for a good ten minutes at the altar.
Can other loved ones participate?
Want to make it even more sentimental? You can ask a few family members and/or friends to come along for the ride. They can join you up at the altar to plant the tree or contribute soil from their own gardens.
After the tree is firmly tucked into its new bed of soil, you can move onto enjoying your wedding reception. We recommend giving your tree or plant to a trustworthy bridesmaid, parent or pal, so that you don't have to tote it around all evening, then you can move onto partying.