18 Creative Ways to Display Your Wedding Table Numbers or Names
Want to skip the plain old cards and make your wedding table numbers or names into mini works of art? Here's how to do it.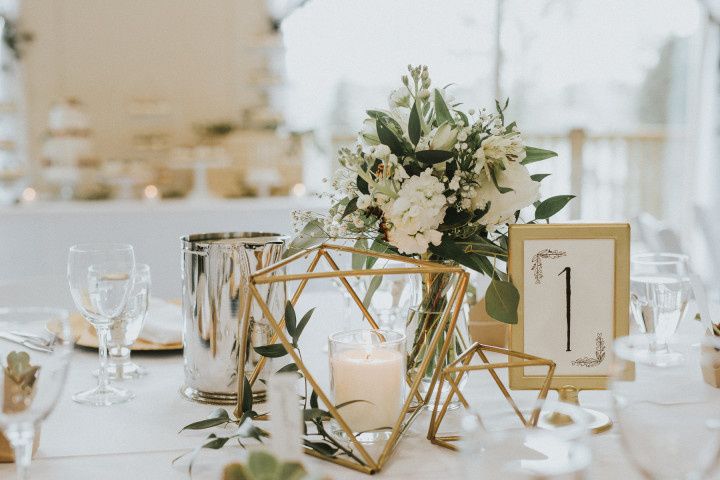 Your wedding table numbers or names won't be the biggest pieces of decor at your wedding, but that doesn't mean they don't matter! Make yours into mini-masterpieces by stealing inspo from these real wedding designs. From frames to transparent blocks to wine bottles, you're pretty spoiled for choice when it comes to options.
Here are a few creative ways to display your wedding table numbers or names.
Frames
Framing your wedding table numbers or names is a tried and true way to go. Simply hunt down frames that fit the style of your big day (i.e. gold and embellished for an elegant affair) and place your signage inside. We love the idea of mixing and matching so that each one has a different feel.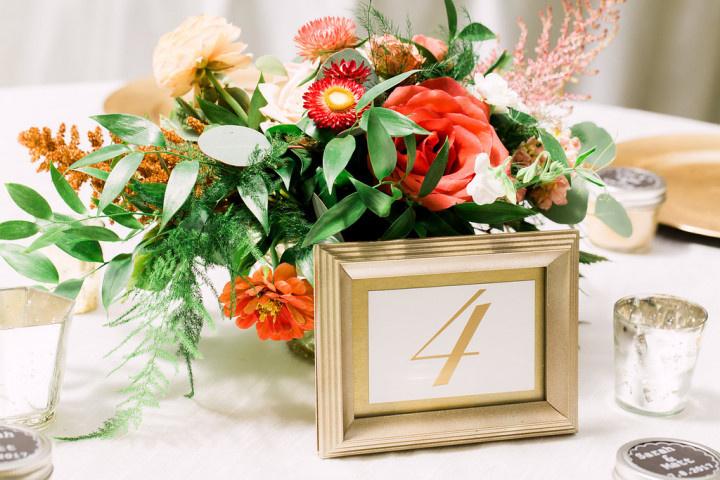 Cut-out metal
Looking for something edgy and industrial? Go for pierced tin signs (like these).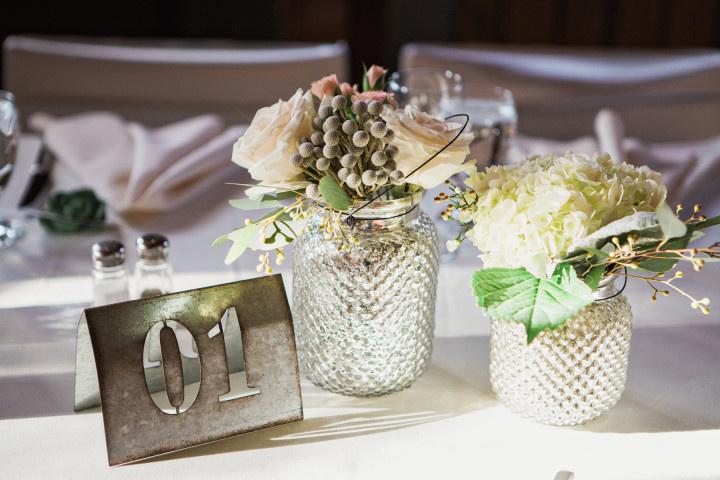 Laser cut signs
You can achieve pretty much any style of signage with a laser cutter. If you want your decorations to look dreamy and whimsical, get your wedding table numbers or names cut out in a flowery, cursive font.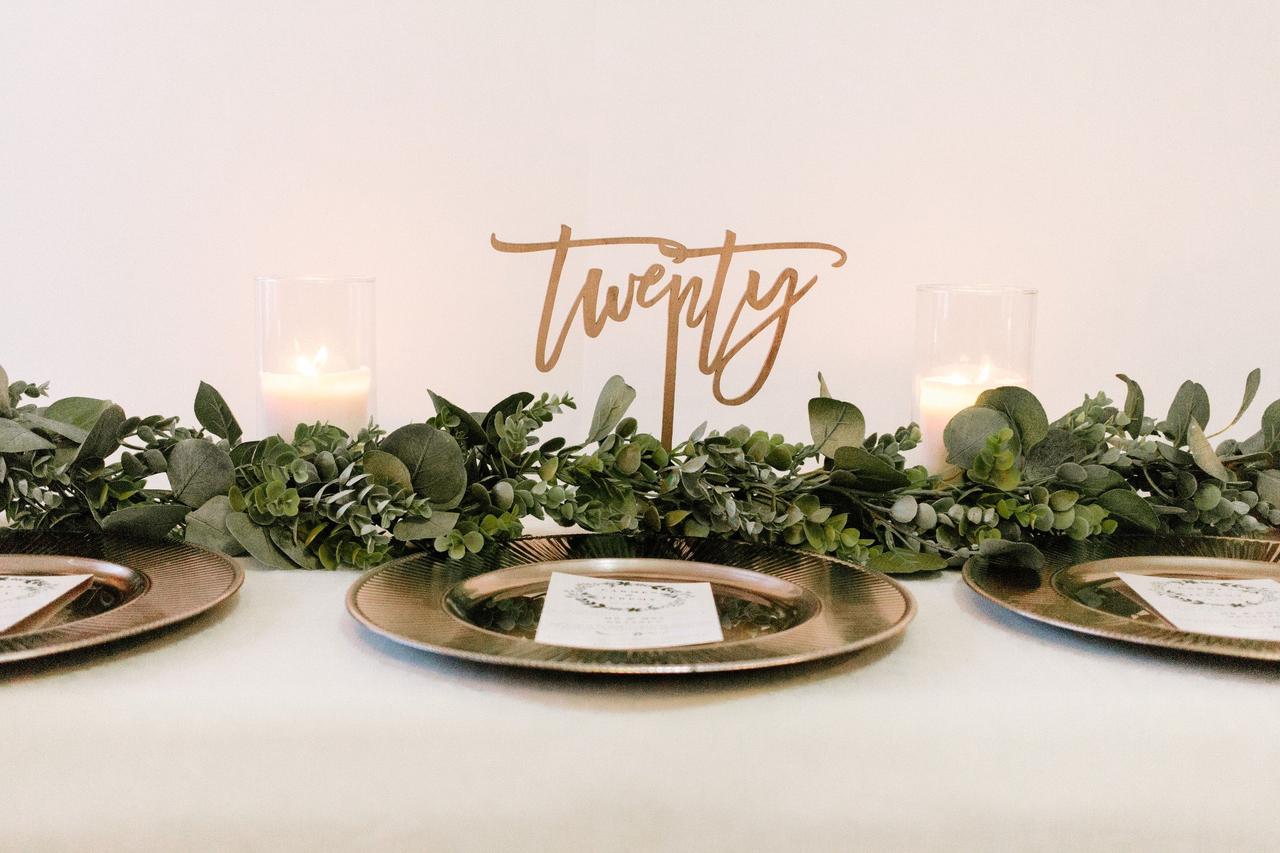 Transparent blocks
The transparent wedding decor trend is taking the bridal world by storm! Jump on the bandwagon by using acrylic blocks to write your wedding table numbers and names on.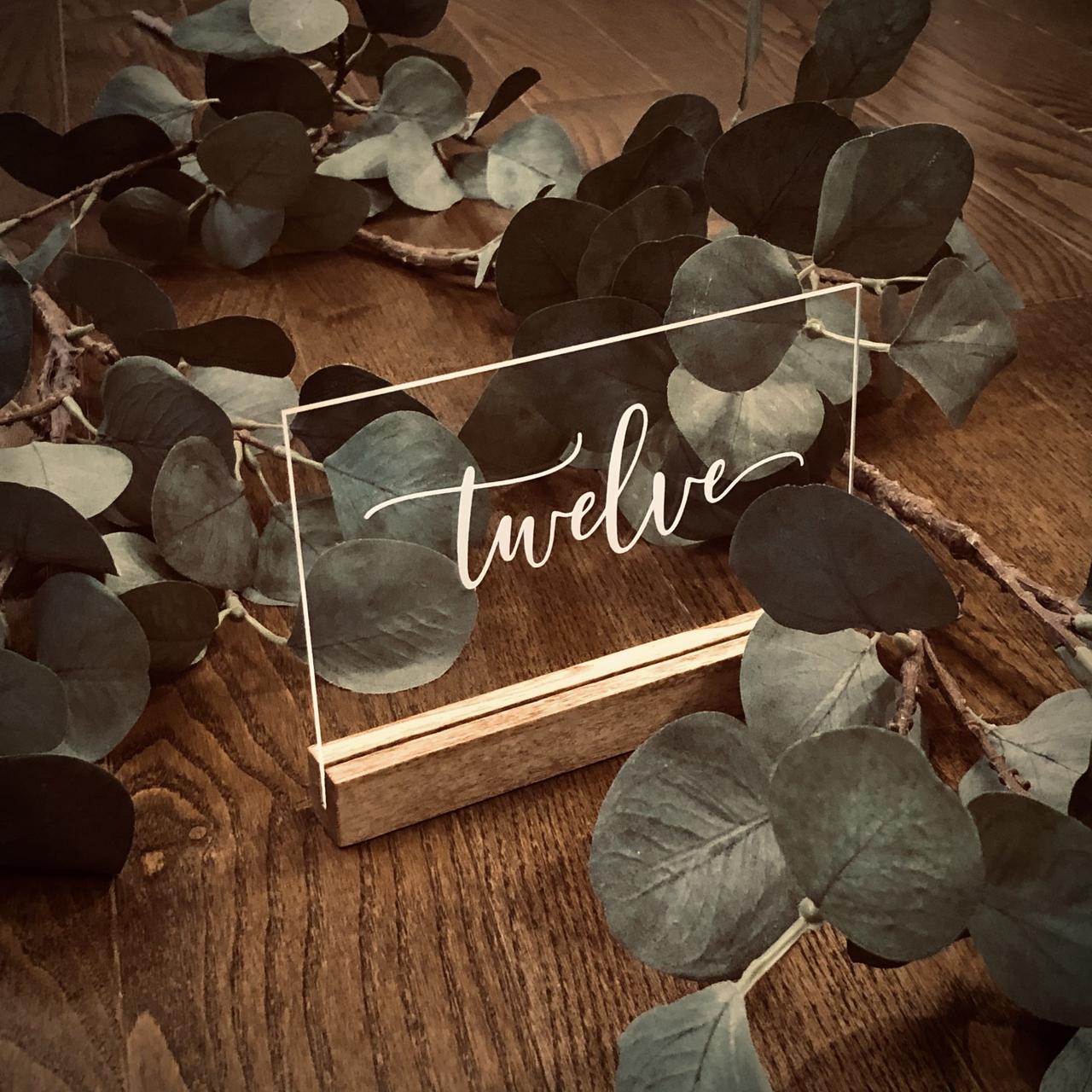 Paper
Work with your invitation designer to create table numbers that coordinate with your stationery. You can order simple tent cards with your stationery graphics or more elaborate die-cut cards ((like this one) to be put into a stand.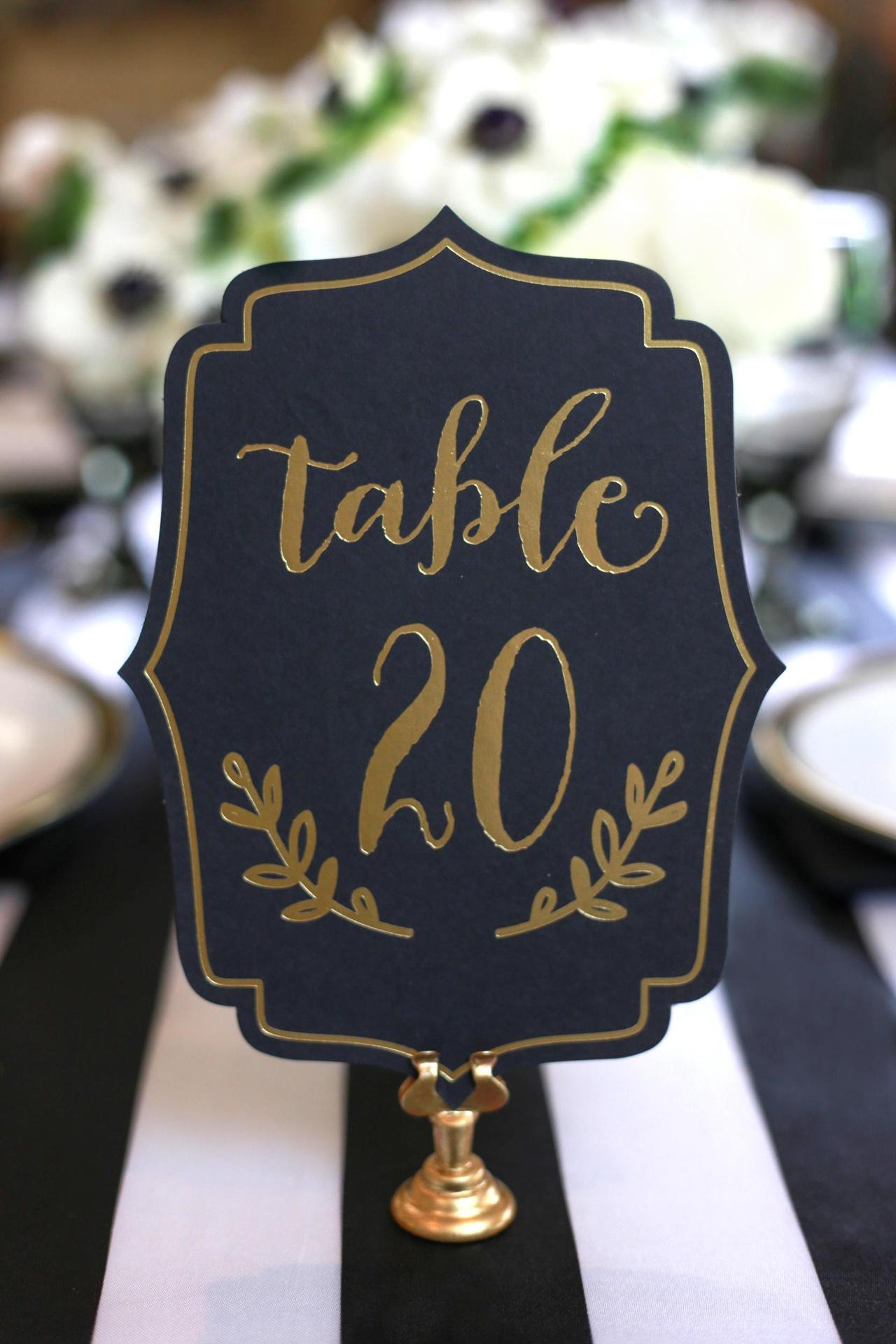 Geodes
If you love that new age boho look, geodes and crystals are awesome options. You can paint your wedding table names or numbers directly onto them or use them as holders, if you'd prefer to use paper cards, instead.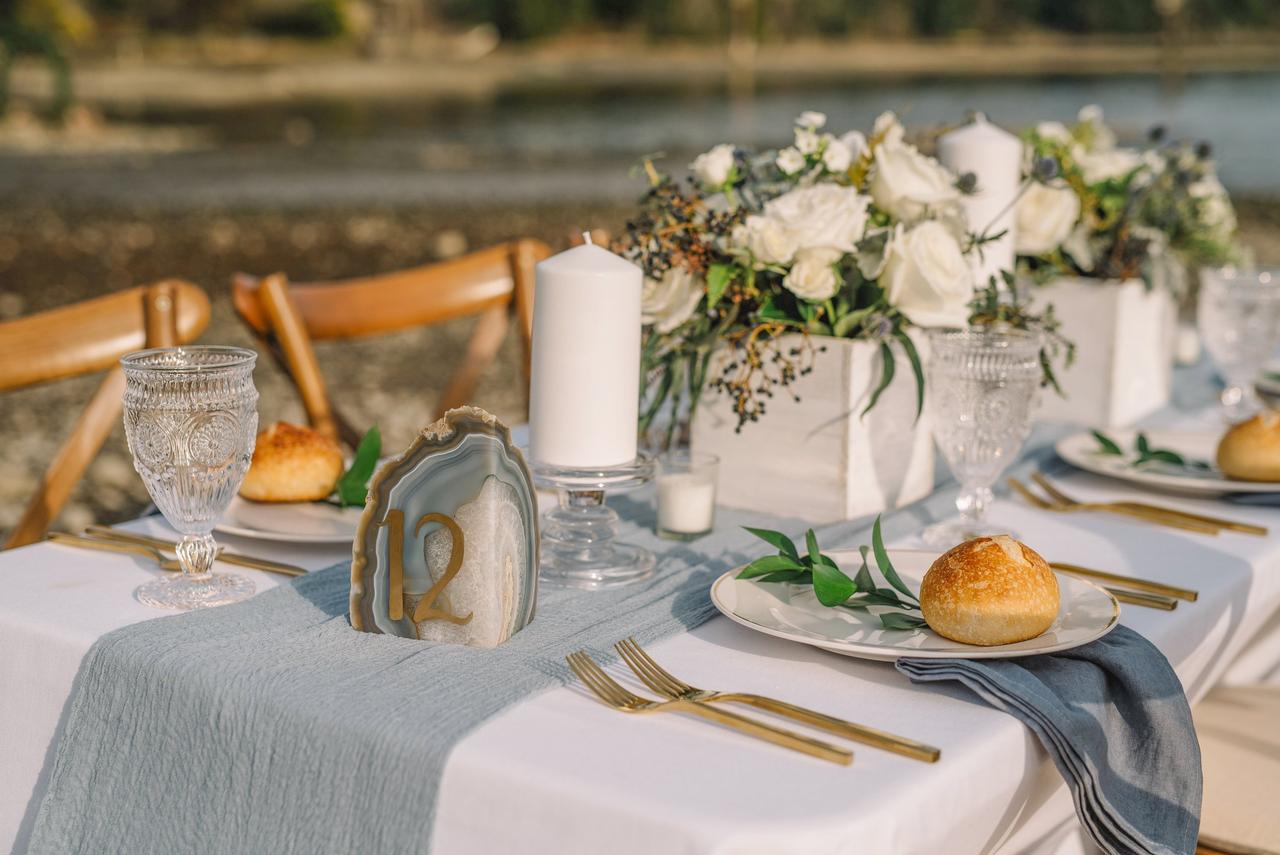 Chalkboards
Wedding chalkboards are a decor favourite for everything from welcome signs to seating charts, but did you know you could use them for wedding table numbers and names, too? Keep in mind you'll want to find small enough boards so that your signage doesn't take over your tablescapes.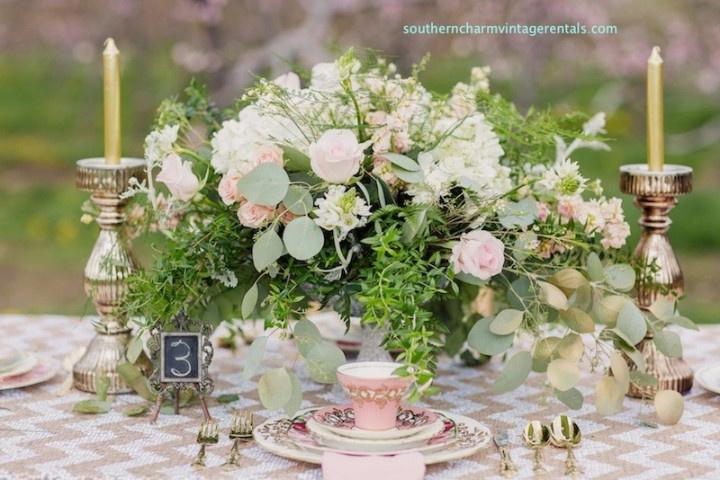 Wine bottles
Hosting a winery wedding? Why not use bottles to display your wedding table numbers and names. If you save all the empties from your pre-wedding parties, you'll probably have enough to DIY them yourselves. Pro tip: you can achieve the same look with beer bottles or any other glass vessels you have on hand.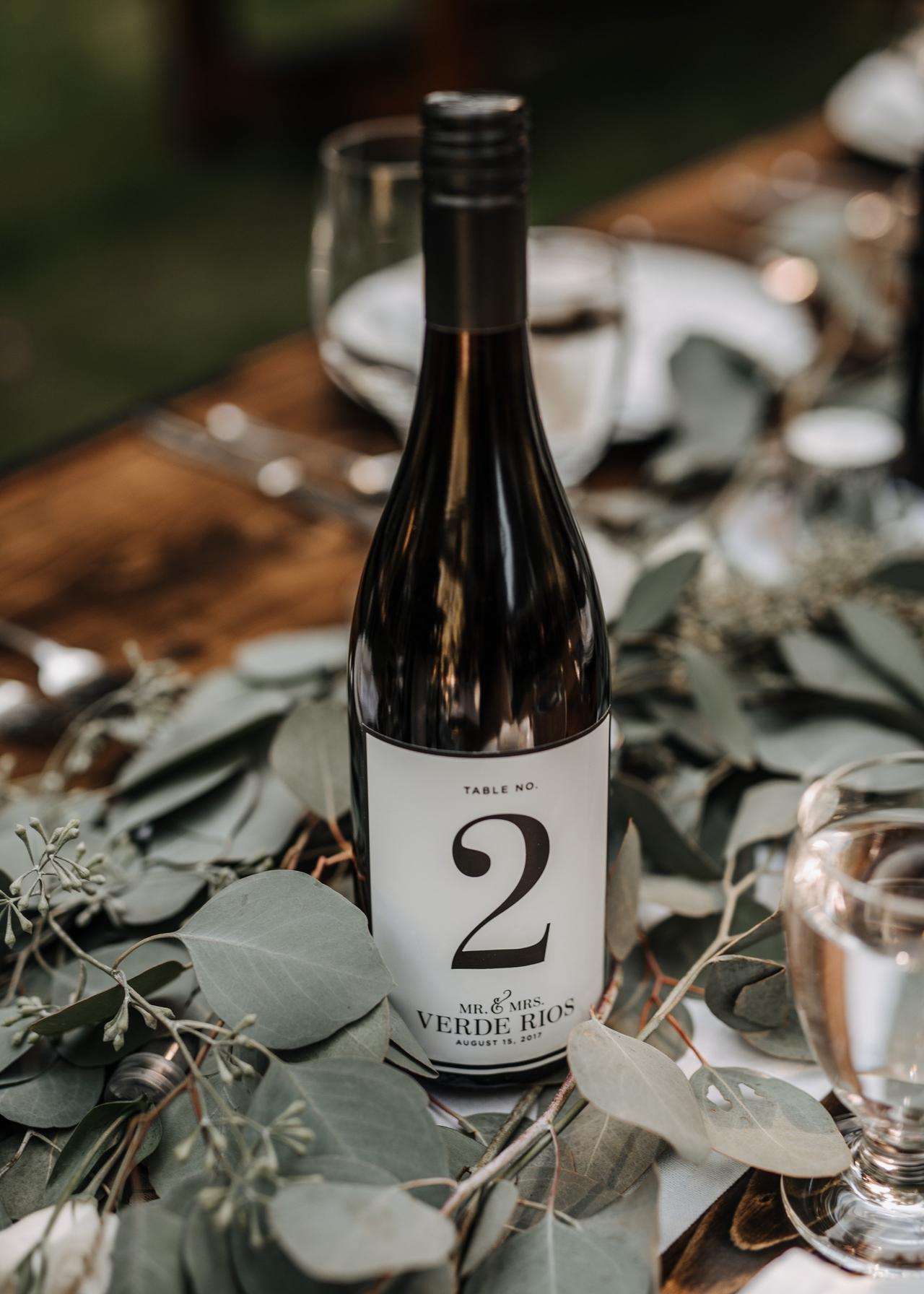 Mirrors
Reflect those stunning tablescapes you worked so hard to create by using mirrors in your wedding decor to display your wedding table numbers and names. They work for modern themes, vintage receptions and every style in between.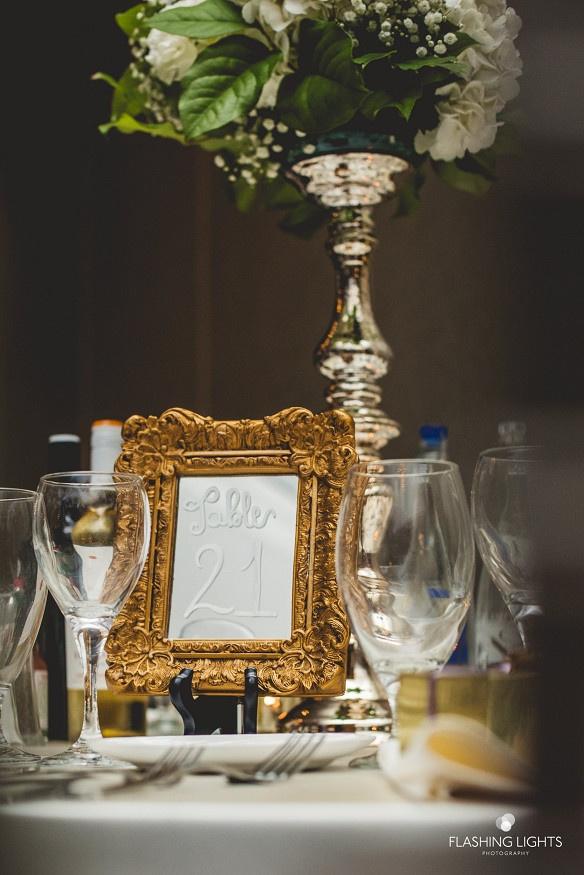 Records
Show off your love of music by using records or CDs as the base for your wedding table numbers or titles. P.S. you totally get bonus points if you name your tables after your favourite musicians or songs.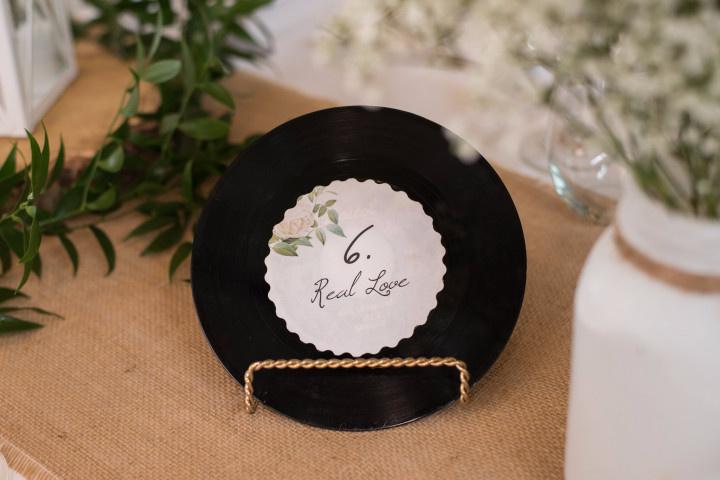 Postcards
If you and your partner are total jet setters, use postcards to show off your wedding table numbers or names of your favourite places. You can find cool vintage ones at antique shops, order glossy custom options from a stationery pro or create them at home with a little DIY magic.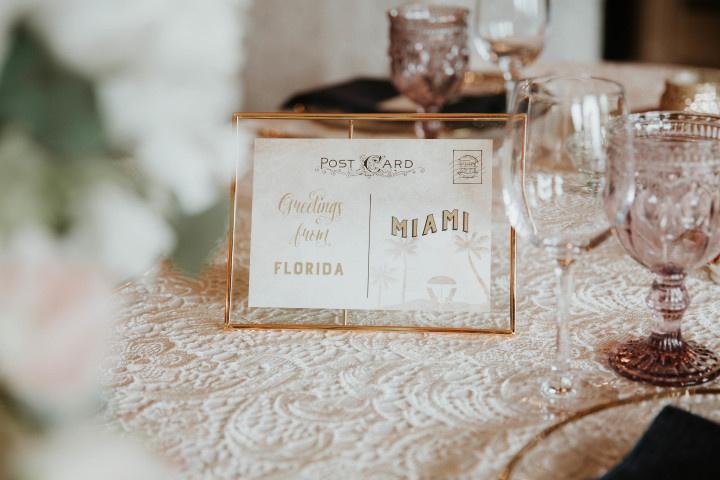 Geometric shapes
For a trendy, modern take, use octagons, hexagons and parallelograms as the bases for your wedding table numbers or names. You can opt for laser cutouts or paint them onto cool, geometric vases or votives.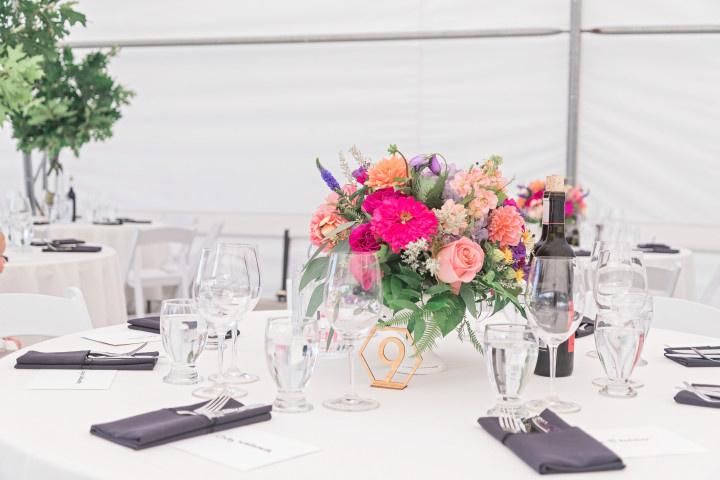 Glass lanterns
If you're planning to use glass wedding lanterns for your centerpieces, write your table numbers right onto the lanterns.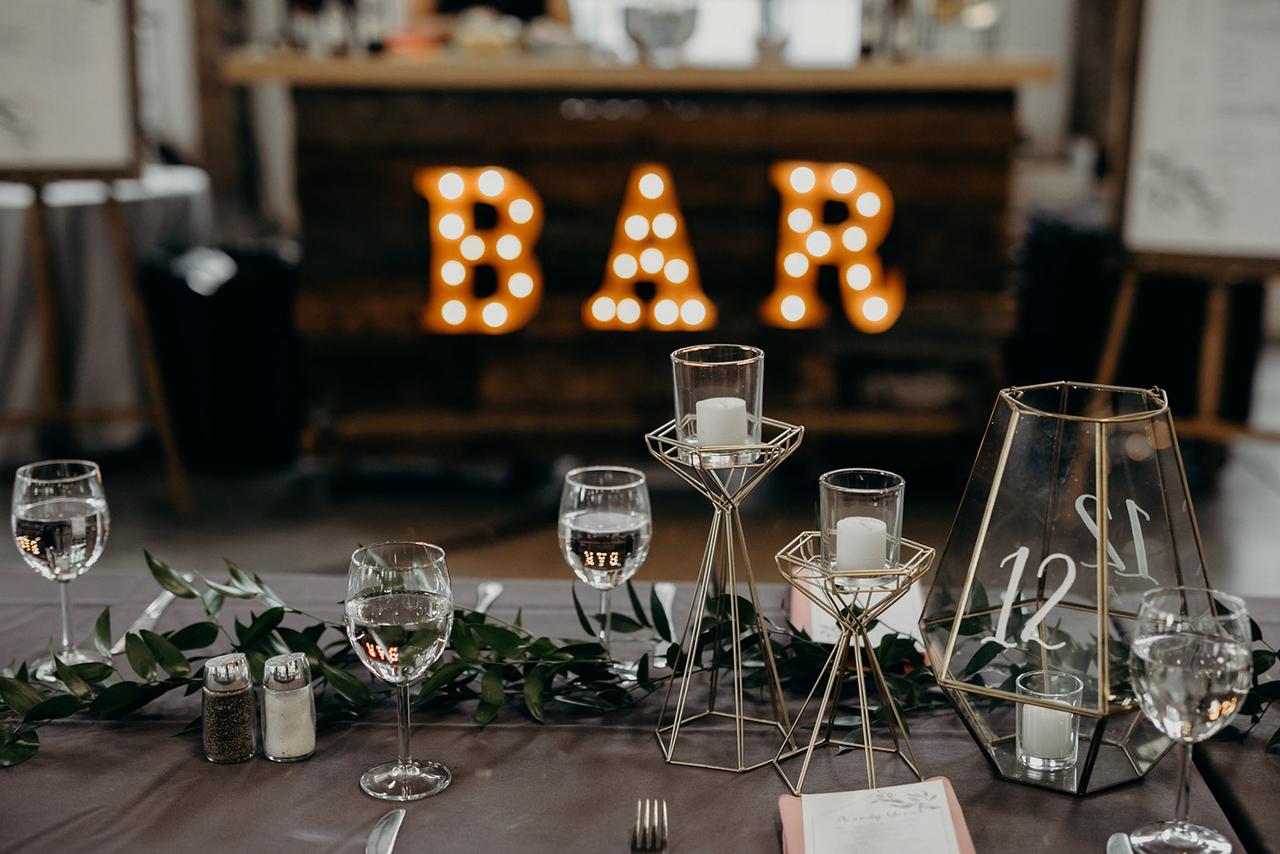 Candle holders
Similar to lanterns, applying table numbers to pillar candle holders is a gorgeous look whether you insert candles or use floating ones,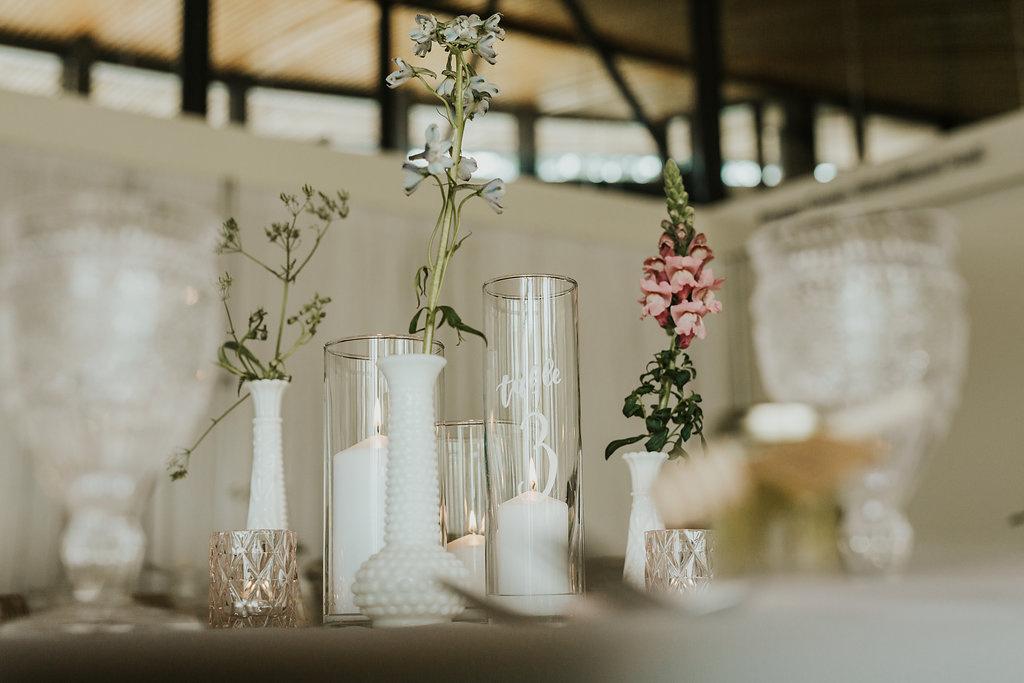 Wooden blocks
Hosting a rustic-chic wedding? Wooden block wedding table numbers or names are the way to go. If you want them to look even more woodsy, you can write them onto wood slices like these, instead.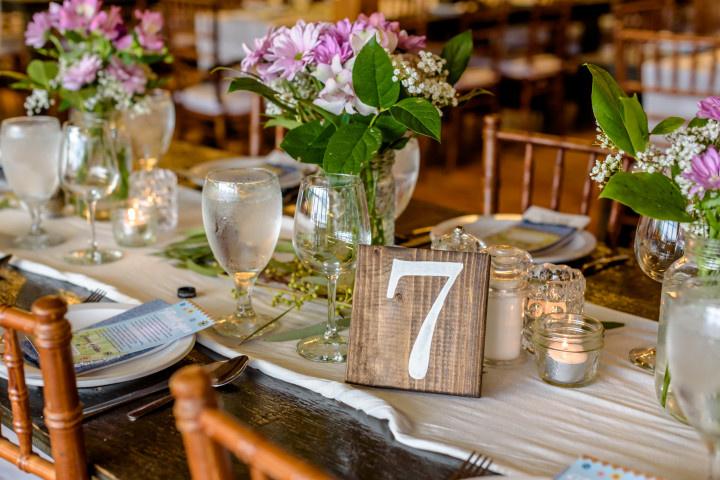 Tiles
The beauty of tiles is that they are cost-effective and there are so many different designs to choose from—geometric, marble, patterned— so you can easily find some to match any wedding style.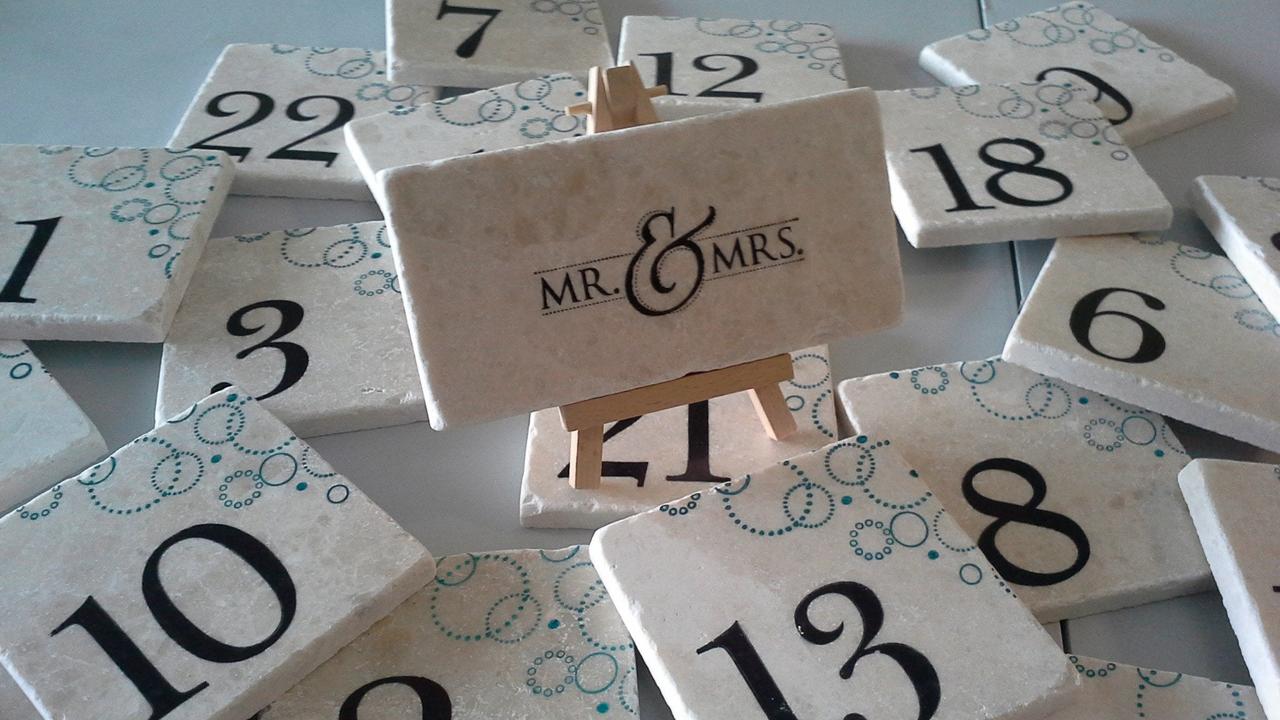 Paper tags
Here's an easy way to add table numbers to your wedding centerpieces. Use paper tags to hang on whatever vessels you choose—lanterns, vintage bottles or bell jars all work great with this treatment.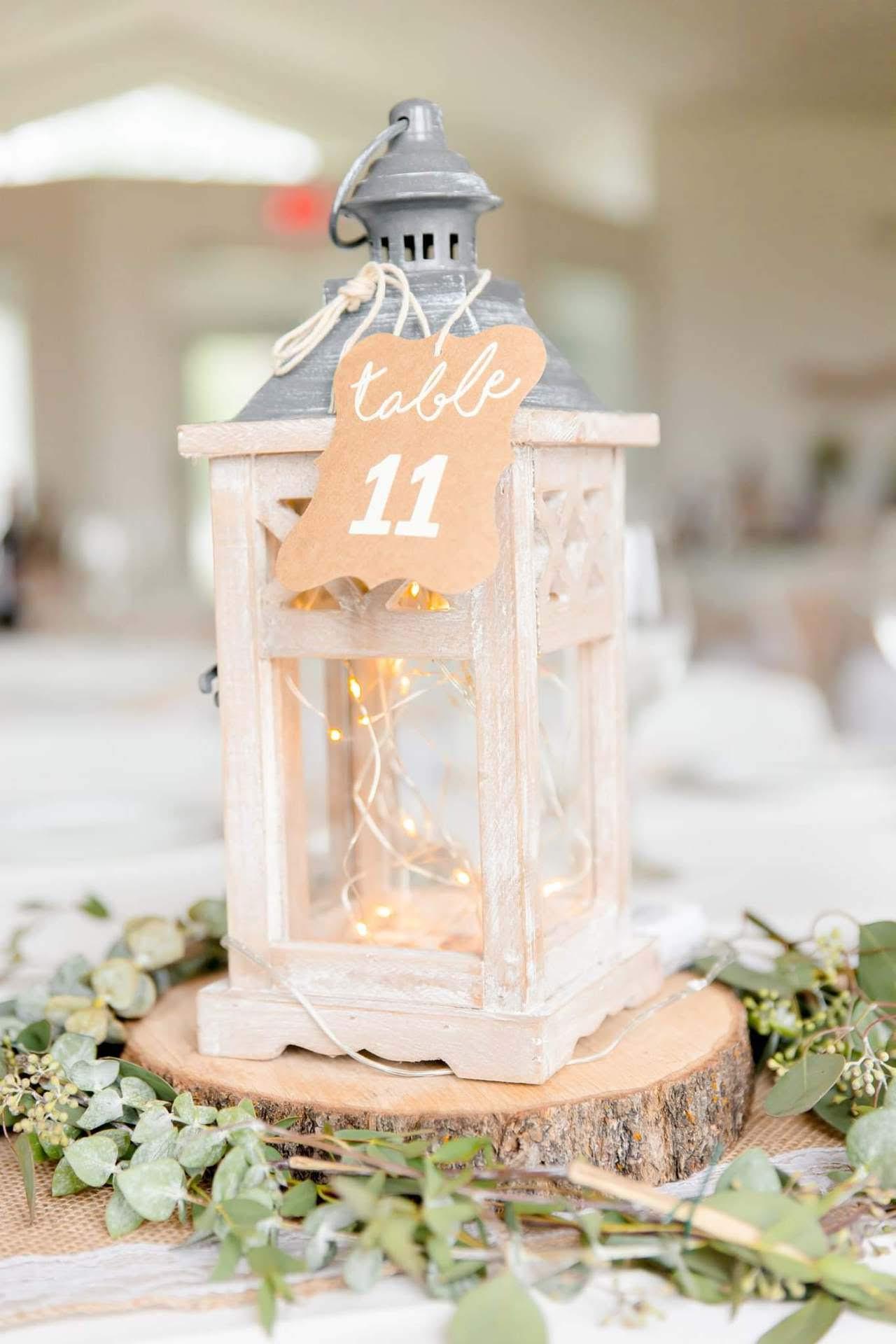 Balloons
Love the look of balloon decorations for your wedding? Use them for your table numbers!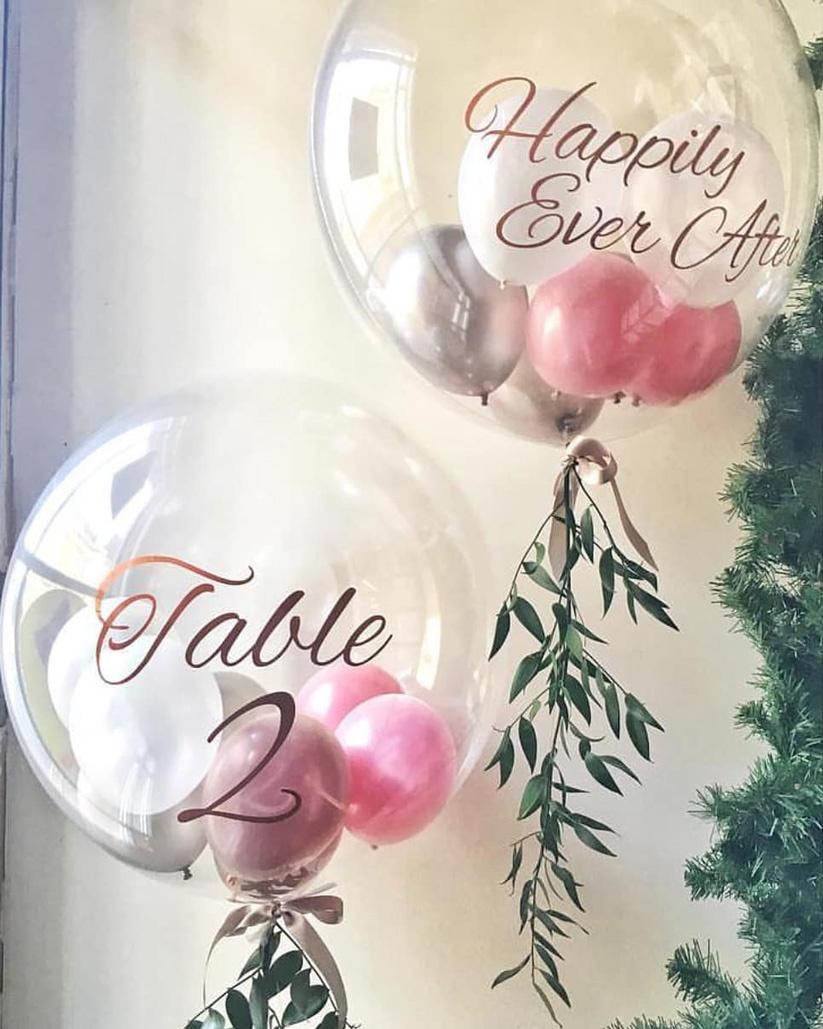 Find wedding decorations, florists and event rentals on WeddingWire »