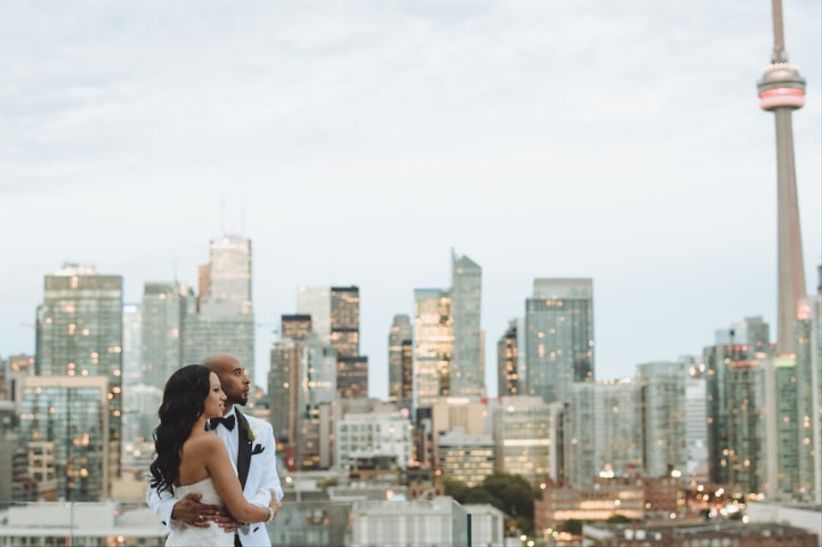 Hunting for an outdoor wedding venue in Toronto with a seriously stunning backdrop? Toronto is filled with 'em. These spots need minimal decor thanks to the stunning scenery they offer. Whether you're on the hunt for a beachside venue, beautiful garden or a rooftop terrace for your big day, we've got you covered.
Here are some Toronto wedding venues with killer views.
The Broadview Hotel (106 Broadview Avenue)
If you hail from the east end, The Broadview Hotel is a beautiful, wedding-worthy option. Climb to the 7th floor and you'll find an impeccably decorated rooftop terrace with stellar views of the city skyline and the Don River. It has both indoor and outdoor options, so you can take advantage of the space regardless or rain, sleet or snow. For cocktail-style receptions, it has room for 240 guests.
Malaparte (350 King Street West)
Can't get enough of the sparkling city lights? Malaparte, an Oliver & Bonacini gem, may be the place for you. It's located on the 6th floor of the TIFF Bell Lightbox and offers a gorgeous view of the bustling King West neighbourhood. It has an indoor space with floor-to-ceiling windows as well as an expansive outdoor terrace, so you can take advantage of the view, rain or shine. There is enough space for up to 150 seated guests.
The One Eighty (55 Bloor Street West)
The One Eighty is yet another wedding-worthy restaurant that you should add to your scouting list. Perched on the 51st floor of the Manulife Centre, you can see some pretty spectacular sights from its terrace and windows. But the view isn't its only draw - it features sleek and sophisticated decor, modern finishes, enough room for 100 seated guests and, of course, an amazing menu.
Lavelle (627 King Street West)
Head to the 16th floor or 627 King Street West and you'll find Lavelle, a rooftop oasis worthy of your big day. The venue is 16,000 square feet and includes a seated restaurant, lounge and outdoor pool. It offers 360-degree views of the city and will definitely get your guests 'gramming. The space has a capacity of 500 guests, so you can invite all of your friends, family and followers to your wedding.
Royal Canadian Yacht Club (2 Chippewa Avenue)
Want a killer view of both the city and the sparkling waters of Lake Ontario? Head to the Royal Canadian Yacht Club. Located on the Toronto Island, you'll get to escape the hustle and bustle of the city without kissing it goodbye completely. If you want to take full advantage of the view we suggest hosting your wedding outdoors, but the inside's maritime design is also an awesome option. It can host groups of up to 400 people on its grounds, meaning you can probably add a few plus ones to your list.
Sunnyside Pavilion (1755 Lake Shore Boulevard)
If you're in the market for a beachy wedding backdrop, the Sunnyside Pavilion is where it's at. This historic venue was once a changing facility used only by beachgoers but has come a long way since then. It's now a popular event space complete with stunning ornate archways, gardens and stellar views of Lake Ontario. It can accommodate 70 to 90 guests, making it best suited for intimate affairs.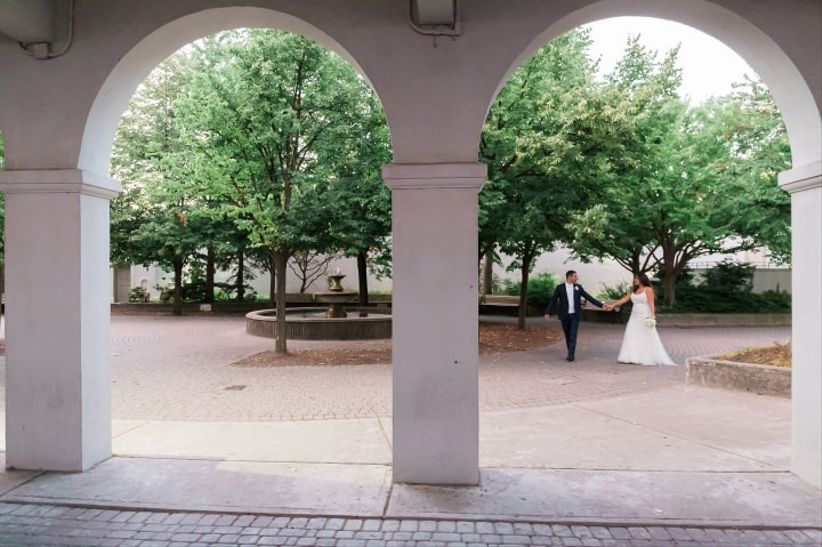 Palais Royale (1601 Lakeshore Boulevard)
Another great waterfront venue in the west end on Lakeshore, is the Palais Royale. Their 4,000 square-foot, two-tier courtyard patio can host a total of 318 people for an outdoor ceremony and a cocktail-style reception. They also have a stunning art-deco ballroom that can accommodate up to 400 seated guests or 800 for a stand-up reception.
Thompson Toronto (550 Wellington Street)
Want to say your "I dos" with the CN Tower and Rogers Centre as your backdrop? Head to the top of the Thompson Toronto. Its 3,900 square-foot rooftop is outfitted with chic decor and has both indoor and outdoor spaces available. It has enough room for 220 people, so you can add a few extra names to your guest list.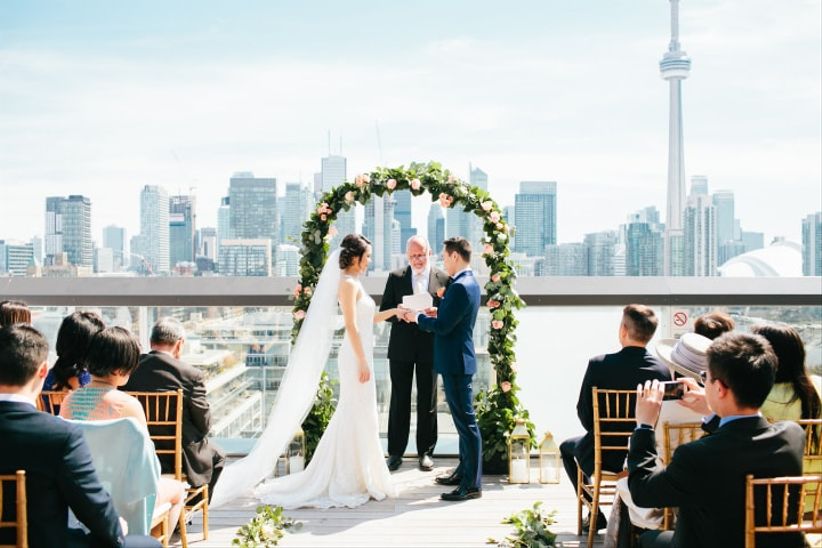 The Burroughes Building (639 Queen Street West)
The Burroughes Building is a favourite for industrial-chic style weddings. Climb to its rooftop terrace and you'll find a rustic-chic patio decked out with strands of Edison bulbs. From here you can see the CN tower, the city's tallest skyscrapers and more. If you book the space you'll also have access to the 6th-floor venue space which boasts exposed brick and beams, hardwood floors and massive windows. Together they can fit up to 140 guests.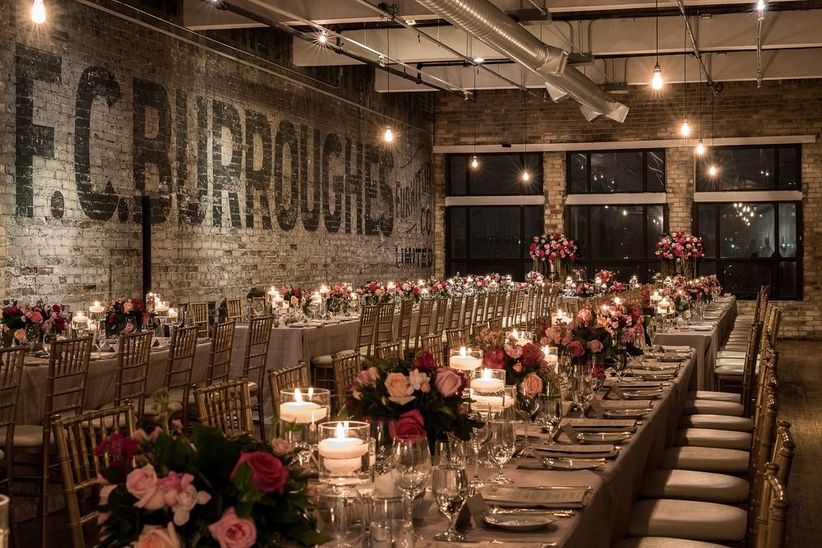 Evergreen Brick Works (550 Bayview Avenue)
Looking for an eco-focused outdoor wedding venue in the heart of the city. Check out Evergreen Brick Works. Nestled in the Don Valley, the converted industrial site boasts a variety of open-air and covered outdoor spaces overlooking the ponds and quarry garden. The team here will help you plan a sustainable event and their spaces can accommodate small ceremonies, 2000-person parties and everything in between, so you've got options when it comes to your guest count.
Park Hyatt Toronto (4 Avenue Road)
Want to tie the knot in the city's ritzy Yorkville neighbourhood? Make your way to the Park Hyatt Toronto. Its Roof Salon is 18 floors above street level and flaunts amazing views of everything our fair city has to offer, from Queens Park to the CN Tower. It is equipped with an indoor space as well as a wrap around terrace, so you'll be able to enjoy yourselves even if the weather starts acting up. The space has a capacity of 120 guests, so try not to go overboard with the invites.
Boxcar Social (235 Queens Quay West)
If you don't want to kiss the downtown core goodbye for your big day, but still be treated to epic lakefront views, Boxcar Social's Harbourfront location is worth looking into for your special day. The coffee shop is located just south of the Financial District and is pretty darn wedding-worthy, if you ask us. Its interior is hip and modern and its patio is one of the best in the city (we totally suggest booking both, especially if you've chosen a wedding fete in the warmer months). If you do make use of both the indoor space and the patio, you can fit up to 225 guests for a standing reception or 110 guests for a seated meal.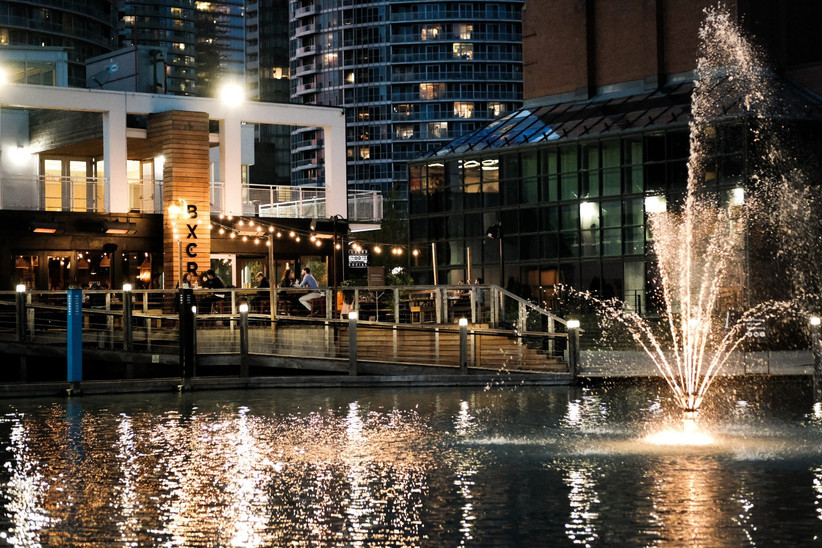 Aga Khan Museum (77 Wynford Drive)
The Aga Khan Museum may not be situated in the prettiest part of town, but it's done a lot with the space it's been given. Outside, you'll find some breathtaking landscape architecture, courtesy of Vladimir Djurovic, which includes over 1000 trees, reflecting pools, and flowerbeds. Its largest space (the auditorium) can accommodate up to 350 guests, its glass-enclosed courtyard can fit up to 225 guests and its restaurant (which has garden and patio areas) has a capacity of 100 guests.
The Globe and Mail Centre (351 King Street East)
The Globe and Mail Centre is a gorgeous Toronto wedding venue with stellar views of the city and the lake, thanks to its prime spot on King Street East. It has a contemporary vibe and is equipped with floor-to-ceiling windows so you can really see all of the city's beauty. There's also a patio, that you can put to use if the weather is nice on your wedding day. It's a pretty sizeable space, and can fit 400 guests for a standing reception or 300 guests for a seated event.
Miller Lash House (130 Old Kingston Road)
If you love the idea of a tent wedding with beautiful views of lush gardens and forest, visit U of T Scarborough's Miller Lash House situated in Highland Creek. It offers two perfect spots for outdoor wedding ceremonies—the RiverRock Waterfall site (capacity 400) and the secluded Evergreen Arbor site (capacity 220). It has a permanent fully-equipped tent set up on-site to seat 220 guests, making the logistics of planning a large outdoor tent wedding that much easier. You'll even get full use of the house including the elegant 4-room bridal suite to get ready in.
Toronto Botanical Gardens (777 Lawrence Avenue)
If you want a view filled with greenery as far as the eye can see, the Toronto Botanical Gardens are calling out your name. From manicured shrubs to overflowing flower beds, you'll see it all at this spot. The outdoor space can accommodate up to 400 of your nearest and dearest, so you can make your guests list pretty lengthy. P.S. If you want to host your celebration indoors, you won't miss out on the view as its function rooms are equipped with huge windows.
Humber Arboretum (205 Humber College Boulevard)
The Humber Arboretum also offers up some gorgeous, natural views, and is definitely worth checking out. It has plenty of outdoor spaces nestled among the trees, as well as a solarium with floor-to-ceiling windows. To sweeten the deal, even more, the venue is totally eco-friendly, so you won't have to worry about doing any harm to the environment on your big day. It can accommodate up to 100 guests.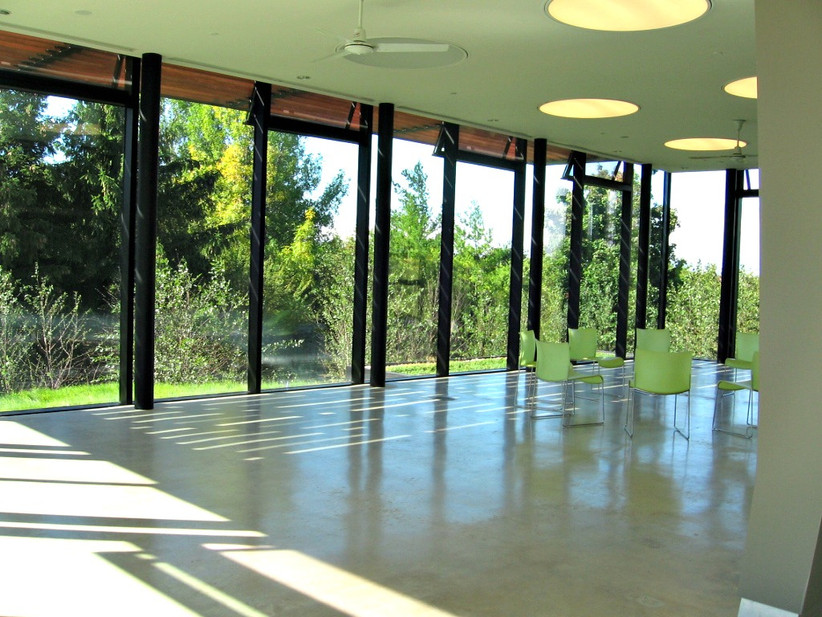 Against the Grain (25 Dockside Drive)
Against the Grain is located in the Corus Entertainment Building and has a patio that almost brushes the edge of Lake Ontario (so you're guaranteed some killer views). This Toronto waterfront wedding venue has a modern, industrial-chic vibe that you won't find at many of these other spots, so it's definitely worth visiting. As an added bonus, it can cater your event (it is a restaurant after all) so you won't have to hunt down an additional vendor. A full buyout will give you enough space for 300 guests.
Artscape Gibraltar Point (443 Lakeshore Avenue)
Artscape Gibraltar Point is another top-notch option on the island, from the beach to tree-covered areas, this spot really shows off what Mother Nature has to offer. It covers 46 acres of land and can fit up to 2000 guests outside or 270 indoors. If you opt for the outdoors you'll be treated to exceptional views of Toronto's skyline and the waters of Lake Ontario, whereas inside you'll get a gorgeous view of the surrounding parkland, which will give your wedding a woodland feel. You can't go wrong either way.
Island Yacht Club (89 Queens Quay West)
We're not done with the island yet! If you're looking for an expansive wedding venue that'll cater to your every need, the Island Yacht Club fits the bill. It covers 18-acres of private property and boasts stunning natural views of parkland and the lake. The great outdoors is obviously the fan-favourite for wedding celebrations, but if the weather starts acting up you can head inside the clubhouse - it has floor-to-ceiling windows so you won't miss out on the view. It can fit up to 170 seated guests, so it's a great option for midsize weddings.
Hotel X (111 Princes Boulevard)
Make your way west of the Financial District and you'll find Hotel X, one of Toronto's newest and hippest hotels. Its largest available function space, Stanley Square and Gardens, can fit up to 4000 guests (the largest on this list), but it has many other smaller rooms to choose from. If you're looking for a spot with a drop-dead gorgeous view, the rooftop patio and terrace is where it's at. It's completely flexible, so it can be tailored to fit your exact specifications, and you'll have the city's skyscrapers as well as Lake Ontario in the background of all your wedding photos. P.S. because it's a hotel, you and your guests can just crash there at the end of the evening.
Find more Toronto wedding venues on WeddingWire »