Hunting for a wedding venue with a seriously stunning backdrop? Toronto is filled with 'em. These spots need minimal decor thanks to the stunning scenery they offer. Whether you're on the hunt for a beachside venue or a rooftop terrace for your big day, we've got you covered.
Here are a few Toronto wedding venues with killer views.
The Broadview Hotel (106 Broadview Avenue)
If you hail from the east end, The Broadview Hotel is a beautiful, wedding-worthy option. Climb to the 7th floor and you'll find an impeccably decorated rooftop terrace with stellar views of the city skyline and the Don River. It has both indoor and outdoor options, so you can take advantage of the space regardless or rain, sleet or snow. For cocktail-style receptions, it has room for 240 guests.
Canoe (66 Wellington Street) 
If a restaurant wedding venue is more your style, head to the 55th floor of the TD Bank Tower. There you'll find Canoe, one of Oliver & Bonacini's crown jewels. It boasts luxurious modern furnishings, a menu filled with contemporary Canadian fare and massive windows that look out to the city streets and skyscrapers. The entire restaurant can seat 250, but if you're hosting a more intimate celebration, there are private rooms which can accommodate between 40 and 100 guests.
Malaparte (350 King Street West)
Can't get enough of the sparkling city lights? Malaparte, another Oliver & Bonacini gem, may be the place for you. It's located on the 6th floor of the TIFF Bell Lightbox and offers a gorgeous view of the bustling King West neighbourhood. It has an indoor space with floor-to-ceiling windows as well as an expansive outdoor terrace, so you can take advantage of the view, rain or shine. There is enough space for up to 150 seated guests.
The One Eighty (55 Bloor Street West)
The One Eighty is yet another wedding-worthy restaurant that you should add to your scouting list. Perched on the 51st floor of the Manulife Centre, you can see some pretty spectacular sights from its windows. But the view isn't its only draw - it features sleek and sophisticated decor, modern finishes, enough room for 100 seated guests and, of course, an amazing menu.
Lavelle (627 King Street West)
Head to the 16th floor or 627 King Street West and you'll find Lavelle, a rooftop oasis worthy of your big day. The venue is 16,000 square feet and includes a seated restaurant, lounge and outdoor pool. It offers 360 degree views of the city and will definitely get your guests 'gramming. The space has a capacity of 500 guests, so you can invite all of your friends, family and followers to your wedding.
Royal Canadian Yacht Club (2 Chippewa Avenue)
Want a killer view of both the city and the sparkling waters of Lake Ontario? Head to the Royal Canadian Yacht Club. Located on the Toronto Island, you'll get to escape the hustle and bustle of the city without kissing it goodbye completely. If you want to take full advantage of the view we suggest hosting your wedding outdoors, but the inside's maritime design is also an awesome option. It can host groups of up to 400 guests on its grounds, meaning you can probably add a few plus ones to your list.
Sunnyside Pavilion (1755 Lake Shore Boulevard)
If you're in the market for a beachy wedding backdrop, the Sunnyside Pavilion is where it's at. This historic venue was once a changing facility used only by beachgoers, but has come a long way since then. It's now a popular event space complete with stunning ornate archways, gardens and stellar views of Lake Ontario. It can accommodate 70 to 90 guests, making it best suited for intimate affairs.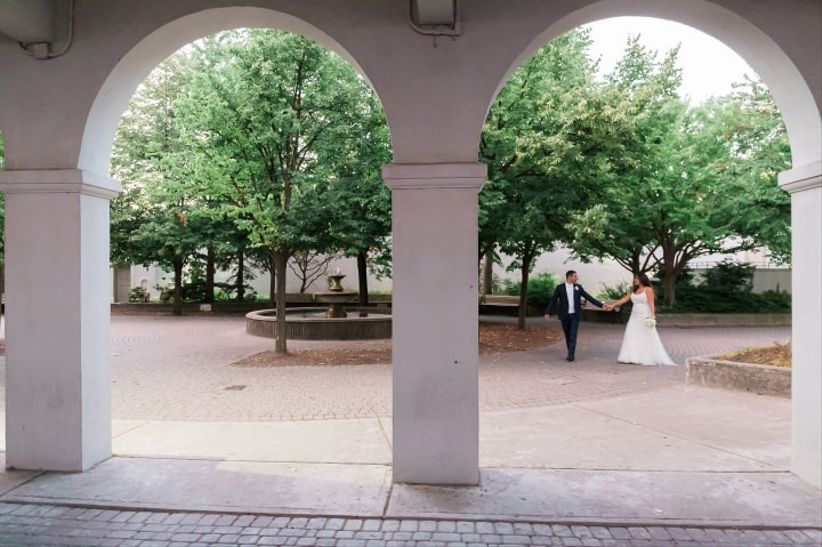 Thompson Toronto (550 Wellington Street)
Want to say your "I dos" with the CN tower and Rogers Centre as your backdrop? Head to the top of the Thompson Toronto. Its 3,900 square-foot rooftop is outfitted with chic decor and has both indoor and outdoor spaces available. It has enough room for 220 people, so you can add a few extra names to your guest list.
The Burroughes Building (639 Queen Street West)
The Burroughes Building is a favourite for industrial-chic style weddings. Climb to its rooftop terrace and you'll find a rustic-chic patio decked out with strands of edison bulbs. From here you can see the CN tower, the city's tallest skyscrapers and more. If you book the space you'll also have access to the 6th floor venue space which boasts exposed brick and beams, hardwood floors and massive windows. Together they can fit up to 140 guests.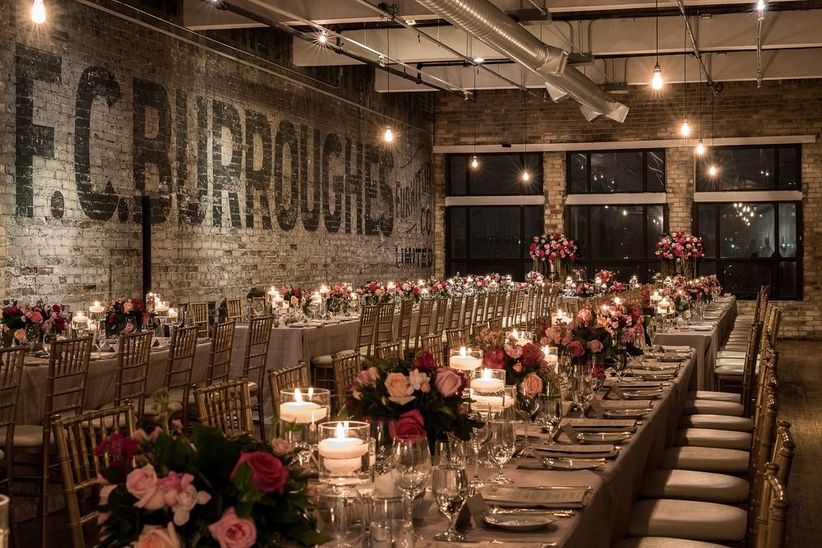 Park Hyatt Toronto (4 Avenue Road)
Want to tie the knot in the city's ritzy Yorkville neighbourhood? Make your way to the Toronto Park Hyatt. Its Roof Salon is 18 floors above street level and flaunts amazing views of everything our fair city has to offer, from Queens Park to the CN Tower. It is equipped with an indoor space as well as a wrap around terrace, so you'll be able to enjoy yourselves even if the weather starts acting up. The space has a capacity of 120 guests, so try not to go overboard with the invites.
Find more Toronto wedding venues on WeddingWire »