Let's talk about outdoor wedding venues in Ottawa! You've probably seen your fair share of ballrooms and banquet halls, but some of the city's brightest gems are actually in the great outdoors. From art gallery balconies to wineries to elegant estates, there's an open-air wedding venue for every type of couple. To help get you started, we've rounded up some of our favourite outside event spaces in Ottawa. Hopefully, you'll find "the one" on this list!
Here are some awesome outdoor wedding venues in Ottawa.
Britannia Yacht Club (2777 Cassells Street)
If you're on the hunt for a wedding venue with a bit of a nautical twist, you'll love the Britannia Yacht Club. It has plenty of room outdoors to set up a marquee tent, so you can easily have your ceremony or reception overlooking the Ottawa River. If you want to head inside for half your event, you're in luck, because it's pretty stunning in there, too! It has a bit of an old-timey feel inside, with wood paneling and flooring throughout and massive windows that let in a ton of natural light. It can fit up to 144 guests indoors, or 150 guests outdoors.
Carleton Golf and Yacht Club (6627 Marina Drive)
Want to feel like a member at a swanky golf club on your wedding day? Go ahead and book the Carleton Golf and Yacht Club. The picturesque outdoor area is great for ceremonies and has amazing views of the marina and lush surrounding gardens, giving you plenty of beautiful wedding backdrops to choose from. Once you've said your vows, head inside the clubhouse to party the night away in the club's banquet hall (it's a completely flexible space that can easily be spruced up to fit your wedding theme). It can accommodate anywhere from 20 to 140 guests, making it perfect for small to midsized weddings.
Canadian Golf and Country Club (7800 Gold Club Way)
The Canadian Golf and Country Club is another gorgeous country club venue in Ottawa that definitely needs to be on your radar. The crown jewel of the space is its outdoor ceremony area, which features a charming gazebo at the edge of a private pond (idyllic, to say the least). If you don't want to bring your reception into the clubhouse dining room, there's ample lawn space for a reception tent and an enclosed pavilion available. It can accommodate up to 300 guests.
Canada Agriculture and Food Museum (901 Prince of Wales Drive)
Canada Agriculture and Food Museum may not seem like a romantic spot, but it's truly one of the most stunning outdoor wedding venues in Ottawa. It has ample lawn space, heritage barns, and wildflower fields that make for amazing ceremony and reception areas (not to mention photoshoot backdrops). It can fit up to 500 guests, so you don't have to worry about cutting back your list at all.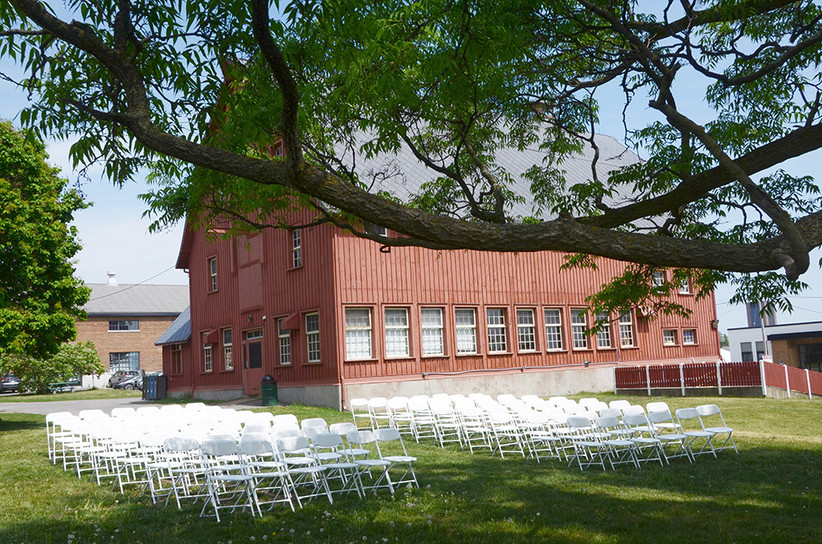 Umbrella Bar (1001 Queen Elizabeth Driveway)
Umbrella Bar is a quaint and summer-y wedding venue on Dow's Lake with a massive waterfront patio. Aside from strands of fairy lights overhead, this outdoor spot is pretty much a blank canvas, meaning you can add whatever decor and furnishings fit your theme and colour scheme. It can fit between 50 and 150 guests, so don't go too crazy with your guest list.
Domaine Perrault Winery (1000 Perrault Road)
If you and your partner love nothing more than kicking back with a bottle of vino, Domaine Perrault Winery may just be your dream winery wedding venue. It covers 500 acres of land, and has plenty of lawn space that would fit marquee tents of just about any size. It truly is the perfect spot if you love rustic-chic, country-style themes, and looks awesome outfitted with wood-heavy decor and fairy lights. It can work with groups of up to 200 guests.
Stonefields Estate (1985 9th Line Beckwith)
Take the 45-minute drive out of Ottawa to see all the beauty that Stonefields Estate has to offer. It's a 120-acre heritage farm and has its original stone farmhouse, log barns, and an elegant event building, as well as plenty of outdoor space that you can take advantage of for your celebration. Basically, if you've dreamed of having a rustic-chic, farm style wedding, this is the wedding venue for you. It can accommodate up to 220 guests but is happy to host more intimate weddings, too.
Le Belvedere (40 Des Sentiers)
Le Belvedere is another stunning wedding venue that's worth leaving Ottawa for (don't worry, it'll only take you half an hour in the car). It's an 8,000 square foot event space that sits right on the edge of a cliff in Wakefield, Quebec, and offers some seriously gorgeous views (like, the Gatineau Hills as a backdrop for your celebration). The interior is ultra-modern, but if you want to embrace the great outdoors on your special day, you need to book its rustic patio space. The maximum capacity is 200 guests.
Find more wedding venues in Ottawa on WeddingWire »