11 Stunning Outdoor Wedding Venues in Ontario
If you're on the hunt for a gorgeous outdoor wedding venue in Ontario, we've got you covered with these hot picks.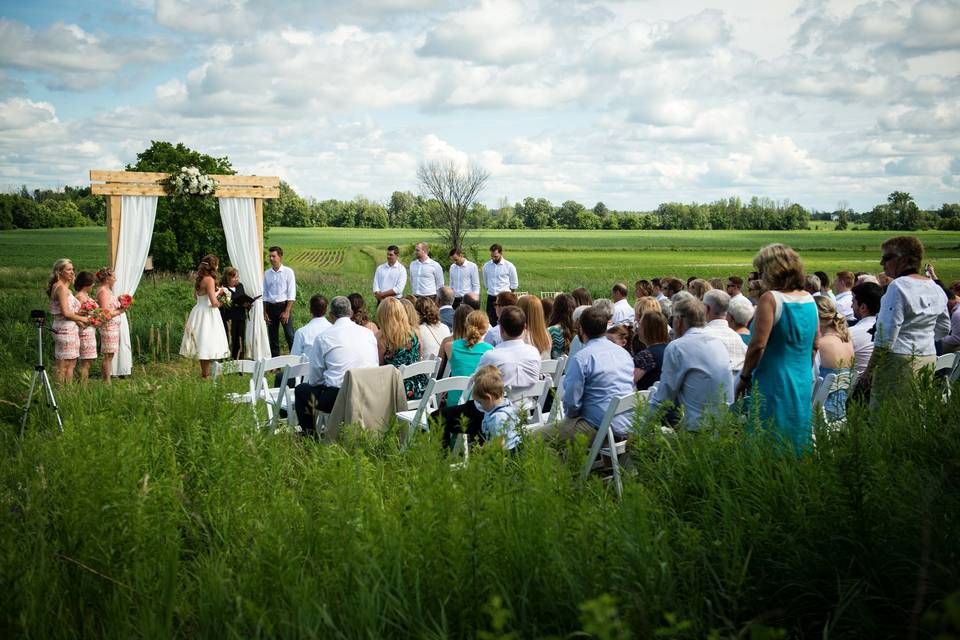 Planning to tie the knot in the great outdoors? If you've always dreamed of having an open-air celebration for your big day, let this list be your guide. We've rounded up the best outdoor wedding venues in Ontario, including vineyards, farms, estate homes, and private clubs. Whether you want to get married on a patio, under a canopy of trees, or on a manicured lawn, there's something on this list you're sure to love.
Here are a few of our favourite outdoor wedding venues in Ontario.
Hernder Estate Wines (St. Catharines)
If you and your partner love wine almost as much as you love each other, a vineyard is a natural choice for your big day, and Hernder Estate Wines is definitely one of Ontario's best. It's spread across a massive 500-acre piece of land between St. Catharines and Beamsville and has both indoor and outdoor spaces on offer. It has two banquet halls, the Victoria Room (which can hold 250 guests) and the Alexis Room (which can hold 160 guests), both of which feature cozy, wood-heavy decor. If banquet halls aren't your thing, the lawn and east patio can also be transformed to meet your ideal wedding theme and colour scheme.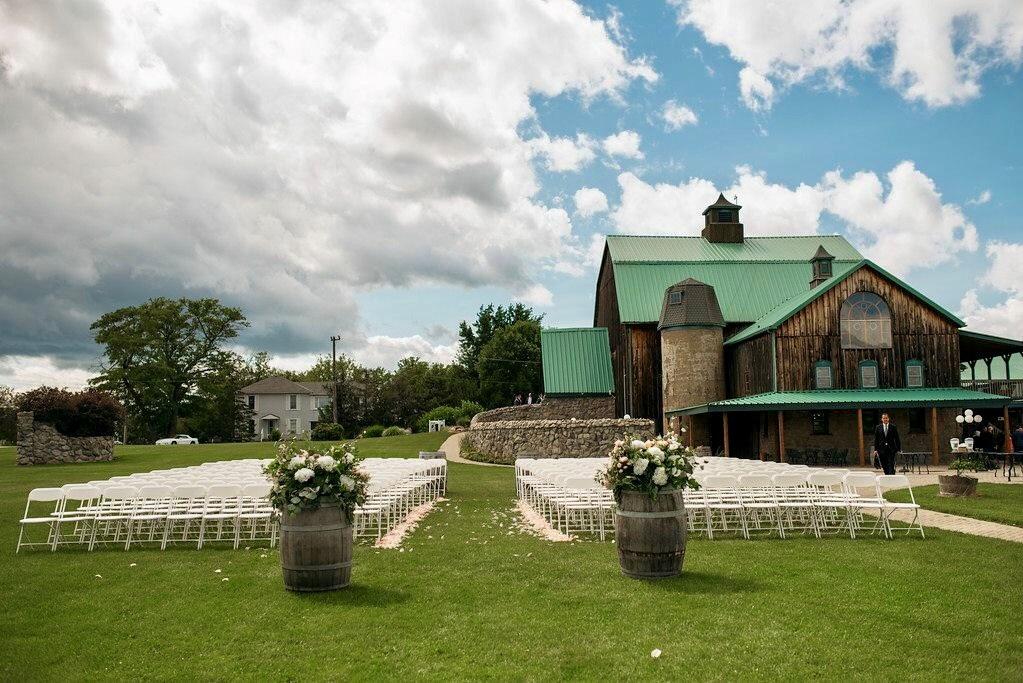 Evergreen Brick Works (Toronto)
Want to tie the knot in a gorgeous outdoor space smack in the middle of Ontario's biggest city? Look no further than the Evergreen Brick Works. It's an eco-focused outdoor wedding venue in the heart of Toronto, nestled in the picturesque Don Valley. It's a converted industrial site and has a variety of open-air and covered outdoor options overlooking the ponds and quarry garden (plenty of amazing wedding photo backdrops here!). If you're looking for a spot that's a bit more eco-friendly, you're in luck. The team here will help you plan a sustainable event that's cleaner and greener than most. It can accommodate small ceremonies, 2000-person parties, and everything in between.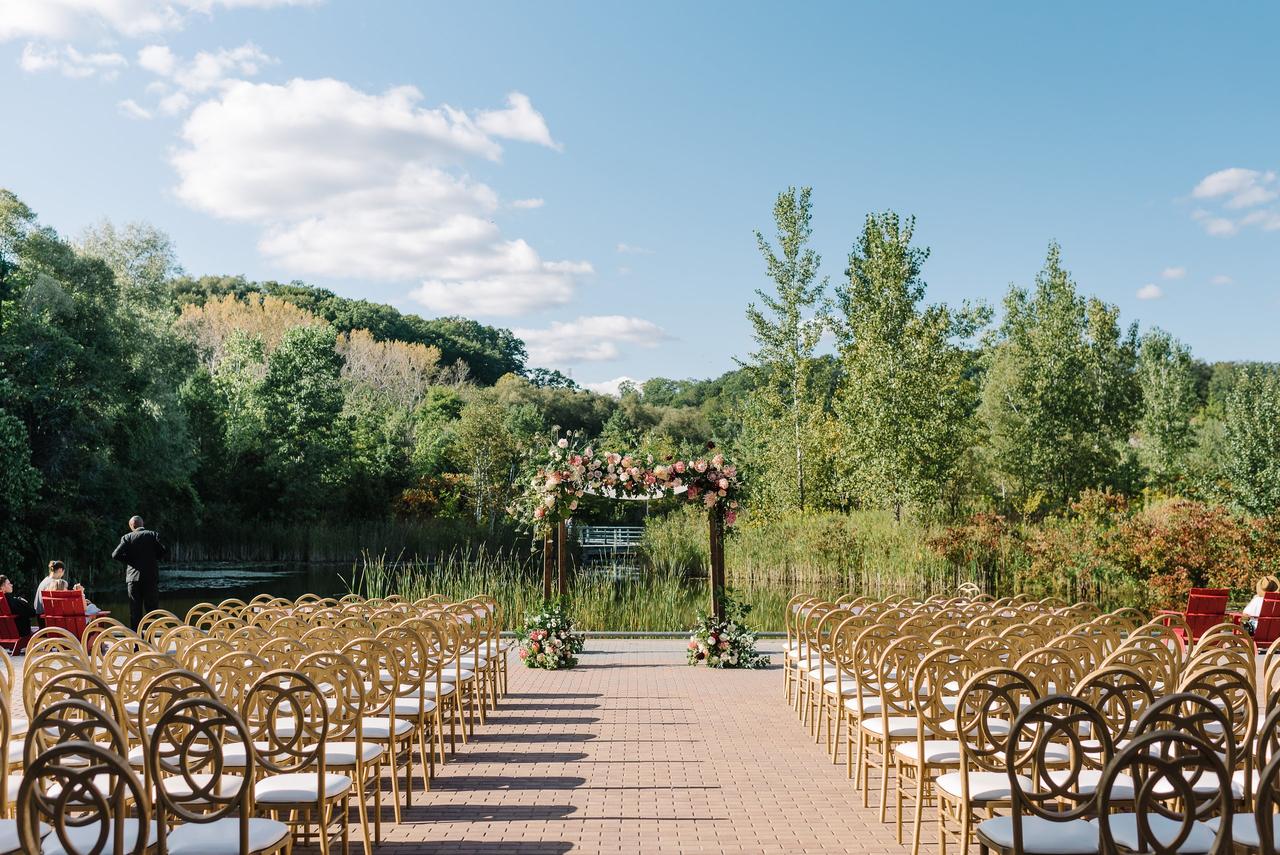 Strathmere (Ottawa)
Strathmere is a gorgeous countryside indoor-outdoor wedding venue in Ottawa. It has plenty of event-worthy spaces, including a 150-year old restored barn, garden house, and fieldstone farmhouse. Naturally, there's also plenty of outdoor space you can play around with, too. As for capacity, the 200-acre property can accommodate up to 225 guests, meaning you should be able to fit all of your loved ones on your guest list.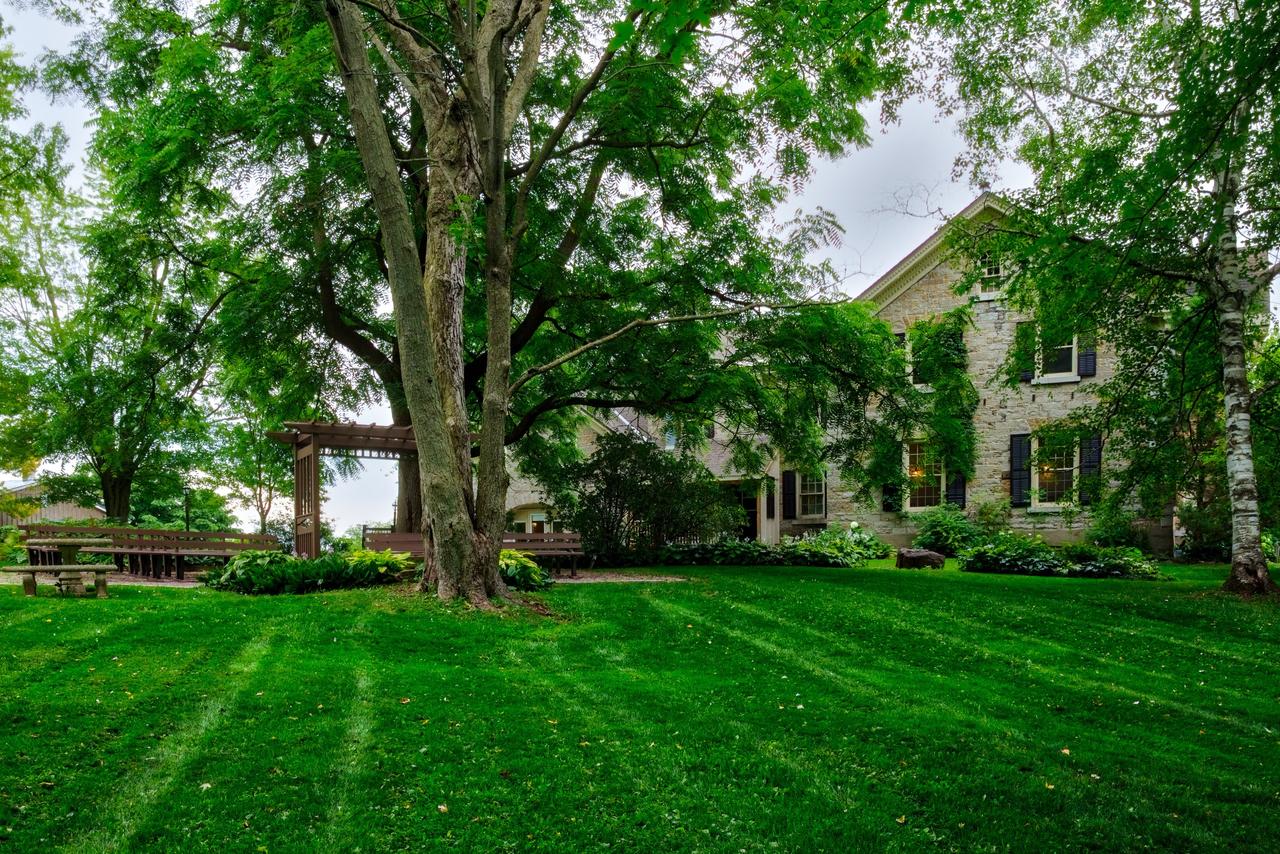 Cambium Farms (Caledon)
Cambium Farms is, without a doubt, one of the best farm wedding venues in Ontario. It's located in Caledon and is home to a remodelled, rustic barn and acres of meadows and lawns. Obviously, you'll want to take advantage of the barn on your big day, but we also suggest using the beautiful outdoor space for your ceremony or cocktail hour. It has a capacity of 230 guests.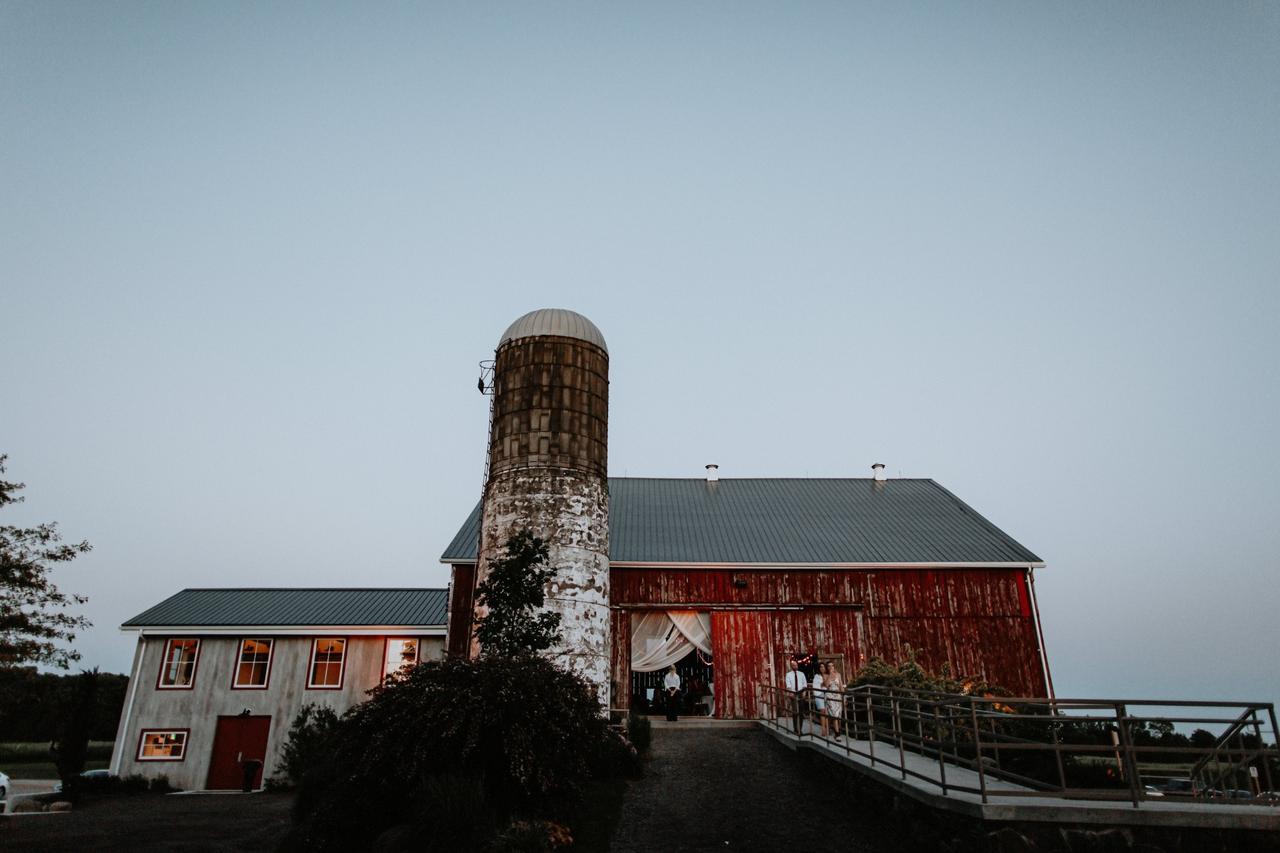 Erin Estate Weddings (Erin)
If you're into woodland weddings, you need to see Erin Estate. It's home to a fairytale-esque, Tudor-style mansion and acres upon acres of green space. You can tie the knot under a canopy of trees and then move to a marquee tent to drink, dance, and party the night away with your closest pals and family members. It can accommodate up to 160 guests, making it ideal for small to mid-size weddings.
The Arlington Estate (Vaughan)
The Arlington Estate is a stunning Vaughan wedding venue with beautiful function spaces both inside and out. If you're hosting an open-air celebration its gorgeously-maintained lawns are where it's at. You can set up under the covered patio or celebrate under the sun and stars if the weather cooperates. It can fit up to 475 people, so there will be no need to shrink your guest list.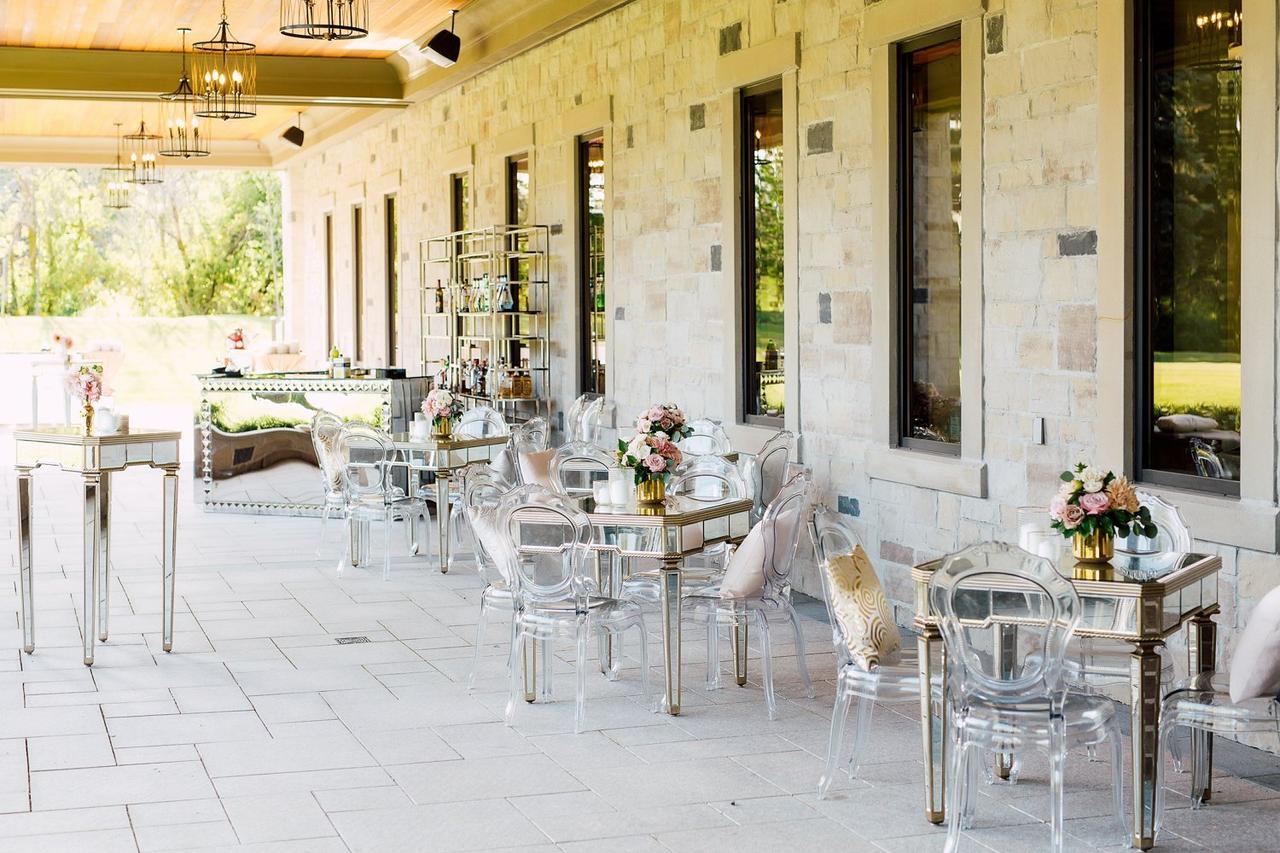 Club Roma (St. Catherines)
Club Roma is an idyllic outdoor wedding venue located in St. Catherines. It's home to a few function rooms, but the Garden Pavilion is the perfect place to host your open-air celebration. It's surrounded by majestic trees, budding flowers, and an outdoor bar (great for your cocktail hour!). It can accommodate up to 200 guests, making it an awesome choice for a midsize wedding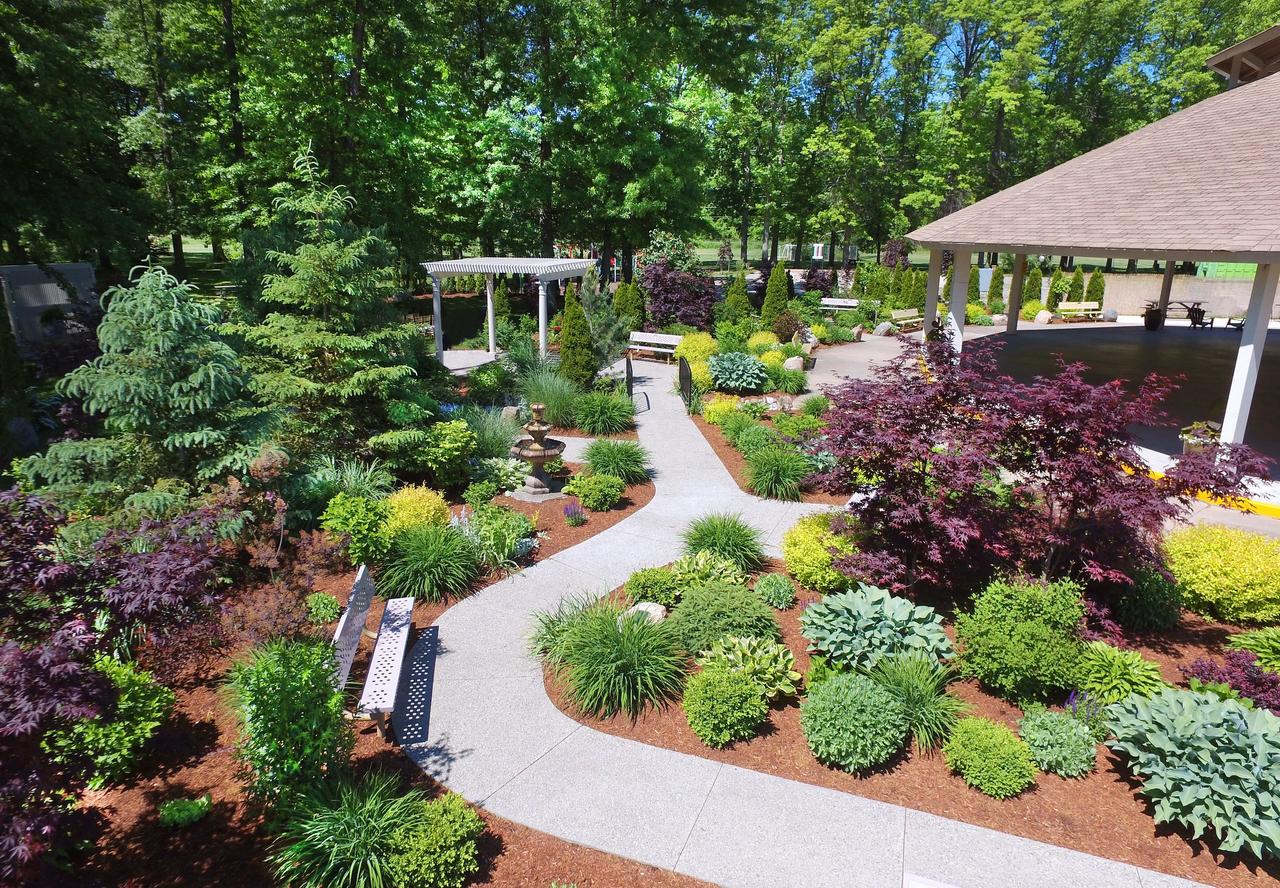 Toronto Botanical Gardens (Toronto)
If you want a whimsical wedding venue in the big city, you'll love the Toronto Botanical Gardens. This outdoor Toronto wedding venue flaunts manicured shrubs, overflowing flower beds, and an Alice in Wonderland vibe that can't be beat. There are also a few indoor spaces (with massive windows that look out onto the garden, of course) available if you need or want to bring your wedding indoors. It can accommodate up to 400 of your nearest and dearest, so you should have no trouble squeezing in all of your friends and family.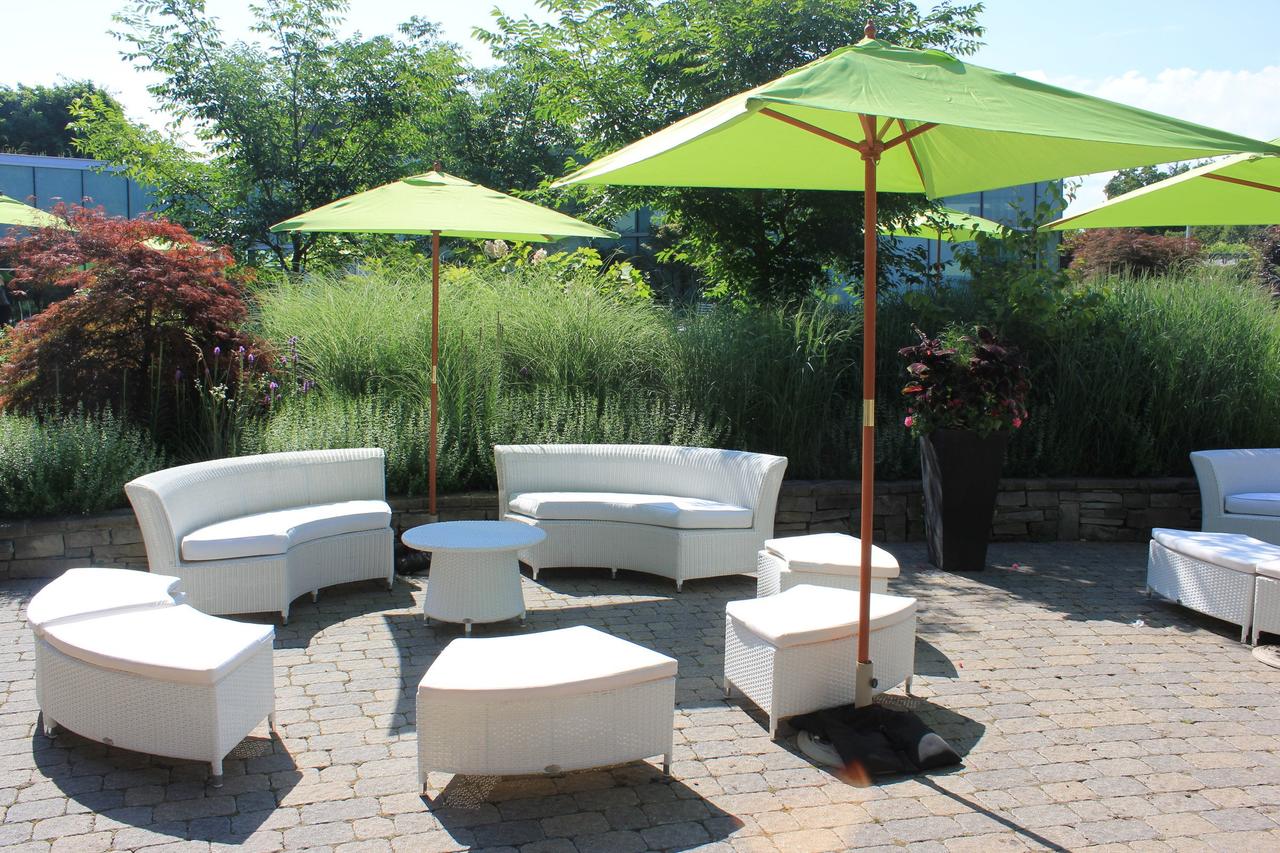 Vineland Estates Winery (Vineland)
Vineland Estates Winery is set on a property with a history as rich as the deepest Bordeaux. Before converting into a winery, the property was a Mennonite homestead and even has a few of its original buildings. The farmhouse, century barn and Carriage House are all original structures but have all been given some serious upgrades and now house a restaurant, retail store, and event venue respectively. It has equally gorgeous rustic spaces indoors and outdoors and can accommodate up to 56 guests.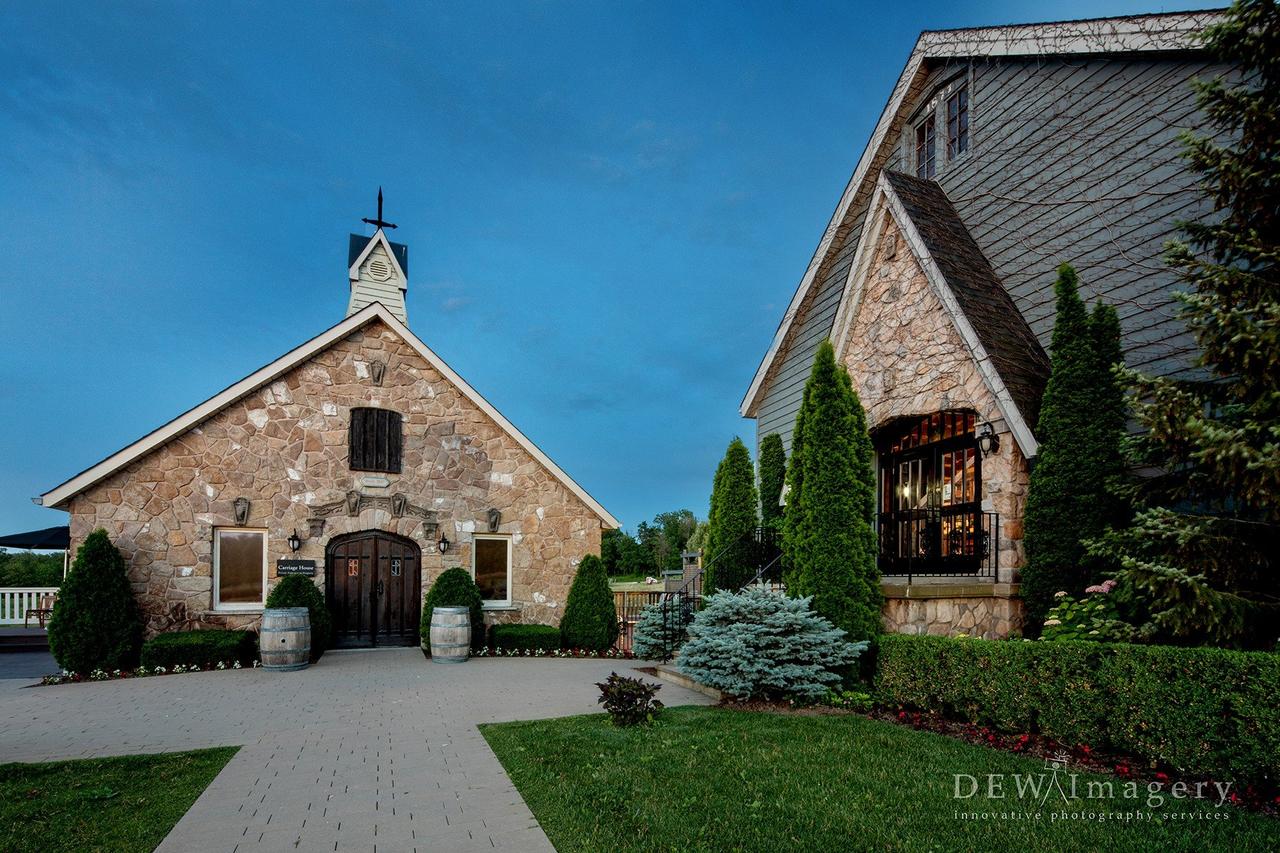 Ravine Vineyard (St. Davids)
Make your way to St. Davids to see everything that Ravine Vineyard has to offer. The family-run farm is home to one of the country's "most architecturally significant ancestral homes", the 200-year old Loyalist Georgian Wm. Woodruff House. As with most vineyards, it's great for outdoor weddings, there's a 2,000 square foot terrace, as well as plenty of lawn space. It can accommodate up to 600 people.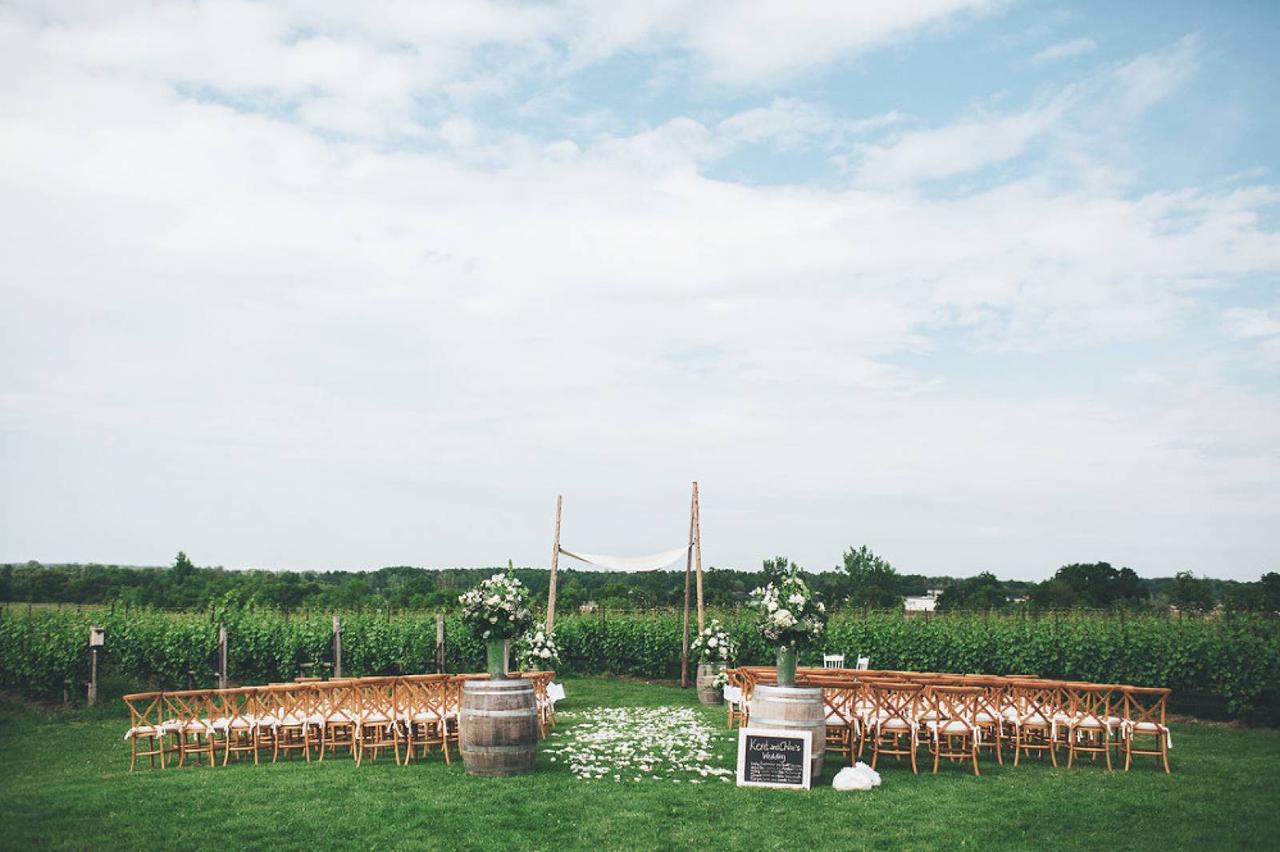 Island Yacht Club (Toronto)
If you want to get hitched in Toronto, but in a spot that looks like it belongs somewhere in Muskoka, check out the Island Yacht Club. It covers 18-acres of private property and boasts stunning natural views of parkland, city skyline, and, of course, the lake. Naturally, the lawn is where you want to be for an open-air wedding, but if Mother Nature starts acting up, you can always move your party into the clubhouse. The space has gigantic floor-to-ceiling windows so you won't miss out on the view or the ceremony backdrop. It can fit up to 170 seated guests, so it's a great option for midsize weddings.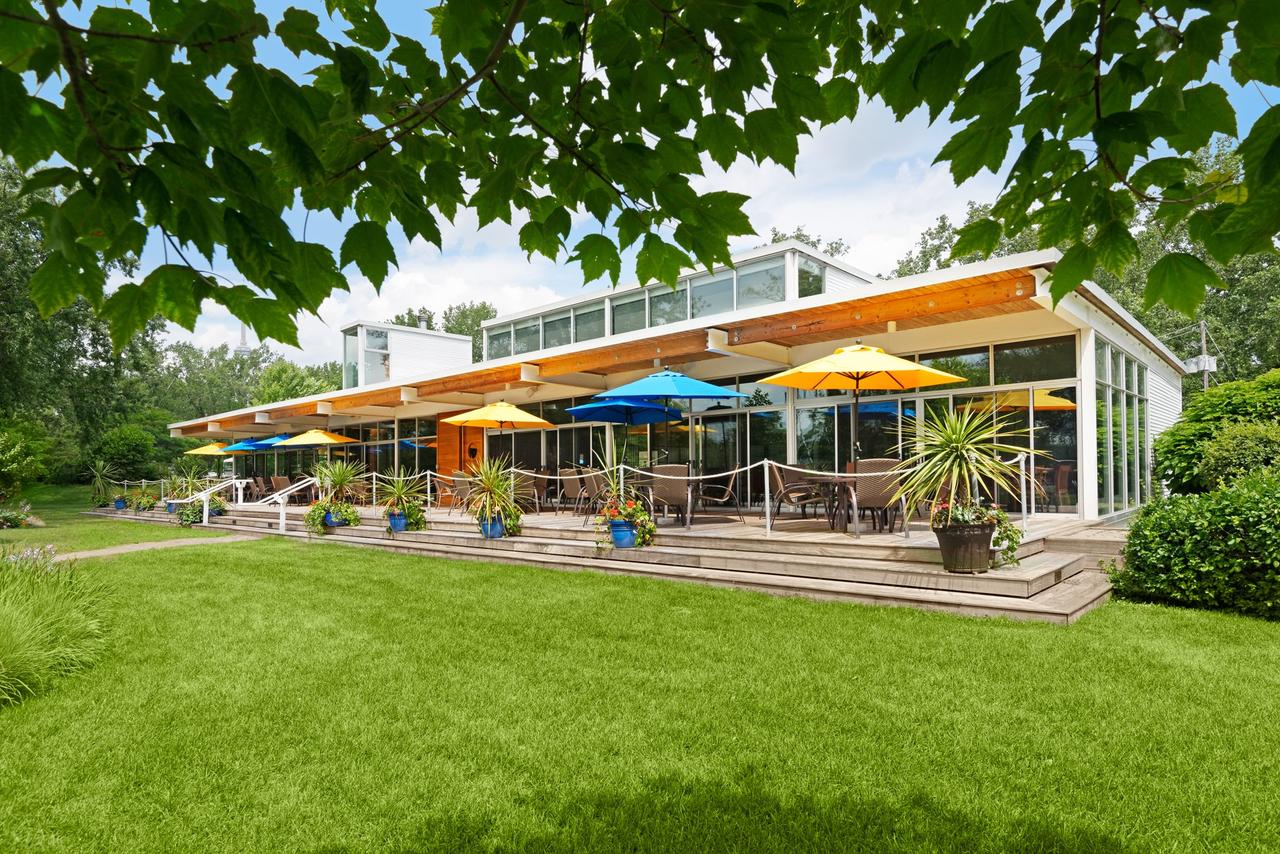 For more amazing outdoor wedding venues in Ontario, check out these lists:
Outdoor Wedding Venues in Hamilton
Outdoor Wedding Venues in Ottawa
Outdoor Wedding Venues in Toronto
Waterfront Wedding Venues in Toronto
Boat Wedding Venues in Toronto
Find more outdoor wedding venues in Ontario on WeddingWire »