The Top 10 Winery Wedding Venues in Ontario
If you and your soon-to-be spouse love a good glass of merlot, shiraz or sauvignon blanc, an Ontario winery would be a totally appropriate wedding destination. Can't settle on the perfect one? Here are a few tips.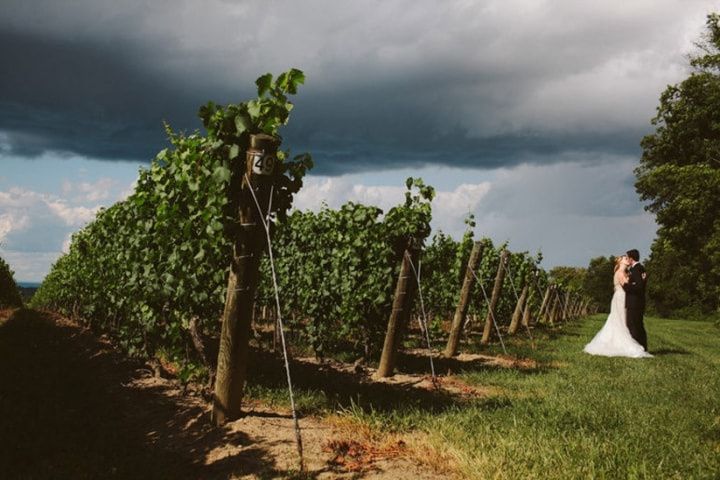 Dream of getting hitched at a vineyard? Well, lovebirds, it's time to take a trip to Southern Ontario to find your winery wedding venue. The region is filled with picturesque vineyards worthy of hosting your big day. From cozy coach houses to gazebos, it's got it all.
Here are my picks for the top vineyard wedding venues in Ontario.
Hernder Estate Wines (St. Catharines)
Hernder Estate Wines is spread across a massive 500-acre piece of land between St. Catharines and Beamsville. You and your guests will enter through Niagara's only covered bridge and be treated to sites of the sprawling vineyard upon arrival. When it comes to winery wedding venues, you've got options. It has two banquet halls, the Victoria Room (which can hold 250 guests) and the Alexis Room (which can hold 160 guests), both of which feature cozy, wood-heavy decor. If banquet halls aren't your thing, the lawn and east patio can also be transformed to meet your wedding needs.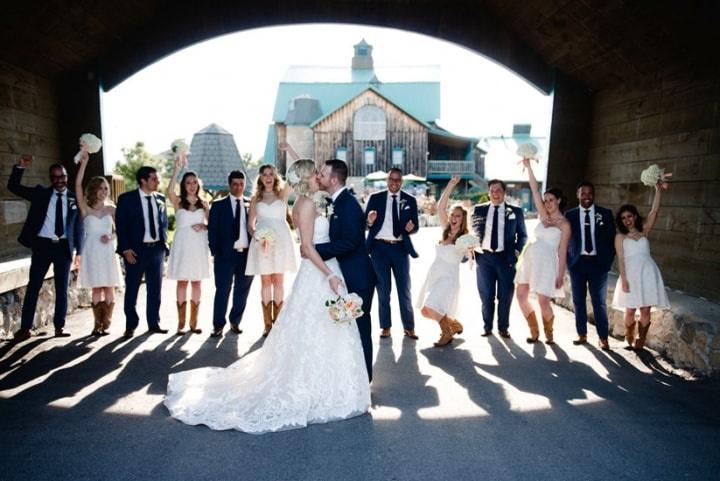 Rockway Vineyards (St. Catharines)
A few mere miles from Hernder Estates on the Twenty-Mile Bench of the Niagara Escarpment you'll find Rockway Vineyards. This spot has got it all: 75 acres of vineyards, a golf course, an antique wine museum and more. Its indoor event spaces are the perfect blend of rustic and modern and offer stunning views of the grounds from their windows. It can accommodate 200 guests.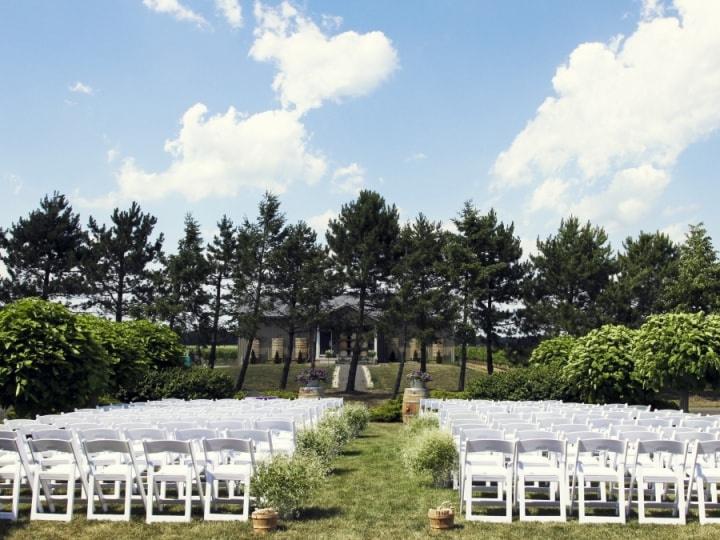 Peninsula Ridge Estates Winery (Beamsville)
Hosting an intimate affair? The Peninsula Ridge Estates Winery may be the wedding destination for you. Events are held in the Coach House, a pint-sized building that can accommodate up to 48 guests (making it ideal for those who only want their nearest and dearest in attendance). The property itself is downright picturesque, offering views of the Niagara Escarpment, Lake Ontario, the Toronto skyline and - obviously - the vineyard.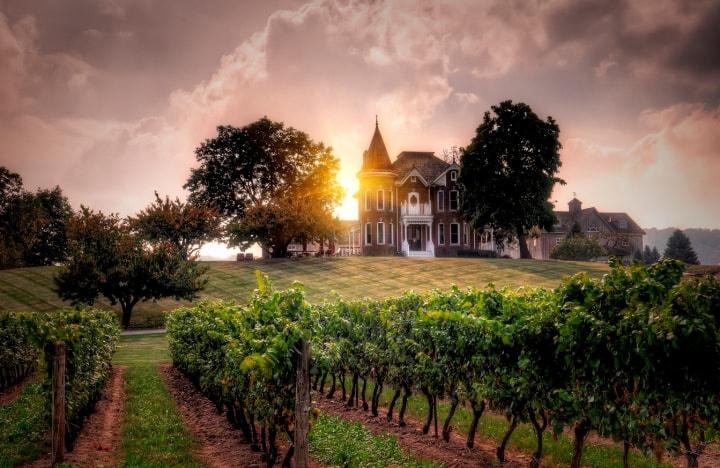 Konzelmann Estate Winery (Niagara-on-the-Lake)
Niagara is chock full of top notch vineyards, and Konzelmann Estate Winery is no exception. It takes up a gorgeous piece of real estate on the shores of Lake Ontario, so you can expect some stellar views. Their indoor event space can accommodate approximately 100 guests, but there are smaller private rooms available for more intimate celebrations.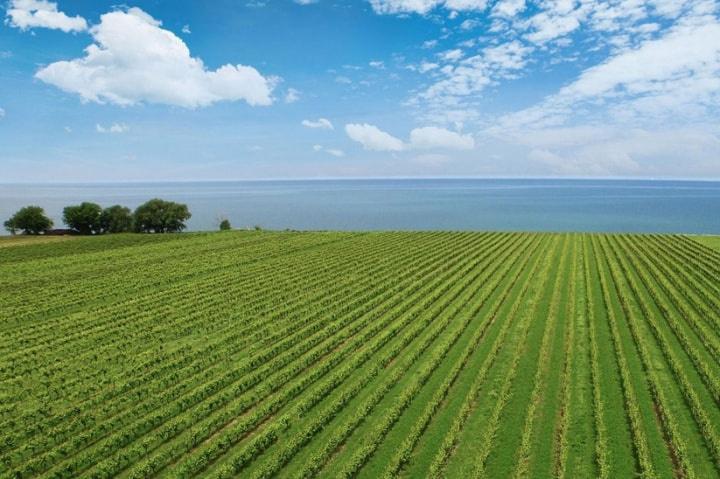 Cave Spring (Jordan)
The Cave Spring vineyard in the Beamsville Bench is an expansive 135.5-acre property with massive wedding potential. It's pretty impressive spot to say your "I dos", with vineyards and greenery as far as the eye can see. Speaking of "I dos", many couples choose to say theirs at the Inn on the Twenty, Cave Spring's very own hotel (it can host up to 140 guests). Looking for something a little larger? There's plenty of outdoor space to take advantage of.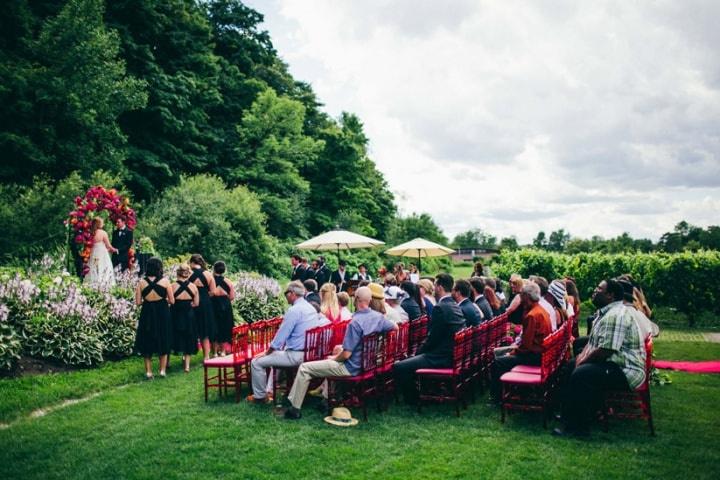 Sue-Ann Staff Estate Winery (Jordan)
Sue-Ann Staff Estate Winery has been in business since 1898, when the first vineyard was planted at the corner of Staff Avenue and 17th Street. It has now flourished into a huge operation that covers 50 acres of land in Jordan Station. As you'd expect, it's a pretty picture perfect Ontario winery wedding venue. You and your S.O. can exchange rings in the gazebo overlooking the hourglass pond and then move into the tented reception area to party. It can accommodate up to 240 guests.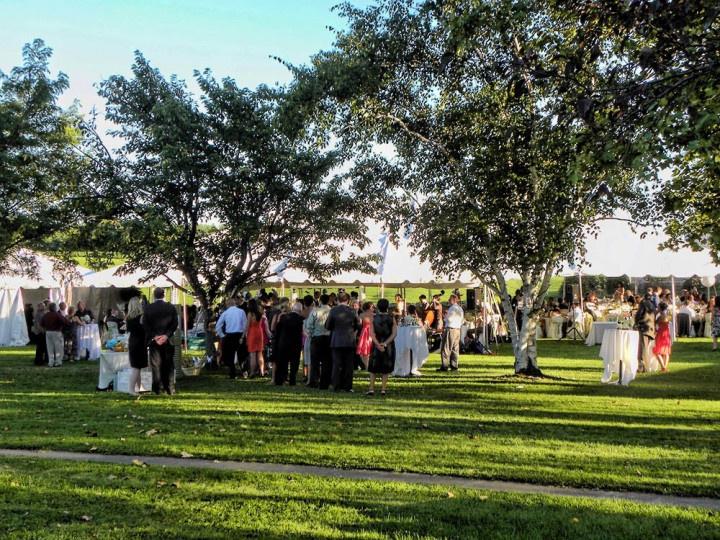 Vineland Estates Winery (Vineland)
Out in Vineland you'll find the aptly named Vineland Estates Winery. The property is rich in history that extends beyond merlots and rieslings. Before converting into a winery the property was a mennonite homestead. In fact, it still has a few buildings that date back to the 1840's. The farmhouse, century barn and Carriage House have all been given new life and now house a restaurant, retail store and event venue respectively. Looking for a cute place to stay after your wedding wraps? Consider booking a room in the B&B. It's ideal for smaller affairs, with a capacity of 56.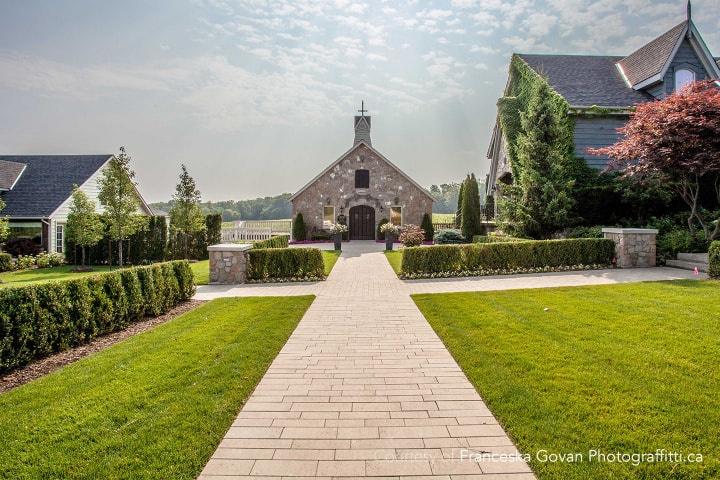 Ravine Vineyard (St. Davids)
Ravine Vineyard is a family business that stretches across 34 acres of land in St. Davids. The farm has been in the Lowrey family since 1867 and is home to one of the country's "most architecturally significant ancestral homes", the 200-year old Loyalist Georgian Wm. Woodruff House (which now houses their hospitality centre). The space is ideal for outdoor weddings, with most couples opting to host their big day under massive canopies. It can accommodate up to 600 people, so feel free to add second cousins and coworkers to your guest list. Image: Mango Studios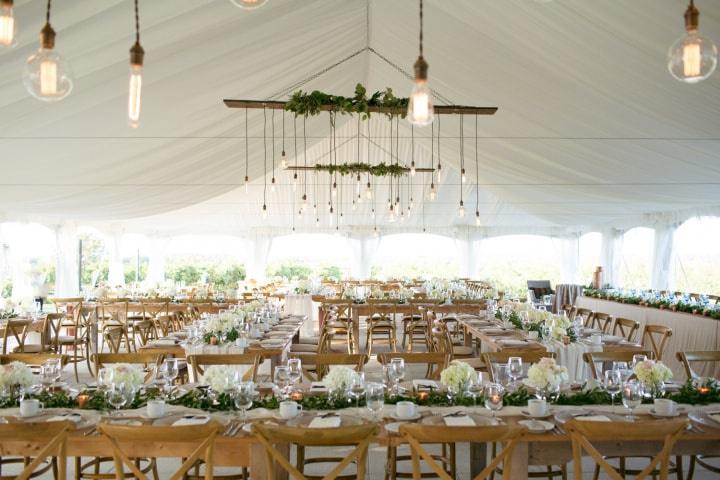 Cooper's Hawk Vineyards (Harrow)
In Essex Pelee Island Coast wine country (also known as EPIC) you'll find Cooper's Hawk Vineyards, a 67-acre estate filled with rolling green vineyards, wetlands, ponds and park areas. The folks behind the vineyard are strongly committed to protecting the environment and aim to preserve and restore the wildlife on their property (making it the perfect spot for eco-conscious couples to tie the knot). It boasts indoor, outdoor and covered outdoor spaces, giving you plenty of options for your big day. Its capacity is 120 guests.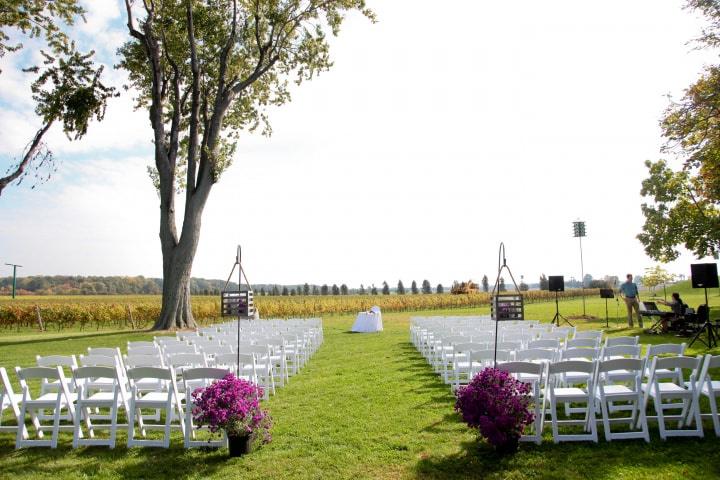 Mastronardi Estate Winery (Kingsville)
Another Ontario winery wedding venue in Essex County is the Mastronardi Estate Winery. The 100-acre vineyard was planted over a quarter of a century ago and is still going strong. It offers customizable indoor and outdoor spaces and can accommodate anywhere from 50-500 guests.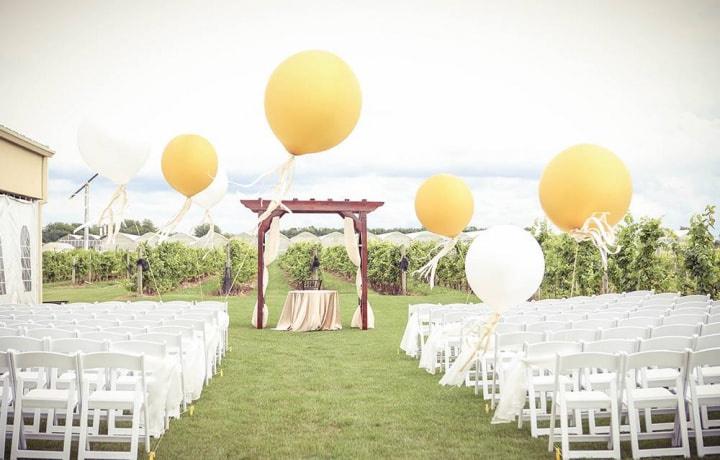 Find more Ontario winery wedding venues on WeddingWire »