8 Stunning Outdoor Wedding Venues in Montreal
Looking for an outdoor wedding venue in Montreal? We've rounded up a few of our favourites to help you find the perfect spot.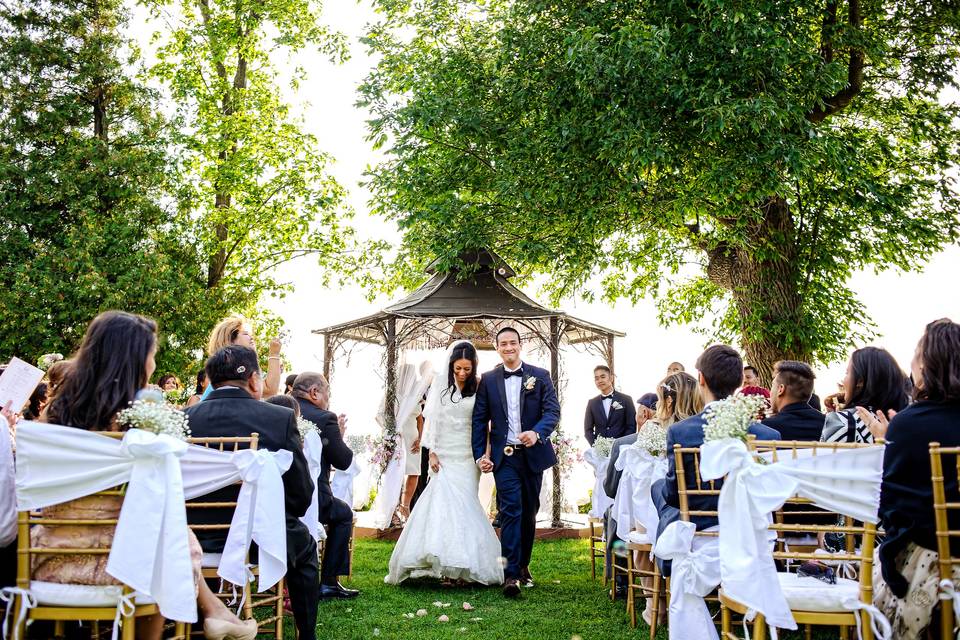 Montreal is loved for its party atmosphere, killer cuisine, and beautiful wedding venues. If you're on the lookout for an open-air celebration destination for your special day, we've rounded up a few of our absolute favourite outdoor wedding venues in Montreal. From restaurant patios to hotel terraces to manicured country clubs, this list truly has something for everyone. If you need help finding the perfect spot, this list is a great place to start. Happy hunting!
Here are a few of our favourite outdoor wedding venues in Montreal.
Loews Hotel Vogue (1425 Rue DeLa Montagne)
If you love the idea of hosting a hotel wedding but want something with open-air spaces, look no further than Loews Hotel Vogue. The swanky spot offers gorgeous function areas and accommodations for your guests, giving you a double whammy of greatness. While the ballroom and bedrooms are awesome, the rooftop terrace is truly the crown jewel. It looks out over the city and is surrounded by gorgeous gardens (so you won't have to spend a ton of money on a florist). It can accommodate up to 180 guests, making it a great choice for larger celebrations.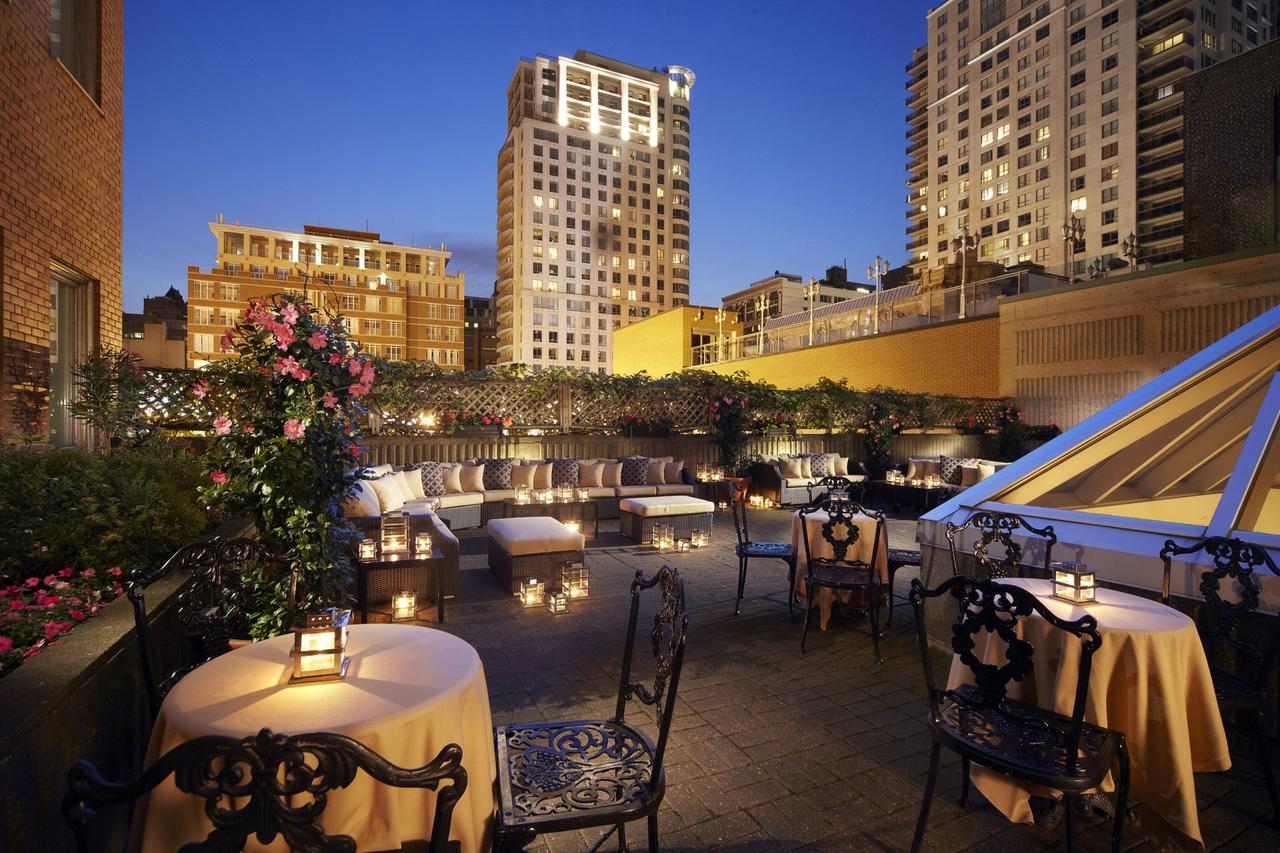 Sheraton Montreal Hotel (555 Boulevard McMillan)
Sheraton Montreal Hotel is another great option for couples who are in the market for a hotel spot with an outdoor function area. Like Loews, it's filled with beautiful event rooms, but its open-air spaces are what really make it shine. It has a stone patio space (perfect for wedding ceremonies), a garden, and enough lawn space to put up a marquee tent (so you can stay in the great outdoors, rain or shine). It's large enough to fit 350 guests, so it's perfect for massive events.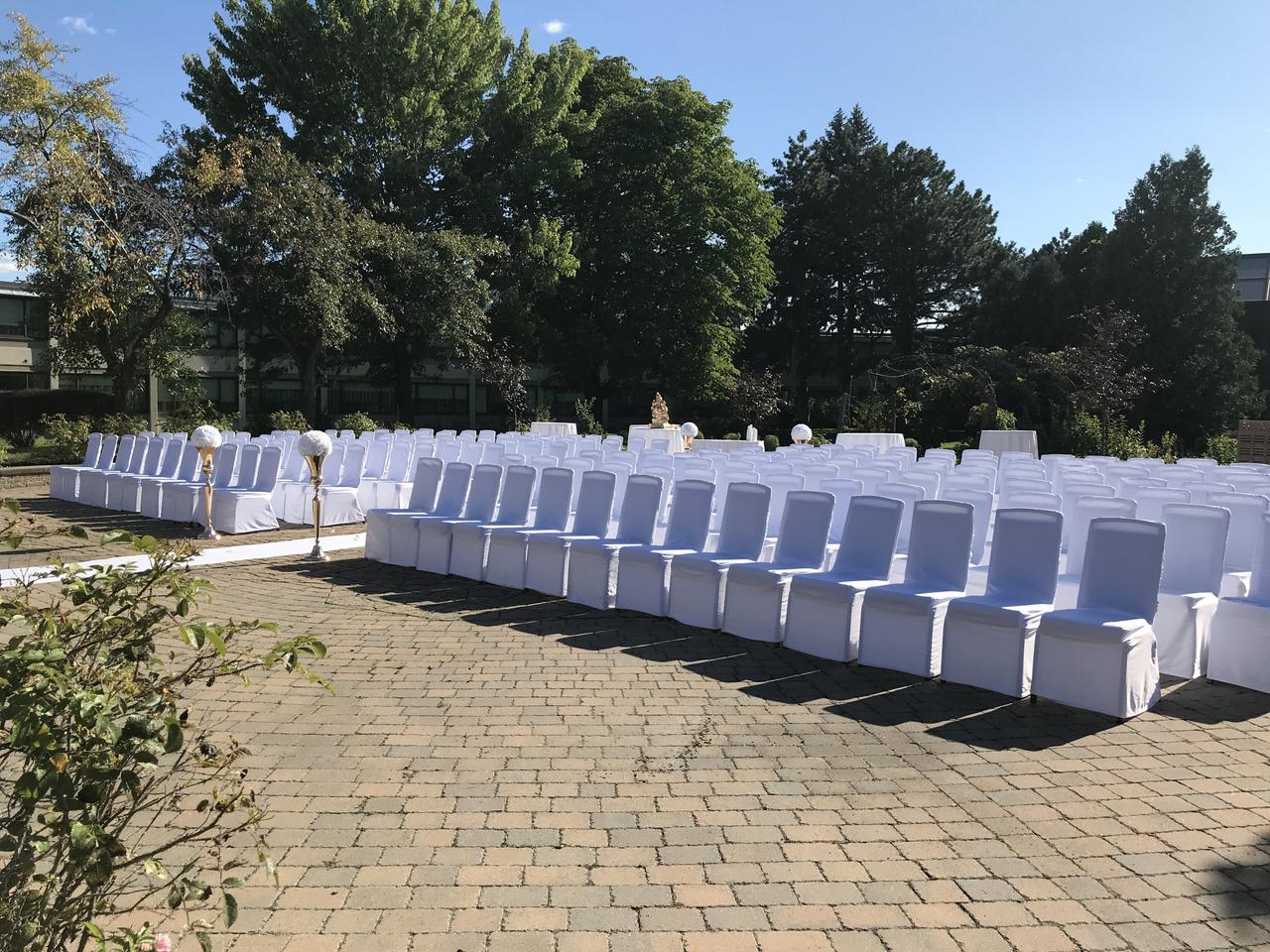 Elm Ridge Country Club (851 Chemin Cherrier)
Love the look of a manicured golf green? Well, it sounds like Elm Ridge Country Club may just be the outdoor Montreal wedding venue for you. It's absolutely idyllic, with sprawling lawns covered in colourful flowers and trees (including a romantic weeping willow) and pebble-surrounded ponds. You can also make use of its modern clubhouse on your big day, which is an amazing spot for dinner, drinks, and dancing after you've had your ceremony under the sunny skies. It can accommodate anywhere from 75 to 400 guests, making it great for weddings of all sizes.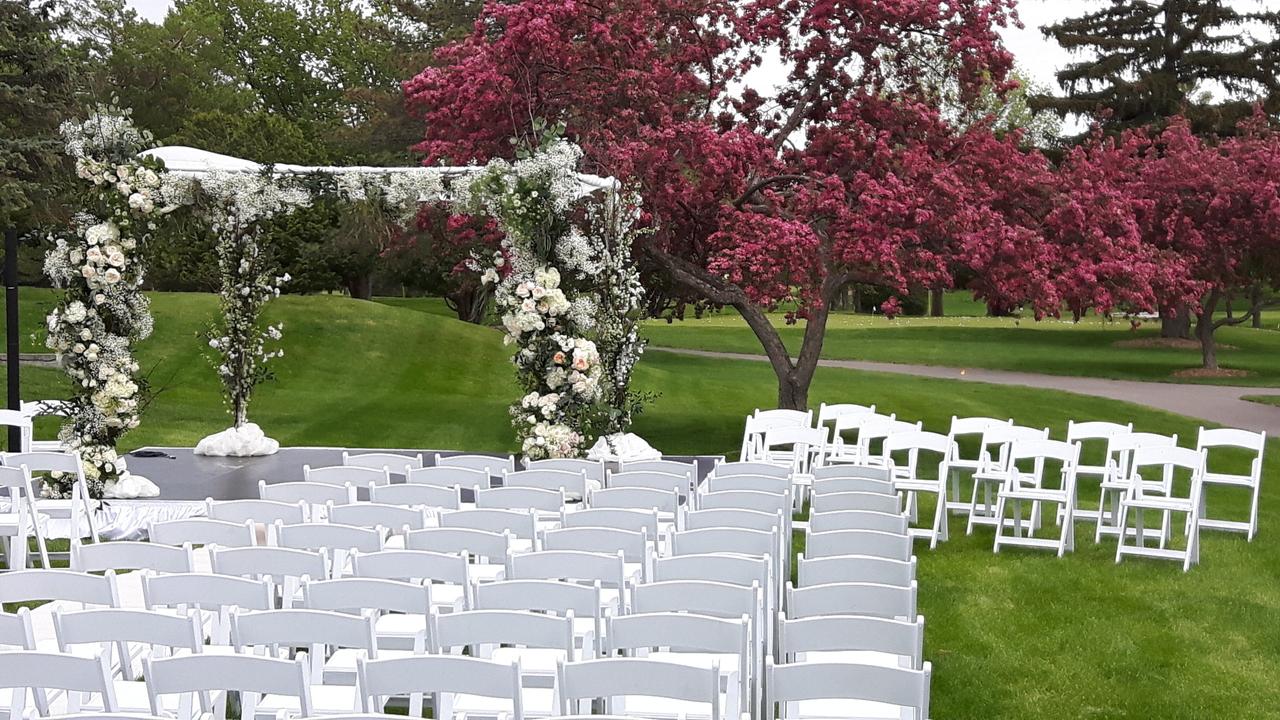 Le Challenger (2525 Des Nations)
For an elegant one-stop-shop wedding venue, Le Challenger banquet hall in Saint-Laurent is the place to go. They have a number of event spaces including an outdoor terrace and patio surrounded by trees for privacy and a green backdrop. They offer three wedding packages including a kosher option.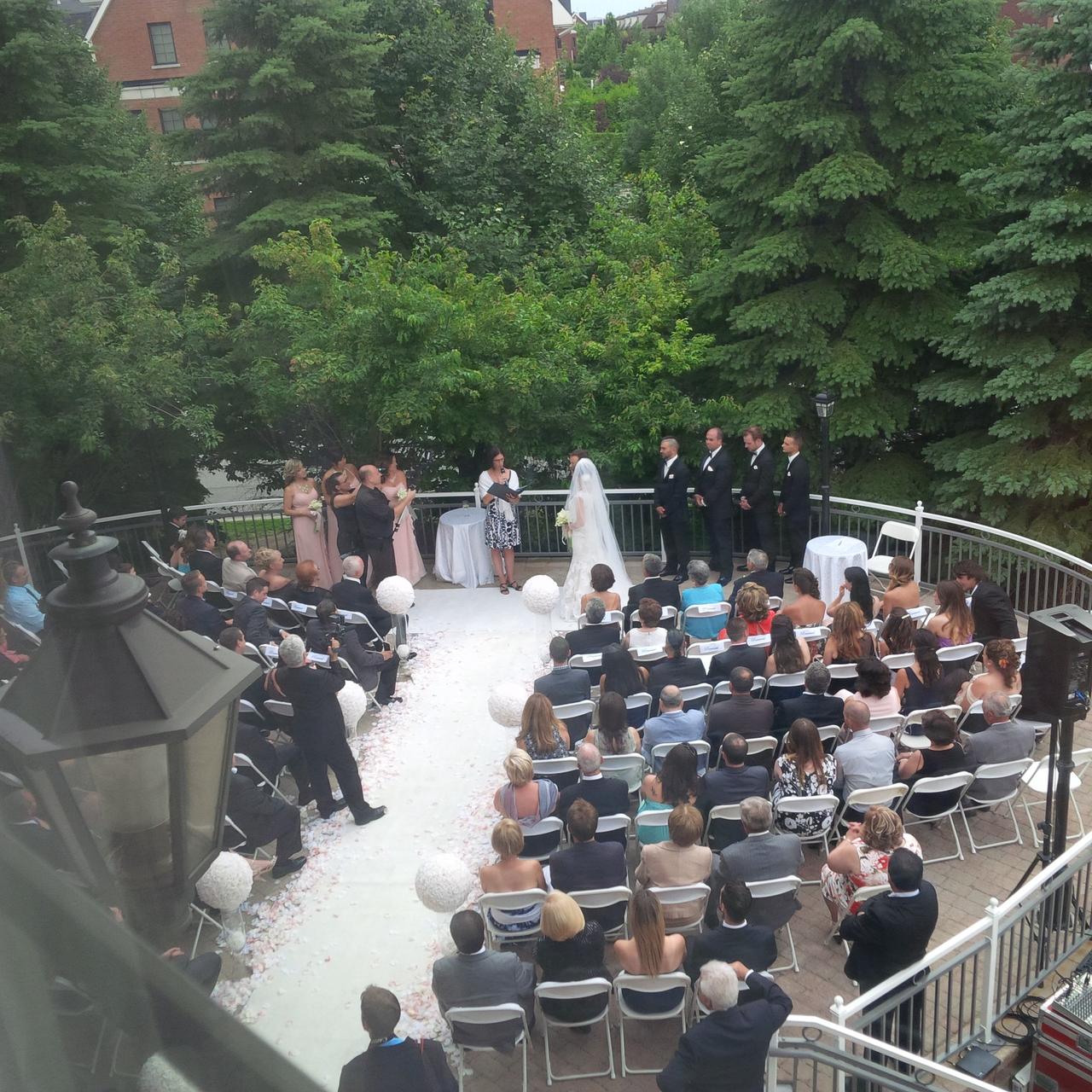 La Scena (Quai Jacques-Cartier)
Head into the heart of Old Montreal and you'll find La Scena, a breathtaking modern restaurant wedding venue with both indoor and outdoor spaces available. It has a patio space right outside its front door that's perfect for outdoor ceremonies and cocktail hours, or you can head inside and take advantage of the stellar marina views through the building's massive floor-to-ceiling windows. It can accommodate up to 450 guests, making it the largest option on this list.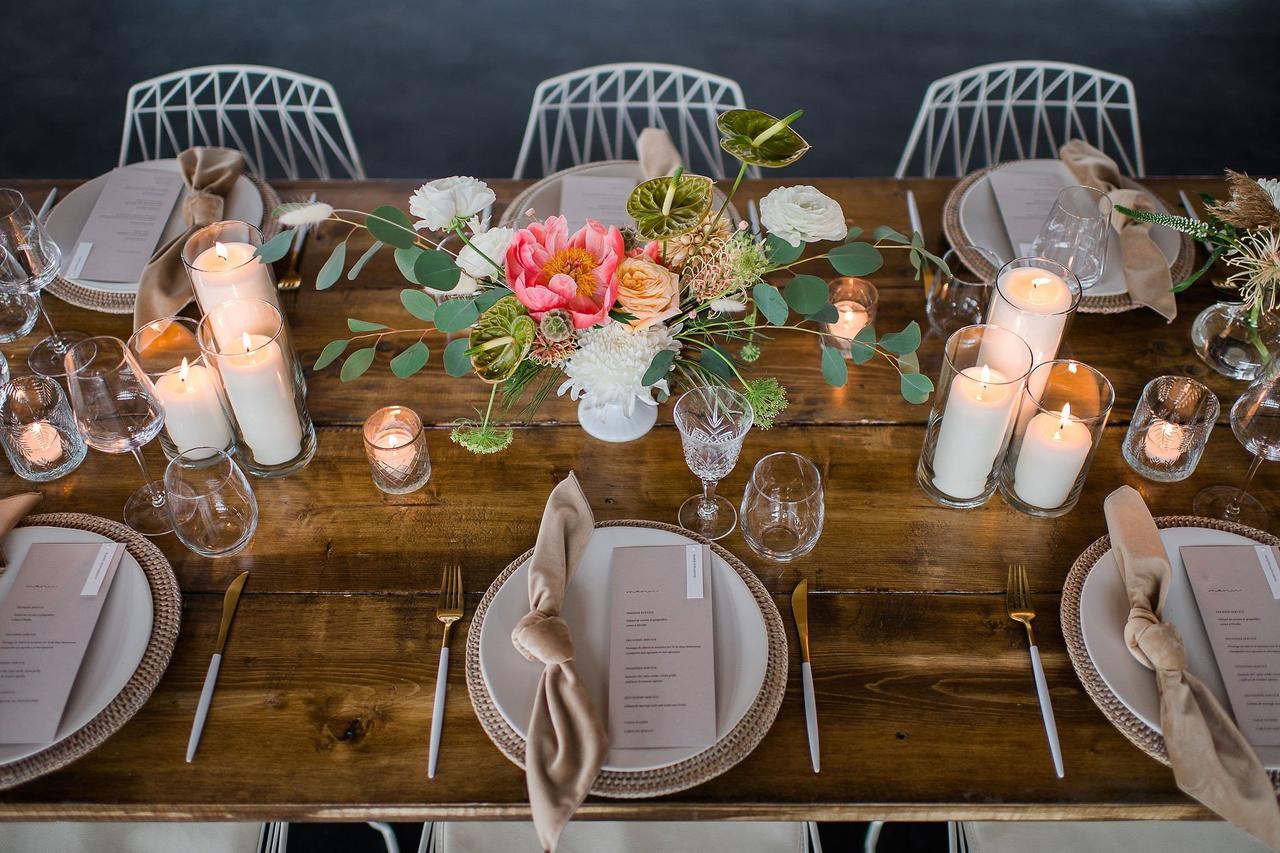 Forest and Stream Club (1800 Lakeshore Drive)
Take the speedy 20-minute drive out of Montreal to Dorval and you'll find the Forest and Stream Club, an ultra-chic, ultra-exclusive wedding venue. While it typically only caters to members, you can actually book it out for your big day. The estate's manor house was built in 1878 and has held onto much of its original charm over the years, so if you love a vintage look, it's a great choice. Outside is where the magic really happens, though. It's located right on the water's edge and has a massive lawn, so if you want to make use of the view, go ahead and put up a marquee tent and host your celebration outside. It's large enough to accommodate 110 guests, so it's perfect for small to midsize weddings.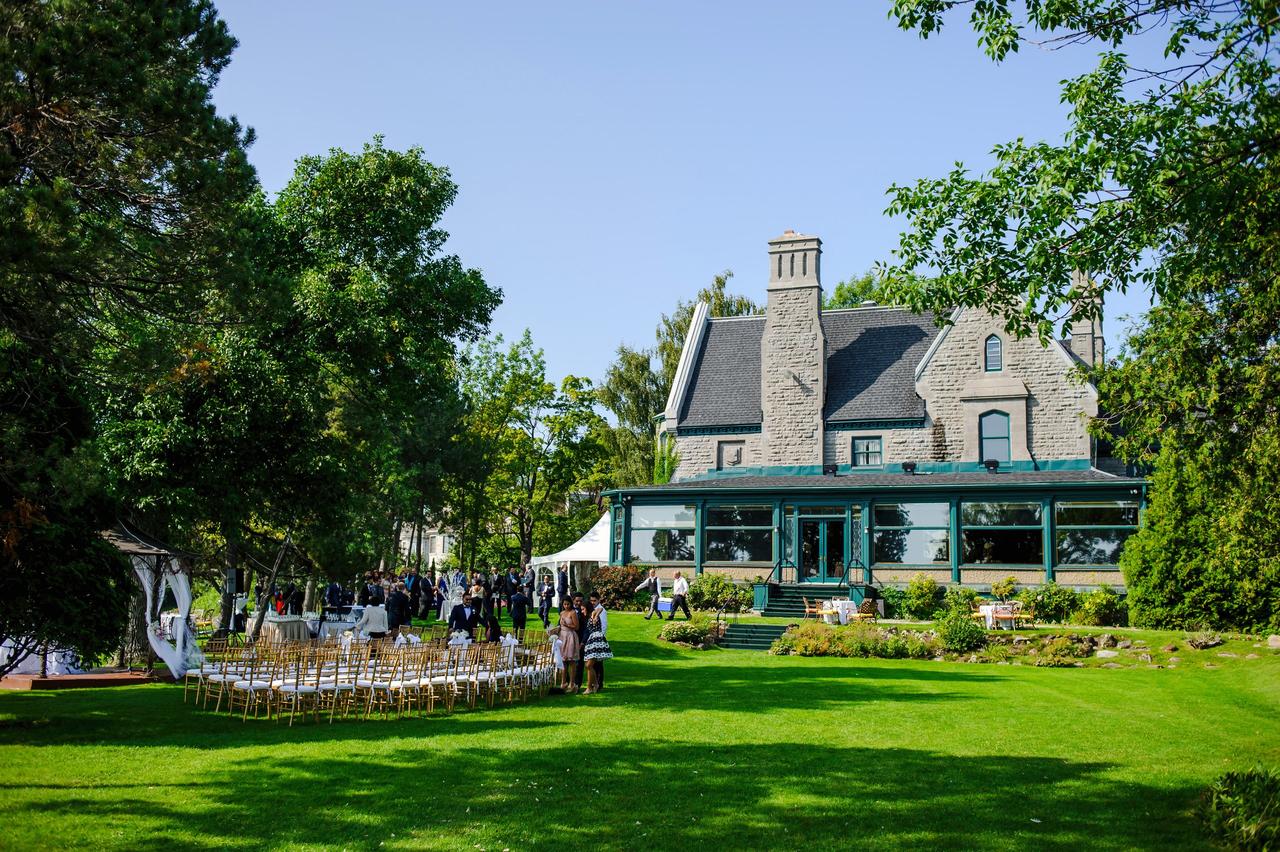 La Distinction (1505 Boulevard Base-de-Roc)
La Distinction is another option just outside of city limits. It takes under an hour to get there, but trust us, it's worth the drive. It has two cozy, rustic reception halls that are perfect for receptions, but its wide-open grounds are also great for outdoor weddings. The property is large enough to put up a marquee tent, so you can host your entire event in the great outdoors. It can accommodate up to 300 guests, so it's ideal for midsize to large weddings (though it can accommodate smaller groups and elopements, too).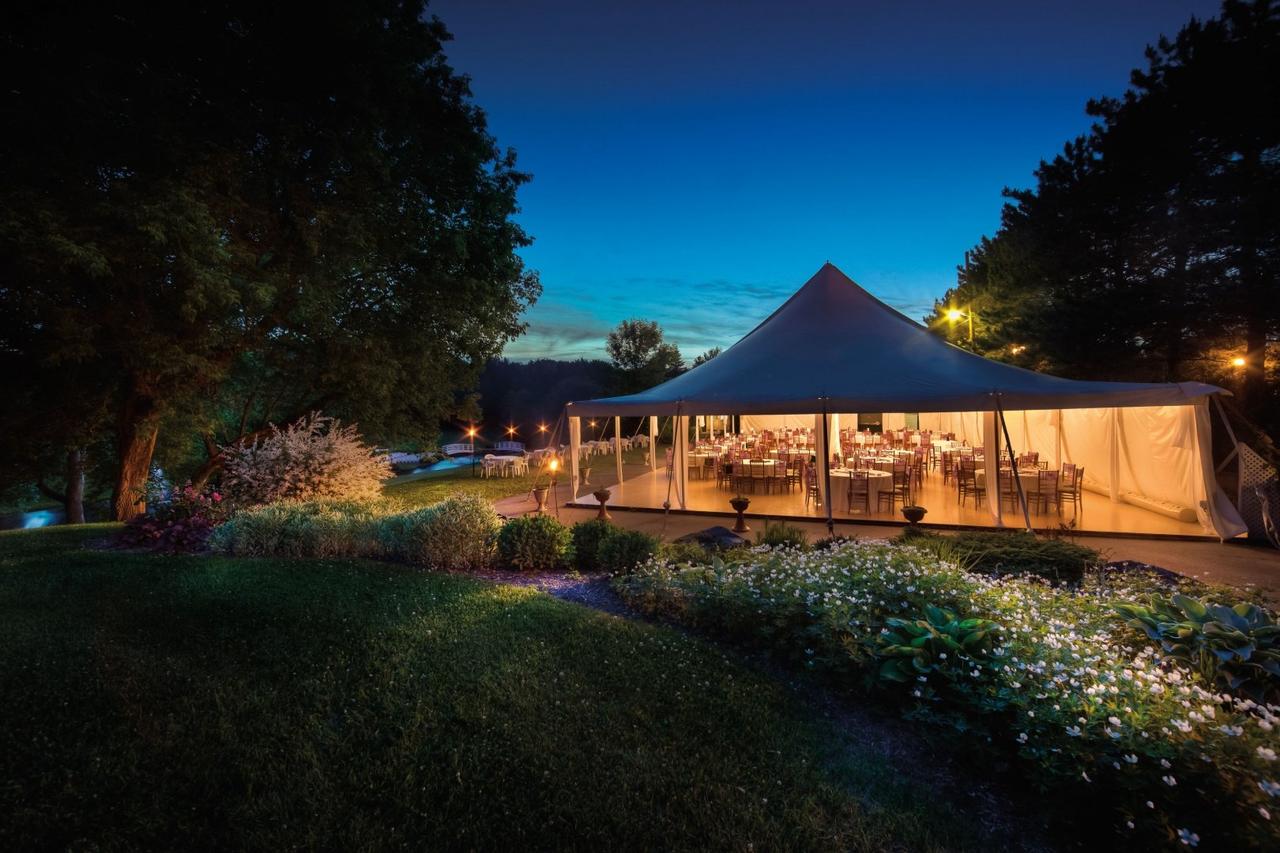 Le Café de l'Horloge (168 Sainte-Pierre)
Le Café de l'Horloge is located just under an hour away from Montreal and will take you out of the hustle and bustle of city life on your special day. It sits right on the river and used to be home to an old post office, giving it a quaint, country quality you won't find anywhere in the city. The indoor space is vintage and homey and the outdoors looks like what you'd dream of having in your own backyard. It has a capacity of 95 guests, so you'll only want to invite your nearest and dearest to your celebration.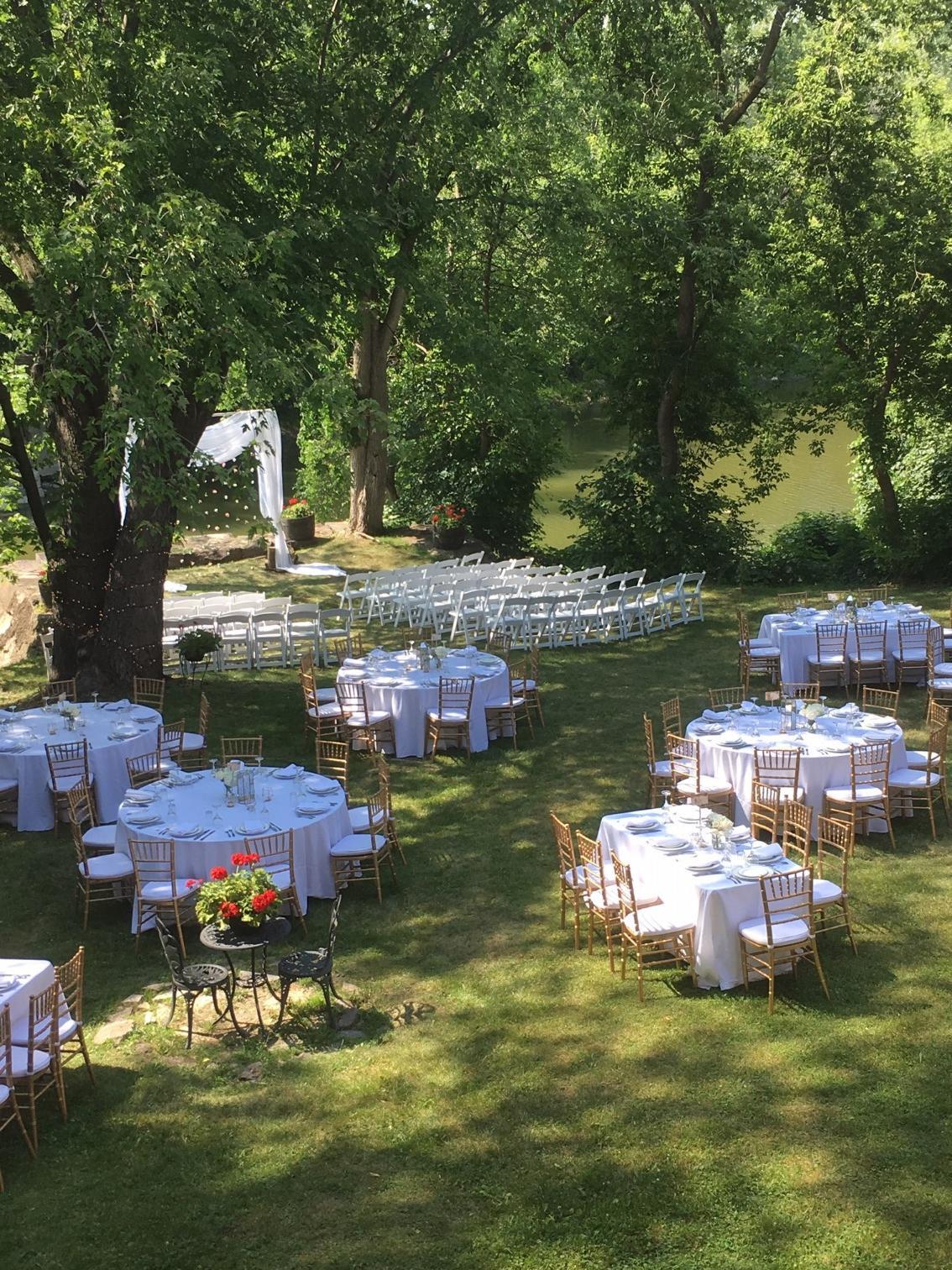 Find more Montreal wedding venues on WeddingWire »