10 Stunning Outdoor Wedding Venues in Edmonton
Looking for the best outdoor wedding venues Edmonton has to offer? We've rounded up our favourites to help you out.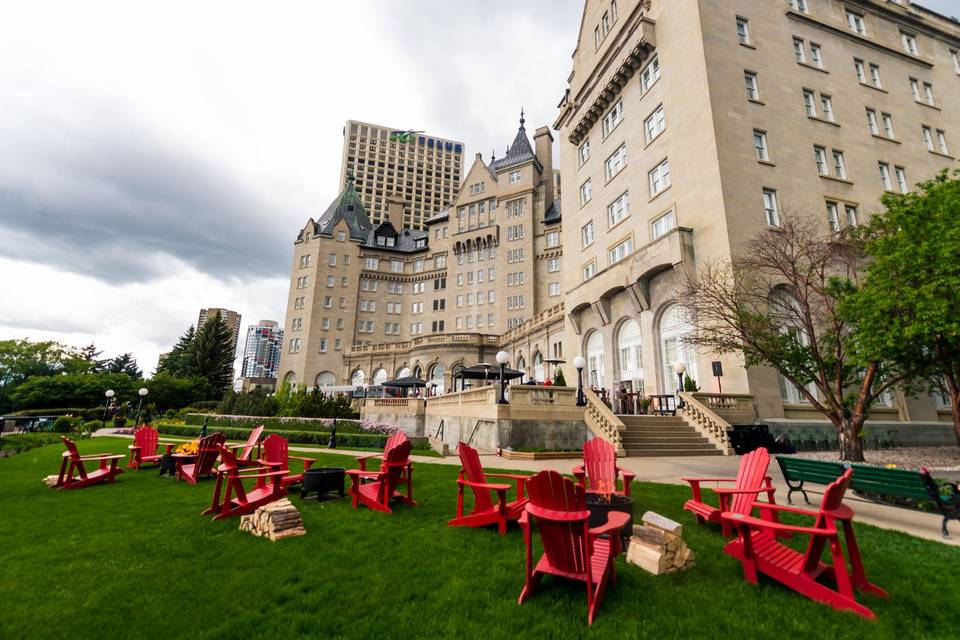 If you're on the hunt for an outdoor wedding venue in Edmonton, we're here to help guide you. From gorgeous hotel terraces to manicured golf clubs to botanic gardens, there's something for every size and style of celebration in this city. Whether you're looking to keep your special day cool and casual or go all out with all the bells and whistles, you're bound to find something you love on this list.
Here are some awesome outdoor wedding venues in Edmonton.
University of Alberta Botanic Garden (51227 Highway 60)
If you're looking for a dreamy, fairytale-style outdoor wedding venue in Edmonton, you need to see the University of Alberta Botanic Garden. The gorgeous green space covers a whopping 240 acres of land in Parkland County and has several open-air spots available for rental. There's the Wedding Patio (capacity of 250 guests), the Alpine Garden (capacity of 90 guests), the Kurimoto Japanese Garden (capacity of 35 guests), and the Primula Dell (capacity of 80-90 guests). All are equally stunning, so you really can't go wrong.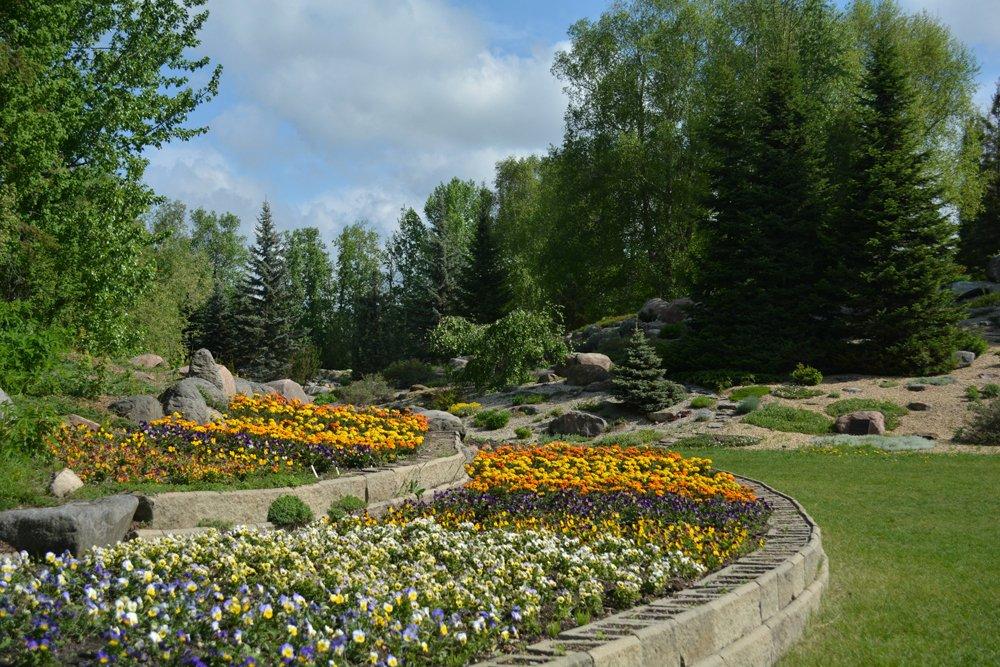 The Cornerstone Event & Retreat Venue (5015 127 Street)
Situated on 60 acres of farmland within Edmonton's city limits, you'll find The Cornerstone Event & Retreat Venue, a mansion venue with indoor and outdoor spaces available for up to 125 guests. The interior features traditional decor with large windows, but outside is where the real magic happens including a quaint white barn, gazebo, apple trees and wheat fields that provide a tranquil setting for your celebration. It has plenty of green space with lush lawns, just waiting to be transformed for your big day.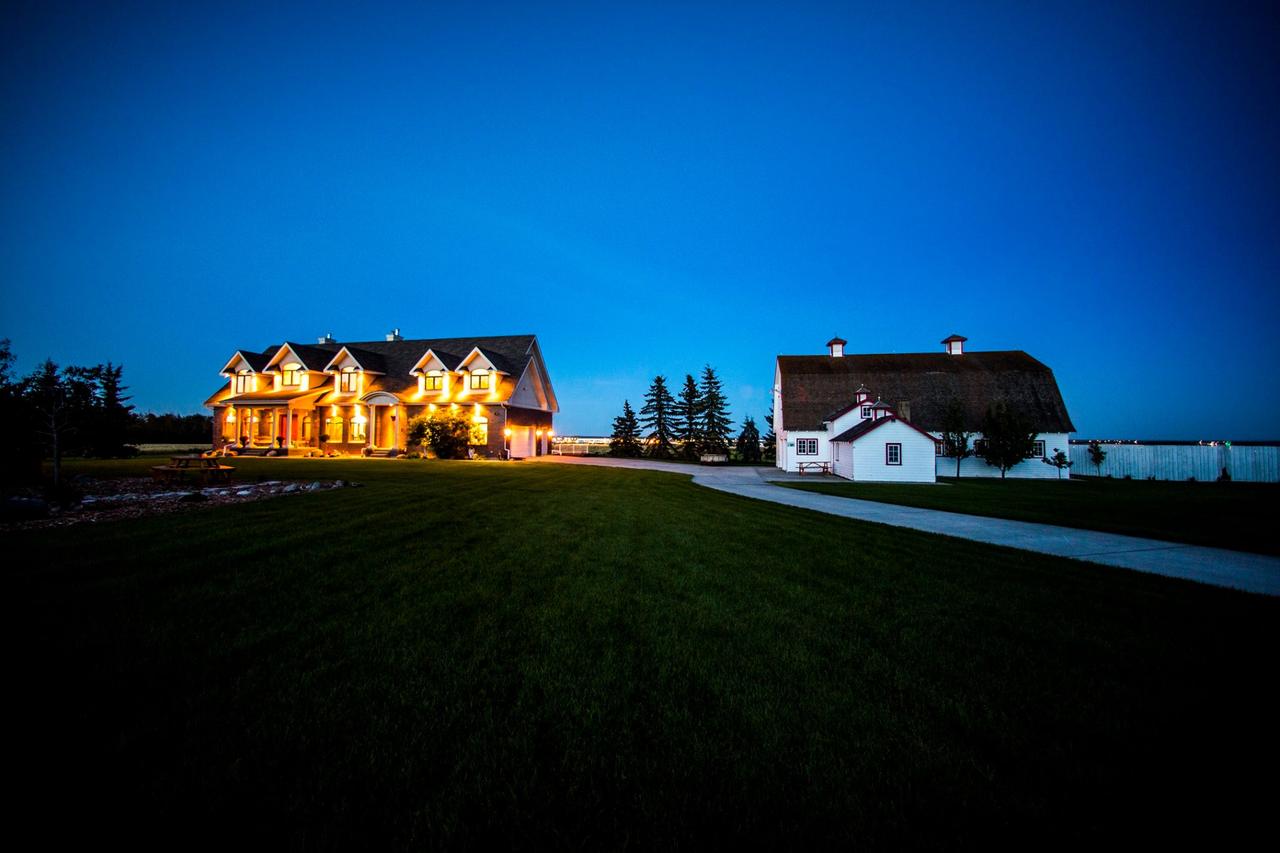 Fairmont Hotel Macdonald (10065 100th Street)
The Fairmont Hotel Macdonald is one of the swankiest hotels in the city, so there's a good chance it's already on your radar. It's known for its elegant ballrooms and function rooms, but did you know it also has an outdoor space available? That's right, if you're in the market for a luxurious outdoor Edmonton wedding venue, this hotel has you covered. It has a tiled patio, pristine lawn, and views of the Saskatchewan River (aka everything you could ever want and need). It can accommodate 250 wedding guests, making it a great choice for larger weddings.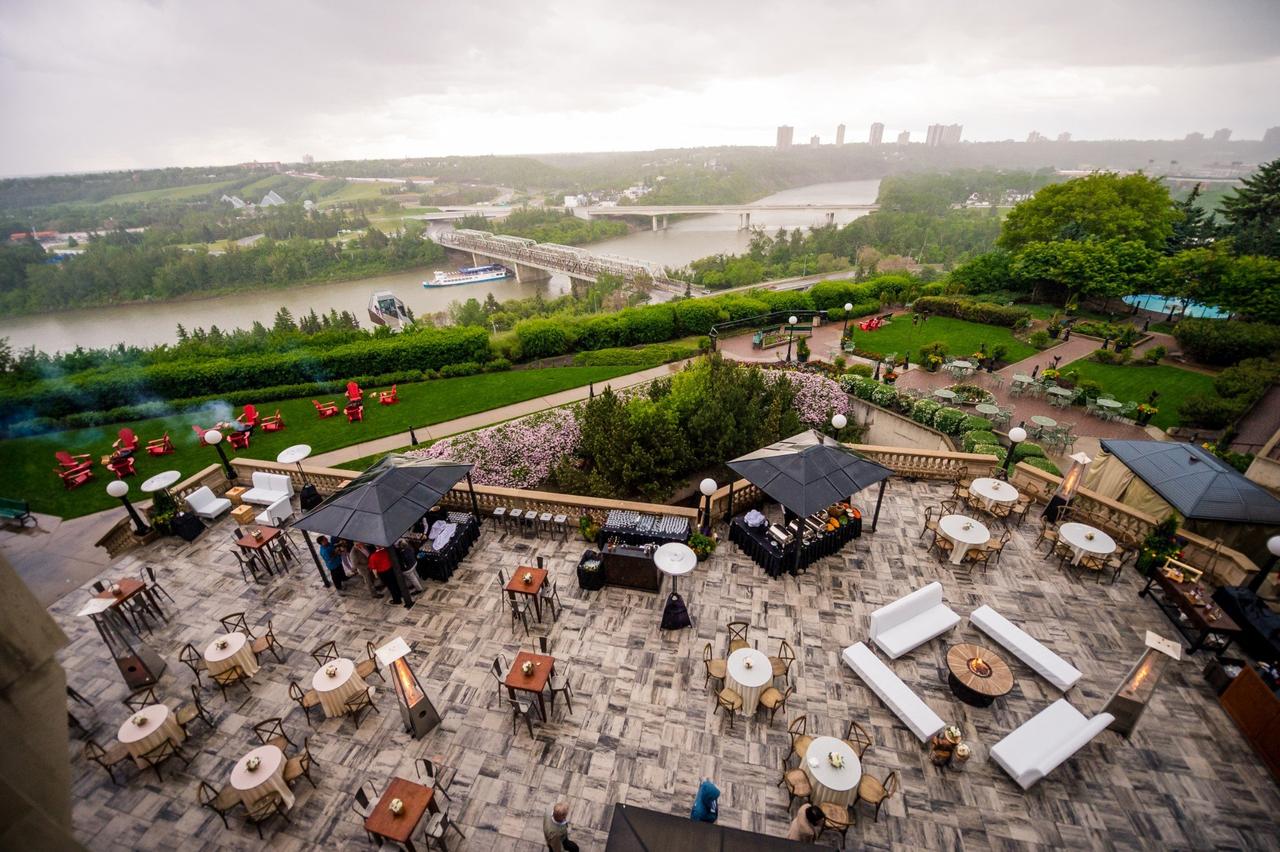 Snow Valley Ski Resort (13204 45 Avenue)
The Snow Valley Ski Resort is a beautiful rustic-chic chalet venue with unparalleled views of Rainbow Valley. It has plenty of lawn space available for you to set up your ceremony space and reception tent, or you can make use of the facility's wraparound deck for your event. There's also a cozy indoor area with stone fireplaces and cabin-style decor if you're looking to host an indoor-outdoor celebration. It can accommodate anywhere from 140 to 200 guests, so it's perfect for midsize to large weddings.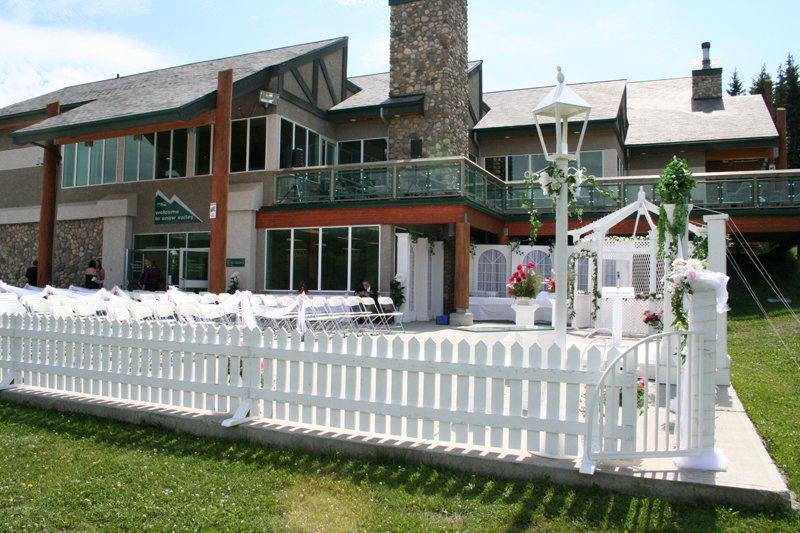 La Cité Francophone (8627 Rue Marie-Anne Gaboury)
Head to Bonnie Doon and you'll find La Cité Francophone, a modern wedding venue with indoor and outdoor options for your big day. It has three flexible function rooms inside and a furnished patio outside. The latter is encircled by the building and is peppered with plants. It's a bit of a blank canvas and is large enough to fit tents, making it absolutely perfect for open-air wedding ceremonies and receptions. It can accommodate up to 240 guests but is happy to host events with as few as 40 guests.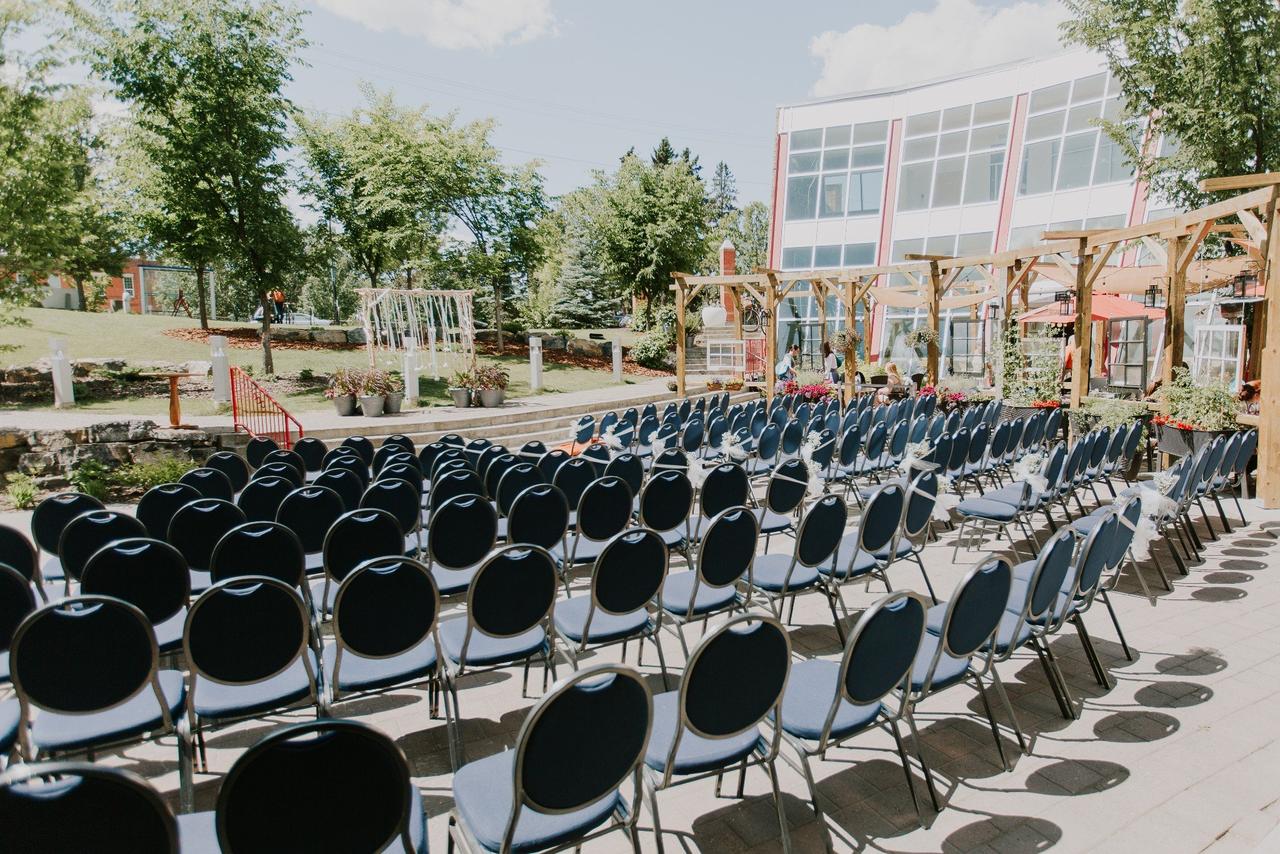 Fort Edmonton Park (Fort Edmonton Park)
Fort Edmonton Park is a heritage wedding venue with a lot going on. It boasts recreated architecture from bygone eras, so you'll feel like you've travelled back in time on your wedding day. When it comes to function spaces, you're spoiled for choice here—it has a church, a hangar, and even a barn! If you're looking for an outdoor option, you'll love the Memorial Garden in Fountain Park. It has a wrought iron fence, bright flowers, and an old-fashioned wood swing. There's also the Pond Picnic Site if you're on the hunt for a spot with waterfront views. The outdoor spaces have a capacity of 100 guests and the largest indoor facility can host up to 500 guests.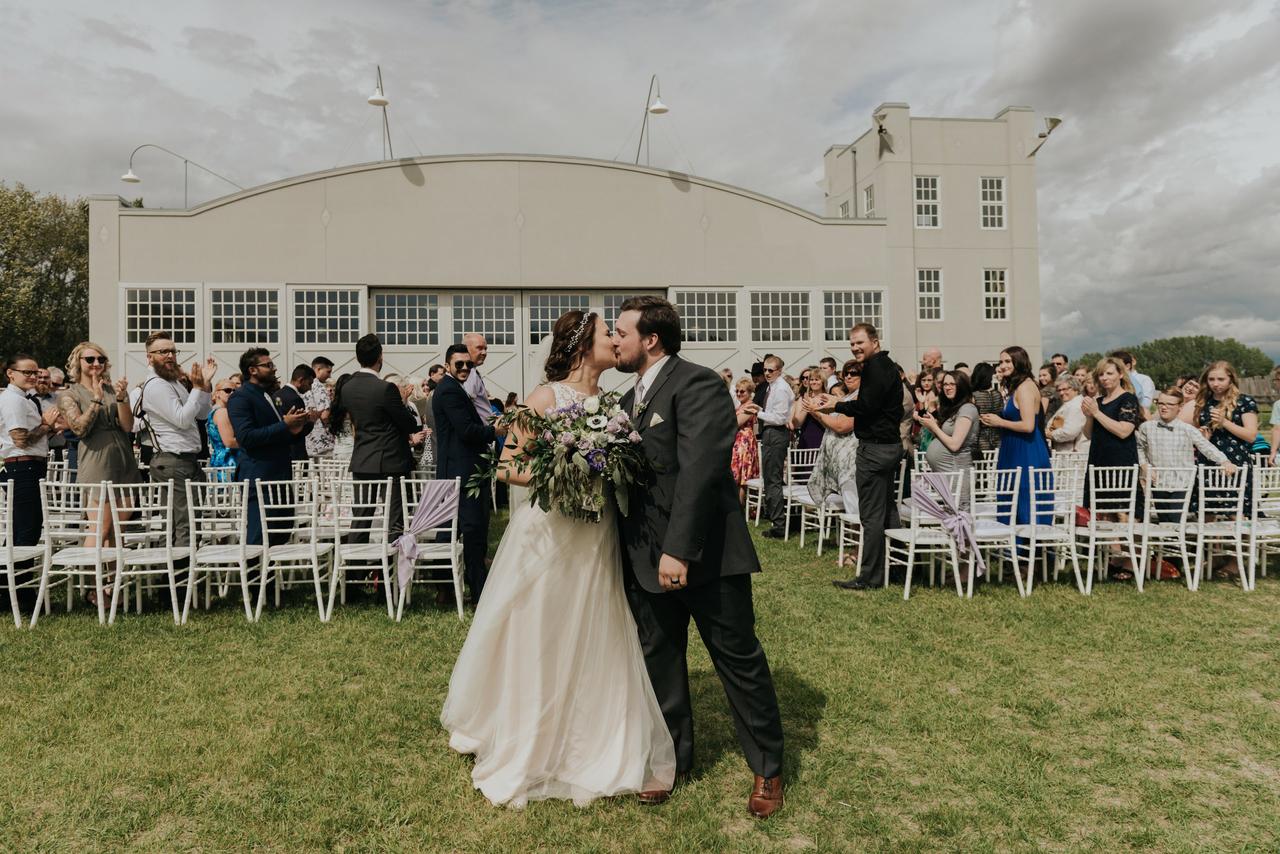 Coloniale Golf Club (10 Country Club Drive)
If a country club wedding is more your speed, you'll love the Coloniale Country Club. It's located in Beaumont and boasts lush, natural surroundings, giving you a gorgeous, natural backdrop for your special day. Of course, like most golf courses, it's immaculately manicured, giving you the perfect space to set up your outdoor ceremony. Once you've exchanged rings, you can head into the clubhouse for dinner, drinks, and dancing. It has its own outdoor patio space, so you can still celebrate in the great outdoors. It can accommodate up to 200 people, so it's awesome for larger weddings.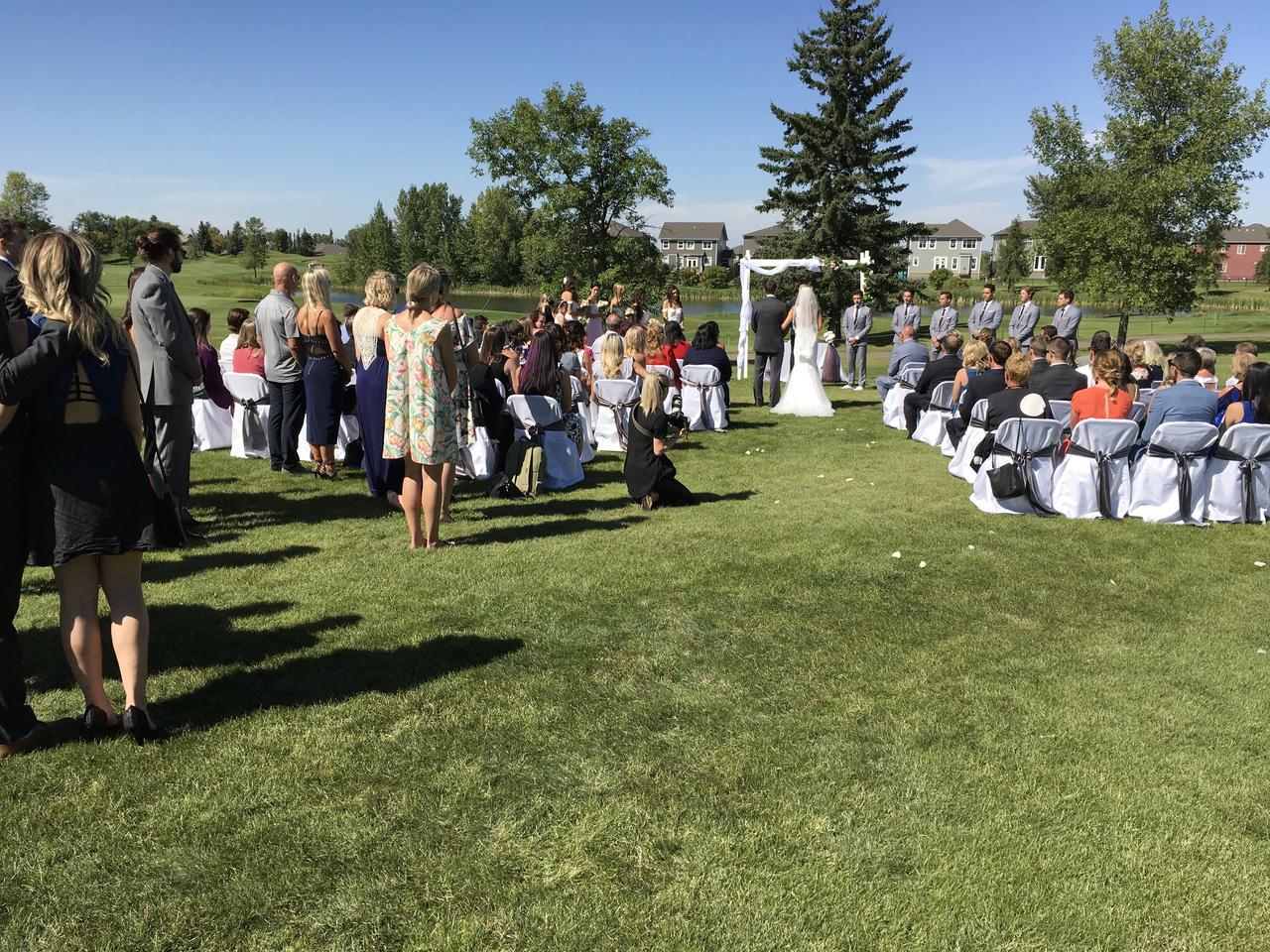 Obsidian Ridge (20410 TWP Road)
Willing to travel a bit outside the city for an epic outdoor wedding venue? If so, take the one-hour drive to Obsidian Ridge in Tofield. The outdoor space has incorporated elements of ancient architecture into its design, giving it a totally unique look. It has a rock-heavy design, a waterfall, infinity pond, and so much else to offer - there's even a hobbit hole bridal suite where you can get ready! It can accommodate 50 to 200 guests, making it great for weddings of all sizes.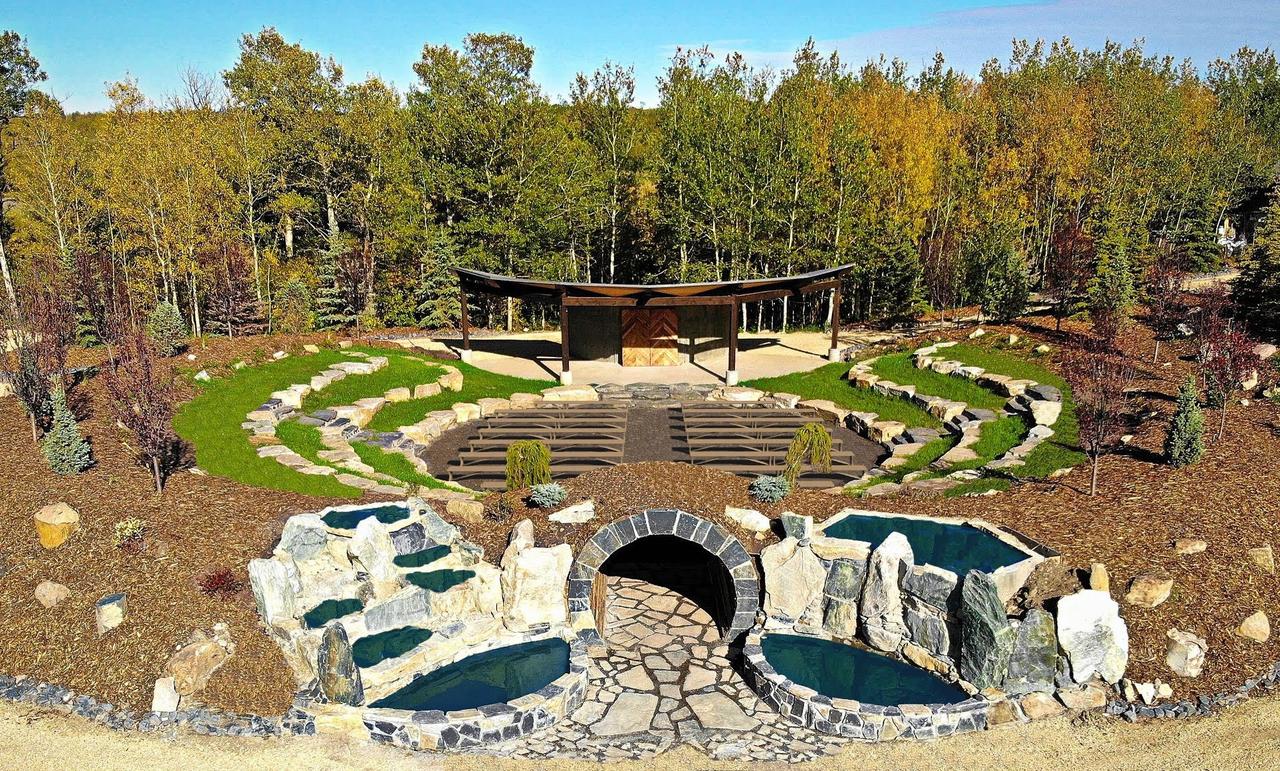 Pine and Pond (Box 10, Site 12, RR4. Ponoka)
Calling all nature lovers! Head south to Ponoka for a rural wedding at Pine and Pond. The multi-acre property features beautiful trees, a pond, waterfalls, a fire pit and even a honeymoon cabin. Say your 'I dos' in the great outdoors then hold your reception in the transparent tent (capacity of 200). You and your guests can enjoy views of the natural surroundings until sunset and then the romantic ambience of the chandeliers and strings of mini-lights after dark.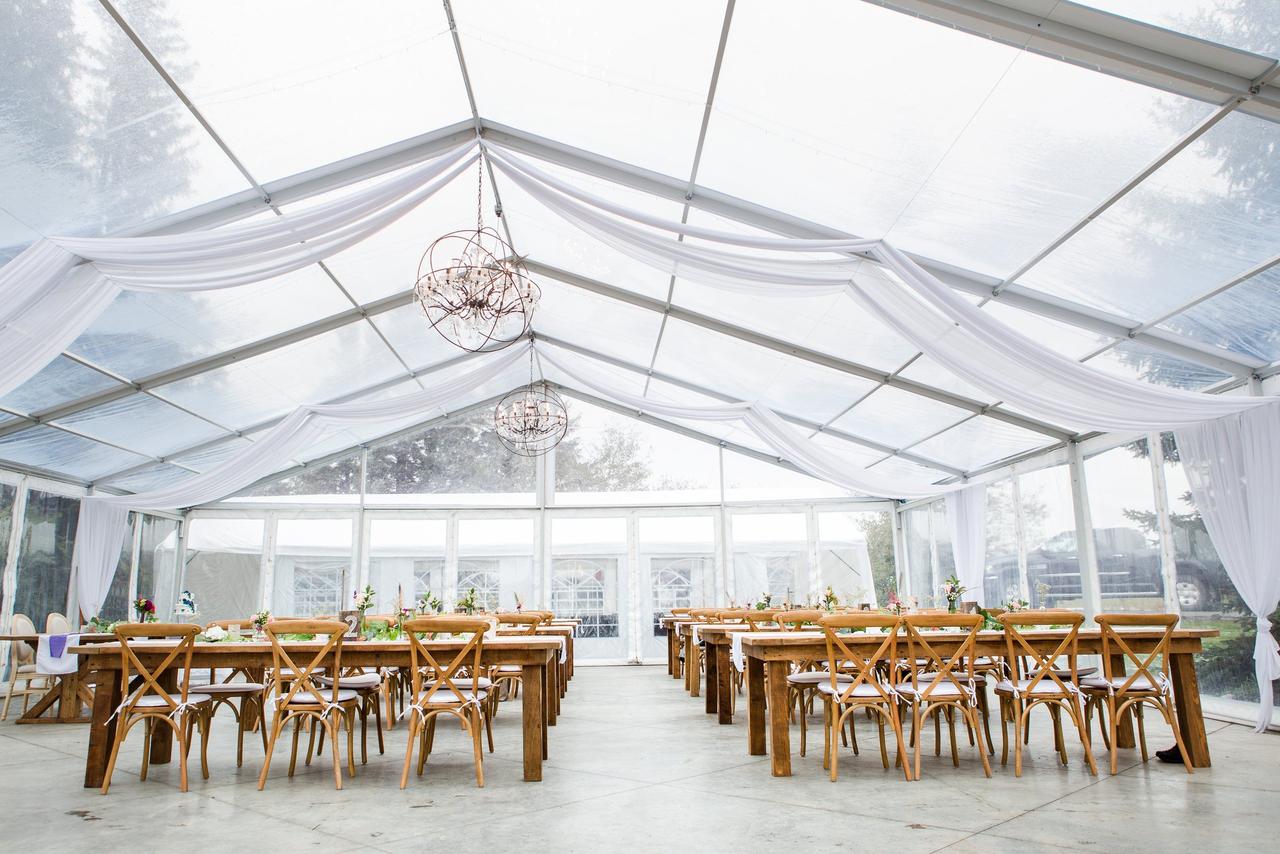 The Barn at Lions Garden Estate (51115 Range Rd 200, Tofield)
If you're dreaming of a farm wedding, drive 25 minutes east of Edmonton to explore The Barn at Lions Garden Estate in the picturesque countryside of Beaver County. Wedding planning is easy with all of the amenities available including a loft dressing room, outdoor ceremony setup, lawn-game area, outdoor lounge with unique grain-bin bar, indoor professional bar, reception tables and chairs, and a preferred list of vendors (although they'll happily coordinate with any caterer or vendors you choose). There's also a bounty of beautiful backstops for your wedding photos such as gardens, meadows and water features.
Find more wedding venues in Edmonton on WeddingWire »