The 2019 Wedding Cake Trends That You Need to Know About
Wondering which wedding cake trends are going to be big in 2019? We've got the forecast for Canada right here.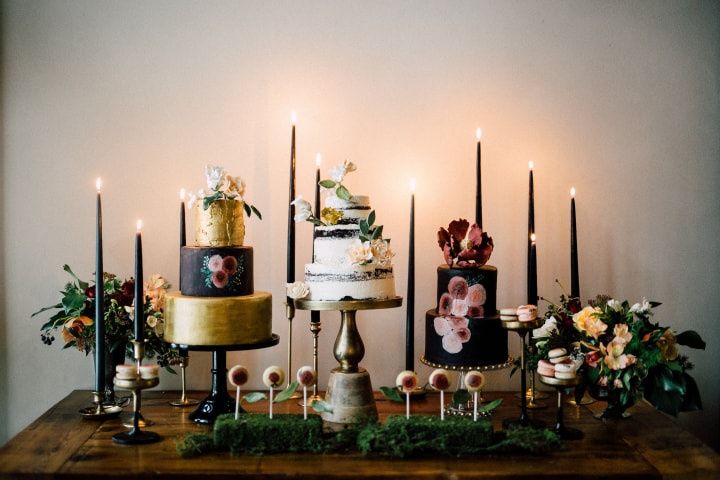 What's a wedding without a cake? If you've begun drafting designs for your big day's main dessert, you may want to incorporate one or two of these 2019 wedding cake trends. Adding a few of the hottest designs in Canada at the moment will definitely modernize your confection and make it pop, so they're worth discussing with your wedding cake baker.
Here are the 2019 wedding cake trends that you need to know about.
Elevated Naked Cakes
Naked wedding cakes have been trendy for a while, but nowadays bakers are getting a bit more adventurous with the style by adding drips, interesting decorations, multiple cake flavours and different colours to the mix. For example, Cake by Nicole inlaid an orange slice into this naked cake for a stunning effect. By going this route, you'll still get the look you know and love but with a dash more creativity.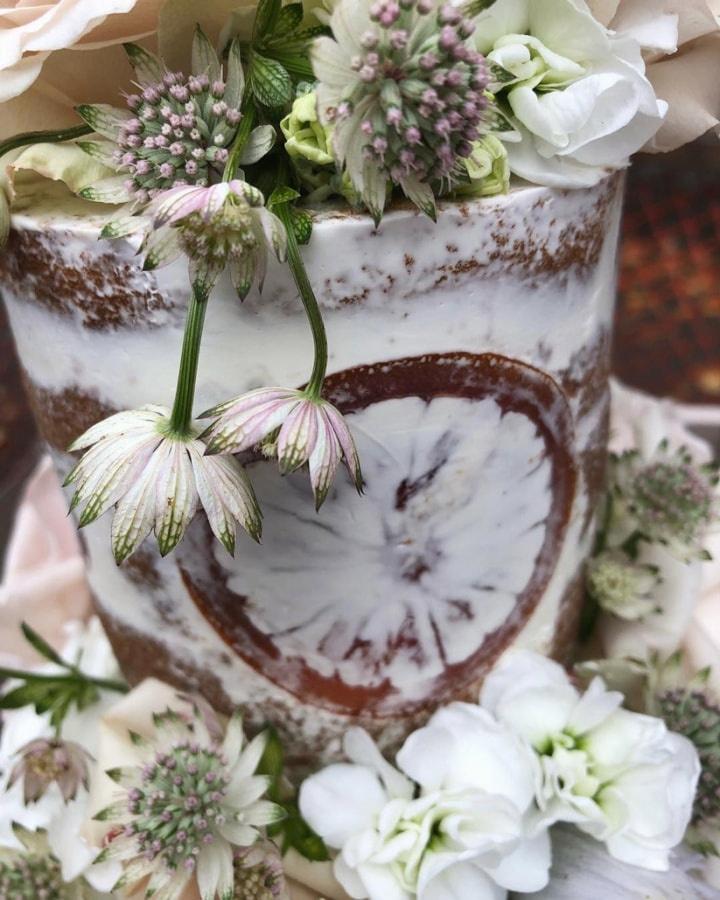 Asymmetrical Designs
The asymmetrical 2019 wedding trend is making its way into wedding cake designs, too. Whether the cake tiers are stacked off-center or an asymmetrical design is applied, we're loving this look. The cake pictured below combines both techniques using offset square tiers, palette knife painted textures and an oversized paper flower.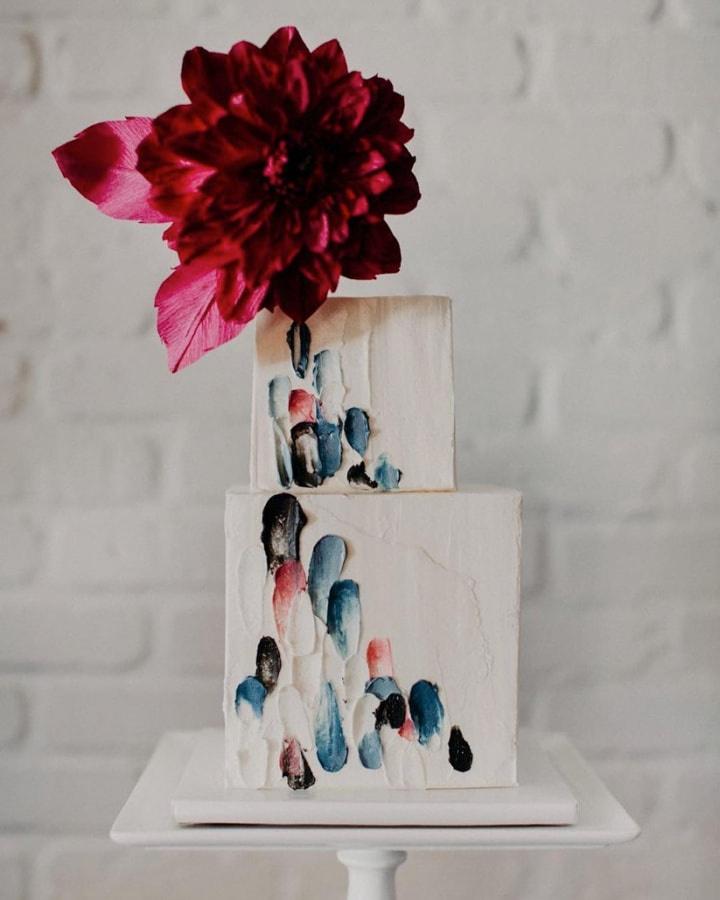 Copper
Rose gold, yellow gold and silver have all had their moments, now it's copper's time to shine (literally). If you want to make one (or all) of your wedding cake tiers pop, go with a bronze-hued design. From shiny graphics to brush strokes to dragées, there are plenty of metallic wedding cake ideas to incorporate this trend into the star confection for your big day.
Dark and Dramatic Cakes
The traditional all-white wedding cake style isn't for everyone! If you don't want to stick to the status quo, opt for this 2019 wedding cake trend. A dose of black, maroon, navy or forest green food colouring will really make your tiers pack a punch. P.S. this works with just about any design - minimalist, super patterned, decorative and everything in between.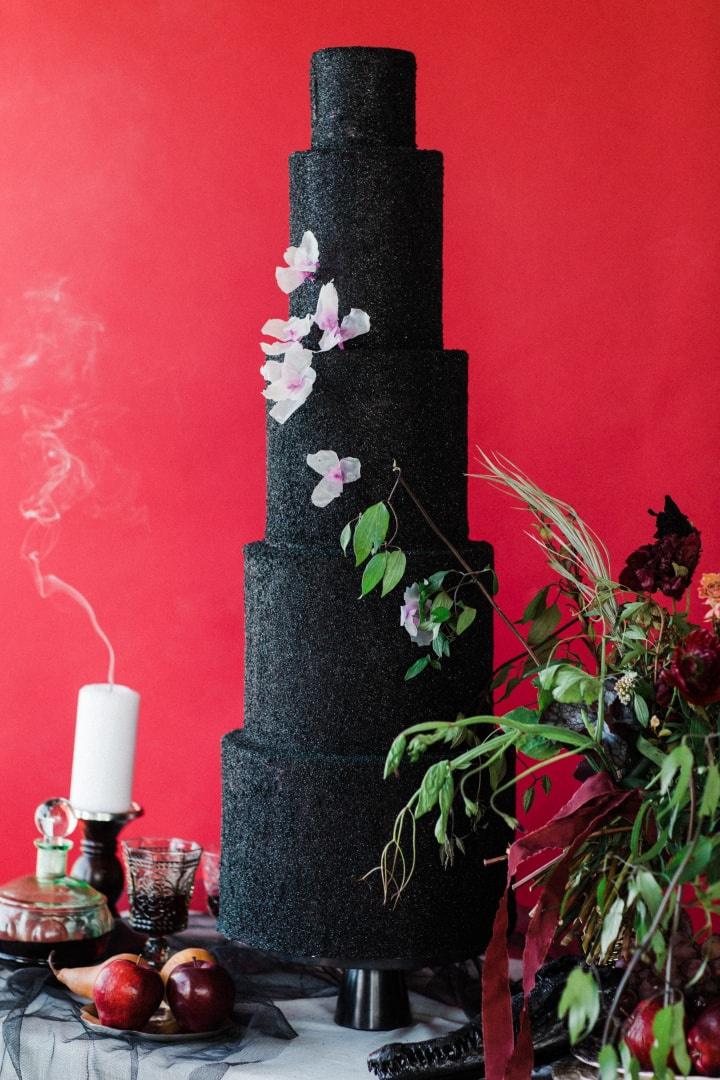 Botanical Cakes
Set foot in an Urban Outfitters lately? Well, you probably know just how on-trend greenery, succulents and wildflowers are. If you're houseplant-lovers, you're in luck, the trend is expected to keep going strong in 2019, and it's found its way into wedding cake designs. You can ask your baker to paint them onto your tiers, create fondant versions to finish off your confection or wallpaper your cake with them.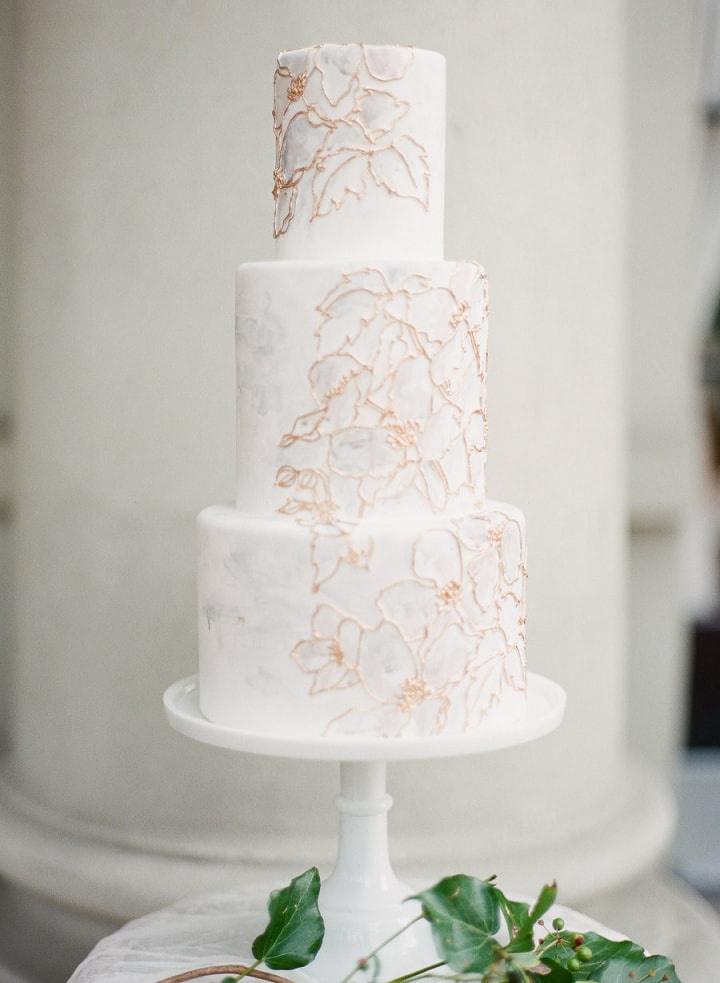 Geometric Cakes
Unless you've steered clear of Pinterest and Instagram's wedding pages, you're probably well aware of the geometric wedding decor trend. If you want to work it into your wedding cake, you can totally ask your baker to etch a pentagonal or triangular design onto your tiers. Want to go the extra mile? Request that they cut the layers into interesting shapes like hexagons and octagons.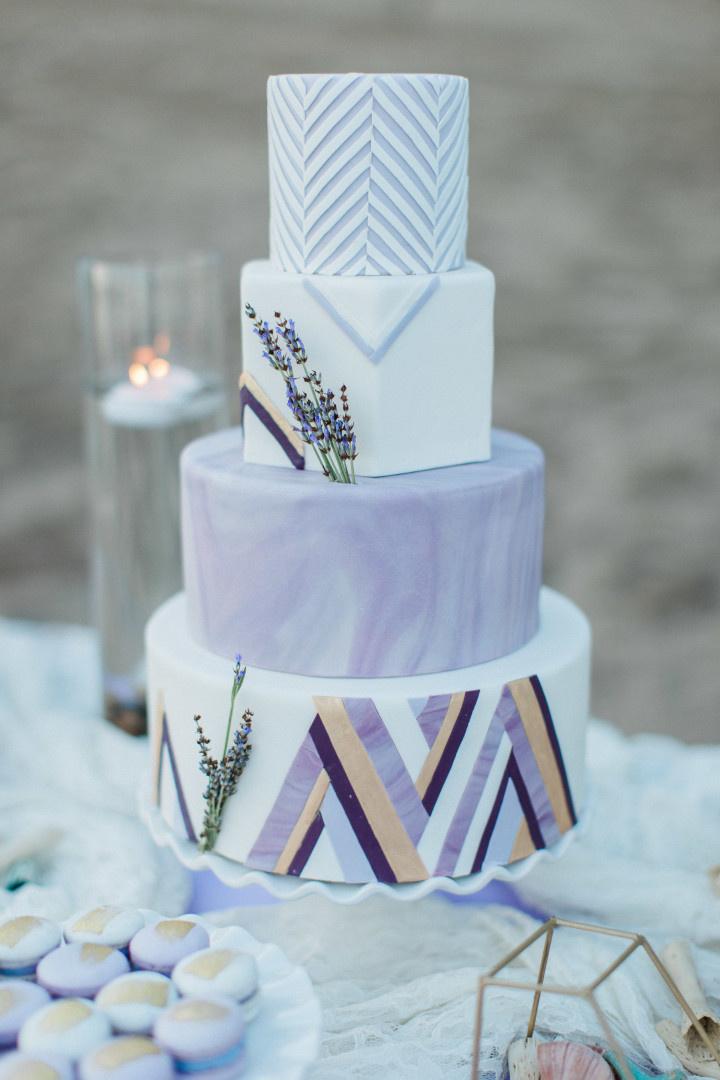 Vertical Ruffles
Ruffle wedding cake designs are back in a big way, but this time around there's a twist! Instead of traditional horizontal ruffles, couples are expected to switch up the game and opt for vertical ruffles. This 2019 wedding cake trend is perfect for romantic, rustic wedding themes and looks great when accompanied by simple fondant-coated and/or metallic tiers (if you want to go for a combo design).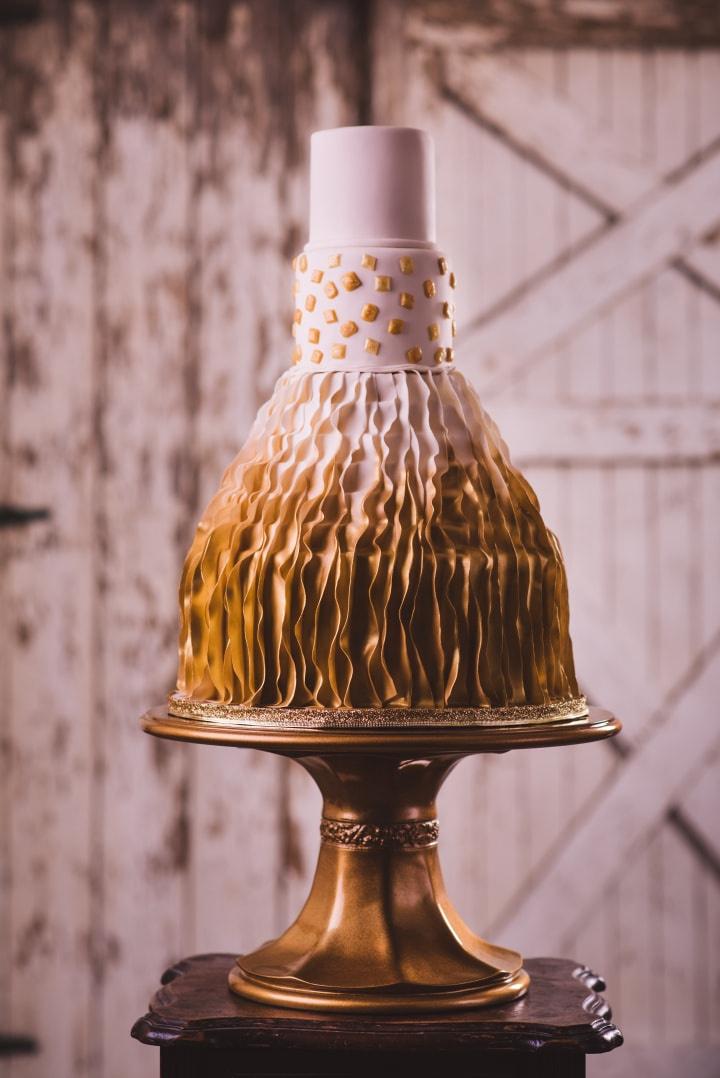 Multiple Complementary Cakes
Side-by-side single tier cakes are becoming more and more popular, in large part thanks to Harry and Meghan's royal wedding cake. This is a great option if you want to experiment with different wedding cake flavours and styles (or include vegan and gluten-free options). For example, you could do a metallic cake, a vertical ruffle cake and a naked cake - getting three killer 2019 wedding cake trends onto your dessert table.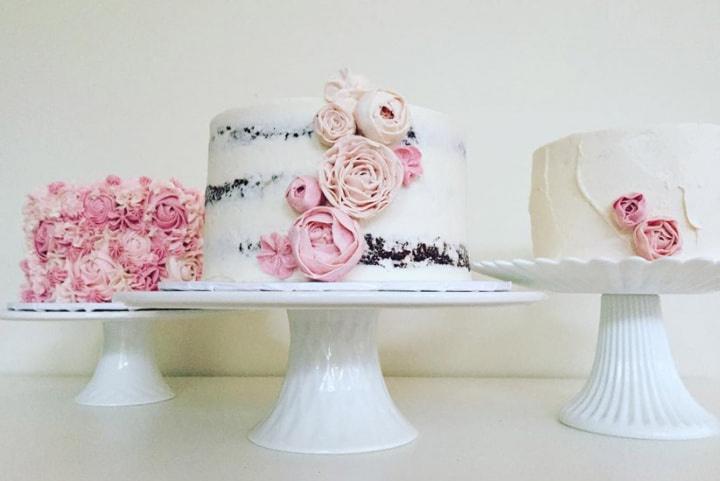 Tall Tiers
Instead of traditional short stacks, pile single layer cakes on top of one another to make ultra tall tiers. This looks especially dramatic when used with single or two-tier designs, but can also modernize sky-high, multi-tier creations. One particularly awesome thing about this trend is that you can embrace it no matter which style of wedding cake you choose (though it really shines when when paired with ombré or naked design).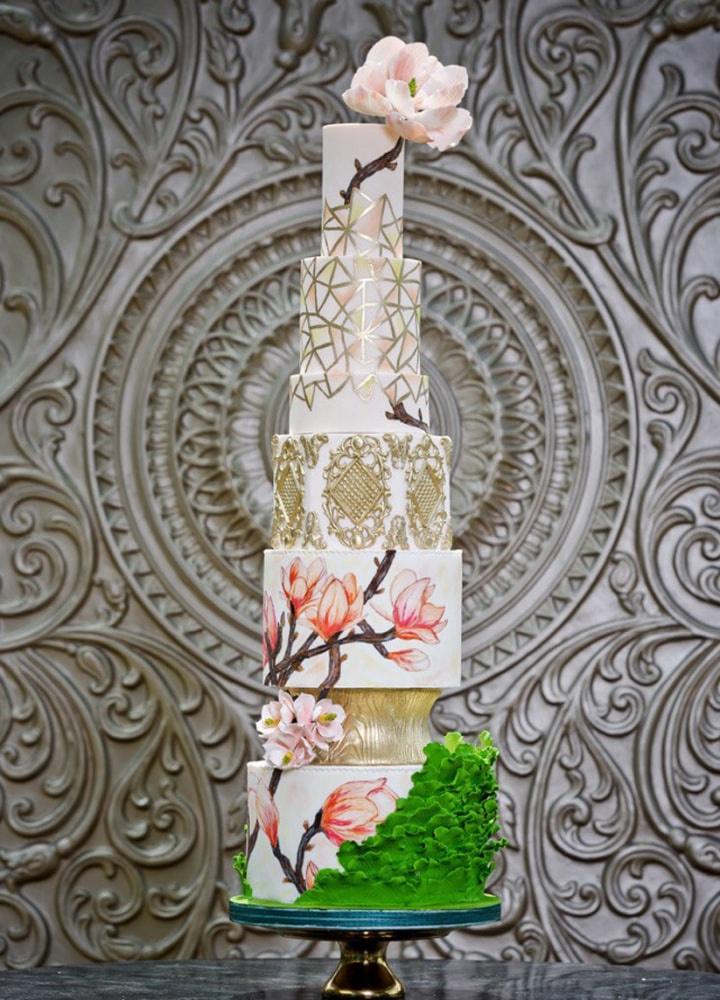 Find wedding cake designers and specialized bakeries on WeddingWire »