12 Wedding Dessert Table Ideas for Every Style of Celebration
Ready to start plotting out the design for your wedding dessert table? We've got a few ideas for making it match your theme.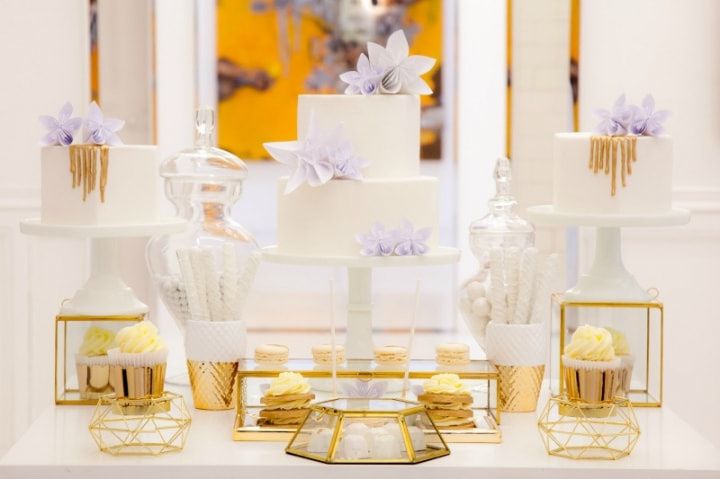 While you choose your wedding cake and figure out your dessert menu, you'll also want to look for wedding dessert table ideas to fit perfectly with your wedding theme. From floral arrangements to cake stands to serving trays, you've got some decisions to make. If your ready to design your sweet table, we've got a few tips and tricks to help you out.
Here are wedding dessert table ideas for every style of celebration.
Elegant
If your wedding is slated to be as luxurious as the Met Gala, you're going to want some elegant wedding dessert table ideas. When it comes to decor, antique tables, gems, flowers and metallic dessert trays and cake stands can all be put to good use.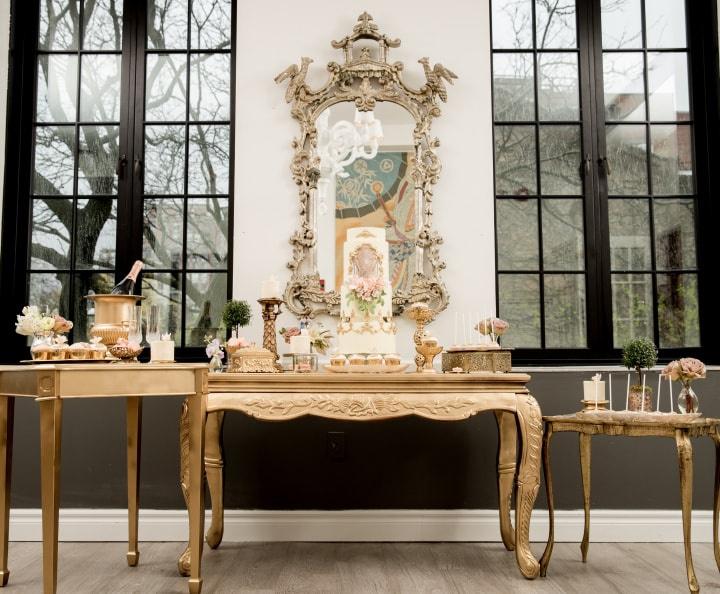 Simply Chic
If you'd like an elegant wedding dessert display that's a little less traditional, assemble a chic combination of crystal, white china and metallic accents and let colour-coordinated sweets and pastries take centre stage.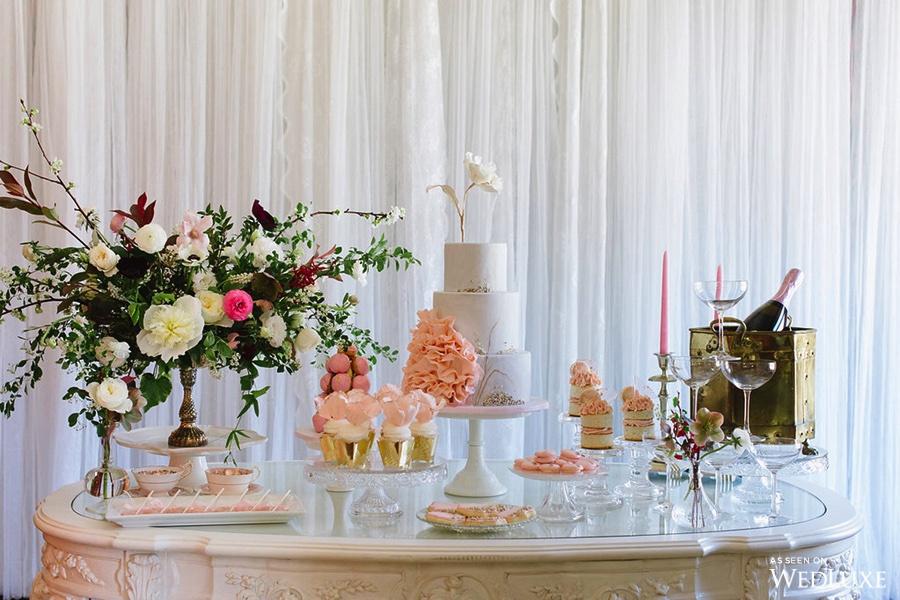 Rustic
If you're looking to infuse your wedding dessert table with some real rustic flavour, lean heavily on wood when choosing your decor. Find a rustic table to display your cakes and pastries on (there's no need for a tablecloth) and look into renting a few wooden cake stands. Finish it all off with a few simple floral arrangements and candles and you'll be good to go.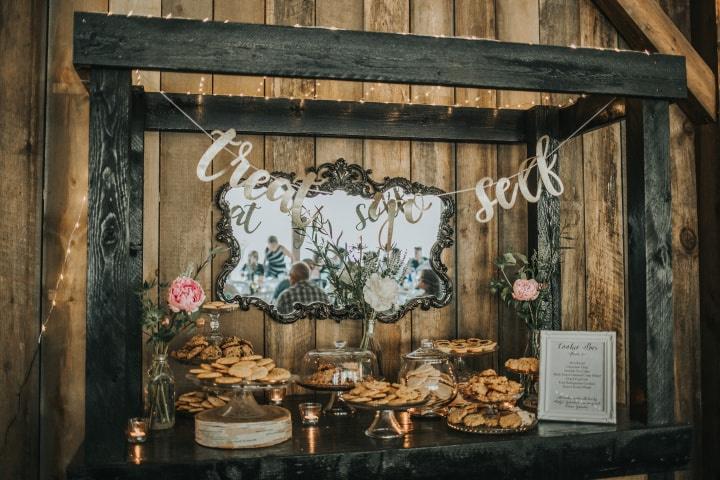 Shabby chic
Want your rustic wedding dessert table to be more on the shabby chic side? Rent a rustic dresser, decorative mirror and vintage cake stands and platters for a pretty presentation. A semi-naked wedding cake works perfectly as the focal point for this style.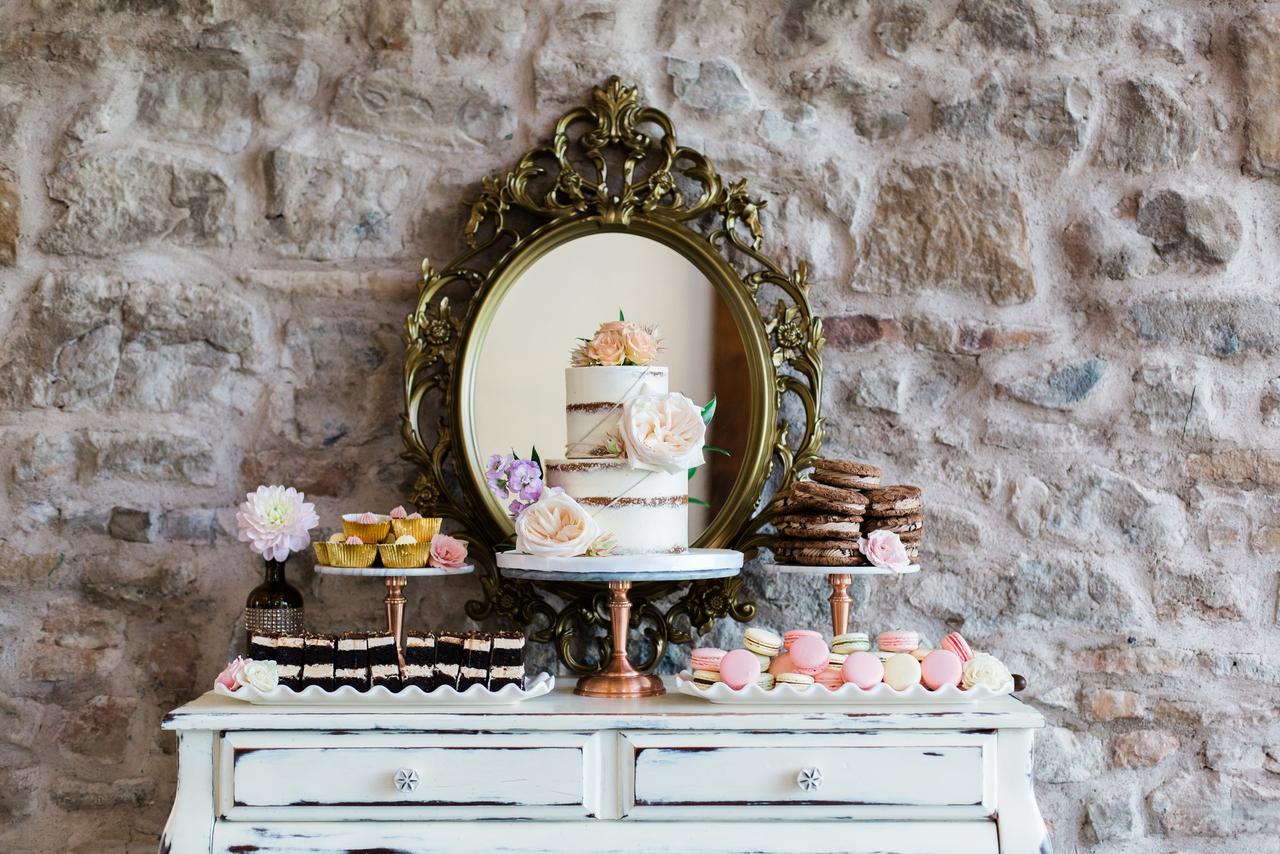 Vintage
Looking to to take your guests on a journey back in time on your wedding day? You'll want to use wedding dessert table ideas that give off some vintage vibes. Take a trip to the flea market or your local thrift store and stock up on pieces that'll give your table some retro flavour (items like bird cages, old books and jewellery boxes all work great). Basically, when it comes to this display, everything old is new again.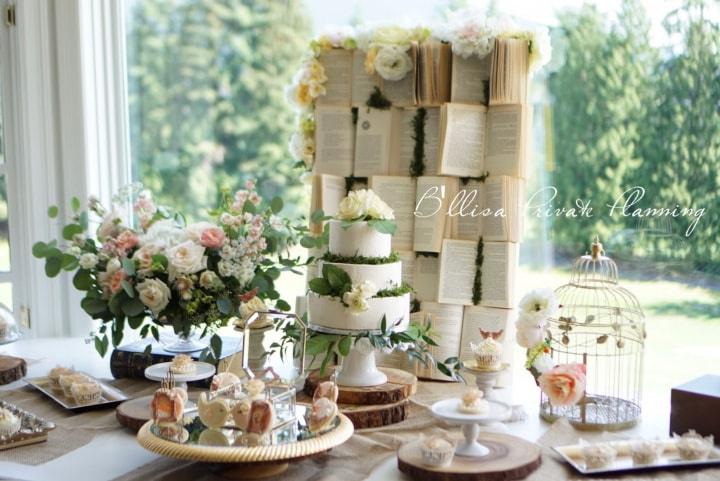 Whimsical
Keep things fun and festive by going with a multicoloured wedding dessert table decked out with all the bells and whistles. Fill your table with candles, flowers and fun knick knacks (along with your sweet treats, of course) to show your playful sides. Using bold hues, unique or mismatched serving trays and different textures will really help make it magical. Want to take it to the next level? use a bold backdrop to finish things off.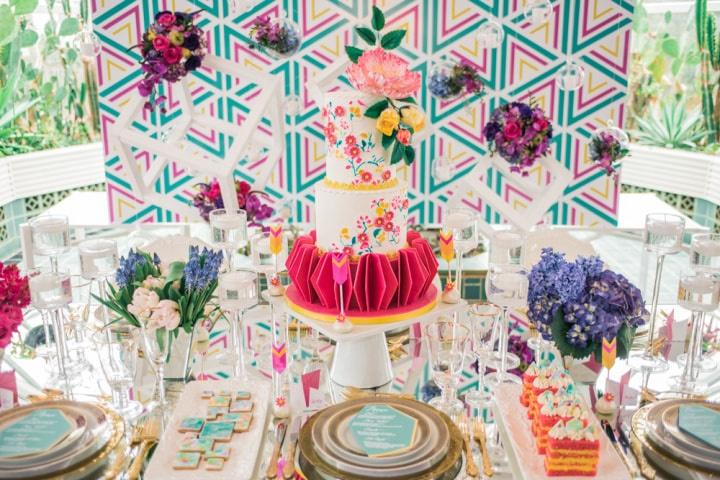 Floral
If you're hosting a garden wedding, you'll want to consider wedding dessert table ideas that give a bit of flower power, too. We love the idea of using fresh floral cake toppers, sugar flower decorations or a botanical design (one of the 2019 wedding cake trends that we're seeing) and vases filled with bold and beautiful blossoms and greenery.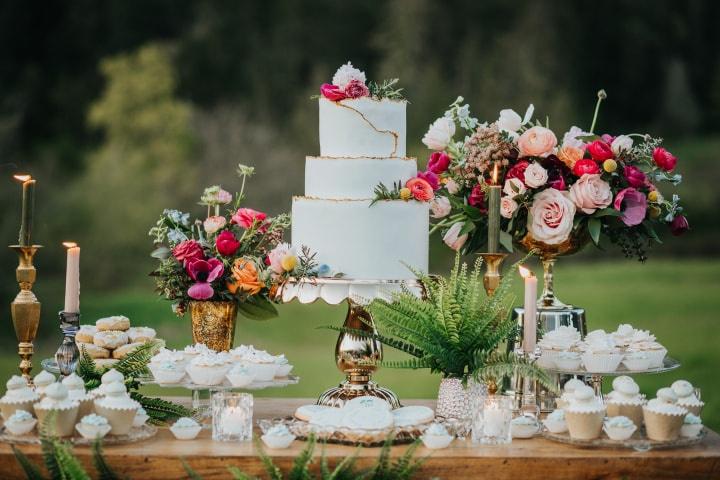 Minimalist
Sometimes sweet and simple is the way to go! While you may want to skip the added flourishes, you can play around with height to make things a bit more interesting. For example, you may want to place your star confection on a higher cake stand than the rest of your goodies to really show it off. P.S. if you're going with this style, you'll want to make sure everything is symmetrical.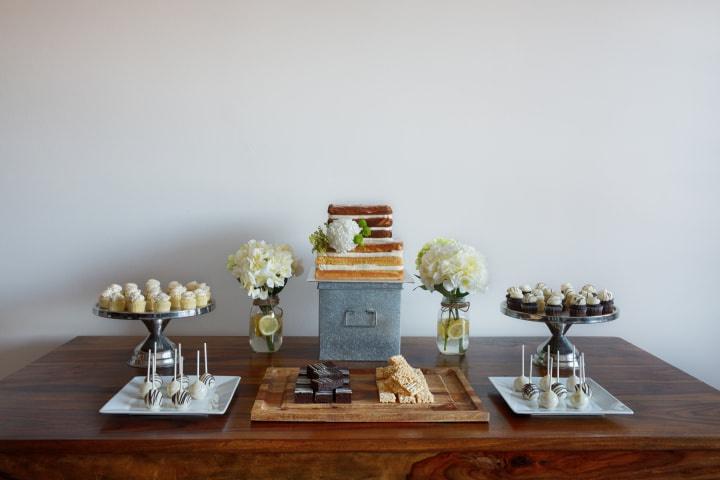 Modern Boho
Modern boho (also known as new age boho) weddings are the "it" thing right now. If you've jumped on the bandwagon and are embracing the trend for your big day, you'll need wedding dessert table ideas that fit in flawlessly. Keep in mind that this look is a bit sleeker and edgier than the typical boho style, so geometric shapes, bold blooms and rich colours are your friends.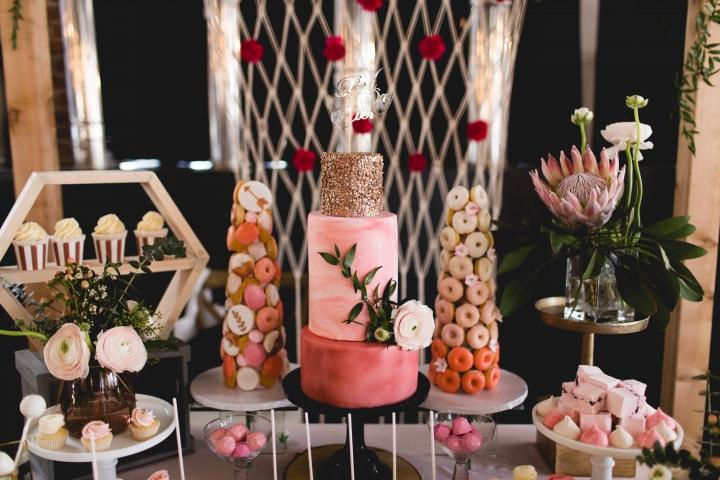 Classic
If you're going the traditional route, go with wedding dessert table ideas that are chic and simple. Choose a white tablecloth and let your cake(s) be the centre of attention (they deserve it). If you want you can add a few floral arrangements or greenery to give it that extra somethin' somethin'.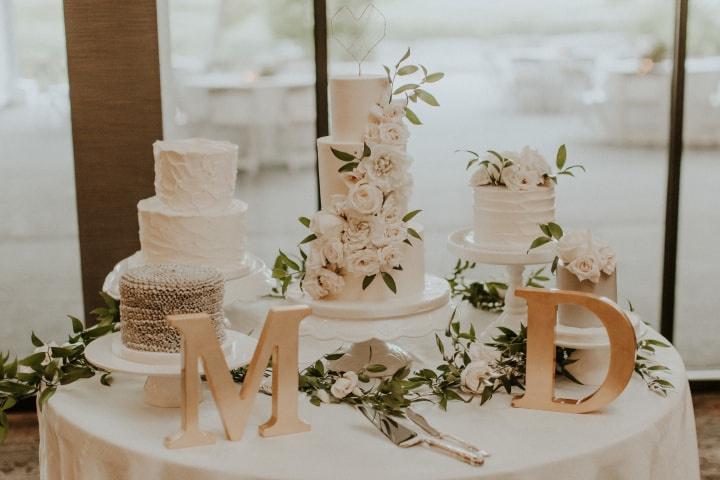 Tropical
Whether you're hosting a tropical wedding theme in Canada or having a destination wedding in the sunny south, dress your table with tropical greenery and pineapples. Make it even more striking by spray painting the pineapples gold and adding a few gold accents.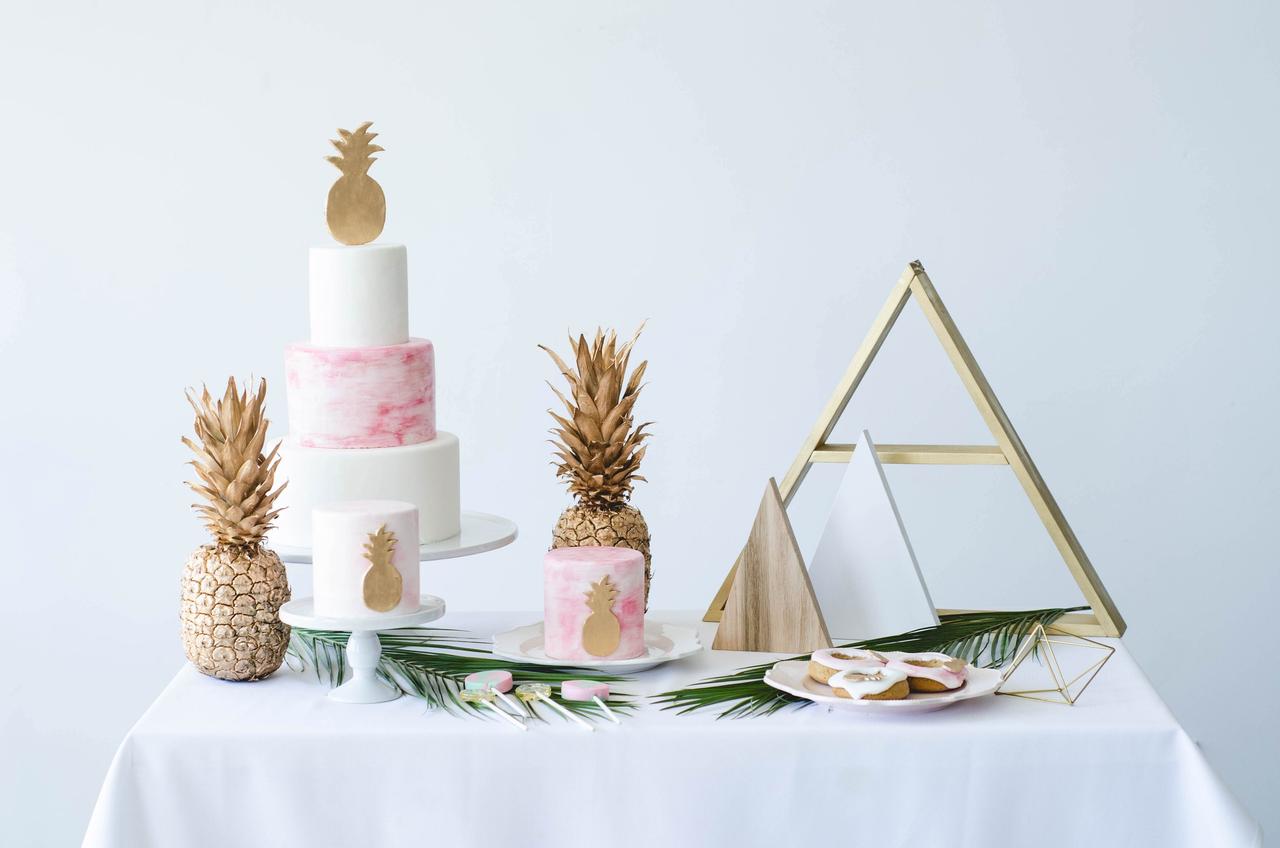 Industrial Chic
For an industrial chic wedding theme, keep your wedding dessert table simple and stylish with a multi-tiered buttercream frosted cake, white dessert platters, taper candles and a gauze table runner on a rustic wood table for a striking display.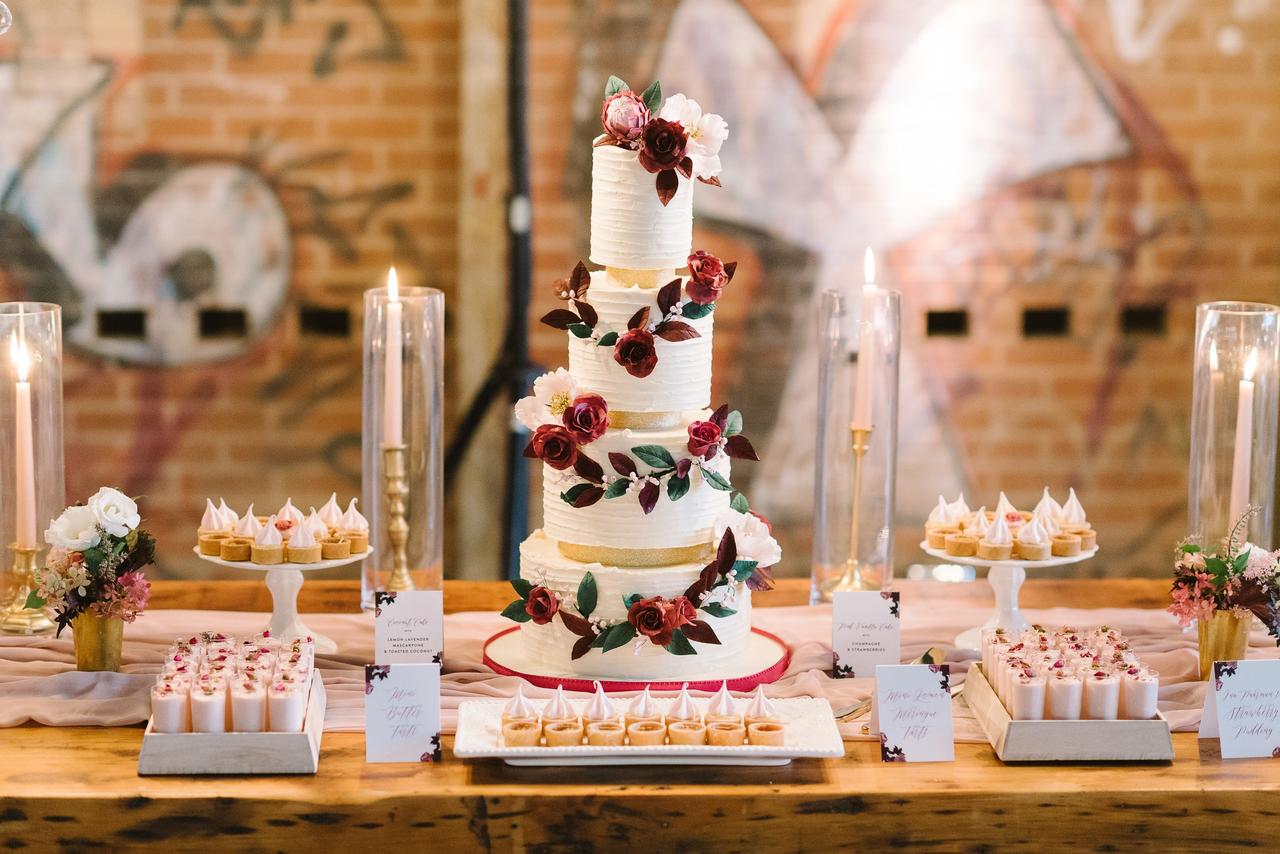 Find wedding cake creators and specialized bakeries on WeddingWire »