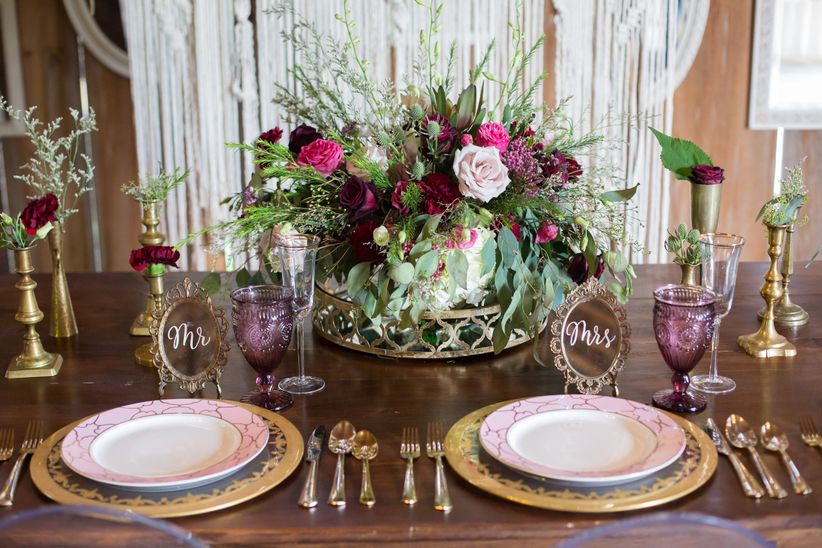 Before you dive too deep into wedding planning, learn about the hottest 2018 wedding trends! No, you don't have to follow every single wedding trend on this list, but incorporating a few may be what takes your big day from meh to magical. From new age bohemian style to cascading bouquets, here's what's on our radar for 2018.
Here are all the 2018 wedding trends that you need to know about.
Industrial venues
Industrial venues are really having their moment right now, and luckily Canada has a lot of awesome ones (have you seen Toronto's Evergreen Brick Works?). This type of space tends to have chameleon abilities, so it can be transformed to suit any and every wedding theme, which is awesome. they also tend to have a bit more edge than something like a barn venue, making them fit with the other top 2018 wedding trends perfectly.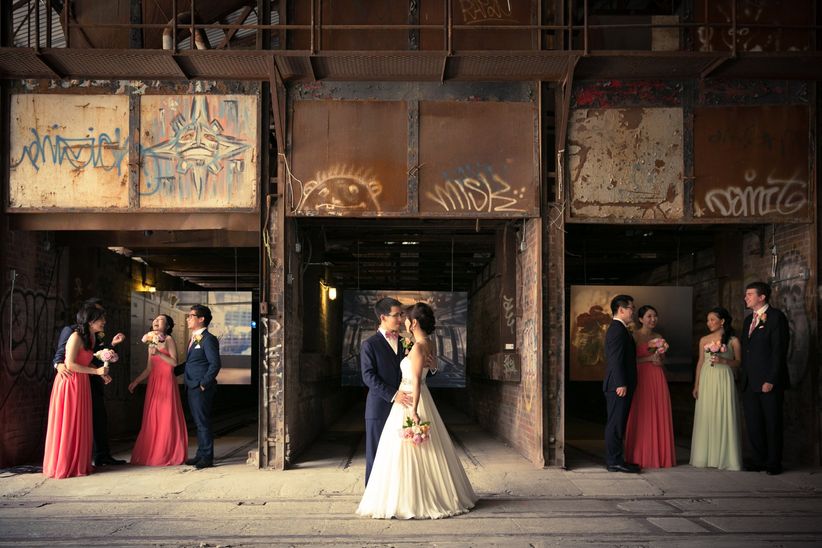 New age bohemian style
If you're looking for a wedding theme, new age bohemian is the way to go. Now, this isn't too different than last year's fave (rustic), but it is a little more refined. Instead for going for 100% down home comfort, think about all those Pinterest-y apartments decked out with greenery, macrame, geode coasters and cute knick knacks and use those as your inspo.
Velvet accents
Say goodbye to lace tablecloths and sequin runners, velvet is the "it" material of 2018. While it may seem like the obvious choice for winter months (it's one of the cozier textiles) it will definitely be working its way into spring and summer affairs as well this year. If you don't want to go all out and deck out all of your tables with it, use it to accent different areas, like your stage, lounge, welcome area, or buffet tables.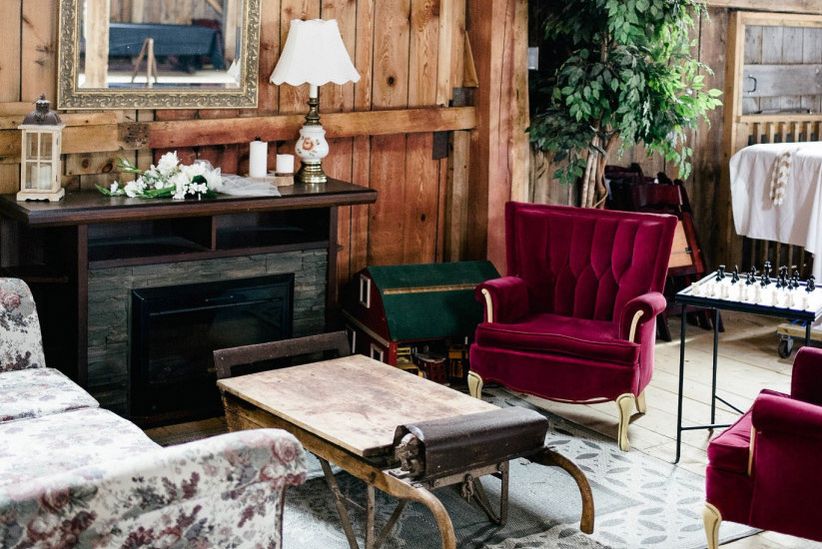 Macrame and crystal decor
Indie ethereal vibes are so hot right now! I mean, if you've set foot insider Urban Outfitters or Anthropologie, you're probably well aware, but they're sneaking their way out of apartments and into the wonderful world of weddings (yay!). From macrame altar decorations to crystal place cards, there's plenty you can do with this decor to add some new age sparkle to your big day.
Black and gold stationery
Black and gold and textural elements are big 2018 wedding trends for stationery. Luckily, these work for just about any theme, so get creative with your graphics and fonts to take yours to new levels.
Deep colours and black accents
Pastels and white accents might seem like wedding musts, but, honestly, it's time to shake things up. Deep jewel toned hues are great for more than just fall and winter weddings, they can add some serious depth to spring and summer affairs, too. Consider adding a few darker tones to your decor, ensembles and arrangements to give them that extra little something. P.S. This year will be more about general colour guidelines than strict colour palettes, so you can be a bit less rigid with your choices.
Drip cakes and donuts
The wedding cake trends of 2017 are still holding strong, with donuts and drip cakes taking centre stage. Donuts are a fun alternative to traditional layer cakes and can be displayed in a number of creative ways, so it's no surprise that they're on this year's trend forecast. If you'd prefer to go the more traditional route and do a layered cake, skip the naked cake or plain 'ol ivory frosted confection and go for a drip motif, instead. This style works wonders with a boho theme, making it perfect for this year's theme of choice.
Bohemian/edgy wedding dresses
Forget about frilly cupcake-shaped frocks, this year is all about bohemian-meets-edgy wedding dresses. Flowing gowns with avant-garde details like plunging necklines, celestial prints and sheet panelling are so 2018. If you do favour a more feminine silhouette, you can edge it up with a moto jacket on top (it's a fun trend that's been popping up on the runways).
Bridesmaid suits and jumpsuits
While bridesmaid dresses aren't exactly a thing of the past, suits and jumpsuits are becoming more and more popular. This shouldn't come as too much of a surprise - Hollywood has seen a strong increase in suited ladies on the red carpet as of late, too. From streamlined tuxedos to glitzy sequin jumpsuits, you've got plenty of options in the pants department, so find something that suits your wedding style.
Burgundy menswear
The days of blue, black and grey suits are behind us! Now's the time to embrace colour and rock red-hued ensembles. You and your groomsmen are guaranteed to stand out from the rest of your guests in burgundy slacks and/or jackets, so it's the perfect outfit option for guys that can't get enough of the spotlight.
Cascading bouquets
Going with the dramatic boho themes that seem to be dominating 2018 wedding trends, cascading bouquets are going to be all the rage. If you're not familiar, this style features a voluminous bunch of flowers and greenery that cascades down, getting smaller as it falls toward the floor. This bouquet shape definitely makes a statement, so you might want to save it for your bridal bouquet and give your bridesmaids posy bouquets or small round bouquets (they're a little less dramatic).
Find more wedding ideas and inspiration in our Real Wedding galleries »