Wedding Bouquet Shape Glossary
Before you start choosing between orchids and roses, think about what shape you want your wedding bouquet to take. We've created this glossary to help acquaint you with the most popular arrangement styles.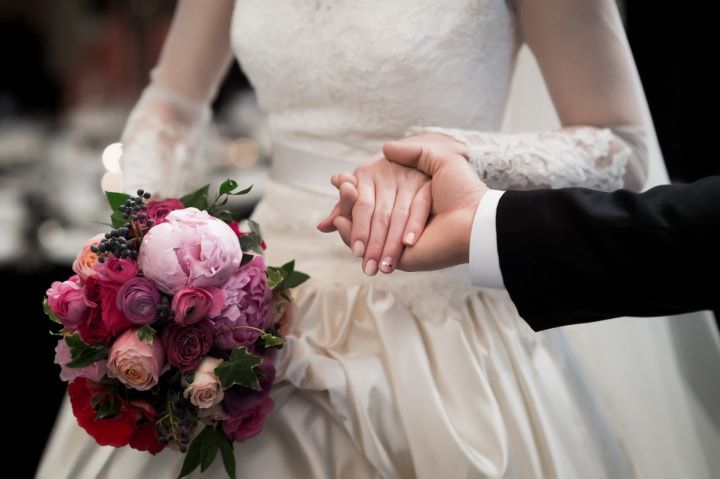 Your dress may be the main event of your wedding ensemble but your bridal bouquet is by far the most important accessory. It's the floral arrangement you should choose first with your wedding florist and will probably end up being the most costly (remember that all your flowers will take up about 8% of your entire wedding budget). Aside from choosing the perfect combination of flora and fauna, you'll want to think about its shape. This will impact the look of your bouquet massively, so getting it right is key. Some may like loose, free-flowing arrangements while others may want something with a bit more structure. If you don't have a clue where to start, these are the essential shapes to consider.
Here is your wedding bouquet shape glossary.
Biedermeier
In a biedermeier bouquet the flowers are arranged into colour-coordinated rings. If you're looking for something bold, try using different blooms and colours for each ring. Want something a little more understated? Go with the same colour flowers in different shades, possibly creating a subtle ombre effect.
Cascading
If you're looking for a statement arrangement, a cascading bouquet is the way to go. These arrangements feature full bunches of flowers at the top that cascade down, getting smaller toward the floor (orchids and vines work especially well in these). Because they are so dramatic they are best paired with minimalistic gowns - if you've gone all out with beads, sequins and embroidery you may want something a bit more understated (it'll only draw attention away from that stunning gown!).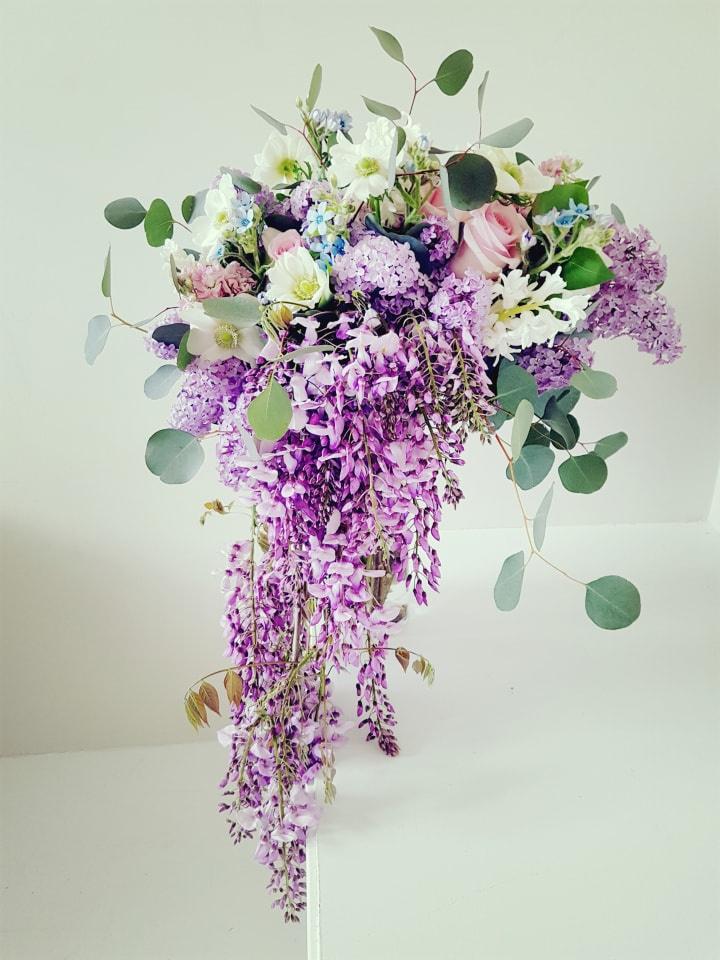 Composite
In a composite bouquet multiple flowers and/or petals are arranged to look like a single, large flower. You can do some really interesting stuff with colours in this bouquet. Creating an ombre effect is a tried and true option, but feel free to mix and match colours to create something unique.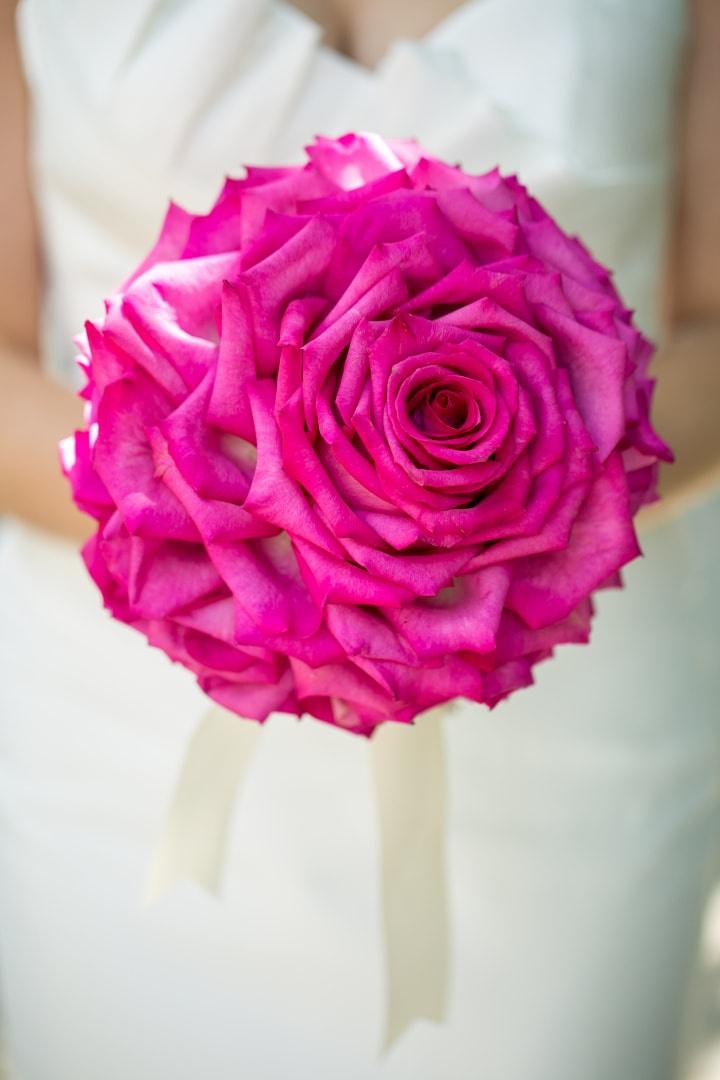 Hand-tied
Hand-tied bouquets are ideal for more relaxed, rustic affairs, like a beach or barn wedding. They are loose arrangements of flowers that look effortless as opposed to structured. Try tying them together with twine, burlap, fabric, ribbon or something that suits the overall vibe of your ceremony.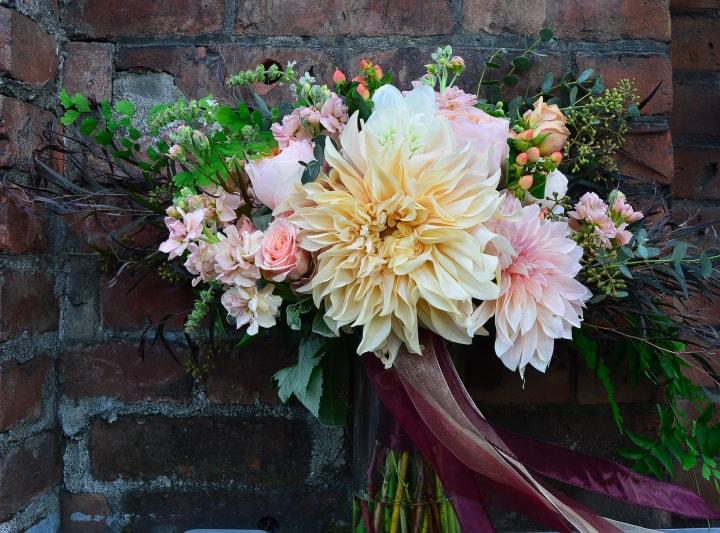 Nosegay
If you crossed a posy and round arrangement you'd get a nosegay bouquet. These arrangements are small, domed bouquets that are perfect for low-key brides or bridesmaid bouquets.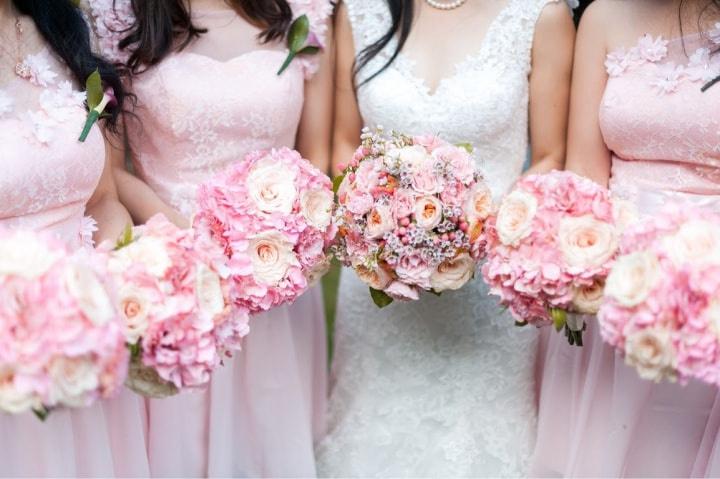 Pomander
If you want something a little different, go with a pomander. It's a spherical arrangement that is carried by a loop instead of stems. Many couples give them to the flower girl to carry or hang them as aisle markers around their ceremony venue.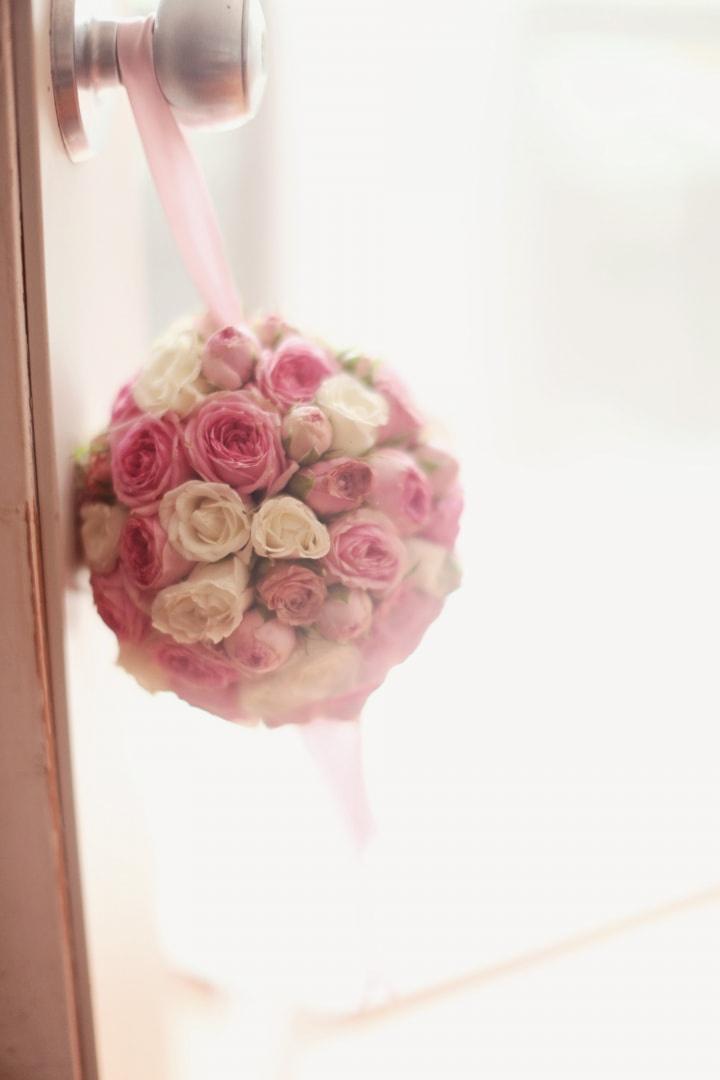 Posy
Posy bouquets are small minimalist arrangements that are light enough to carry with one hand. This differentiates them from others on this list as bridal bouquets are normally quite weighty. A huge benefit of posy bouquets is that you can pick pricier blooms (you won't have to buy so many to fill it out, cutting the cost dramatically). They are normally wrapped with ribbon at the stems.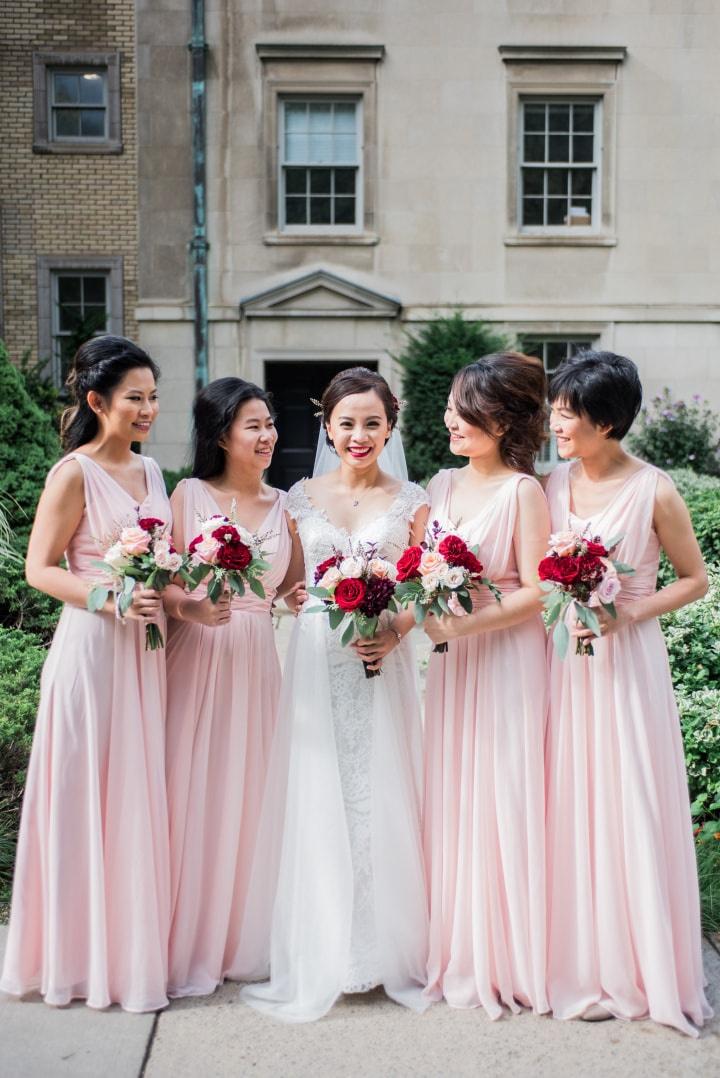 Presentation
Presentation bouquets are usually pretty large, making them quite the statement accessory. Instead of holding the flowers by their stems, you'll hold them by cradling them in one arm (think about how you'd hold a baby). They also go by the name "pageant bouquet" as it looks similar to something a beauty queen would hold after being crowned the winner of a competition.
Round
Round bouquets are by far the most used style for weddings. They feature loosely-tied flowers that are arranged to give the bouquet a domed top. Roses and peonies are fan favourites for this shape.