8 Tips for Dressing Your Groomsmen
Once you've found your wedding ensemble you can move on to dressing your groomsmen. Here are a few pointers for finding the perfect outfits for your best bros.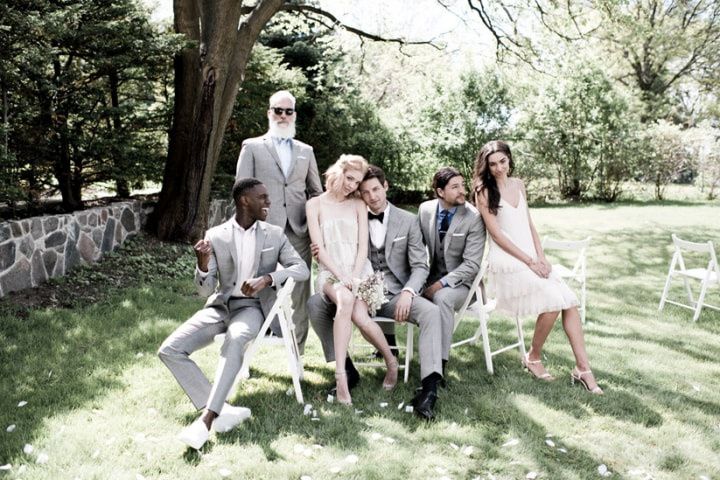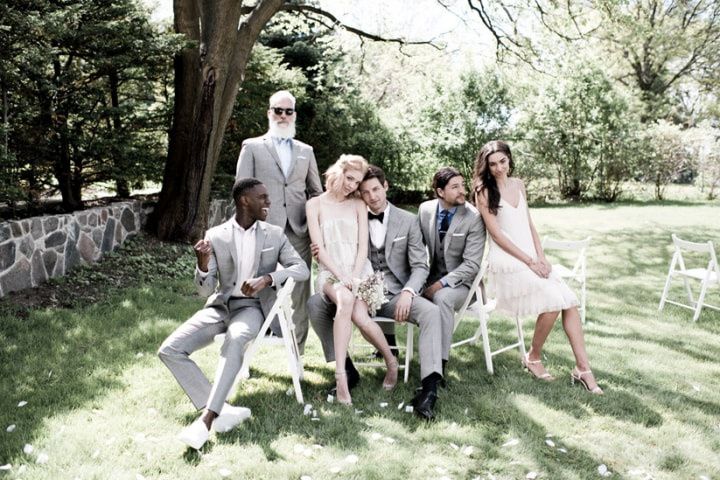 Image: Courtesy of Indochino 
You're almost at the wedding finish line! After months of planning, you've landed that perfect venue, picked out a drool-worthy menu and done a little suit shopping of your own. So what's next? Getting your groomsmen suited and booted for the big day, of course. From budgeting to accessorizing, these are some things you'll want to keep in mind while shopping around.
Here are some tips for dressing your groomsmen.
Budget
If you're not footing the bill for your groomsmen (it's normal not to!), you should be wary of the cost for formal wear rentals and retail prices when choosing their looks. Instead of selecting costly three-piece numbers right off the bat, find a few options that won't break the bank for your pals. You may want to hit them up with a quick text about their budgets to avoid any awkward conversations later down the line.
Match your event
You and your soon-to-be spouse have probably put a lot of TLC into planning your wedding day. You've laboured over the theme, the venue, the flowers and just about every other aspect to paint a cohesive picture. Well, you certainly don't want to drop the ball with your groomsmen outfits. Think about all the other details of your big day and find an ensemble that matches. Hosting a grand ballroom affair? Get your boys suited and booted in tuxedos. Hosting a relaxed affair on the shores of B.C.? Maybe forego the suits and opt for something more casual, instead.
Coordinate with the bridesmaids
You don't want the bridesmaids and groomsmen to look like their attending two different weddings, so make sure they coordinate a little. Think about adding an accessory (like a tie or pocket square) that matches the colour of the bridal party's dresses. If all else fails, you can always match the boutonnieres to the bridesmaid bouquets.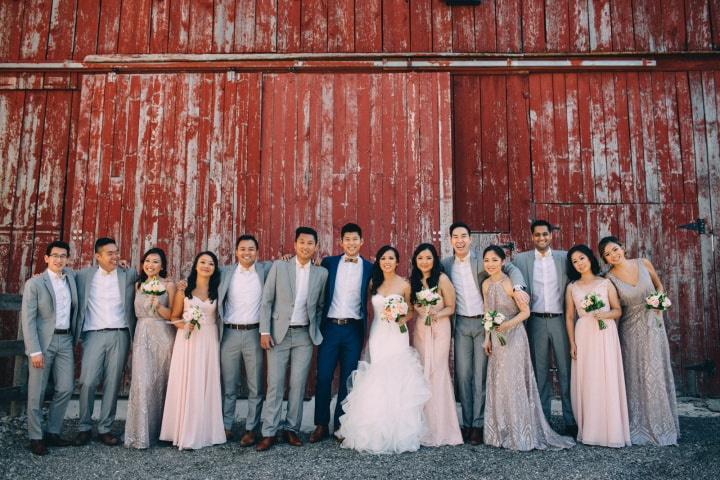 Look into alternatives
There's no doubt about it, three-piece suits look dapper as hell. However, they're not the best option for every wedding. If you're hosting a more casual affair at a barn or laid-back restaurant, you may want to think about switching up the dress code for your groomsmen. Consider doing a less formal look, throwing in a pair of suspenders or trading in their suits for Canadian tuxedos - the world is your oyster, gents.
Get their opinions
Want all of your groomsmen to wear the same getup on your big day? Let them help choose the look. Pick out a few of your favourite options and then hold a vote. This will ensure that all your friends are happy with their ensembles on the big day.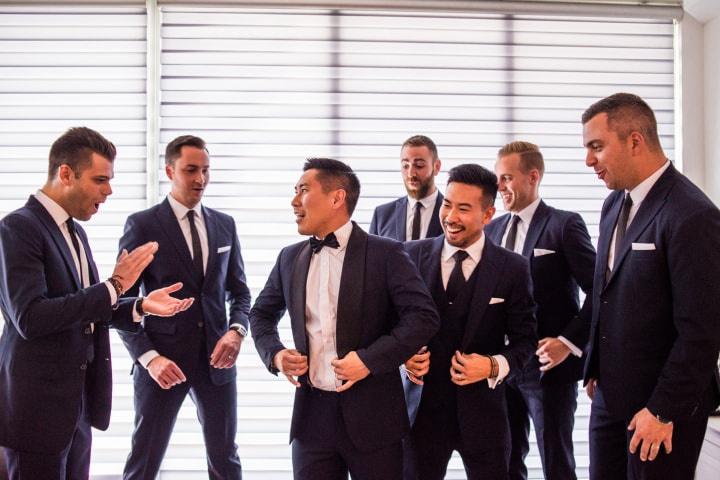 Mix and match
If you don't want your groomsmen being cookie cutter copies of each other, let 'em choose their own looks. To sidestep standing next to a motley crew on your wedding day, give them a few guidelines to work with. We suggest offering up a colour of suit, a style of shoe and/or an inspiration photo, then let them take the wheel. You may want to ask them to show you before the big day so that there are no unpleasant surprises when you're getting ready to walk down the aisle.
Skip the classic dress shoes
Even though it's the norm, your bros don't need to be sporting sleek oxfords or dress shoes on your big day. If you want to give their looks that extra oomph, look into some different styles. The key here is to match the vibe of your big day. Going for a country-style barn wedding? Cowboy boots would fit the bill perfectly. Opting for a casual/modern soiree at a trendy loft? Maybe make your pals look cool with some Chuck Taylors. Bonus: these will be even more comfortable to dance in when the reception rolls around.
Add a little something special
Whether your groomsmen are getting suited up in some classic black ensembles or doing their own thing with mismatched outfits, you can tie it all together with some accessories. Gift your guys with a fun pair of socks, cufflinks, a belt, pocket square or tie to bring their wedding looks to the next level. Don't be afraid to go a little wild with patterns - these little details can and should be unique!