7 Tips for Choosing a Second Wedding Dress for Your Reception
Looking to do an outfit change on your big day? Here are some tips for picking the perfect second wedding dress for your reception.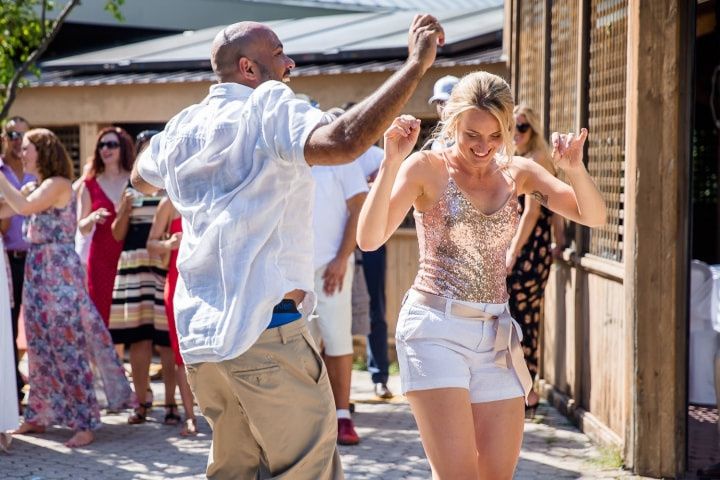 What's better than one wedding dress? Two, obviously! If you've opted to wear a stunning ballgown made with layers upon layers of tulle for your ceremony, you may want a second wedding dress – something easier to move around in – for dancing at your reception or your after-party. So, how do you find the perfect outfit? From thinking about your theme to feeling comfortable, this is what you should focus on when hitting the boutiques.
Here are some tips for choosing a second wedding dress for your reception.
Give a nod to your wedding theme
If you've got a concrete wedding theme, consider giving a nod to it with your second wedding dress. Making your wedding a vintage masterpiece? Channel your inner Marilyn Monroe and find a 1950's-style fit n' flare halter dress. Or, maybe you've gone for a black-tie affair? Perhaps it's time to bite the bullet and buy that pricey cocktail number you've been eyeing at The Bay.
Skip spending tons of money
Your wedding dress - the first one - should be the star of the show, so invest more time and money into it. While you may want to purchase something a little pricier than an H&M frock, don't throw away hundreds and hundreds of dollars on your second wedding dress. You don't want to be heartbroken if a guest accidentally spills a drink on you or a stitch gets messed up when you're busting a move on the dance floor - this is your party dress.
You can go short
The party is about to begin, so you can hike up that hemline and change into a short wedding dress. Find something fun and flirty that you're comfortable moving around in. Of course, if you'd rather keep your stems under wraps, you can opt for a more party-appropriate, floor-length number.
You don't have to wear a dress
Do you prefer pants or shorts to dresses? Wear them to switch up your bridal look for the reception! You should probably leave your trusty Gap jeans at home, but a sleek pair of trousers or shorts can look just as chic as any frock.
Experiment with colour
Your second wedding dress definitely does not have to be white. If you want to embrace tradition, go with an ivory or ecru gown for your ceremony and then swap it out for something a little more festive to wear during your reception. Remember to find something that doesn't clash with your colour scheme or your photos may not turn out as stunning as you expected!
Comfort is key
You're probably going to be wearing this dress for several hours, so comfort is a necessity. Don't sacrifice style and go with a frock that's bland and boring, but make sure your reception dress is something you can see yourself drinking and dancing the night away in.
You can be an outfit repeater
Unlike your bridal gown, you can totally wear your wedding reception dress after your big day. In fact, if you want to get some real bang for your buck, we suggest hunting for an option that you can picture yourself sporting at future cocktail parties.
Find wedding dress shops on WeddingWire »