6 Tips for Choosing the Perfect Bridal Lingerie
Don't forget about what goes under your gown! Here are a few tips on selecting the right lingerie for your wedding day.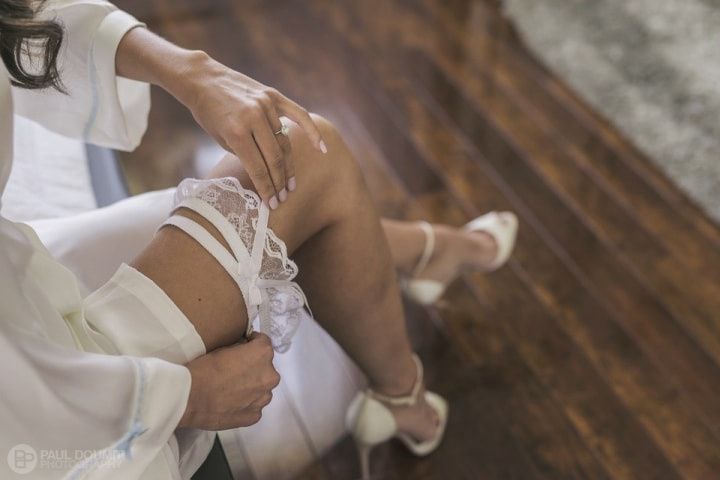 Once you've found that dream dress it's time to figure out what you'll be wearing underneath. Yes, you could easily make a beeline to one of your old and faithful boutiques and purchase whatever white set catches your eye first, but where's the fun in that? Now's the perfect occasion to buy that stunning Agent Provocateur set you've been eyeing or to get something custom made. You only get married once, so you only get one set of bridal lingerie!
Here are a few tips for choosing your bridal lingerie.
Let your gown be your guide
This probably goes without saying, but you should wait until you've found your wedding dress before purchasing what goes underneath. Different necklines, silhouettes and sleeve styles call for different undergarments. So, even if you see the most stunning set, hold off until you've purchased your frock.
Don't go crazy with colour
Now's not the time to get adventurous with neon-hued panties and bold red bras. If you're wearing a white gown, your underwear should follow suit or be nude (remember, stark white can also show through softer shades, so be wary.). The aim of the game is to make sure it doesn't show through your gown.
Splurge a little
Even though you're probably in money saving mode, you should invest into what's going on under your gown. Instead of using one of your tried and true sets, treat yourself with a trip to a fancy bridal lingerie store. New underwear can make you feel sexy and confident, which is a must on your big day.
Make sure it fits
Nothing is more uncomfortable than ill-fitting underwear. While you may know what size you are at Victoria's Secret, you may end up with completely different measurements at another specialty store. Ask one of the salespeople to size you upon arrival so that you can find lingerie that fits your body perfectly.
Comfort is key
Remember, you're going to be in these undergarments from dawn 'til dusk (or later), so make sure you actually enjoy wearing them. While bedazzled bras and strappy undies may look awesome, they can be pretty uncomfortable. When selecting your bridal undies, think about moving around, dancing, sitting and everything else you'll be doing on your wedding day.
Don't forget the garter
Even though you probably won't be sporting stockings or socks on your wedding day, you shouldn't forget this important accessory. The garter toss is a fun part of the reception and you don't want to be up a creek without a paddle when it rolls around. You can even have yours embroidered with your monogram or use it as your "something blue" to make it extra special.