How to Replicate the Royal Wedding Cake
Want a confection that's as beautiful and delicious as Harry and Meghan's? Here's how to recreate their royal wedding cake for your big day.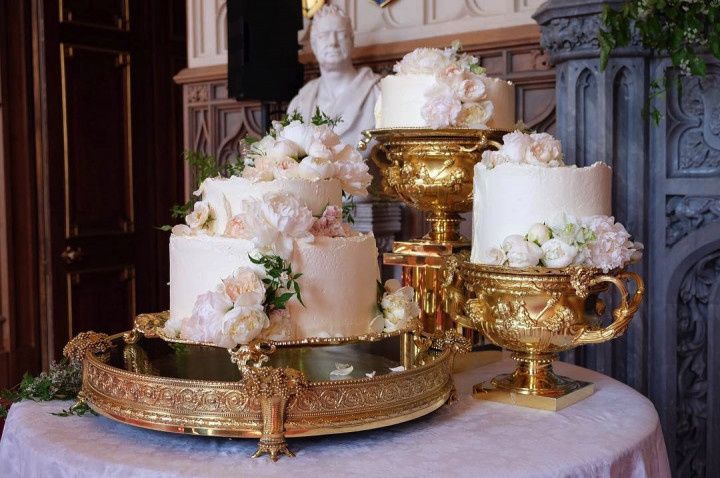 On May 19, 2018 Prince Harry and Meghan Markle tied the knot and claimed their new titles as the Duke and Duchess of Sussex. They looked stunning, had what sounds like an enviable star studded reception and dug into their drool-worthy royal wedding cake. Now, you may not be able to assume fancy royal titles or dance the night away with George and Amal Clooney, but you can steal their wedding cake style. Their baker, Claire Ptak of Hackney's Violet Bakery, has spilled the beans on everything that went into the royal wedding cake and we're here to help you recreate it for yourselves.
Here's how to replicate the royal wedding cake for your big day.
The flavours
Harry and Meghan were real rule breakers with their wedding cake flavours. Royal weddings have featured fruitcakes for centuries, but the Duke and Duchess of Sussex dared to be different and opted for a lemon sponge cake with an elderflower syrup drizzle and filled with a tart lemon curd. The lemons came from the Amalfi coast and the elderflower syrup was created from elderflower trees from the Queen's residence in Sandringham. You may not be able to source your ingredients from the same picturesque places, but you can definitely ask your wedding cake baker to whip up something similar.
The icing
The royal wedding cake was topped with Swiss meringue buttercream with elderflower, a firm yet light and fluffy frosting made from egg whites, granulated sugar, unsalted butter, flavoured extracts (like elderflower, vanilla and almond) and sea salt. It's not sickly sweet, but it'll still give you that satisfying sugar fix. Almost all seasoned bakers have nailed this variety of frosting, so yours should have no trouble tackling the recipe.
The toppers
No miniature bride and groom figurines here! The royal wedding cake was topped with peonies, roses and bits of greenery. The white and blush blooms complemented the ceremony and reception flowers and accented the simple white cakes perfectly. This is a pretty easy style to steal, but if you can't afford to top your wedding confection with real flowers, you can always go with faux or fondant blooms.
The presentation
Harry and Meghan's royal wedding cake was the exact opposite of Will and Kate's. Instead of being a sky-high, multi-tiered creation with a traditional design, the new Duke and Duchess of Sussex went for a more rustic design and three separated tiers. The three multi-layered cakes were each displayed on gold stands of various heights, giving them some seriously luxurious vibes. While you don't have to copy every single aspect of their presentation, we highly suggest sampling out the separated tiers - this trend is about to take off in the wedding cake world, we can feel it.
Find wedding cake creators and specialized bakeries on WeddingWire »