So, you've spent the last few weeks scrolling through photos of stunning naked cakes, cupcake towers and donut displays? Sounds like you're ready to start working on your wedding cake. Once you know the basic look you're going for, you can start your hunt for wedding cakes in Hamilton. Lucky for you, there are more than a few wedding cake bakers to choose from.
Here's where to get a wedding cake in Hamilton.
The Dessert Room (1048 King Street West)
This Westdale bakery is definitely one worth looking into. Seriously, scroll through its gallery and you're bound to get a little bit of wedding cake envy. From semi-naked cakes topped with fruit and flowers to buttercream frosted wonders to trendy drip tiers, the bakers here can make all of your wedding cake dreams come true.
Sweet Avenue Cakery (286 Dewitt Road)
If you hail from (or frequent) the Stoney Creek area, Sweet Avenue Cakery is the wedding cake designer for you. Each cake is made with the best ingredients available - we're talking farm-fresh sweet butter and eggs and made in-house preserves - so you're guaranteed to get the best of the best when it comes to flavour. Bonus: if you're looking to kill two birds with one stone, you can also order your dessert table goodies from here (everything from cake pops to cookies are available).
Kiwi's Cupcakes and Cakes (Private Studio)
Kiwi's Cupcakes and Cakes takes wedding cakes to the next level. Its confections are easy on both the eyes and the palate and come in just about every size and style. Whether you're in the market for a dessert table filled with bite-sized treats, a sky-high cake or a cupcake tower, Kiwi's can handle it. P.S. they also offer vegan alternatives, if you or some of your guests are plant-based.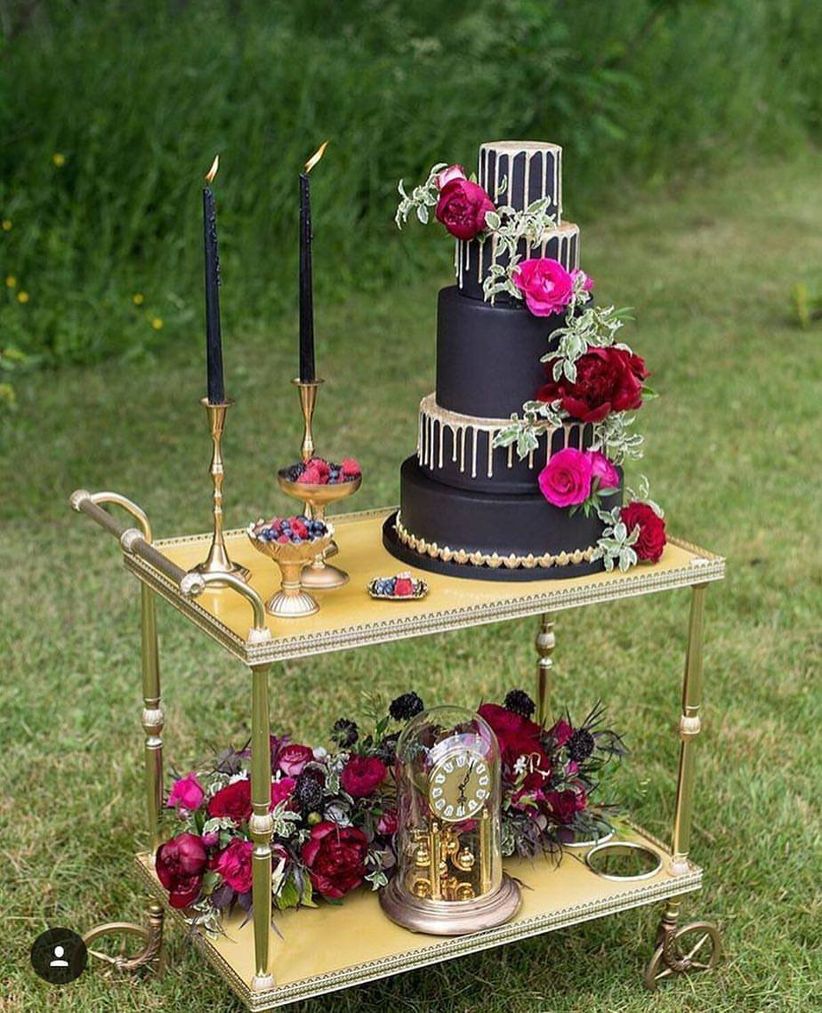 M&N Cake Boutique (105 Main Street East)
Looking for highly personalized wedding cakes in Hamilton? M&N Cake Boutique has got you covered. Its bakers will go the extra mile to make sure your catered to, offering consultations, tastings, stands, tools, toppers and help with both delivery and setup. When it comes to flavour, you're in for a treat. They use top of the line locally sourced ingredients, such as creamery butter, premium quality Belgian chocolate and fresh whipped cream, so there's no way your wedding cake won't be delicious.
Buttercup's Baked Goods (Private Studio)
Buttercup's Baked Goods creates unique wedding cakes that err more on the side of fun than fancy (though she can do traditional styles, too). You'll find her gallery stacked with faux bois designs, rosette clad cakes, character inspired confections and more. If you've got any dietary restrictions or allergies, the team will work around them, creating something delicious with you in mind. Plus, if you want to send your guests off with some tasty treats, Buttercup's can also take care of your wedding favours, too.
Beyond the Batter (1791 Stone Church Road East)
Beyond the Batter will go above and beyond (see what I did there?) to make your wedding cake a real showstopper. Cupcake towers, faux bois cakes, elaborate iced masterpieces and more can be found in its gallery, so you've got plenty of styles to choose from. BTW, it's a nut-free facility, so if you or any of your guests are allergic to nuts you can still indulge in a slice of cake.
Cake & Loaf (321 Dundurn Street South)
Make your way to Homewood and Dundurn and you'll find Cake & Loaf, a charming bakery that slings cinnamon buns, cookies, vegan treats, wedding cakes and just about everything in between. The bakers here will craft you a stunning confection based on your theme, inspo images and ideas (so come to the consultation prepared). They can do anything from drip cakes to themed cakes, so use your imagination!
Karlik Pastry (762 Barton Street East)
On the hunt for more traditional wedding cakes in Hamilton? Look no further than this Barton Street Bakery. Karlik Pastry is no stranger to the wedding cake biz and has created dozens of classic designs for happy couples. If multi-tiered cakes adorned with flowers and ribbons are your thing, this should definitely be added to your scouting list.
Weils of Westdale (981 King Street West)
This King Street West gem creates killer wedding cakes that'll have your guests whipping out their camera phones. Want something traditional? They'll design a multi-layer ruffle cake topped with flowers or a sleek and simple fondant design. A little more daring? Ask for a trendy donut tower or a crystal embellished confection.
Sonia's Piece of Cake (Private Studio)
If you're looking for whimsical wedding cakes in Hamilton, this is the place to go. Sonia crafts custom fondant design cakes that fit each couple's personality and wedding theme to a T. Her gallery boasts superhero cakes, animal themed confections and more classic designs, too. If you have dietary restrictions, she can make yours gluten-free, dairy-free and/or diabetic friendly.
Find Hamilton wedding cake shops and specialized bakeries on WeddingWire »