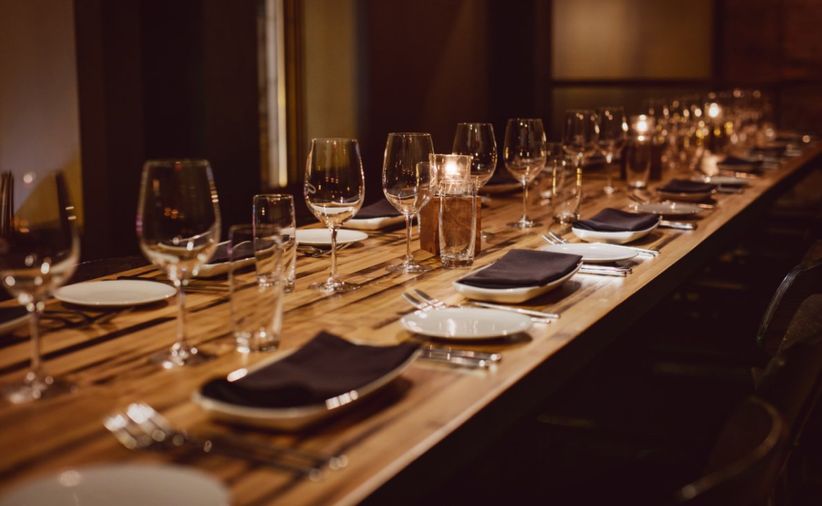 The final bash before your big day will be your rehearsal dinner. Your bridesmaids, groomsmen, closest friends and family members will come together the evening before your wedding to enjoy one last night of mixing and mingling. While the night should be pretty easy and breezy, there are a few things to avoid to ensure that your rehearsal dinner goes off without a hitch.
Here's what not to do when planning a rehearsal dinner.
Take your sweet time booking a venue
One of the first things you'll want to strike off your checklist is booking a venue. You'll want to find one with a large enough private space to host your guests or a chef's table away from the hustle and bustle of the other diners. Booking it four to six months before the date is a good idea, especially if you're going with a trendy hotspot. This will give the restaurant time to sort out scheduling details and give you enough time to come up with the perfect prix fixe menu to wow your friends and family.
Forget to give your guest list that extra bit of TLC
Try to stick to your core friend groups and relatives when crafting the guest list for your rehearsal dinner (you don't want it to be identical to your wedding's). Consider how intimate you want your event and then start filling up your roster. It could be as small as your wedding party, parents and grandparents or you could extend it to include out-of-towners and cousins. Remember, while it would be awesome to have all your loved ones with you, you'll see them the next day at your wedding!
Skip rehearsing
The main reason you're having this dinner is to rehearse for the following day - so don't forget to do it! Kick off your event by doing a ceremony runthrough and then get on to enjoying dinner and drinks. Tip: you'll want to make sure your venue, officiant and the key players in your ceremony are available in advance. Doing this will definitely give you more confidence on your big day. After all, practice makes perfect.
Outshine the wedding
While your rehearsal dinner should be nothing short of fabulous, you don't want it to overshadow the main event. Keep things low key and don't try to sneak in a bunch of fun surprises like live musicians and choreographed dance routines - that can wait until tomorrow.
Exclude your hosts
There's a good chance that one of your friends or family members is footing the bill for your rehearsal dinner, which means you're going to have to share the driver's seat. Your host(s) should be able to weigh in on important details of the event, like the venue, menu and guest list. Traditionally it's the groom's family that takes this on, but you don't have to go with the status quo.
Not allow toasts
A lot of of people will want to stand up to offer their congratulations at your wedding, but you don't want to give too many people the floor (it's a major time-suck). To avoid spending your reception listening to kind words from each and every one of your guests, offer some of them a chunk of time at your rehearsal dinner. Let them know your plans in advance so that they have time to prep and rehearse. Feel free to offer up a toast yourselves, thanking the people that matter most is never a bad idea.
Forget to give out gifts
While you're surrounded by your nearest and dearest, why not shower them with gifts? Your bridesmaids, groomsmen and parents have played essential roles in making your wedding plans go off without a hitch, so now's the time to give 'em a little credit. If you're giving them something you'd like them to sport on your big day, don't forget to the tell them to add it to their wedding ensembles.
Abandon your schedule
Beauty rest is a real thing and probably everyone at the rehearsal dinner needs some before the big day. Try to keep everything on schedule so that you don't end up having a late night before the wedding. Yes, it may be hard to cut conversations short but you don't want to be yawning at the altar.
Find restaurant wedding venues on WeddingWire »