The Top 10 Restaurants for a Wedding Rehearsal Dinner in Montreal
Trying to find the perfect rehearsal dinner spot in MTL? Check out the private rooms at these eateries.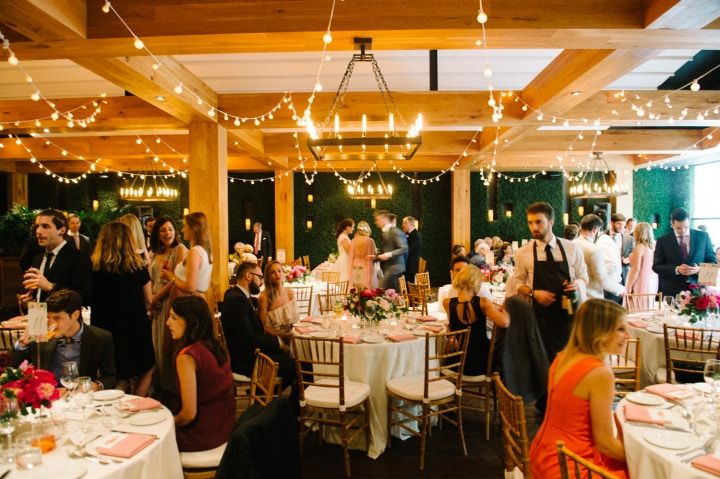 Hunting down a trendy eatery isn't hard when you're in Montreal - the city is filled with them. However, when you start trying to find a private room things can get a bit tricky. If you're looking to host your rehearsal dinner in MTL but don't know where to look, we've got you covered. These eateries are all equipped with stunning private rooms, perfect for hosting your final pre-wedding party.
Here are my picks for the top restaurants for a rehearsal dinner in Montreal.
Ristorante Beatrice (1504 Rue Sherbrooke Ouest)
Head to the Golden Square Mile district and you'll find Ristorante Beatrice, perched right near where Rue Sherbrooke Ouest meets Rue Simpson. Its an Italian restaurant with a modern edge, serving up dishes like pan seared filet mignon, spicy rapini and - as expected - plenty of pasta. The space is defined by its wood-heavy decor, strings of fairy lights and a healthy supply of greenery. It has two private dining rooms that can be rented out for groups of 10 and over.
Les 400 Coups (400 Rue Notre-Dame Est)
Les 400 Coups is all about keeping it local. The restaurant sources most of its ingredients from local producers to create some downright stunning dishes. It's menu boasts upscale fare, with eats like veal gravlax, confit arctic char and porgy sashimi populating the menu. The private room here has an upscale, industrial feel and can seat up to 50 people, so you can get away with inviting a few extra guests.
Patrice Pâtissier (2360 Rue Notre-Dame Ouest)
Patrice Pâtissier does it all. It's a pastry shop, a restaurant and classroom all rolled into one. For your rehearsal you'll probably want to take advantage of the restaurant component. That is, unless you want to use the meal as an opportunity to prove to your soon-to-be mother-in-law that you're not totally clueless in the kitchen with a course from chef Patrice Demers. You'll have to turn your rehearsal dinner into a rehearsal lunch as it is not open for dinner. If there's one thing you can be sure of at this restaurant, it's that you'll be treated to some truly drool-worthy desserts. Its private room can be rented out on weekdays for groups of 8 to 12 guests.
La Chronique (104 Avenue Laurier Ouest)
La Chronique, located in the Mile End neighbourhood, is an upscale eatery offering grade A French fare. It has an extensive wine list that no sommelier would scoff at and its chefs create custom menus for events. The restaurant's decor is contemporary, sleek and very minimalistic - meaning your conversations and toasts - along with the food - will take centre stage at your rehearsal dinner. The private room can accommodate about 24 guests, making it perfect for those with a mid-sized wedding party.
M.Mme (240 Avenue Laurier Ouest)
On the hunt for something extravagant? Make your way to the Plateau and hit M.Mme, a wine bar with top notch eats and decor to match. The menu features ritzy items like duck foie gras, char braised in buttermilk, roasted beet salad and, obviously, plenty of wine. The restaurant has a dark, modern interior, defined by wooden accents and its vast array of wine bottles on display. Its tasting room can seat up to 18 guests and Le Grand Salon, its second private space, can hold up to 60 seated guests.
Pullman (3424 Avenue du Parc)
Pullman is yet another option for the vino lovers out there. The uber-modern wine bar flaunts a menu that focuses on boozy beverages and swanky seasonal eats (think braised octopus and crispy mushroom tarts). When it comes to dining spaces, you've got options.The mezzanine bar can seat up to 25 guests, the lounge can seat up to 30 guests, or, if you've got an extra-large guest list for your rehearsal, the spaces can be combined to accommodate 60 guests.
H4C (538 Place Saint-Henri)
Just a hop, skip and a jump away from Place-Saint-Henri subway station you'll find H4C a trendy eatery specializing in contemporary Canadian cuisine. The restaurant, located inside an old post office building, seamlessly mixes the old with the new, adding 21st century design flourishes to the exposed stone walls. For your rehearsal dinner the chefs can craft canapes, a three-course meal or a four-course meal, depending on your price point. The restaurant's private room can accommodate up to 22 guests.
Ferreira Cafe (1446 Rue Peel)
Are you and your S.O. huge fans of Portuguese cuisine? If you're enthusiastically nodding your head "yes", then Ferreira Cafe might be the rehearsal spot for you. On the menu you'll find everything from Portuguese-style oysters to vegetarian-approved dishes like marinated carrot risotto. It has two equally stunning private dining options: the private dining room (which can fit 36 diners at a single table) and the semi-private Rosa Room, which can seat a more intimate group of 12.
Le Local (740 Rue William)
If you hail from Old Montreal, look into Le Local. The restaurant's culinary style is eclectic, offering everything from candied duck legs to ravioli (for groups its chefs can craft both cocktail-style menus and multi-course meals). Its decor has a healthy mix of modern and rustic, with a hint of industrial thrown in for good measure. For private parties you can rent out the entire upper floor, which has enough room to seat 60 guests.
Modavie (1 Rue Saint-Paul Ouest)
This jazzy wine bar is the perfect spot for your rehearsal if you're looking for something with a vintage vibe. It boasts a killer wine list and French bistro-style eats, like steak frites and foie gras. The interior matches the vibe of the city, with exposed brick and stone walls, wooden ceilings and a few modern flourishes. Want to rent it for your rehearsal? Its got a few options: the second floor (80 seats), the bar (40 seats), the coffee bar (80 seats) and the VIP room (40 seats).