Choosing the right spot for your wedding rehearsal dinner can be tough. You need to find a restaurant with just the right menu and ambiance that'll fit you and all your guests. Well, Vancouverites, you are in luck. Vancity is filled with top notch eateries, perfect for the preamble to your big day. From swanky hotel restaurants to art deco steakhouses, Vancouver has it all.
Here are my picks for the top restaurants for a wedding rehearsal dinner in Vancouver.
Vij's (3106 Cambie Street)
If you're a fan of Indian fare, you're probably well acquainted with the work of Vikram Vij. Whether you buy his curried chickpeas at your local grocery store or have dined in one of his restaurants, you know his dishes are top of the line. Well, good news, you can now host your wedding rehearsal dinner at his stunning Cambie Street eatery. The chef caters to all dietary needs and offers up fixed and personalized menus.
Hawksworth (801 West Georgia Street)
In the market for something super swanky? Hawksworth will be right up your alley. The upscale restaurant, located in Vancouver's downtown core, boasts a menu filled with Canadian eats made from locally sourced, organic ingredients. Its private rooms are nothing short of stunning. The 1920's-inspired York Room is the larger option, accommodating up to 63 seated guests. The Bel Private Dining Room is more modern and intimate, with room for up to 20 seated guests. Both offer stellar views of the Vancouver Art Gallery
The Refinery (1115 Granville Street)
The Refinery, located smack in the middle of downtown Vancouver, has recently made the switch from a restaurant into a full-fledged event venue, but that doesn't take away from its amazing menu. If you're into eclectic tapas-style eats, this is the place to go. The space boasts industrial-chic decor, an 18-foot full-service bar and enough room to host up to 75 guests (with private booking and semi-private booking options available).
Chambar (568 Beatty Street)
Chambar is a fan favourite in the downtown core. It specializes in Belgian fare and seafood dishes, with eats like raclette and moules frites on the menu. The impeccably designed interior features exposed brick walls, wooden floors and modern design flourishes (look up and you'll see some awesome chandeliers). It has two private rooms available: the Medina Room (up to 26 guests) and the Siberia Room (up to 36 guests).
Bambudda (99 Powell Street)
If you hail from Gastown, put Bambudda on your radar. The well-loved restaurant serves up top notch Asian cuisine, with dishes like truffle egg foo young and hoisin braised beef populating the menu. Its private dining space is perfect for more intimate affairs, with room for 20 people. The space is outfitted with trend-forward decor, plenty of palm leaf wallpaper and an adjoining patio.
L'Abattoir (217 Carrall Street)
L'Abattoir is a chic, contemporary eatery located in the city's historic Gastown district. The interior matches the vibe of its neighbourhood, defined by exposed brick and beams, massive windows and steel embellishments. The chefs take advantage of the city's proximity to water, so you'll find the menu stacked with plenty of seafood. The 1200-square foot space can accommodate up to 50 guests (or can be divided in half to seat 24).
Market by Jean-Georges (1115 Alberni Street)
It shouldn't come as a shock that Vancouver's ritzy Shangri-La Hotel is equipped with an equally luxurious restaurant. The aim of the game here is to showcase the best ingredients that our fair country has to offer, so you'll be treated to dishes like west coast oysters and heirloom tomato pizza. For private events you can choose menus that suit your dining needs, it has offerings for vegetarian, vegan and gluten-free diners. It has four spaces available for private dining: the Alberni Room (up to 16 guests), the Georgia Room (up to 40 guests), the Market Room (up to 10 guests) and the Seasonal Terrace (up to 60 guests). Image: The Alberni Room; courtesy of Shangri-La Hotel, Vancouver.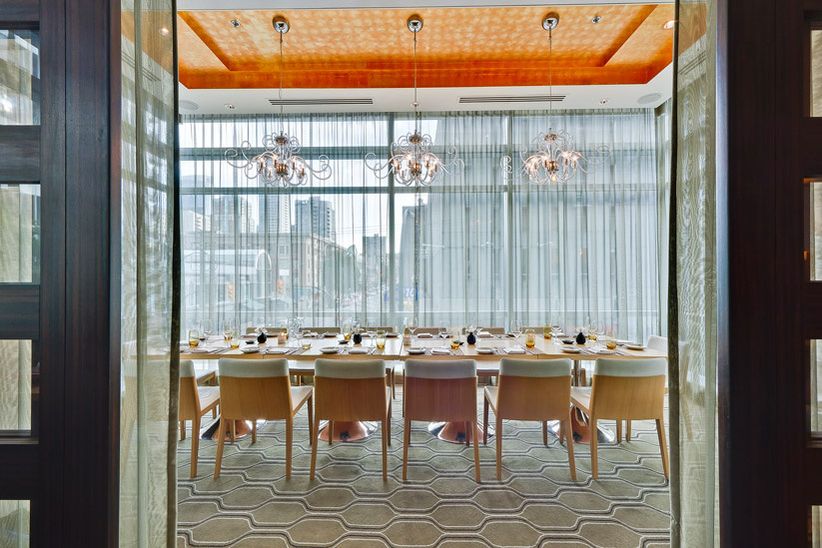 Coast (1054 Alberni Street)
Head down the street from the Shangri-La for another one of our top picks, Coast. Here you'll find a menu stacked with snow crab, prawns, mussels, oysters and pretty much everything else the ocean has to offer. Needless to say, the restaurant's name fits its seafood dominated menu perfectly. It has three ultra-modern event spaces ideal for a wedding rehearsal dinner: the private dining room (up to 34 guests), the Oak Room (up to 22 guests) and the O Lounge (up to 65 guests).
Miku (200 Granville Street)
Head to Miku Waterfront if you want to wow your guests with a meal of drool-worthy Japanese cuisine. The chefs here use fresh, local ingredients to craft grade A sushi, sashimi and more. The restaurant's event room, the Blue Sky Room, has a sleek trend-forward look and flaunts hand painted murals by Hideki Kiumura. It can seat up to 24 guests.
Gotham Steakhouse (615 Seymour Street)
Tucked inside one of the city's few authentic art deco buildings you'll find Gotham Steakhouse. The restaurant has stuck to its roots, designing the interior to match the exterior in style (and adding a healthy dose of mahogany for good measure). If you want to treat your guests to some five-star steak and seafood, it's definitely worth adding to your list. The restaurant has three event rooms up for grabs: The Club Room (up to 30 guests), The Boardroom (up to 18 guests) and The Mezzanine (up to 50 guests).
Find more Vancouver restaurant venues for a wedding rehearsal dinner on WeddingWire »