The Top 10 Restaurants for a Wedding Rehearsal Dinner in Edmonton
Heading to the altar in Edmonton? Here's where to host a rehearsal dinner before your big day rolls around.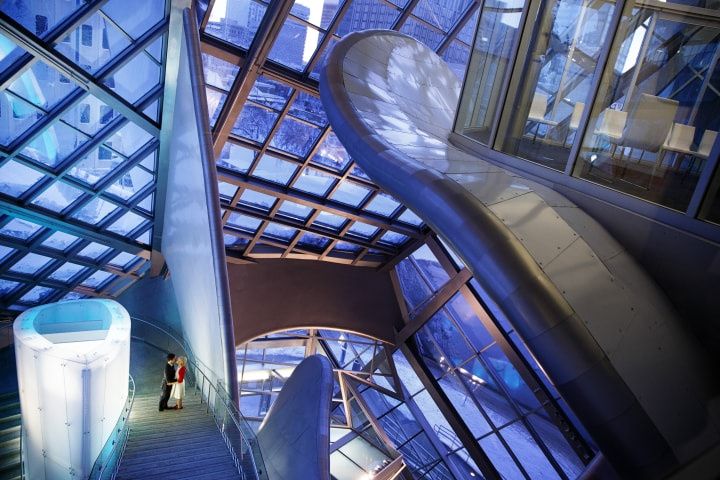 Image: Art Gallery of Alberta
Planning your final pre-wedding event in Alberta's capital city? We've got a few recommendations just for you! From tasty Indian spots to art gallery eateries, the Big E has it all. Whether you're on the prowl for an upscale eatery to impress your soon-to-be in-laws or something a bit more casual, you won't have to travel far to find the rehearsal dinner restaurant of your dreams.
Here are my picks for the top restaurants for a wedding rehearsal dinner in Edmonton.
Zinc (2 Sir Winston Churchill Square NW) 
If you're looking to host a truly memorable rehearsal dinner, this spot won't let you down. The restaurant is located inside of the Art Gallery of Alberta, so the sights are nothing short of amazing. When it comes to food, Zinc is all about using local ingredients, with dishes like veal tartare and crisp braised pork belly populating its menu. There are plenty of options for private dining and events, but smaller spaces like the Borealis Room (seats 24 to 40 guests) and Terrace Cafe (seats up to 40 guests) are ideal for rehearsal dinners.
Cactus Club Cafe (11130 Jasper Avenue)
Cactus Club Cafe was born in B.C. and stands as one of Canada's favourite fine dining chains. It boasts locations all over the west coast, as well as a couple in Toronto. The design of the Jasper Avenue outpost is super sleek, with trendy red booths, a healthy dose of woods and contemporary design flourishes. The menu features upscale pub grub and steakhouse favourites, perfect for a little indulging. If your guest list is under 16 people, you can take advantage of its private room.
Hardware Grill (9698 Jasper Avenue)
Make your way to Jasper Avenue and 97 Street Northwest and you'll find Hardware Grill, an upscale Canadian restaurant perched on the corner. The menu features dishes like Alberta angus beef tenderloin, house applewood smoked salmon and porcini-crusted sea bass (of course, they'll craft a prix fixe menu for your event). Its private room, dubbed the Red Wine Cellar Dining Room, boasts vino-themed decor, plenty of bottles and room for 8 to 16 guests.
Guru (17021 100 Avenue NW)
Do you and your partner constantly crave Indian food? If the answer is yes, Guru is the perfect spot to host your rehearsal dinner. On the menu you'll find traditional dishes like butter chicken, lamb vindaloo and beef korma. Its private room is simple yet modern (so far as design is concerned) and can seat anywhere from 12 to 24 guests, so feel free to add a few more names to your list.
The Common (9910 109 Street NW)
The Common is a contemporary gastro-lounge serving up drool-worthy comfort food, perfect for a more relaxed rehearsal dinner. Its menu features elevated pub favourites like chicken and waffles, umami burgers and fish and chips. To make use of the space for a private party your guest list will need to exceed 25 people, but the room and food are totally worth adding a few extra friends and family members to the mix.
Rostizado (10359 104 Street NW)
This eatery is where to go if you want to show your guests how cool you and your S.O. really are. Its decor is super trendy, featuring exposed brick and industrial-style flourishes. What's on the menu? Mexican street food, including empanadas, gorditas, ceviche and an array of tacos. The private room here, which looks out onto the kitchen, can seat 10, so you'll want to keep your guest list on the shorter side. However, if you've got a larger party in mind, they can carve out a space for up to 30 in a different section of the restaurant.
Pampa Brazilian Steakhouse (9929 109 Street NW)
Treat your guests to some top notch Brazilian fare by bringing them downtown to dine at Pampa. The restaurant is more inviting than your average upscale spot, with warm lighting and plenty of art lining its walls. Its dishes are geared toward meat lovers, with everything from rump steak to parmesan pork loin on the menu. When it comes to private dining, you've got options. You can rent out the entire restaurant (capacity of 175 guests), book the private dining room (capacity 64 guests) or split the dining room (for groups of 24 or 36).
&27 (10612 82 Avenue NW)
&27 is a modern industrial restaurant that boasts equally impressive decor and food. The space is decked out with a healthy dose of wood, exposed concrete pillars and contemporary design flourishes. The kitchen creates twists on classic dishes with locally-sourced ingredients and has eats like poached halibut, braised short rib and porcini mushroom risotto. The restaurant has two private dining areas to choose from, one that seats 30 and another that seats 60.
Sabor (10220 103 Street NW)
If Portuguese and Spanish fare are favourites of yours, Sabor is where to host your rehearsal dinner. The ritzy restaurant serves up lobster risotto, grilled piri piri chicken, white bean cassoulet and more to its hungry patrons. It has plenty of options when it comes to private and semi-private dining. There's The PDR (seats up to 16), The Boardroom (seats up to 60), The Bodega Tapas & Wine Bar (cocktail reception capacity of 40) or a full buyout (capacity of 200 guests).
Sorrentino's Downtown (10162 100 Street NW)
Sorrentino's 100 Street location is smack in the heart of downtown Edmonton (right near Churchill Station). The restaurant specializes in Italian fare, with dishes like beef carpaccio, caprese salad and veal scallopine on its menu. It has two warm and incited private rooms up for grabs, the Telus Room and the Maurizio Room (call for more info).