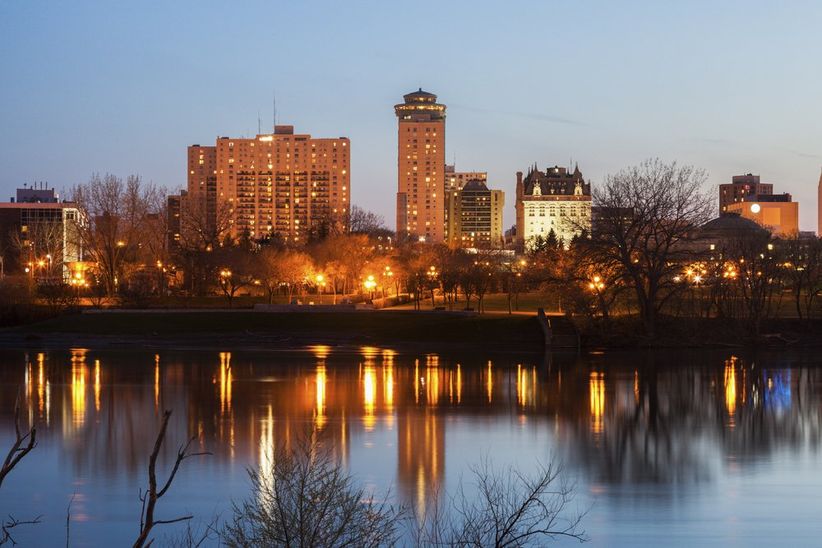 The wedding rehearsal dinner is the party before the party. It's where your wedding party, your close family members and (maybe) a few additional friends will join you to mix and mingle before the main event. If you hail from Winnipeg, you've got more than a few private dining options open to you.
Here are the top restaurants for a wedding rehearsal dinner in Winnipeg.
Bailey's Prime Dining (185 Lombard Avenue)
Want your wedding rehearsal dinner in Winnipeg to go down in history? Bailey's Prime Dining is the place to go. The restaurant is located inside a century-old building that's got the elegance your celebration deserves. It has five rooms to choose from for your event, ranging from intimate to expansive, so whether you're inviting 10 guests or 100 guests, it's got you covered. The menu is steak and seafood focused, making it a great destination for lovers of surf and turf.
Maxime's Restaurant & Lounge (1131 St. Mary's Road)
If you're looking for a restaurant with some old-world charm, Maxime's will not disappoint. Its dining spaces are outfitted with wood panelled walls, patterned carpets, chandeliers and oil paintings, giving them some real vintage vibes. There are two private event spaces up for grabs: The Lounge (seats 72 guests) and The Green Room (seats 36 guests) - both are gorgeous, so you can't go wrong. As for the menu, it's got everything from oriental chicken salad to veal parmesan, so you and your guests have plenty to choose from.
The Merchant Kitchen (314 Donald Street)
Like the idea of something more modern? The Merchant Kitchen is the restaurant for you. The space is bright and airy and flaunts exposed brick walls, high ceilings and pops of colour making it ultra Instagrammable. Its private dining room is large enough to seat 36 guests, so you can invite more than just your wedding party to the rehearsal dinner. What's on the menu? Dishes inspired by Latin and Asian street food, like wild boar chorizo tacos, Korean fried chicken and tempura squid.
SMITH Restaurant (75 Forks Market Road)
The Inn at the Forks is good for more than just guest accommodations - you can host your wedding rehearsal dinner here, too! The modern-meets-rustic eatery is equipped with both private and semi-private dining spaces (with capacities ranging from 12-50), so you should be able to find the perfect spot for your celebration. It specializes in upscale Canadian comfort fare and the menu boasts dishes like parmesan and herb gnocchi, pan fried bearcat pickerel and buttermilk fried chicken.
Prairie 360 (83 Garry Street)
If you're hosting a handful of out of towners and want to impress them with an aerial tour of Winnipeg, book your wedding rehearsal dinner at Prairie 360. The restaurant is located 30 floors above the streets and offers panoramic views of the city. It has multiple private rooms and lounges available, with capacities ranging from 10-200, so it's bound to have something that suits your needs. When it comes to food, you can choose from one of their many event menus (they include drool-worthy dishes like grilled arctic char, pan seared duck with polenta and roasted cornish game hen).
Pizzeria Gusto (404 Academy Road)
This Academy Road pizzeria is the perfect place to indulge before your big day. Its menu has everything you could ever want: a lengthy list of pies, a handful of pasta dishes and a killer wine list. As for event spaces, it has both private and semi-private options that can seat up to 30 guests.
Hy's Steakhouse & Cocktail Bar (1 Lombard Place)
Treating your nearest and dearest to a top notch steak dinner is never a bad idea, so consider reserving one of the private or semi-private spaces at Hy's for your event. You've got four options to choose from: The Kennedy Room (seats 16), The Boardroom (seats 20), The Clubroom (seats 45) and The Mezzanine (seats 60). While meat is the main attraction here, the menu also has a healthy selection of salads and seafood.
Wasabi Sabi (1360 Taylor Avenue)
Calling all sushi fans! If you love sashimi, nigiri and maki, make a reservation at Wasabi Sabi. Its Taylor Avenue location has two private rooms worthy of your celebration, The Silver Room (seats 24) and its smaller counterpart (which seats 8). The menu features all the usual suspects, plus a few fancy mains, like wagyu beef ishiyaki and grilled lamb chops.
Resto Gare Bistro & Train Bar (630 Des Meurons Street)
Looking for something a little out of the box? Resto Gare Bistro & Train Bar is the wedding rehearsal dinner destination for you. While you could book the entire restaurant or patio for your party (the former seats 90 and the latter seats 49), we suggest taking your event to the train. That's right, the restaurant has a real train car that's been transformed into a dining space that can seat 45 guests. The menu here is French inspired, stacked with crepes, charcuterie, steak frites and more.
Prairie's Edge
For those who want a wedding rehearsal dinner in Winnipeg with a view, Prairie's Edge can't be beat. It looks out over Kildonan Park, offering sights of flora and fauna instead of buildings and buses. The restaurant can create a private dining area for 12 to 50 guests, so whether you're hosting a large party or intimate group, they can make it work. What's on the menu? Canadian comfort fare dishes like bison burgers, smoked beef brisket and wild boar ragu (plus a few veggie options).
Find more Winnipeg wedding venues on WeddingWire »