5 Things to Consider When Deciding Between a Band or a DJ for Your Wedding
Ready to pick your wedding playlist? Here's what to consider when deciding between a DJ and a wedding band.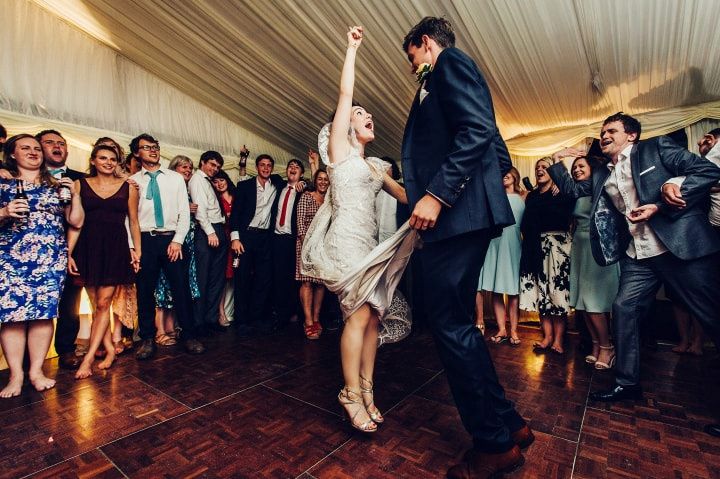 Wondering whether to book a band or a DJ for your wedding? If you want your wedding to have a killer soundtrack, you're going to need the right person (or people) on the case. Remember, you're entrusting your wedding band or DJ with your beloved playlist, the wedding songs for your father-daughter number and for your very first dance as a married couple, so getting it right is key. From setting the mood to staying within your wedding budget, there's plenty to think about before making the choice between a band or a DJ for your wedding.
Here's what to consider when deciding between a wedding band or a DJ.
Venue
First thing's first: your space. You'll want to consider whether the venue you've chosen will work in favour of a live band. Some buildings don't have the best acoustics, so a band may not be worth the investment. Also, depending on the size of your wedding venue, you may be forced to choose a DJ over a band. Remember, a DJ can work with an area about the size of a desk whereas a full band will need a stage-sized space to do their thing. This is something to figure out before putting a down payment on a venue if having live music is a make or break for you.
Theme
The overall wedding theme is also something to think about when choosing between and a band or a DJ for your wedding. If you're hosting a vintage affair, a live band may help set the mood. However, if you're going the more modern route, a DJ would blend in just fine.
Budget
Your next task is a bit of number crunching. Typically hiring a DJ is a bit more budget-friendly than hiring an entire band as you're only dealing with one emcee as opposed to multiple artists. DJs tend to have lower rates because they only need themselves and their equipment. Bands, on the other hand, are a whole different ballgame. You'll need to consider transporting multiple members and their instruments and foot the bill for all of them to play. This will cost way more than just a few loonies and toonies.
Music
Once you've sorted out whether a wedding band or a DJ fits into your budget and space, you can move onto the wedding music. Wedding bands and DJs both have their pros and cons in this area. A DJ can tap into a music library of hundreds of thousands of songs with the click of a few buttons, making it easy to please everyone from your top 40-loving teenage cousin to your grandparents. However, live music has better sound quality. On the downside, wedding bands will typically stick to their genre and have a more limited library of songs to choose from, so you may not be able to please your whole audience.
Personality
You'll also want to make sure whoever's fronting the show has some personality and can keep energy levels high. Wedding DJs are often experienced emcees that will keep the crowd engaged. Some musicians may not be the best hype-men or women, as they may consider your wedding a gig. If you do go with a band, you'll want to make sure the frontman is a people person as they'll be doing introductions and setting the mood.
Find wedding bands and DJs on WeddingWire »