12 Questions to Ask a Wedding DJ or Band
Ready to add a wedding DJ or band to your vendor squad? Here are all the essential questions you'll want answers to.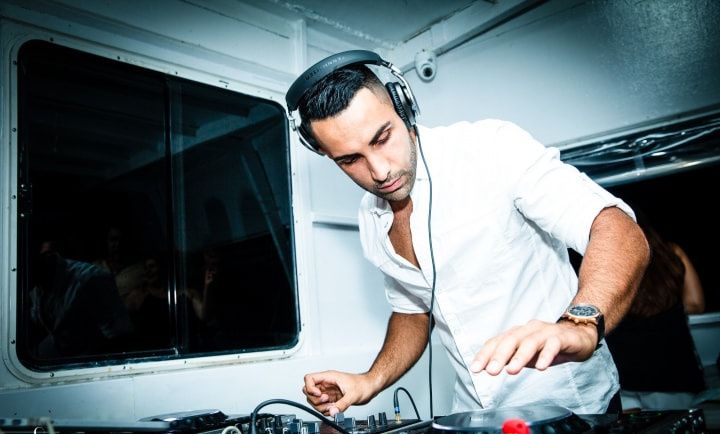 Music is an integral part of your wedding, so you need these questions to ask a wedding DJ or band to hunt down "the one". From asking about their tracklist to getting the lowdown on their entourage, these are all the essential questions you need to be asking potential music vendors.
Here are the essential questions to ask a wedding DJ or band.
1. What genre of music do you typically play?
You've probably established a solid theme for your wedding and you'll want your music to match. Ask the wedding DJ or band you're dealing with what type of music they typically play at the get-go so that you know if they're a fit. Hint: if they answer Mumford & Sons but you're looking for a playlist stacked with Sinatra hits, they're probably not the artist(s) for you.
2. Can you show me some sample playlists/setlists?
It's always good to see what you're working with right off the bat. If they've passed the first test - AKA the genre test - it's time to move on to the evidence. Ask to see a few sample playlists or setlists so that you can actually imagine what your big day would sound like. If they're filled with at least a handful of your favourite songs, you're most likely working with a kindred spirit.
3. What kind of atmosphere do you aim for at weddings?
Emcees play a huge role in establishing the vibe of your wedding. If they're super upbeat and energetic, they may urge all of your guests to get out of their seats and onto the dance floor ASAP - leaving less time to get to know one another through conversation. Others may take a more relaxed approach, acting more like background noise and less like the stars of the show. Make sure the one(s) you choose suit your wedding vision.
4. What's your process for creating playlists/setlists with couples?
This answer to this question will let you know just how involved you'll be in the music planning process. Some artists will only ask for guidelines while others will let you tailor your soundtrack from the cocktail hour down to the very last song. You may want to ask what a few of their go-to pump up jams, slow songs and dinner tracks are so that you know exactly what you're in for.
5. Can you give me some options for the "big" songs of my wedding?
The standout tracks - like the first dance, father-daughter dance and cake cutting songs - are sometimes the hardest to choose, so you may require a bit of guidance. Ask your potential wedding DJ or band for a few of their favourites. They've probably played plenty of weddings, so they'll have a good idea of what works and what doesn't. Hint: if you need even more help choosing, we've made plenty of round-ups to help you out.
6. Have you worked at my reception/ceremony venue before?
Hiring artists who are familiar with the venue is a bonus, but it's not a make-or-break. If your potential pick has never played at your space before, you'll want to give them a tour before the big day arrives to familiarize them with the layout, acoustics, etc.
7. What type of equipment do you use?
Before you freak out, you don't have to be a music buff to understand the answer to this question. You're not asking what brand of instrument they play, you're simply looking to find out how much equipment they'll be bringing along with them on your wedding day. The answer will help you find the perfect space for them at the venue.
8. Can I see a video of your work in action?
Witnessing an artist in action is much more helpful than reviewing their resumé. Reviewing their past live performances will allow you to see how they interact with the crowd, how professional they are and what mood they set.
9. How many breaks do you typically take and for how long?
Musicians, especially live bands, need to take breaks. Ask them how long they typically rest for so that you can plan for something to fill in the space, like a playlist of your favourite romantic tracks.
10. Do you work with an assistant or partner?
You'll want to know exactly how many people you're hiring, so make sure you ask if the musician(s) your meeting with come with an entourage. Many have an assistant or two to help take care of details like setup or work with another artist as a duo.
11. Do you offer additional services?
Some DJs and bands will offer to handle more than just music and emceeing, which can come in super handy. Ask if yours offers any extra bonuses like lighting or video in their event packages, it may save you a few extra bucks in the long run.
12. Can I see a copy of your standard contract?
Now it's time for one final question. If this candidate looks like "the one", ask to see a copy of their standard contract. Keep your eyes peeled for additional charges such as travel fees, parking fees, setup, breakdown and the like (they can really add up, sometimes even putting you over budget). Once everything looks in order, you should be good to go! Whip out that pen and sign on the dotted line.
Find your wedding DJ or band on WeddingWire »