Wedding Reception Timeline
To keep your wedding reception running smoothly you're going to need a timeline. Here's a rough template to help get you started with your planning.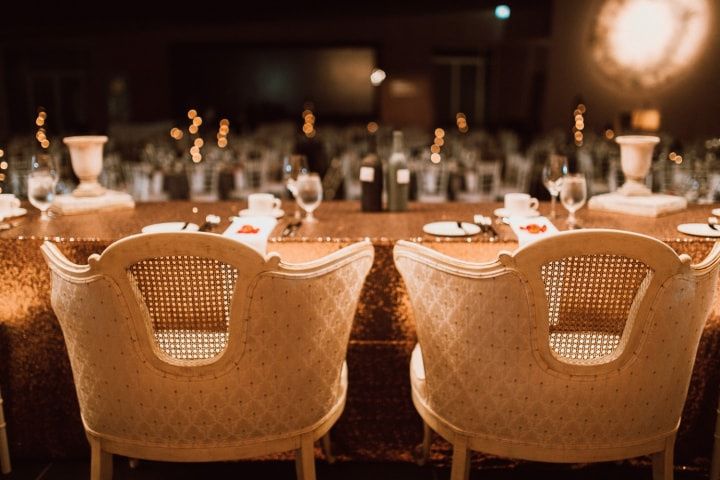 While the one aim of your wedding reception may be to party all night long without a care, just like your ceremony, you're going to require a little bit of structure to make everything run smoothly. If you're confused where to place your first dance or when to schedule dinner, use these guidelines for your wedding reception timeline. Of course, you don't have to follow this sequence to a T, but it should help you figure out how to break things down.
Here is your wedding reception timeline.
Cocktail Hour
The cocktail hour is where the party begins. Your guests will have the chance to mix and mingle, getting on a first name basis before they start competing in dance-offs after dinner. Try not to serve extremely boozy beverages at this point, there will be plenty of time for that after you finish your toasts and meals.
Wedding Party/Newlywed Introductions
Ready for your grand entrance? First the wedding party will shake and shimmy into the venue, usually starting with the best man and maid of hour. Once everyone has made it inside, the newlyweds will make their way in.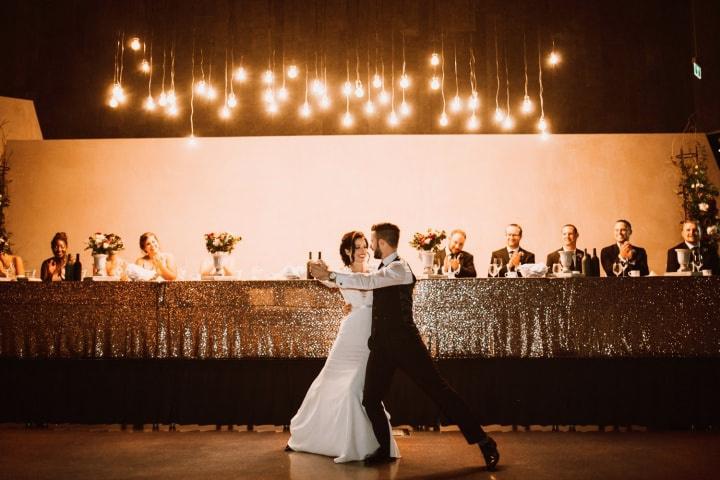 First Dance
Now is the moment in your wedding reception timeline you've been waiting for, your first dance. You've found the perfect song and you've been learning your steps for months, but now's the time to put them to the test. The key rules here are: don't stress, trust your feet and enjoy yourself. Prepare to hear some "awww"s come out of the audience because it's bound to be downright adorable.
Welcome Speech/Toast
After you've finished whirling around the dance floor with your new spouse you may want to give your guests a quick thank you. This doesn't require a lengthy speech, just a few simple words to show your gratitude. Sometimes the parents will get in on the action, especially if they are also acting as hosts.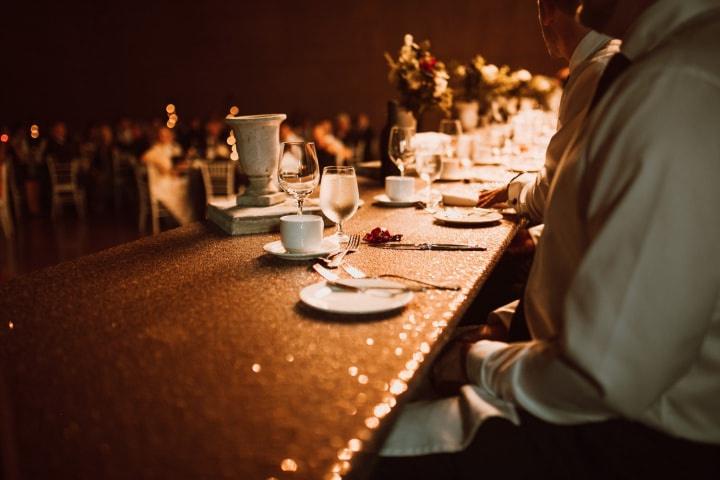 Dinner
Now it's time for your guests to fuel up for the party ahead. If you want them staying out until the crack of dawn they are going to require some sustenance, so don't be stingy when it comes to ordering food. Remember, there are plenty of ways to serve up your meals, so get acquainted with the catering styles and find one that suits the vibe of your big day.
Toasts (During Dinner)
During dinner a few of your weddings MVPs will steal the mic to show you some love with a toast. The first speech is typically made by the best man, followed by the maid of honour and sometimes the parents. Don't forget to bring extra tissues, a few of these are sure to get the waterworks flowing.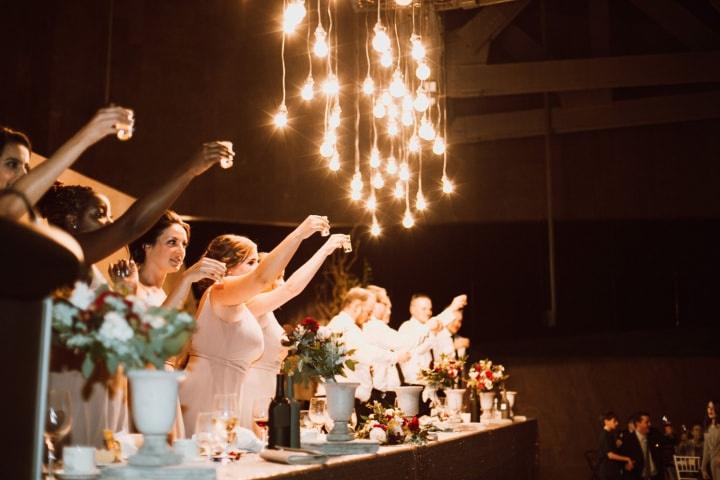 Father-Daughter Dance/Mother-Son Dance
Yes, you'll probably want to spend majority of the evening with your new spouse. However, you'll need to pry yourself away from them for at least a few moments to take to the dance floor with your dear old mom and dad. You can either combine the two dances with a single song or give each their own. It's your wedding, you make the rules.
Party Time
Here's where the party really begins. It's time to get all your guests moving, shaking, and celebrating. You'll want everyone from your baby niece to your grandmother showing off their finest moves - even if that means channelling Elaine Benes - so make sure you make a soundtrack that spans genres and generations. This is also when you will schedule any fun and games such as the shoe game, money dance or any other entertainment you've planned. As this portion of the evening progresses, you may also want to serve some late-night snacks.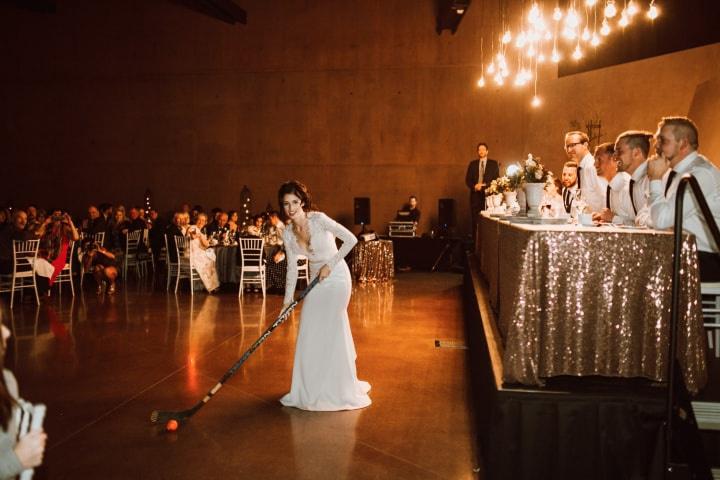 Cake Cutting
Time for the sweetest part of your wedding reception timeline - literally. You and your S.O. will slice open your magnificent confection and stuff it in each other's faces - the perfect photo op. Remember to keep your hands off the top tier if you plan on preserving it for your first anniversary.
Bouquet Toss/Garter Toss
The bouquet and garter toss go hand in hand. Typically the bride will toss her bouquet to the waiting ladies before the groom does the same with the garter for the guys. These age old traditions require some ultra sexy tracks, so look into something like Beyonce's "Single Ladies (Put a Ring on It)" for the former and JT's "SexyBack" for the latter. If you don't want to prolong this portion of your reception you can always do both to the same song - they don't take long!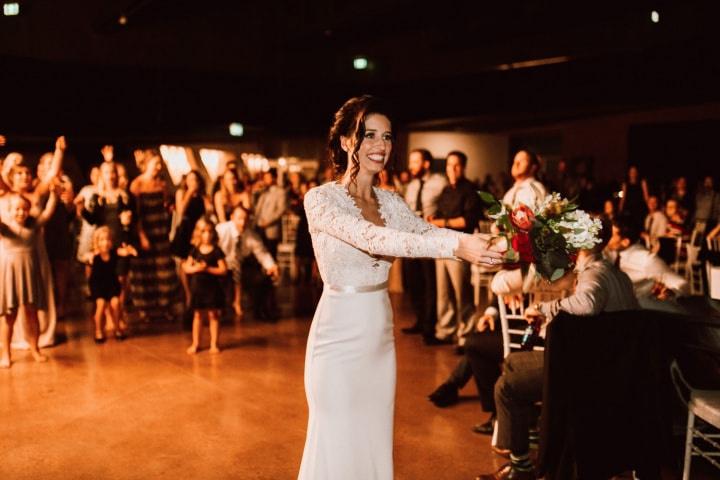 Last Call
Everyone's least favourite words when they're having a good time are "last call!", so make sure all your guests have ample time to get to the bar before your mixologist starts packing up the wine and spirits. Ask for your emcee to announce when last call is an hour out so that everyone can order their final cocktails.
Last Dance
Ah, the last hurrah of your big day. You'll want to make it a good one, so don't forget to pick a karaoke-worthy jam that will get all of your guests out of their seats and onto the dance floor. Your wedding deserves to go out with a bang, so don't let it die out to a mellow track.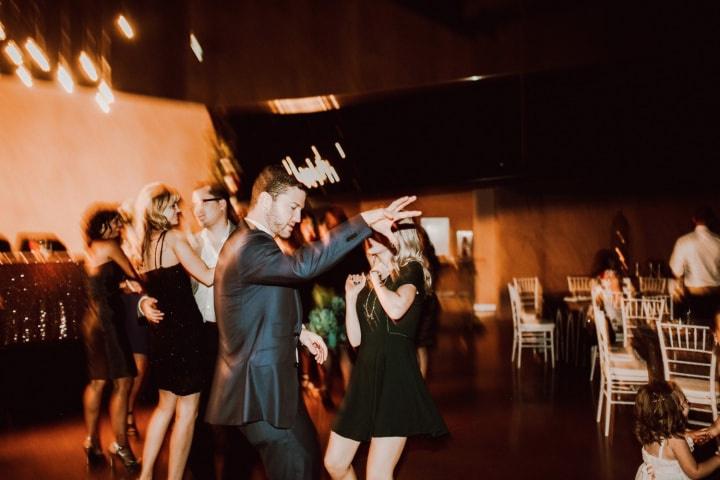 Breakdown
Once all of your guests have cleared out, the venue staff will begin to remove your centerpieces, undress your tables and pack away what remains of your wedding cake (sad, I know). If you want to keep anything - say, floral arrangements or food - make sure that those in charge of the breakdown process know that it's not up for grabs. It's a good idea to task a trustworthy member of your wedding party with making sure everything is going to the right place and tipping any extra helpful vendors. The newlyweds should be long gone by the time breakdown begins, not helping stack dishes and fold chairs.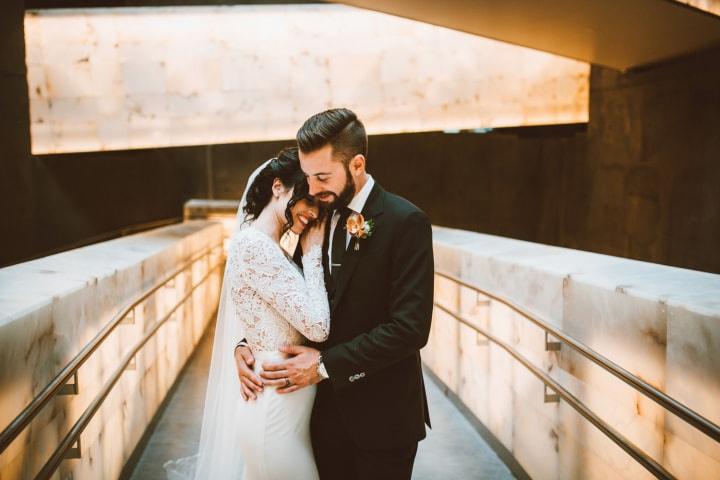 Images: Lea and Reid's wedding at the Canadian Museum for Human Rights, Winnipeg; Ariana Tennyson Photography.
Search for venues, wedding entertainers, DJs, and bands on WeddingWire »