How to Decide Where to Sit at Your Wedding Reception
Can't decide where you, the guests of honour, should sit during your meal? Here's a breakdown of your options to help you decide.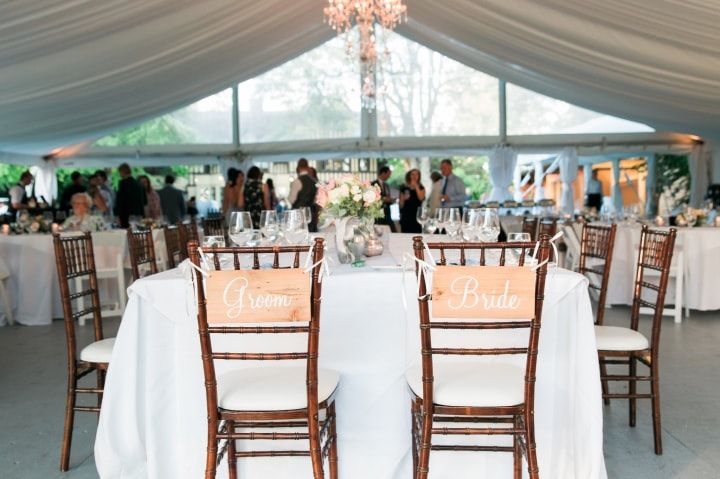 Putting together a seating plan is a labour of love. You've got to put the right groups of people together to facilitate conversation, remember to seat children with their parents and be strategic about where you put the elderly guests (hint: it's far away from the speakers). But don't forget about yourselves! That's right, when it comes to your table, you've got some decisions to make. From sitting alone with your S.O. to involving the entire family, these are your options.
Here's how to decide where to sit at your wedding reception.
Sweetheart Table
If you're looking for some alone time with your partner after the ceremony, a sweetheart table is the way to go. This two-seater spot is the perfect option for those who want a little privacy after exchanging vows. This isn't the most social option, so remember to make the rounds after you've finished your dessert.
Family Table
Are you a real family guy or gal? If you answered yes, a family table may be the one for you. This table will seat you, your parents, your in-laws and your siblings. While you may be tempted, don't add in extended family or the table will start to feel a bit crowded. We suggesting opting for a different seating arrangement if your family can get a little tense at times, you don't want any E!-style drama going down at your reception.
Head Table + Wedding Party
If you want to party with your BFFs for your entire reception, go with this seating arrangement. The head table typically includes the happy couple, their entire wedding party and all of their dates. You'll get to laugh along with your friends and have a front seat for the toasts from your best man and maid of honour. If you've opted for a massive wedding party you may want to skip this one, you don't want more people at the head table than guests at surrounding ones.
Flexible Seating Arrangement
Don't want to feel confined to one table? Opt for something with a bit of flexibility. Add a pair of empty chairs to three or four tables around your venue so that you can travel between each course. This will give you a bit more face time with your friends and family while you dine. No, it's not the most formal option, but it works for more laidback events.
Cocktail Style
Don't feel the need to stick to the status quo when it comes to seating arrangements. If you don't want to stick to one spot during your meal, ditch the seating plan and opt for something with a bit more wiggle room. Cocktail style is an awesome option for those who want something a little less formal than a sit down dinner, people can move freely around the room to start conversations with whomever - and you, the happy couple, can do the same!
Create a seating plan with WeddingWire's FREE Table Planner tool »