The Top 52 Bouquet Toss Songs
You'll want the perfect song playing when you toss your bouquet. Here are a few suggestions to set up the moment.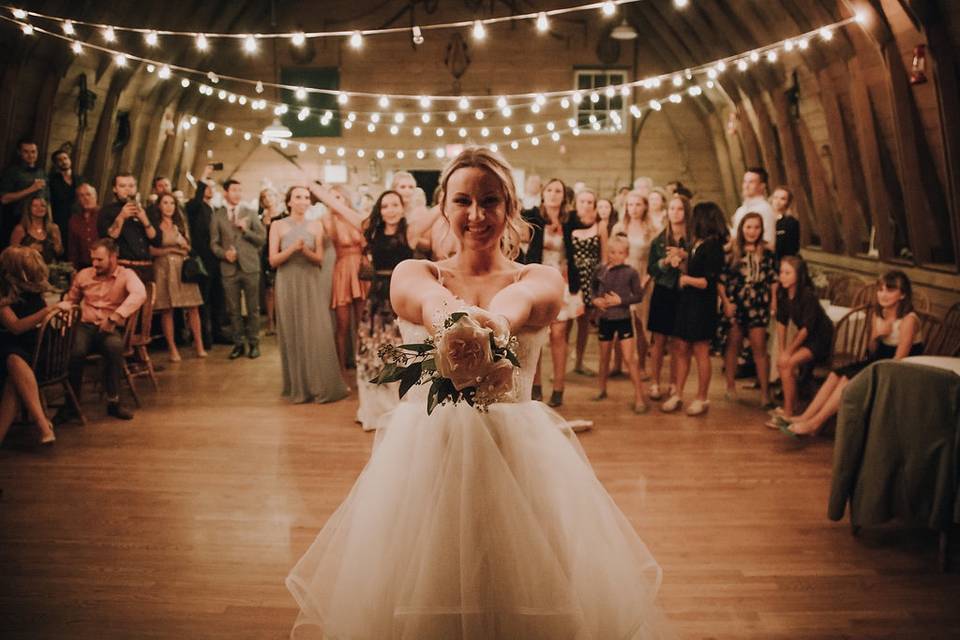 Are you searching for the perfect bouquet toss song? If you're not familiar with this old and faithful wedding tradition, the bride tosses her bouquet behind her head for one of the single ladies in the audience to catch. Whoever gets their hands on the arrangement will be the one who gets hitched next (at least that's how the story goes). You could really choose any upbeat track for your bouquet toss song, but female empowerment anthems are fan favourites. Keep in mind, you can always use the same song for your garter toss.
Here are my picks for the top bouquet toss songs.
Single Ladies (Put a Ring On It) - Beyonce
Wishin' and Hopin' - Dusty Springfield
Girls Just Wanna Have Fun - Cyndi Lauper
Only Girl (In The World) - Rihanna
How Will I Know - Whitney Houston
That's My Girl - Fifth Harmony
Man! I Feel Like A Woman - Shania Twain
Wannabe - Spice Girls
Call Me Maybe - Carly Rae Jepsen
Pretty Girl Rock - Keri Hilson
Haven't Met You Yet - Michael Buble
Can't Hurry Love - The Supremes
Ain't No Other Man - Christina Aguilera
Clumsy - Fergie
Hollaback Girl - Gwen Stefani
Applause - Lady Gaga
Lady Marmalade - Christina Aguilera, Lil' Kim, Mya, Pink
California Gurls - Katy Perry
Party - Beyonce
Hips Don't Lie - Shakira ft. Wyclef Jean
Stand By You - Rachel Platten
Don't Cha - Pussycat Dolls ft. Busta Rhymes
The Tide Is High - Blondie
Ladies Night - Kool & The Gang
A Public Affair - Jessica Simpson
This One's for the Girls - Martina McBride
I'm Every Woman - Whitney Houston
Schoolin' Life -Beyonce
Nice for What - Drake
Best Life - Cardi B ft. Chance the Rapper
I Wanna Dance With Somebody - Whitney Houston
Hit Me With Your Best Shot - Pat Benetar
Sex And The City Theme - London Music Works
Girls Night Out - Charlie XCX
Truth Hurts - Lizzo
Party In The U.S.A. - Miley Cyrus
Dancing Queen - ABBA
Just A Girl - No Doubt
I Like It - Cardi B ft. Bad Bunny
Express Yourself - Madonna
Crazy In Love - JAY-Z and Beyoncé
Candyman - Christina Aguilera
Woman - Kesh ft. The Dap-Kings Horns
Q.U.E.E.N. - Janelle Monae ft. Erykah Badu
Toxic - Britney Spears
God is a Woman - Ariana Grande
Most Girls - Hailee Steinfeld
Flawless Remix - Beyoncé ft. Nicki Minaj
These Boots Are Made For Walkin - Nancy Sinatra
Woman Like Me - Little Mix ft. Nicki Minaj
Firework - Katy Perry
For more bouquet toss song ideas, consult with a wedding DJ or band on WeddingWire »