7 Things You Need to Do After Your Wedding Reception Ends
You'll probably want to make your exit as soon as the party ends, but don't forget to tie up these loose ends before jumping in your getaway car.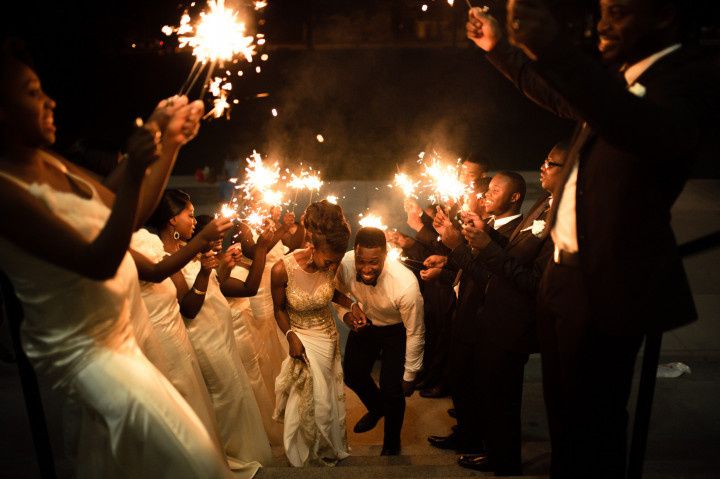 It's sad, but all good things must come to an end, including your wedding. Once the DJ has played the last dance song and your guests have started making their way to the exit, there are a few final tasks to take care of. Luckily, you don't have to handle them alone. We suggest rounding up your wedding party to get a few helping hands involved - it'll make the breakdown fly by.
Here are a few things you need to do after your wedding reception ends.
Deal with your flowers
Flowers typically eat up 8% of your total wedding budget, so you probably don't want to toss them away as soon as your reception wraps. There are plenty of ways to repurpose them: you can send them home with your guests, use them to decorate the venue of your post-wedding brunch or save them for yourself to spruce up your own home. Make sure your venue coordinator knows where to send them so that you don't lose track of your blooms.
Take care of your gown
Yes, you're probably more than ready to shed the layers of tulle and taffeta and slip into something a little more comfortable, but remember to pack up your dress properly (you don't want it to get wrinkled, torn or stained). It should be neatly hung inside a garment bag and should have a handler to bring it back to the hotel or your house. You can hash out a preservation plan when you're done celebrating.
Handle your rentals
The time has come to kiss anything you borrowed for your big day goodbye. From chairs to linens to tents, everything you rented must be broken down and shipped off to the right retailers. Do a quick read-through of your rental vendor contracts before your big day so you know if they're handling the breakdown or if you need to do it yourself.
Preserve the top tier of your cake
If you plan on following the tradition of digging into the top tier of your wedding cake on your first anniversary, you'll need to know how to save it. Check out these tips on how to freeze your wedding cake and make sure you (or one of your vendors, friends or relatives) can take care of properly packaging it up and getting it to a freezer ASAP.
Give your vendors a tip
Your vendor squad put a lot of hard work, time and dedication into making your big day amazing. They provided the flowers, the food and everything in between, so don't forget to give credit where credit is due. If you're not sure who to verbally thank and who to give a little something extra to - you know, a tip - we've made this handy dandy wedding tipping guide to help you out. Pro tip: don't want to spend the last few moments of your reception handing out cheques? Give the task to one of your trustworthy (AKA not totally inebriated) wedding party members.
Say thank-you to your host(s)
While you'll probably spend a good chunk of your reception making the rounds and thanking all your guests for coming, there are a few people you'll want to give some extra TLC. Who are they? Your hosts, of course. You wouldn't leave a party without thanking the host, and the same rule applies to your wedding. Usually, it's your parents and new in-laws, so you should have no trouble tracking them down. And, hey, if you hosted the whole event without any help, give yourself props - you deserve it.
Round up your belongings
You don't want to forget any important items at your venue, so do a once over before stepping into your getaway car. Make sure your cellphone, wallet and necessities are all in your bag (you definitely don't want those to go missing!). You should also have someone deal with your guest book, wedding gifts, leftover food and other bits and bobs that you want to keep. Your mom, dad or wedding party members are probably more than willing to help.
Need help with "day of " details? Find wedding planners on WeddingWire »