Wedding Music 101
Think you're ready to start crafting your perfect playlist? Here are a few tips you should know before logging into Spotify.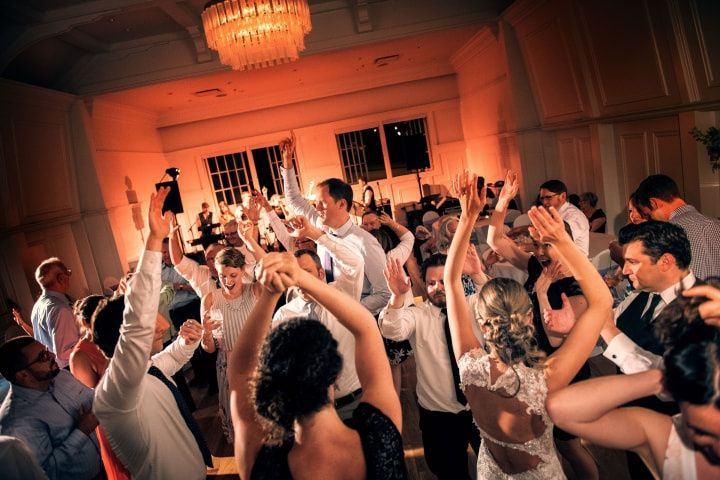 Before you jump into choosing your songs you should learn the basics of wedding music - from performers to playlists. No, there won't be an exam and you don't have to take notes, but it's important to keep these things in mind before you go full force. From determining who should handle your wedding music to the ins and outs of picking the important tracks, here's everything you need to know.
This is wedding music 101.
Who should handle my wedding music?
The first step to take is figuring out who will be playing the music at your wedding, a band or a DJ? Both have pros and cons and will affect your budget and vibe of your wedding in different ways. If you need help figuring out which is right for you, we've laid it all out here.
Where do I look for a band or DJ?
After you've decided between a band and a DJ you can start hunting for "the one". If you don't know where to begin, check WeddingWire's vendor guides (here's one for DJs and one for live performers). They list performers from all over the country along with their details, making it easy to get in touch. Keep in mind that the person holding that microphone will probably be emceeing your event, as well, so a good, upbeat personality is key.
How much should I spend on my band or DJ?
Don't forget about your budget! Wedding music typically uses up about 8-10% of your entire allowance, so try to stop yourself from going overboard. Remember, bands are typically more expensive than DJs, so going with the latter could be a big money-saver. If you've got your heart set on a particular performer, you can always cut down your budget in other areas. Maybe go with simpler centerpieces or budget-friendly decor.
Should I tip my band or DJ?
Tipping your performer(s) is optional, but if they're responsible for making your night a success, giving them a tip is a nice gesture. You don't have to cut them a huge cheque, $20-$50 per musician (if you're dealing with a band) or $50-$100 for a DJ is pretty standard. Give the task of tipping your musicians to a responsible member of your wedding party so that you don't have to deal with the duty before heading to the hotel.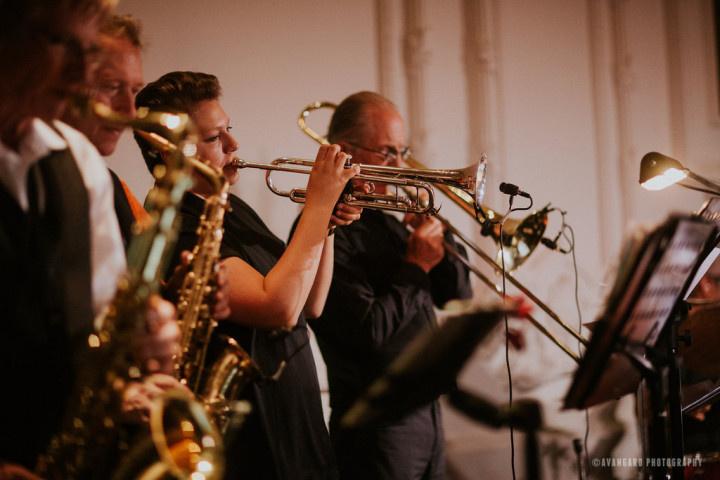 When should I hire my band or DJ?
As soon as you've locked down your venue and date you should start looking for your desired performer. If they're a popular choice for weddings in your area, you'll want to get those contracts signed sooner rather than later. This is especially crucial if you're hosting your event during the summer (it's the peak season for weddings).
How do I define the style of music I want?
Your venue and decorations shouldn't dictate the style of music you go with, but they can be used for inspiration. If you're hosting a rustic affair in the country, why not throw some Brad Paisley and Tim McGraw on that playlist? Or, if you've opted for something black tie, maybe look into some classical music or jazz.
How do I choose the important songs?
Your wedding will most likely be filled with music from start to finish - with a few gaps for vows and toasts, of course. You don't need to be head-over-heels in love with each and every track, but there are a few songs that you should really give some TLC to. For your ceremony, the bride's processional and the recessional should be your main focus. The bride's processional song is normally a dramatic, romantic tune that matches her walking pace down the aisle while the recessional is typically more upbeat and celebratory. The reception has its fair share of "important" songs, but the first dance tops the list by a long shot. Couples usually choose a slow jam that has sentimental meaning to them. If you need some inspo, this past year has had a ton of pretty awesome options.
Can I go with a premade mix?
There are no rules that say you can't go with a premade mix, but it's nice to inject your wedding playlist with a bit of personality. If you find something on Spotify that you really love you can always use it as your base and add some more sentimental tunes for your important songs.
Find your wedding DJ or band on WeddingWire »