5 Major Wedding Music Don'ts
One thing you really don't want to risk messing up at your wedding? The music. Here's everything you need to avoid.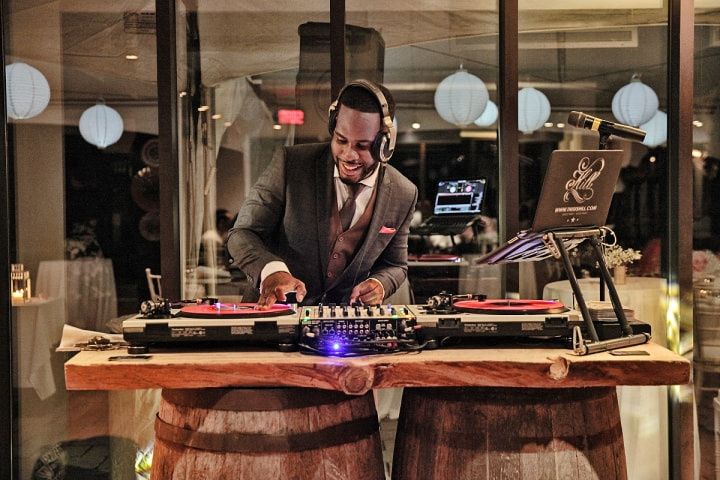 Picking your wedding music is no walk in the park. In fact, it can be pretty darn difficult to create the soundtrack for the most important day of your life. Before you boot up Spotify or iTunes and start filling a playlist with all your favourite wedding ceremony music, love songs and upbeat jams, there are a few things you should know (mainly, what not to do). These tips apply to the creation and performance of your wedding songs, so get acquainted with them well in advance of your big day.
Here are a few major wedding music don'ts.
Don't pick out all the wedding songs by yourself
If you're a pro at making playlists, you probably won't need much help plotting out what wedding music to play during your cocktail hour, rehearsal dinner and reception. What you should ask for help with? Picking the more important tunes, like your first dance track and parent-child dance songs. Whoever you'll be dancing with should have a say in the song, too. That'll make it even more special.
Don't finalize your playlist without asking your DJ/musician
This is especially important if you're working with live musicians. They may not be able to play one or two of the songs you want, so work with them to create your playlist. Sure, you can show them your dream list of tracks, but you don't want to give them songs they're uncomfortable playing. If they have a particular sound or style they work in, choose your wedding music with that in mind and ask for a list of their preferred songs to make the process even easier. If you're working with a DJ, listen to their song and sequence suggestions. After all, they are professionals and have the experience to keep the evening flowing and your guests on the dance floor.
Don't skip the soundcheck
Before your ceremony begins, have your wedding musicians do their soundcheck. Different buildings handle noise differently, so your musicians or DJ will have to fiddle around with their equipment to get the sound just right in your venue. You probably don't want them doing mic checks and tune ups while you make your grand entrance, so planning ahead is a must.
Don't make your playlist too short
You definitely don't want to run out of songs in the first ten minutes of your wedding reception, so make your playlist a little lengthier than you think it needs to be. We suggest crafting one for every section of your big day, instead of making one massive playlist that begins at your cocktail hour and continues on until your final dance (that'll ensure that every moment is covered). Keep in mind that if a few songs don't get played it's NBD, but if you hear crickets chirping before the night is through, you're gonna have problems.
Don't forget to watch the volume
You don't want your wedding music to blow out your guests' eardrums or have them craning their necks toward the speakers to hear your tunes - so make sure the volume is on point. Yes, you'll probably get it nailed down during your soundcheck, but you'll likely need to readjust it as the night goes on. Pro tip: while your guests eat dinner you probably want to turn it down so that they can chat with their tablemates, but you'll want to crank it up later to get everyone onto the dance floor.
Find your wedding DJ or band on WeddingWire »