Your Wedding Rehearsal Dinner Music Playlist
Having trouble crafting your wedding rehearsal dinner music playlist? Read this for some easy listening song ideas!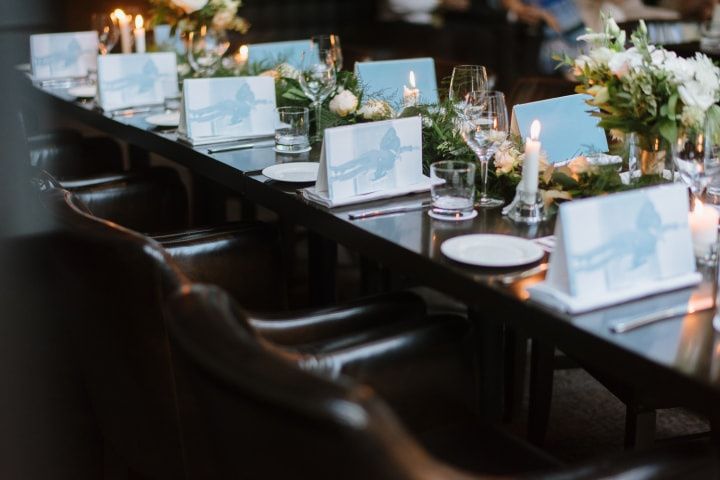 Your wedding rehearsal dinner is your final pre-wedding bash, typically falling on the eve before the big day. It'll bring your nearest and dearest together for one last hurrah - and some amazing food - before you tie the knot. Naturally, you'll have a lot to talk about, so you don't want to stack your wedding rehearsal dinner music playlist with a ton of singalong songs. Aim for easy listening tracks that won't distract from the sweet toasts, last-minute planning conversations and merriment.
Here are a few songs to add to your wedding rehearsal dinner playlist.
That's When I Love You - Aslyn
Don't Lose Your Love - Ivan & Alyosha
Couldn't Ask For A Better Friend - Michael Logan
Wilderness - Jon Bryant
Lovely to Love You - Evan Blum feat. Loren North
Ocean - Andreas Moe
Chocolates & Roses - The Green
With You - Tim Halperin
Touching Heaven - Johnnyswim
Sweet Love - Phillip Larue
Carry You - Phillip Larue
Falling - Oh Gravity
My Lover - Birdtalker
Kiss Me Slowly - Parachute
Fool For You - Green River Ordinance
I'd Look Good On You - Ernie Halter
Til I'm Ninety Nine - Nathan Angelo
Close Your Eyes - Silver Trees
Spring - Sam Burchfield
Slow Love - Michael Alvarado
Meteor Showers - Andy Kong
My Heart Is Set - Joel Ansett
Gotta Have You - Jillian Edwards
Every Little Thing She Does Is Magic - Sleeping At Last
Song For You - Alexi Murdoch
So In Love With You - Jake Ethridge
Open Up Your Eyes - Tristan Prettyman
Hey Lady - Stephen Day
Us - David Ryan Harris
My My Love - Joshua Radin
Looking for more wedding rehearsal dinner music ideas? Follow WeddingWire Canada on Spotify for more wedding songs and playlists »