6 Major Wedding Speech Don'ts
Want to nail your wedding speech? Avoid these no-nos and you'll totally kill it when the big day arrives.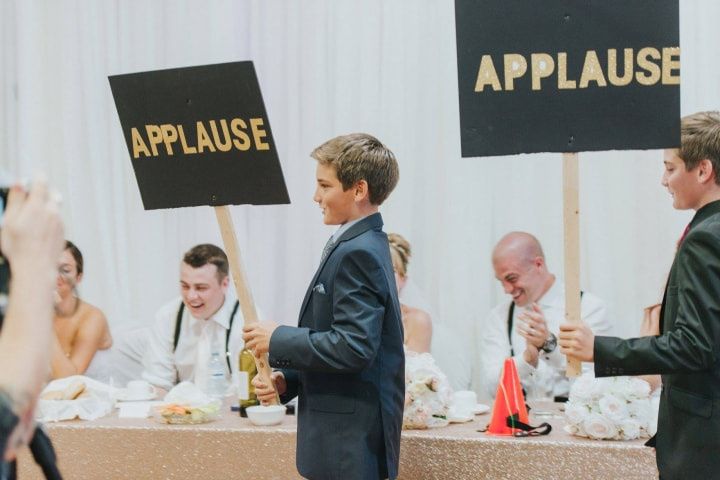 So, you've been blessed with the honour of giving a wedding speech? Congratulations are in order. Before you hunker down and start working on your toast, we've got a few pointers for you. Yes, it's important to know what you should be doing, but it's also crucial that you know what to avoid. Whether you're the MOH or father of the bride, you should keep these tips in mind.
Here are a few major wedding speech don'ts.
Don't procrastinate
Whatever you do, don't put off writing your speech. You want to wow the guests of honour (and the rest of the crowd) with your toast, so don't put off writing it until the last second. I know, I know, penning such an important speech is difficult, but saving the task until the eleventh hour won't make it any easier (actually, it'll make it harder). As soon as you know you'll be giving a speech, buckle down and start drafting. If you need a few tips to help get you started, read this.
Don't forget to use your resources
We're not all gifted when it comes to writing, but here's the good news: your wedding speech doesn't have to come entirely from your own brain. That's right! You can pull quotations from books, poems, songs and Google searches (or just use them as inspo). It's not cheating, it's just using your resources wisely.
Don't be generic
All speeches follow a similar formula, so yours probably won't be 100% original. However, you should aim to infuse it with a bit of your own personal flavour. Add in a few anecdotes, observations and/or funny stories to make your toast unique. Pro tip: you'll want to avoid saying any of these things, even if you think they're hilarious.
Don't make it too long
If you really love talking to a crowd, you may want to draw out your time on stage - but remember, this is a wedding, not your own Netflix comedy special. Your minutes at the microphone are numbered, so make your speech short and sweet. Five minutes is the absolute maximum, but you should be aiming for somewhere around the three minute mark.
Don't read off a note card
If you know that public speaking isn't your forte, you'll definitely be tempted to read your speech off a card instead of reciting it from memory. Now, we've all witnessed this once or twice and know how dull it can be, so avoid keeping your eyes glued to your notes. Yes, you can bring a copy as a safety blanket, but don't completely depend on it. Practice, practice, practice and then practice some more so that you feel confident when you take the mic.
Don't let your nerves get the best of you
Giving a speech can be a nerve wracking experience, especially if you're a bit of an introvert. Try your best not to let your anxiety get the best of you by focusing on the reason you're giving the toast in the first place: the happy couple. They won't mind if you flub a line or shake a little while you talk - all they care about is the words you're saying!