5 Tips for Making an Epic Cheese Wedding Cake
Prefer savoury to sweet desserts? Well, sounds like a cheese wedding cake will be right up your alley. Here's how to make yours.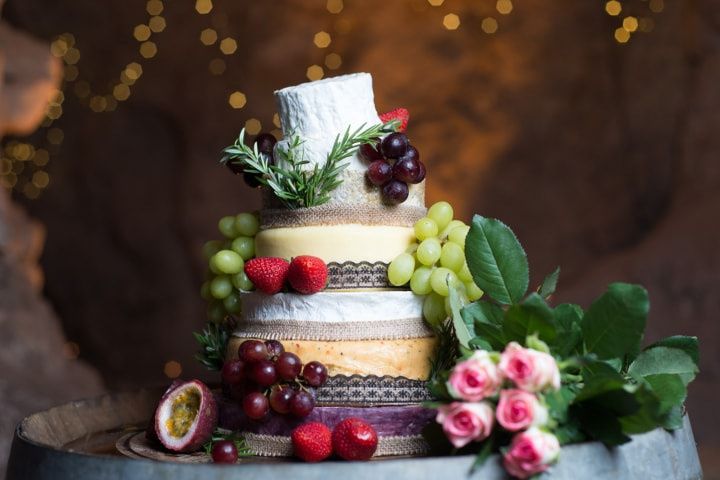 While some couples love decadent buttercream desserts and ganache-coated treats, others prefer more savoury post-dinner snacks. If you and your S.O. fall in the latter category, a cheese wedding cake might be right up your alley. Instead of soft, sweet tiers, your wedding cake will be made of wheels of cheese. We've put together this handy how-to guide to help you put together one epic (and delicious) cheese wedding cake tower.
Here's how to make an epic cheese wedding cake.
Sample your options
As you would with a sweet wedding cake, you'll need to carve out time for a tasting. Luckily, you won't have to schedule a meeting with a baker - you can do it on your own time. Simply take a trip to your local cheese shop and pick up a few of your old and faithfuls and some new flavours to sample. If you need help selecting the winners, you could even invite your wedding party over for a wine and cheese night to help vote on favourites.
Go for variety
You'll want to have a mix of soft and hard cheeses and several different styles to choose from. Even if you love a particular flavour family (i.e. sharp, buttery, creamy), each tier should be something unique so that every guest can find something they love. If you're looking for your cheese wedding cake to pack a punch visually, you'll want to look for varieties with different coloured rinds, too.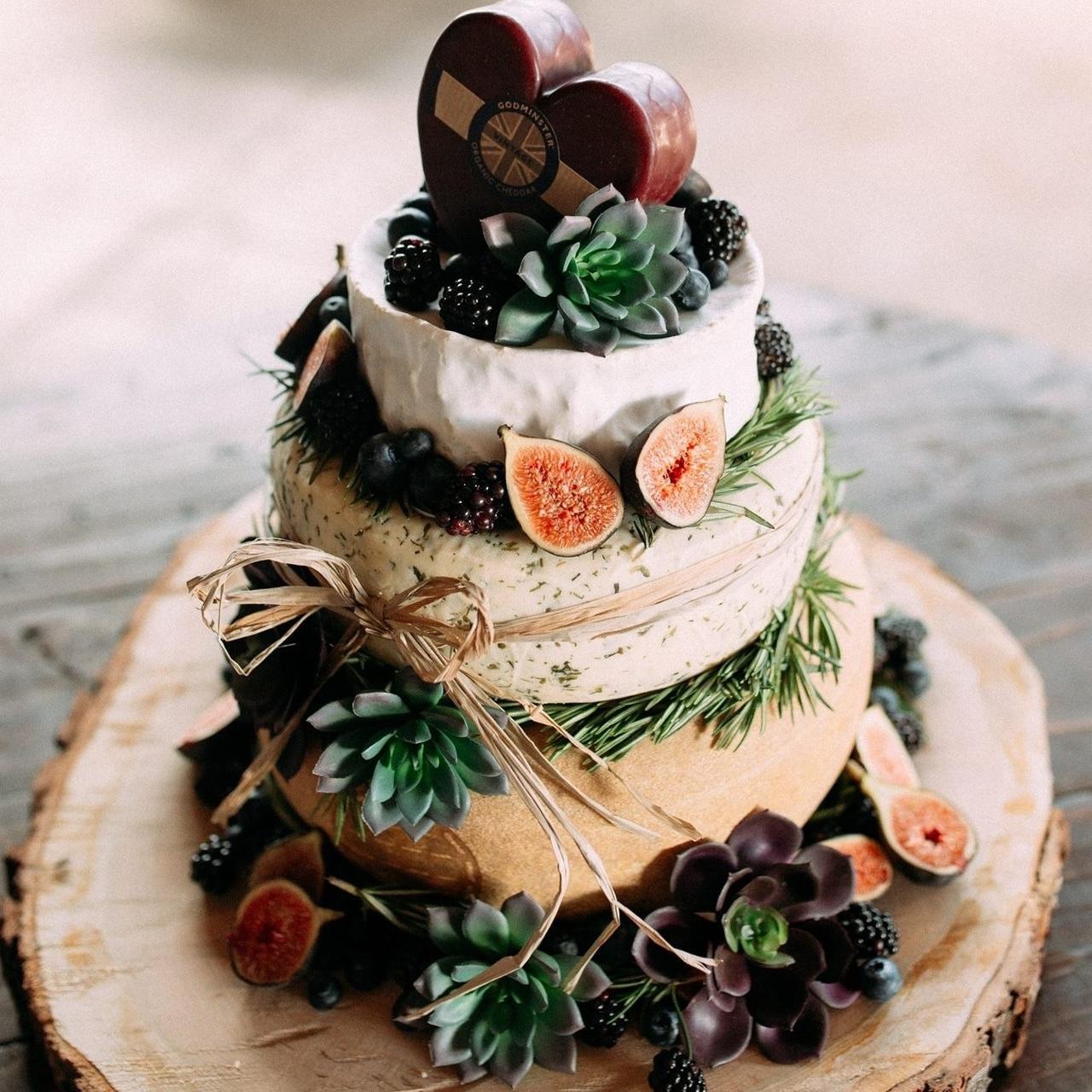 Size matters
Okay, if you've seen any photos, you probably already know that each tier should be a different size to make your cheese tower cake. This is what gives it that traditional wedding cake look and makes it worthy of being the star dessert for your big day. Keep in mind that if you're stacking it yourself, you'll want the harder cheeses to be the base layers and the softer, smaller cheeses to be closer the top.
Decorate
Minimalist cheese wedding cakes do looks pretty stunning, but it's never a bad idea to add a few decorations. Garnishes like fresh fruit, greenery and flowers look amazing with this style of savoury dessert, so stack 'em on. P.S. if you're not sure where to hunt for inspo, try browsing through photos of naked wedding cakes, they tend to give off a similar, rustic vibe.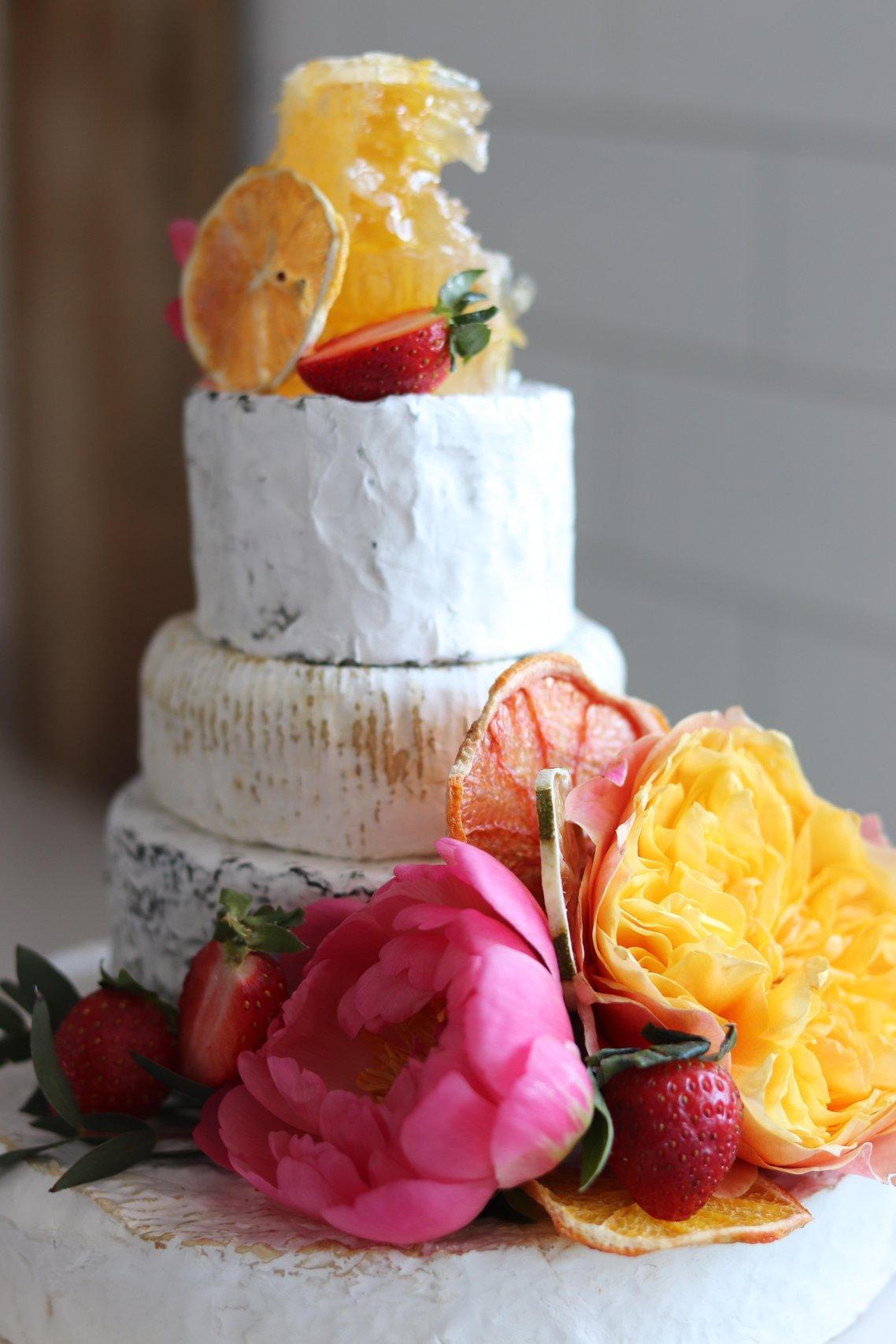 Don't forget about the rest of your spread
While your cheese wedding cake will definitely be the star of your spread, you don't want to forget about decking out the rest of your table. Add an array of crackers, fruits, jellies and charcuterie staples so that your guests have something to pair with those delicious bries, goudas and havartis. You may want to add a few sweet treats to your wedding dessert table for your friends and family who prefer to finish off dinner with a bit of sugar, too.
Looking for wedding cake alternatives? Consult with wedding caterers on WeddingWire »