The 2021 Wedding Trends That Canadian Couples Need to Know
Getting married in 2021? Here are expert tips and innovative ideas for planning a safe (and awesome) wedding during a pandemic.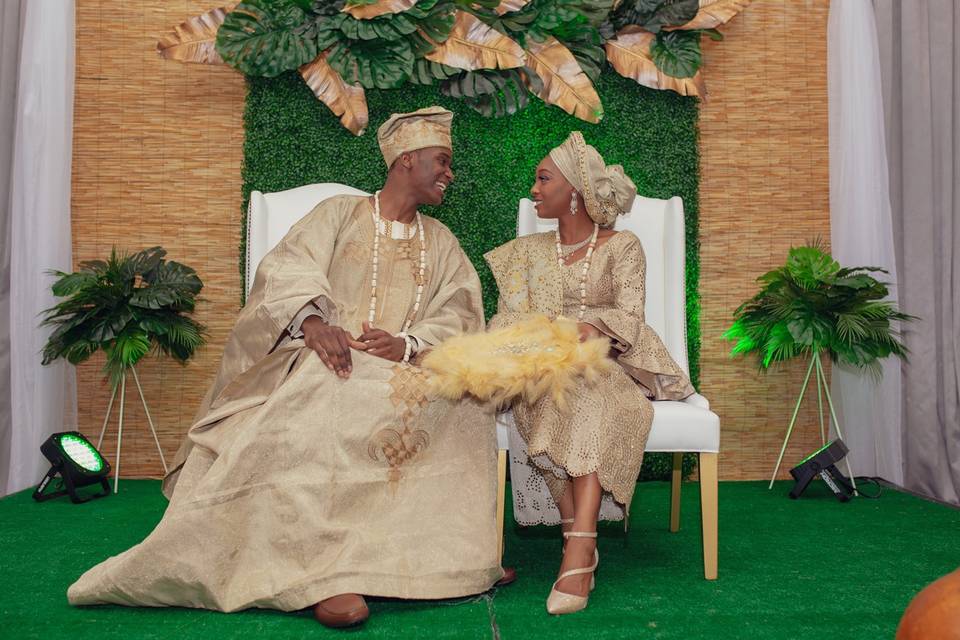 Wondering what 2021 wedding trends are on the horizon. With social distancing due to COVID-19 in the foreseeable future, wedding experts are coming up with fresh ideas to help couples make their big day a memorable one, even during a pandemic. From outdoor weddings and live streaming to the return of the receiving line and Canadian destination weddings, celebrations will look a little different next year. One thing we know for sure is that #loveisnotcancelled—couples will work with wedding vendors and venues to find innovative and meaningful ways to celebrate with their friends and family.
Here are the top 2021 wedding trends you need to know.
Wedding formats
Probably the biggest change for 2021 is the wedding format. In 2020, couples that had to pivot or postpone their weddings due to COVID-19 guest count restrictions—the average Canadian wedding has 120 guests—led to new ways to wed. In 2021, a smaller guest count will become essential, so couples planning in the midst of the pandemic are choosing their format based on anticipated local government health guidelines and travel restrictions. Here are some of the most popular:
Hybrid weddings: According to Adeola Damie Fowodu, owner and lead planner of Celebration Events Management who specializes in African weddings normally with a guest list of 250 to 600, her couples are now planning an intimate ceremony and reception for fewer guests combined with a live stream component. "This hybrid wedding format has become the new normal, " says Adeola, and she believes it's here to stay. "Our couples want to create a very special, memorable experience for guests that attend in person and they are doing that with elaborate decor and highly-personalized elements. They are also paying close attention to the online guest experience and planning an itinerary to include special virtual moments captured by a dedicated videographer."
Multiple events: Another way to stay within guidelines is through multiple smaller events. Vancouver couple, Laura and Roger were engaged in February 2020 just prior to the pandemic. In May 2021, they will have an intimate outdoor ceremony at the Squamish Lil'wat Cultural Centre in Whistler followed by a six-course dinner at the Four Seasons private dining room for their closest friends and family members. "It was really important for us to have a more traditional and formal celebration while staying safe." In the summer they will have two additional events to celebrate with extended family and friends. "We'll have a socially-distanced backyard BBQ in Kamloops to celebrate with Roger's family and the same in Vancouver with my family. That way guests don't need to travel between regions," explains Laura. And the best part—she gets to wear her dress again.
Shift wedding: Another variation of this concept is the shift wedding which divvies up the guest list among multiple events (i.e. rehearsal dinner, ceremony, cocktail hour, dinner reception, after-party, post-wedding brunch) with a thorough cleaning of the venue(s) between the shifts. Pro tip: for more ideas check out How to Work Social Distancing Into Your Wedding Plans.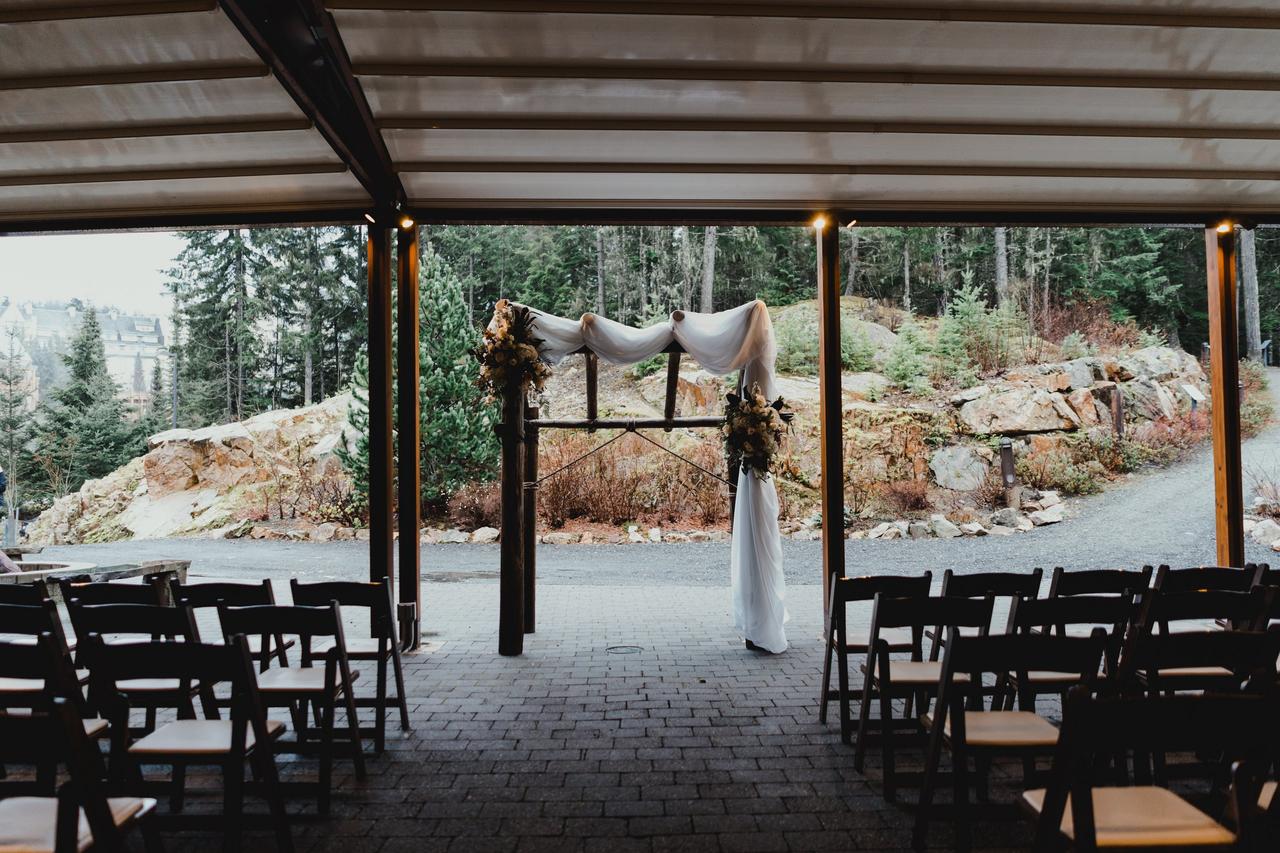 Mini-monies and elopements: The growing popularity of a mini-mony—a term coined for a small ceremony to officially tie the knot while postponing a larger celebration for later—and elopements will continue in 2021. The Pop-Up Chapel Co. is a Toronto-based wedding planning company that offers an elegant alternative to a city hall wedding. They do a single set up with a top venue and vendors and book time slots for each couple to get married with up to 20 guests in attendance. The ceremony is all-inclusive, stylish, stress-free and affordable. They also donate $300 of every spot sold to a local charity! Not surprisingly, they have added dates to their schedule in both Toronto and across Canada in Hamilton, Ottawa, Winnipeg and Vancouver to meet increased demand.
"Let's face it, Covid sucks! But that isn't going to stop us from hosting the most beautiful elopements for couples and their guests to celebrate intimately and of course safely," explains Nicole Connor,
Events and Operations Manager for The Pop-Up Chapel Co. "Over the last few months, we've continued to host Chapels in Toronto and beyond, while still adhering to health and safety policies, regulations and bylaws, and still offering all of our Chapel package inclusions. Mini-monies, elopements, and micro weddings are here to stay in 2021 as couples search for alternative solutions, and The Pop-Up Chapel Co. is ready to help!"
Bonus: We've rounded up some of the best places to elope in Canada.
Shift in wedding dates
Typically Canadian weddings happen 12 months of the year with June, August and September being the most popular months. Naturally, if outdoor weddings are going to be a priority, this will impact wedding dates by putting even more emphasis on late spring, summer and early fall weddings. On top of that, many 2020 couples postponed their weddings to 2021 creating more demand for weekend wedding dates during the warmer months. This means there will be more weekday weddings, and that's a good thing. With there being more restrictions on our daily lives, your mid-week celebration may just be what your friends and family need to lift their spirits. Give them plenty of notice with a save-the-date so they can book the time off work. "Sunday celebrations will also be popular—especially on a long weekend," adds Adeola.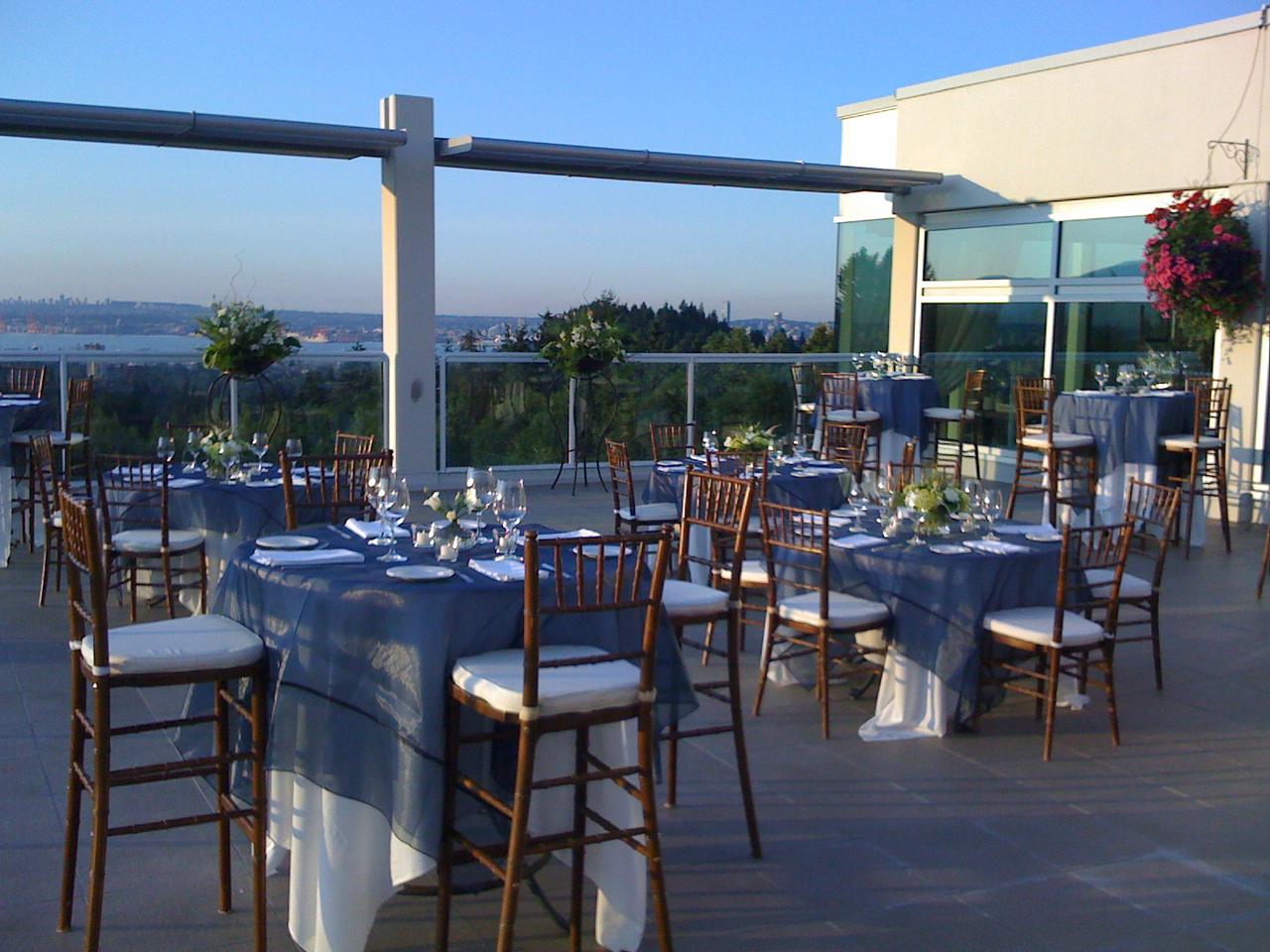 Outdoor weddings
Thankfully, many wedding venues offer gorgeous outside spaces to make hosting an outdoor wedding easier than ever. While you could pitch a tent in the backyard or at a cottage and have a micro-wedding, booking an outdoor wedding venue will let you host an open-air celebration with plenty of space, airflow and protocols in place for loved ones to attend safely. You've got so many options to choose from including waterfront venues, gardens and country clubs.
While outdoor ceremonies have always been popular, this new emphasis on outdoor wedding receptions will put a bigger demand on tent and event rentals. Get creative with your choice of wedding tent style—we're talking clear tents, stretch tents and sail tents. Wedding tent decorations will be a focus for 2021 as well.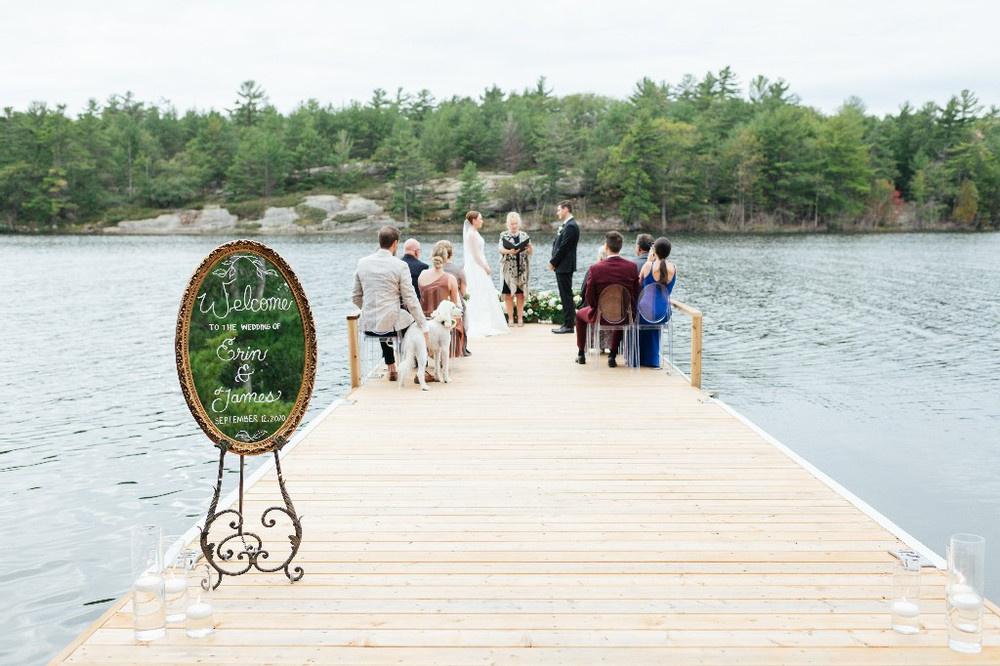 Canadian destination weddings
For couples that crave a destination wedding experience, all is not lost. According to Adeola, "We are seeing couples that were thinking of a destination wedding in Mexico or the Caribbean, choose a Canadian resort instead. It's exciting that couples are discovering Canadian locations and supporting our local economy". This is extending to honeymoon plans as well with couples planning staycations, minimoons or Canadian honeymoons.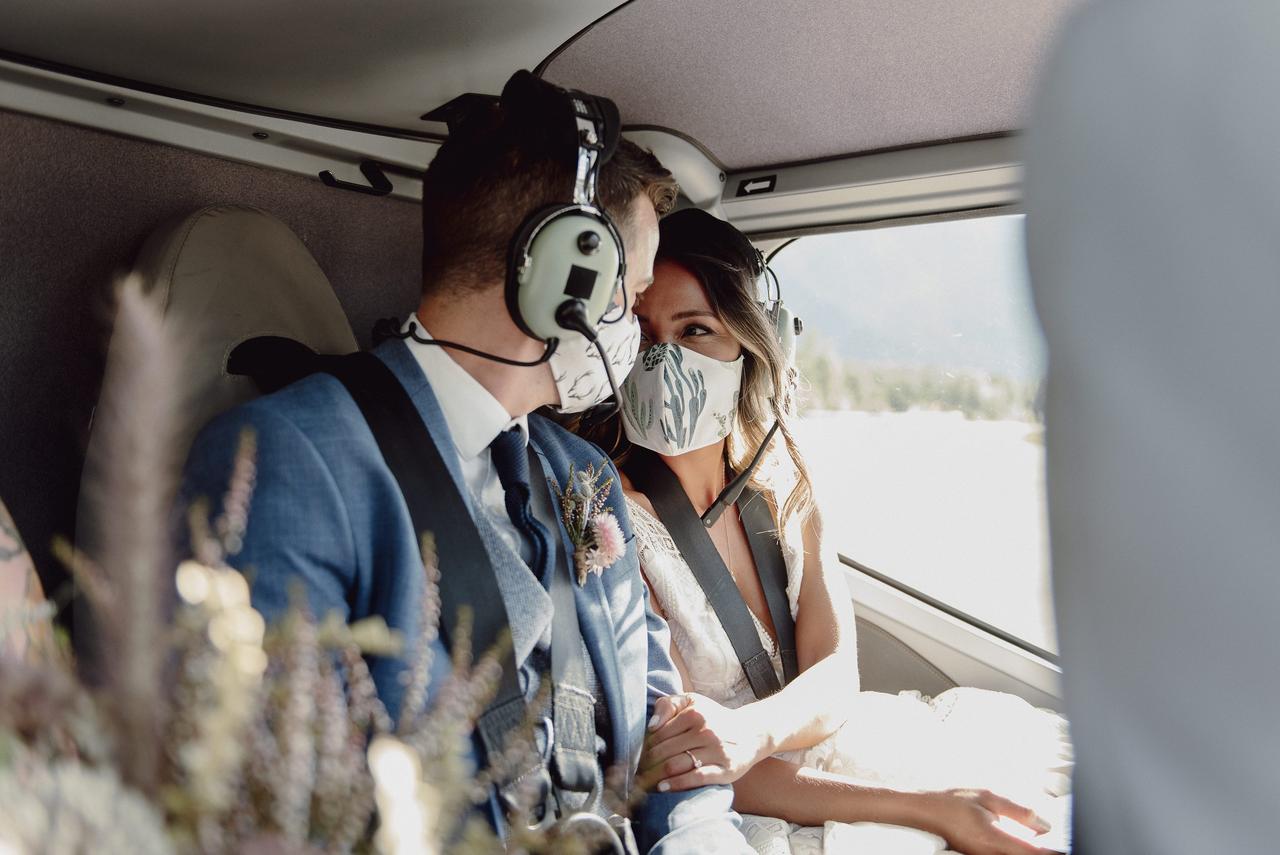 Purposeful planning
We saw an increased focus on the environment in 2019, followed by a long-overdue spotlight on the need for social justice in 2020, during a pandemic, no less. It's heartening to see that couples are being more intentional with their wedding spend in 2021. Whether that takes the form of hiring a diverse wedding vendor team, supporting local suppliers and charities or reducing their carbon footprint, couples are planning their weddings with a clear sense of purpose during these challenging times.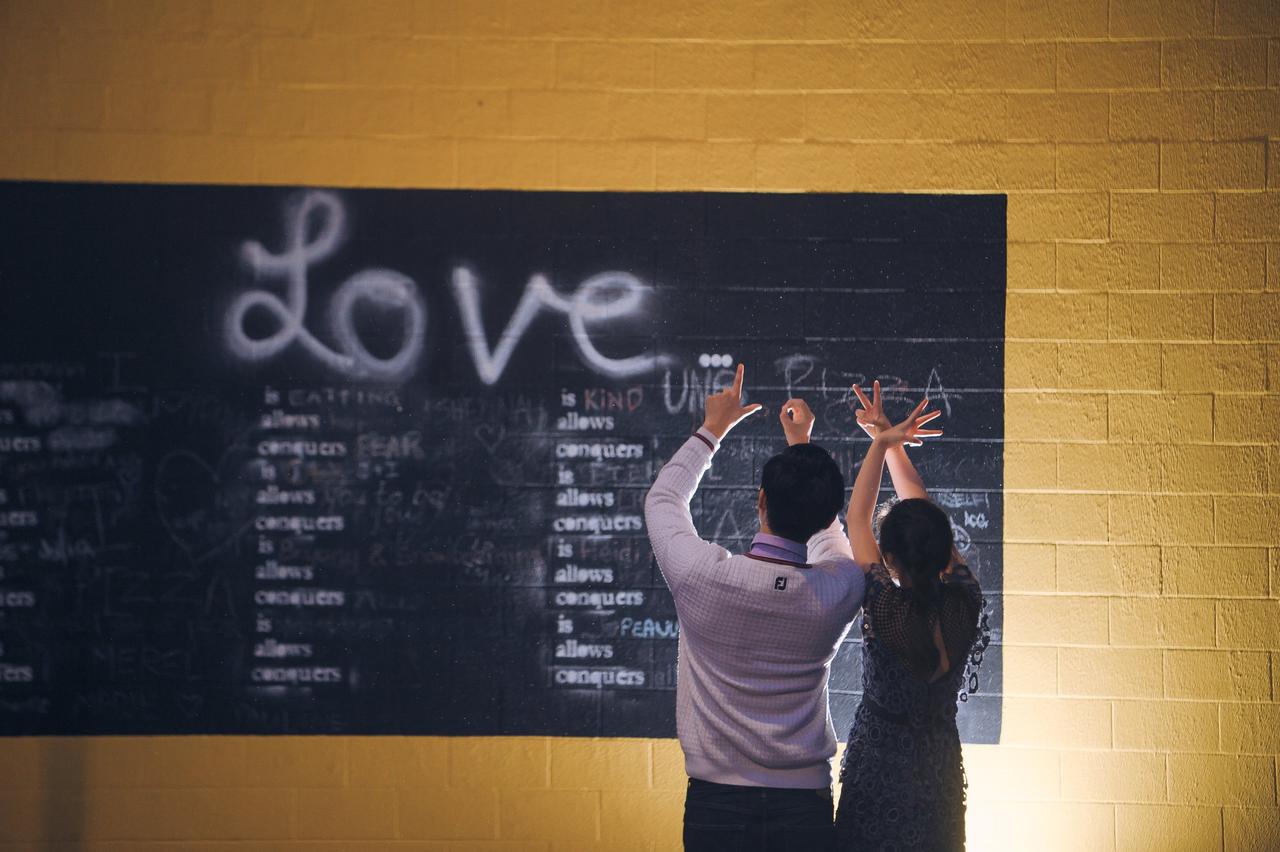 Flexible choices
From wedding dates to decor, couples will build flexibility into their big day planning for 2021. Many wedding venues are allowing couples to reserve a back-up wedding date (with conditions attached, of course) and wedding designers will create standalone wedding decor elements and installations that can be used in any venue and in alternative ways (i.e. wedding altar and sweetheart table backdrop). Experts also advise against inscribing your wedding date onto things like wedding bands, favours, ceremony programmes and signage in case you need to change your date.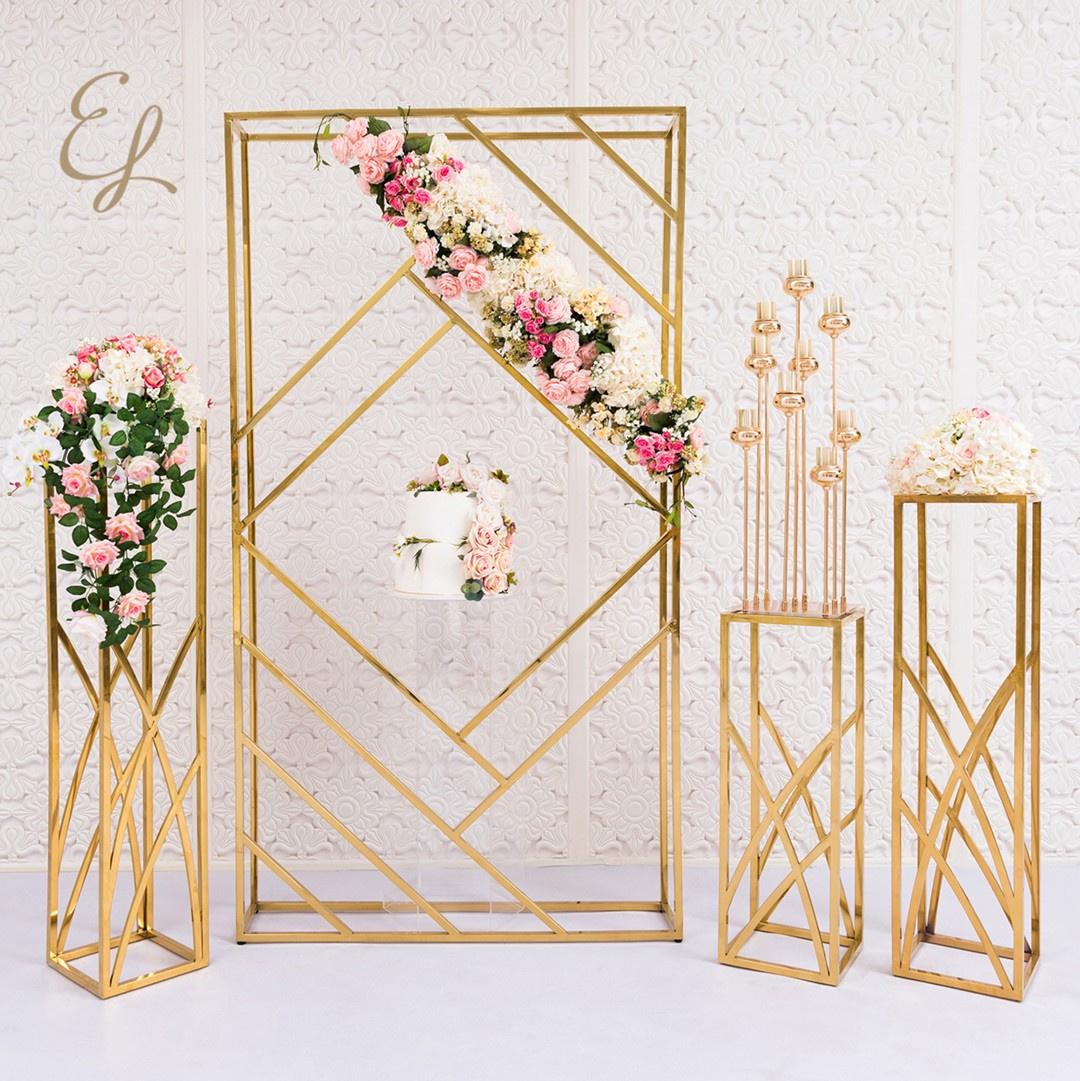 Meaningful moments
In the current climate, we've had time to reflect on our values, social justice, the health and safety of loved ones and other issues affecting our lives and communities. While weddings have always been emotionally-charged events, we anticipate that couples will focus on expressing their feelings and gratitude. They'll do so by putting even more emphasis on their wedding vows, readings and thank you speeches.
Guest experience
With smaller guest counts, outdoor venues and seated dinners, the usual reception format is changing. Couples and wedding pros are flexing their creative muscles to make intimate weddings simply amazing. Here are a few of our favourite ideas:
Mobile bars: Food trucks have been popular for a while, but with all the outdoor weddings, we're anticipating mobile bars will be a big 2021 wedding trend. Gregor Sayliss, owner of
Wandering Spirits Travelling Barkeep in the Niagara area, is offering couples and their wedding guests an innovative service. His vintage trailer is outfitted with a full bar and espresso machine allowing him to serve a full range of beverages with a focus on local ingredients. While signature cocktails have been the big thing for a while, Greg suggests that couples offer their guests a more customized experience—letting them sample local brews, wines and craft cocktails (or mocktails!) to please their individual palettes.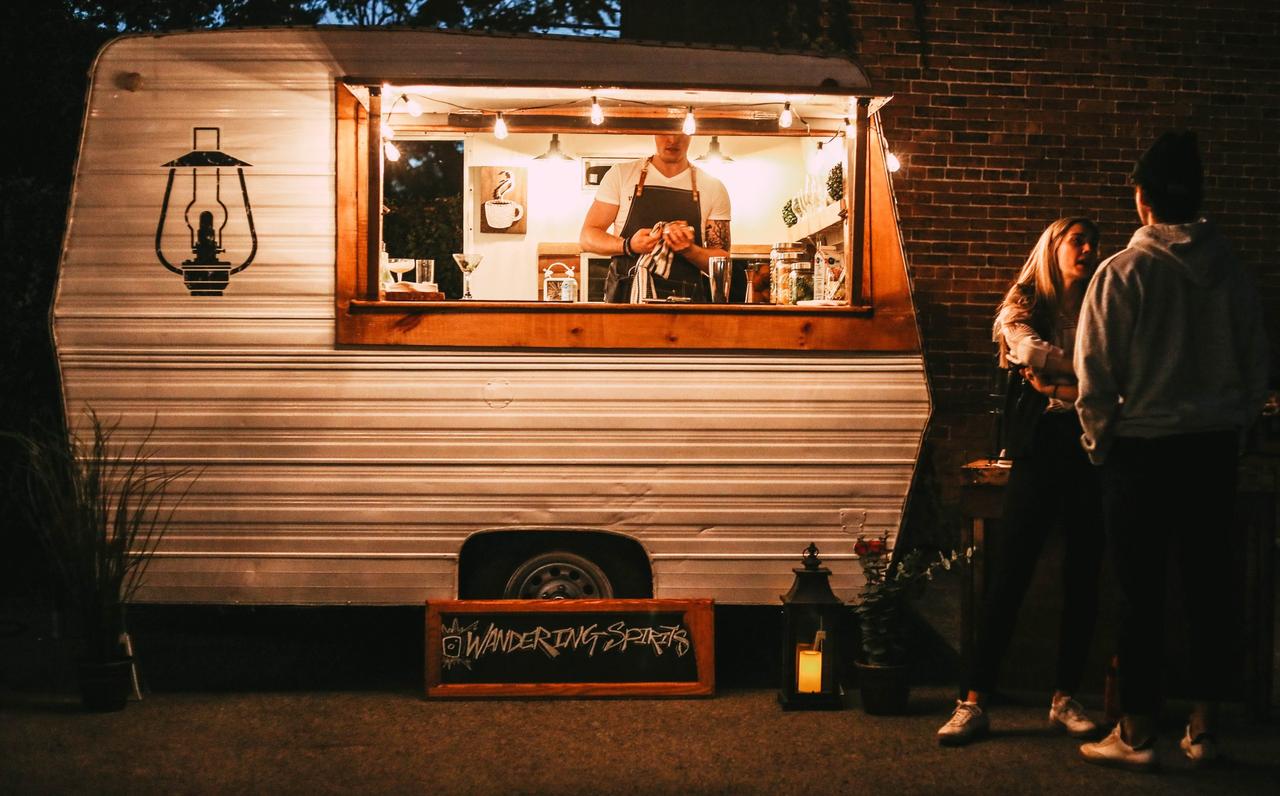 Luxury dining: To minimize line-ups and crowding at bars, buffet tables, food stations and dessert tables, wedding reception meals will be more like a fine dining experience with multi-course plated meals served to each guest.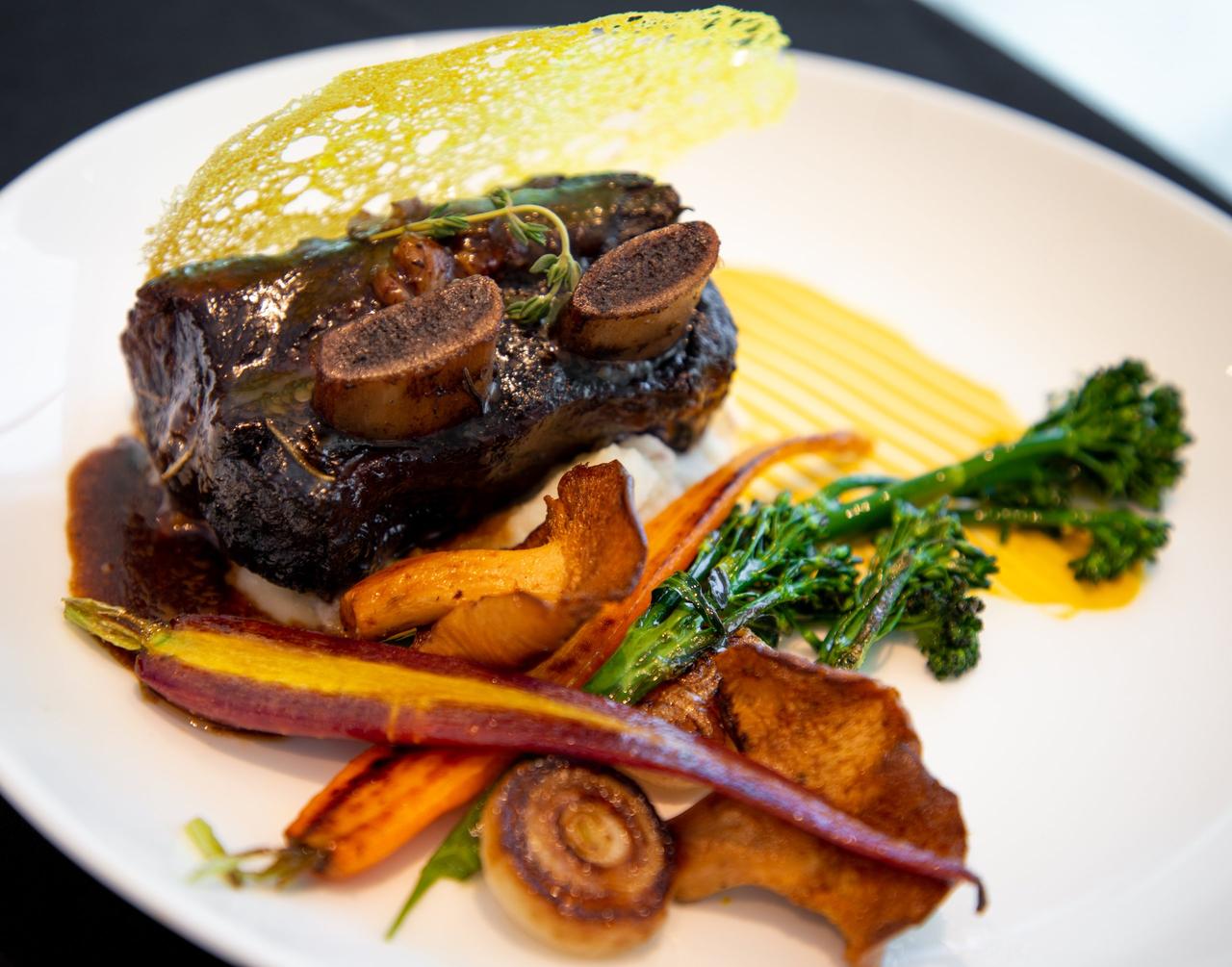 Small wedding cakes: This dining style will carry over to dessert with couples ordering a smaller wedding cake for themselves and individual cakes for their guests. Alternatively, you can serve your guests a different dessert and send them home with a cupcake as an edible wedding favour. Bonus: check out these 16 small wedding cake ideas.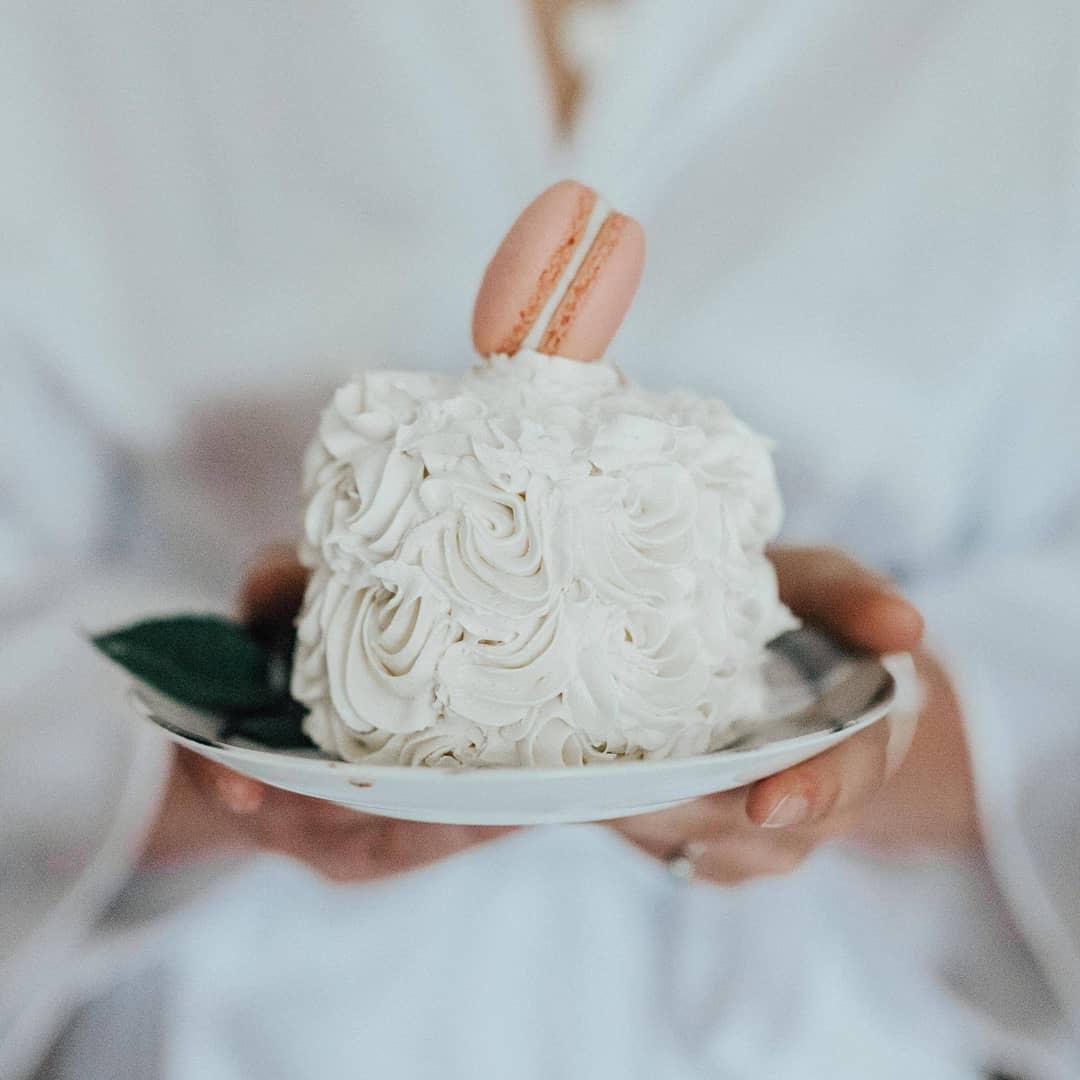 Personalized place settings: According to Adeola, with a smaller guest count and a new emphasis on remaining seated, couples have the capacity (both time and budget) to add more personalized items to the tables. Customized menus, decorative wedding favours, multiple centerpieces and place card keepsakes are just a few ways to make the tablescapes more elaborate.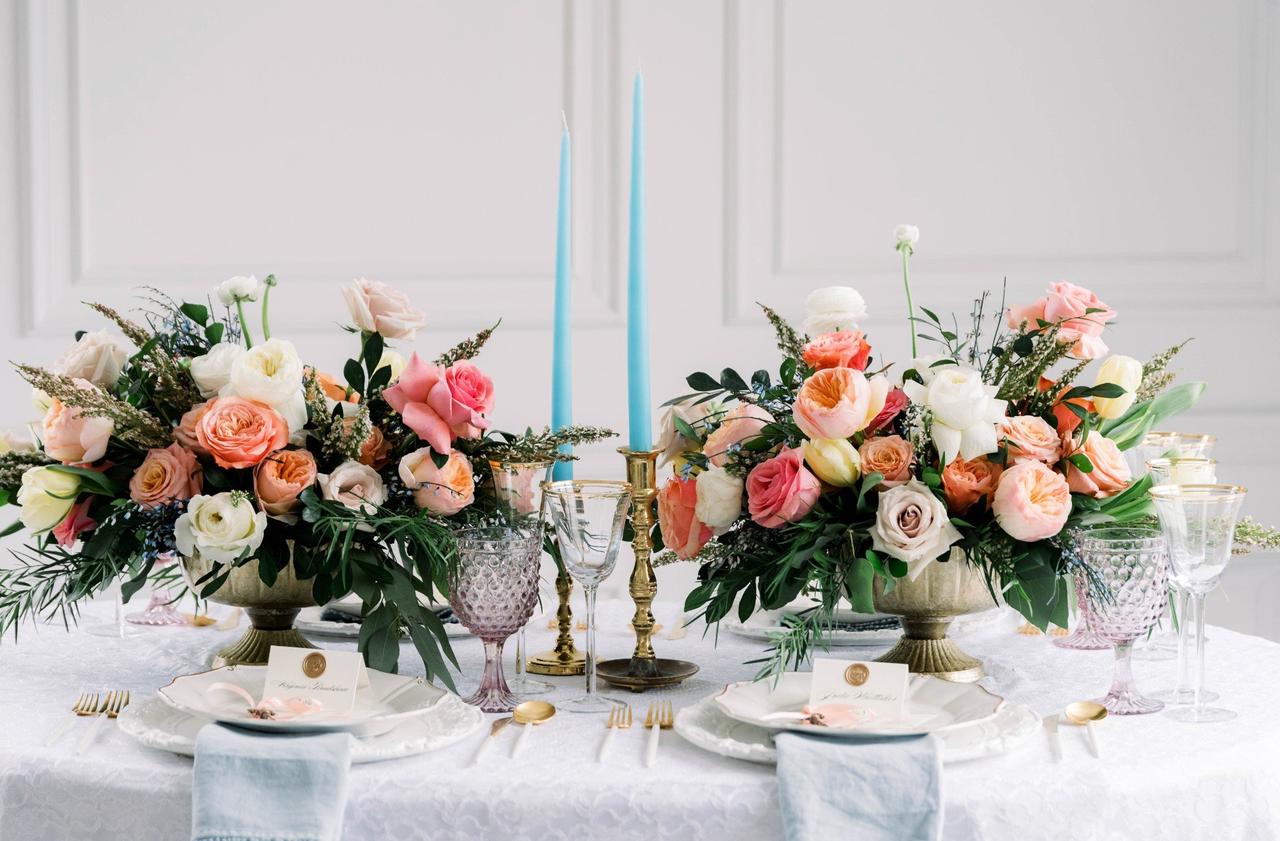 Entertainment: With less mingling, couples will get creative with entertainment for their seated guests. From hiring a jazz ensemble or harpist to a comedian or circus act, there are many options available.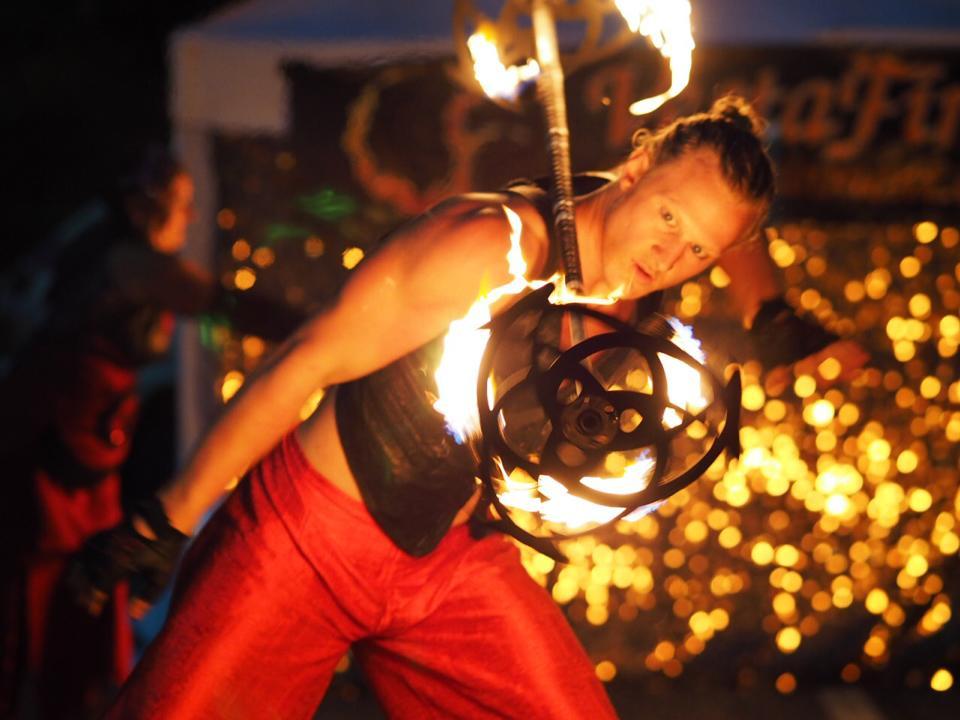 Virtual elements
With some loved ones at a higher risk of contracting COVID and others not able to travel, couples will want to live stream parts of their wedding so guests that can't attend IRL can still participate. We anticipate that couples will put extra effort into making this experience fun and unique. Here are some tips and ideas:
Hire an AV service: Typically your photographer and videographer document your event for you to enjoy after your big day and for years to come, however, if you're live streaming your wedding, you'll want some talent to capture and stream video in real-time. In addition to having them shoot the action, build time into your itinerary to address your virtual guests directly to share your emotions and excitement.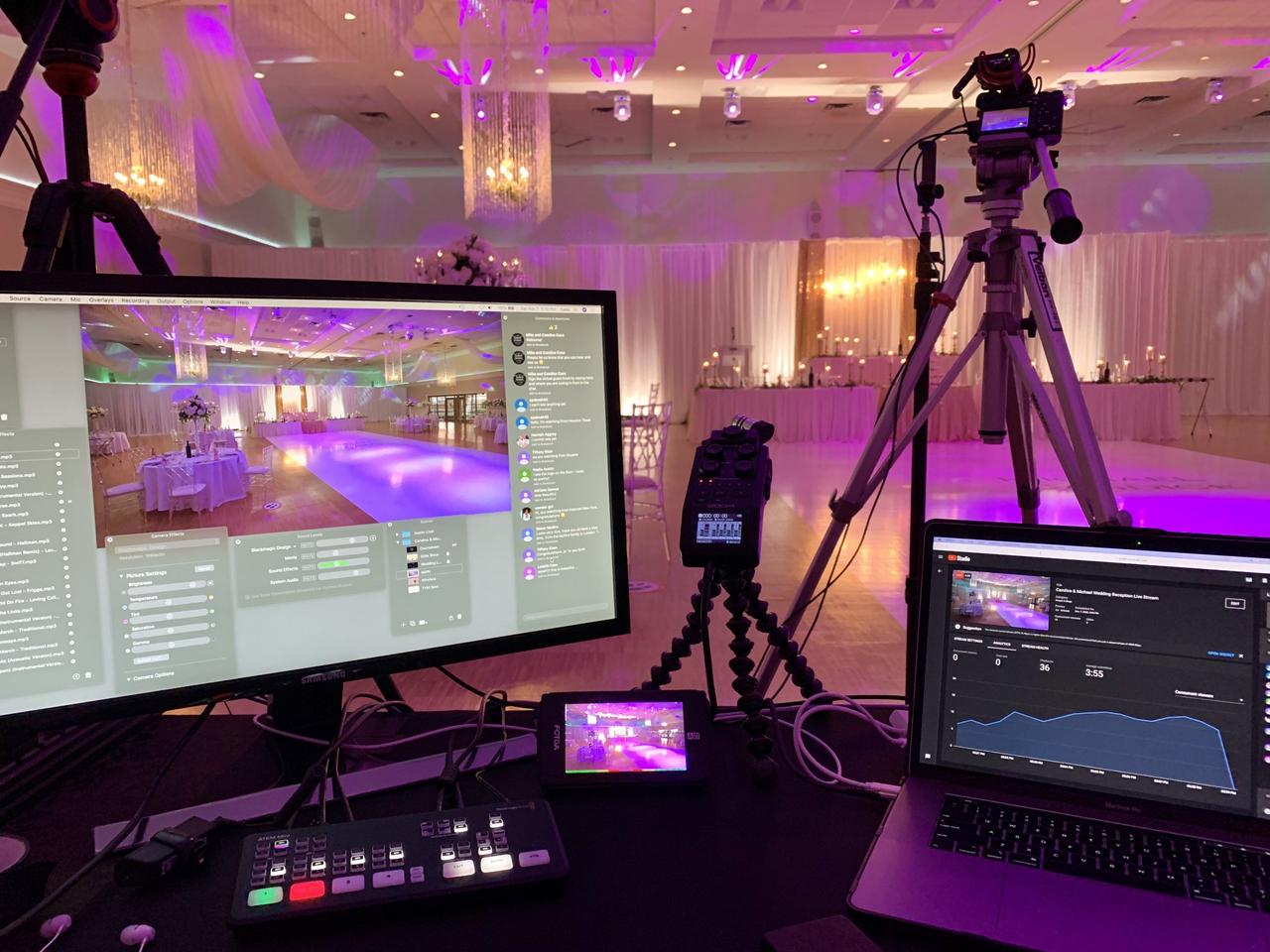 Slideshow: Put together a slideshow to document your love story and wedding planning journey to share over Zoom or your other video chat platform of choice. Pro tip: Check out our guide on how to make a wedding slideshow.
Send a care package: Send a box of goodies to your virtual wedding guests so they can join in on the fun. Include a mini bottle of champagne, ceremony program, itinerary, wedding favour and other goodies so they can celebrate along with you.
Recipes: Share the recipes for a signature cocktail or your meal ahead of time so your virtual guests can enjoy your food and drink selection, too.
Wedding hashtag: Let your virtual guests join all the social media action and posts with a wedding hashtag.
Candid photos: Give everyone the link to download our WedShoots app so that ALL your wedding guests can upload photos documenting their experience.
Magical additions: Add a little extra something to the big moments like the ceremony, cake cutting or first dance. Whimsical additions will have your virtual guests oohing and awwing.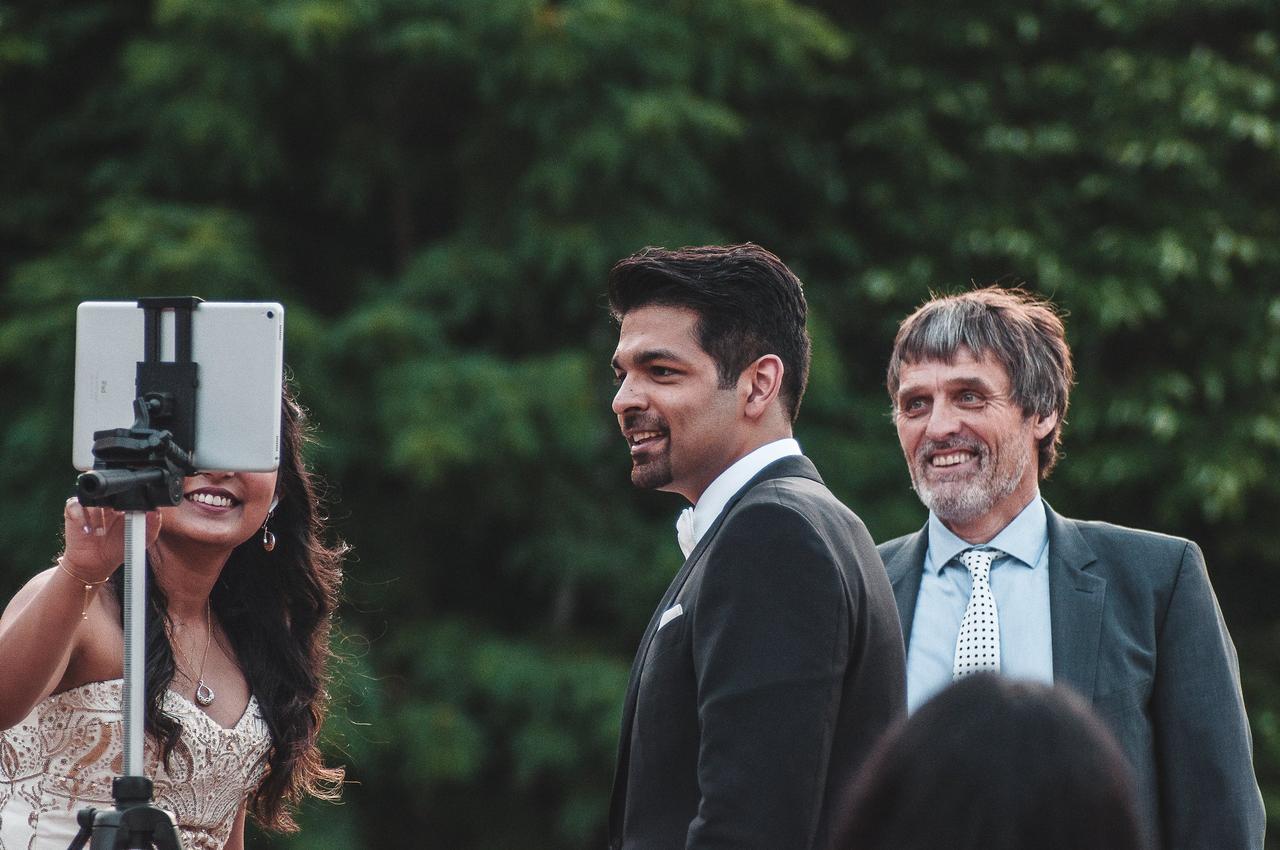 Social distancing measures
Crowd control: Mandatory masks and hand sanitizing stations will be expected at weddings in 2021. You can make these available at your welcome table to ensure everyone is protected upon arrival. Also make sure you have supplies handy and directional signage to discourage crowds at any gathering spot like a bar, washrooms or photo booth.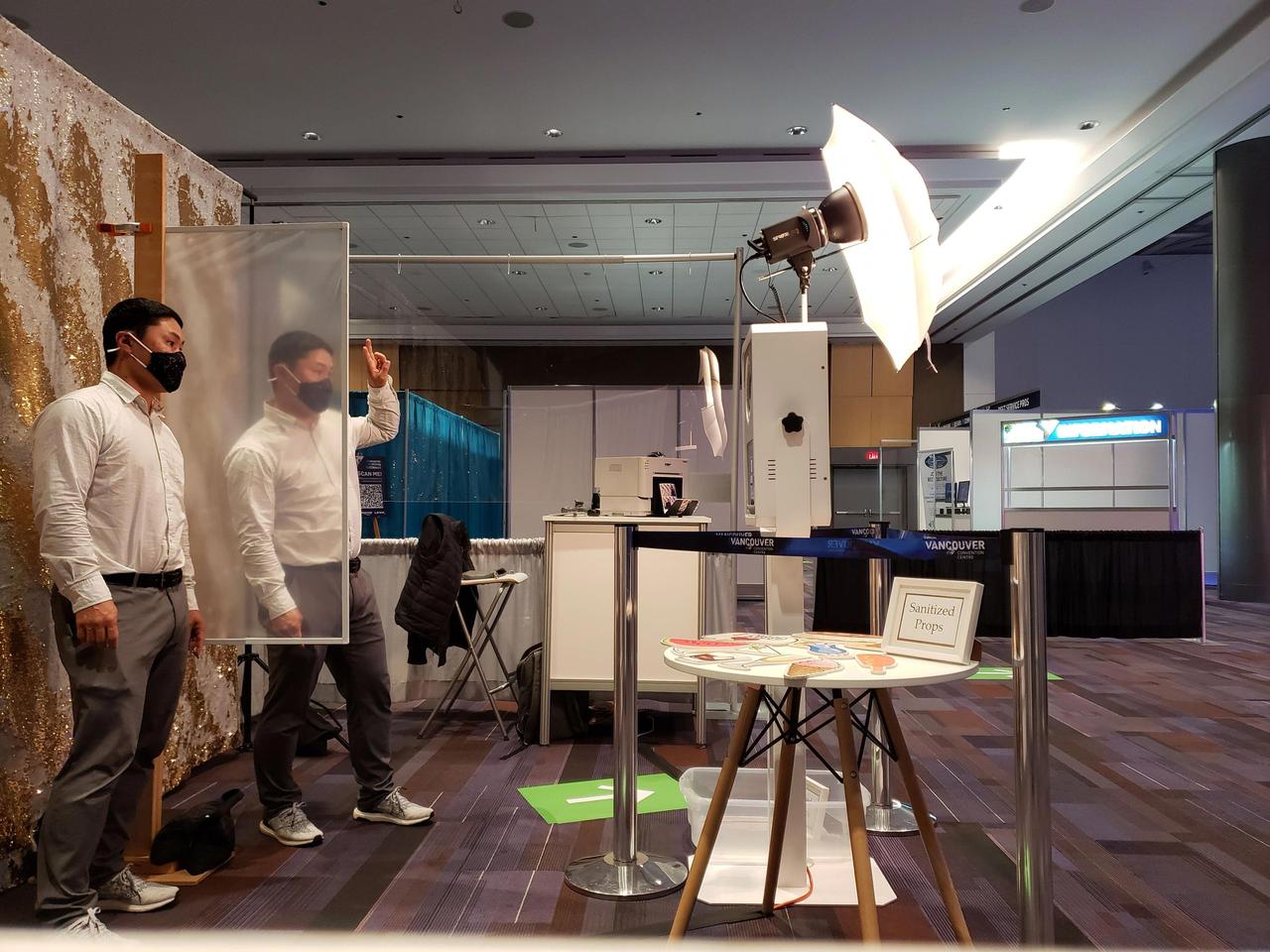 Greeting guests: With no hugging and kissing, couples will want to greet their guests in a safe way. We suggest the return of the receiving line as a way of allowing for interaction with each and every guest. Heel or elbow taps, bows, air kisses, hand hearts are ways to show off your love from a safe distance.
Reception seating: Seating plans will look different in 2021 with fewer guests at each table and groupings organized by household or bubble. This is also a great opportunity for the newlyweds to embrace the sweetheart table.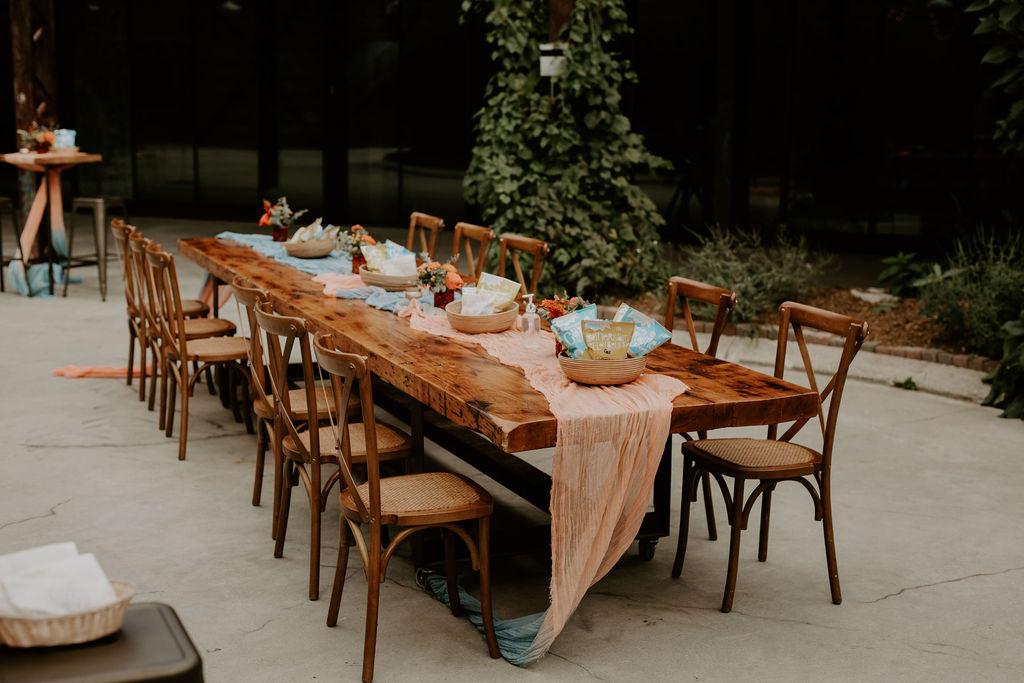 We hope that these wedding trends for 2021 inspire a safe and memorable celebration. Need help? We've opened up a dedicated hotline to answer any and all wedding planning questions that you may have – (833) 998-2865 or help@weddingwire.com
Get organized with WeddingWire's FREE wedding planning tools »