Wedding Ceremony FAQs in the Midst of COVID-19
Many couples are asking whether they can still hold a small ceremony, elopement or a virtual wedding in the midst of COVID-19. We've got some As to your Qs.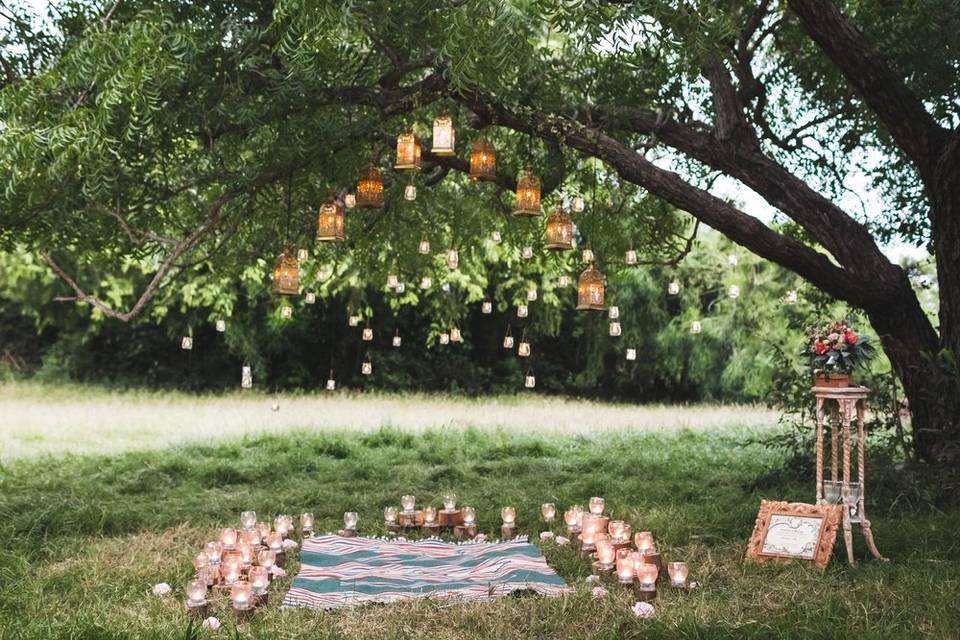 During COVID-19, many couples are wondering whether they can still get married or hold a small ceremony? Some of the ideas being contemplated include holding a symbolic ceremony now and a legal ceremony later or a legal ceremony now and a vow renewal later. Given the uncertainty surrounding social gatherings, public health restrictions and the closure of marriage registrar offices due to COVID-19, we have some answers to your wedding ceremony questions if your wedding is affected by the coronavirus pandemic.
Here are the answers to your wedding ceremony questions in the midst of COVID-19.
Can we hold a small ceremony during COVID-19?
Some couples are asking their officiants if they can conduct a small ceremony on their original wedding date and just postpone their wedding reception. Keep in mind that officiants are not considered an essential service and so this is a grey area at the moment. Some officiants are willing to conduct a ceremony with only five people (an officiant, the couple and two witnesses) keeping 6 feet apart and abiding by city by-laws. However, you want to be sensitive to the fact that your officiant (or your community) may not feel comfortable with this, after all, for most couples, it's not essential to get married now. Furthermore, if you don't have a marriage license yet, you may not be able to get one until marriage registrar offices or marriage license issuers reopen (this varies by province/territory).
Can we elope during COVID-19?
If a couple really, really wants to get married now, then some wedding planning companies are facilitating an elopement while following public health guidelines and city by-laws. Love by Lynzie in Toronto has developed an innovative elopement package whereby they'll provide an officiant, florals, a photographer and the option to include an AV expert to live stream the ceremony to friends and family while keeping within the five-person legal limit for a social gathering. In this scenario, the photographer and wedding planner (or AV person) will act as witnesses and sign the paperwork for couples that already have their marriage license making the union legal. If the couple does not have a marriage license, then they can exchange vows in a symbolic ceremony and postpone their legal union for later. This would likely need to take place at home in a backyard as city parks in Toronto are closed. If you live in Vancouver, Jocelyn Bacon Events is also offering elopement packages.
Before you get your heart set on an elopement in your home town, check your local guidelines, take all the necessary precautions and ensure that you actually get legally married, if that's your intention. The last thing you want is to jump through a bunch of hoops only to discover you didn't complete all the paperwork properly and you had a commitment service, that's not recognized by the law.
Are marriage licenses being issued at the moment?
Marriage registrar offices are closed in Ontario at the moment. For example in Toronto, they say "marriage licences will only be issued by appointment on an urgent basis and will be determined on a case-by-case basis." Typically, their definition of urgent is a marriage taking place for palliative or immigration reasons, not a postponed wedding due to COVID-19. Also, keep in mind that marriage licenses expire (e.g. Ontario marriage licenses expire after 90 days). Check your province or territory government website for closures as you may have no choice but to postpone your wedding if you can't get a marriage license.
Can we still have a ceremony later?
Couples choosing to proceed with a small ceremony or elopement to become legally married now can reschedule both their wedding ceremony and reception plans for later when they can hold a vow renewal in front of friends and family, followed by a reception. Doing so will allow you to eventually enjoy the full wedding experience from the processional to the last dance.
What should we consider when postponing our ceremony? 
When rescheduling your wedding ceremony or vow renewal, be patient with your officiant and your ceremony venue coordinator as they try to accommodate you and listen to their suggestions. This situation is constantly evolving and they are juggling the needs of several couples at the moment—each wedding is unique and they are doing their very best to find solutions. Be open to a change in time, a weekday or an evening wedding ceremony and other ideas. Who knows? Perhaps your plan B wedding will be even better than plan A.
How can we celebrate our original wedding date while staying at home?
After months of wedding planning, we understand that it's hard to put on the breaks, postpone and wait. However, on the other side of this coronavirus outbreak, you will have even more reason to celebrate with family and friends. Take this #stayhome time to nurture your relationship and well-being. Wedding officiant Sarah Bunnett-Gibson advises couples to focus on finding the beauty in their relationship and supporting one another during these very challenging times.
On your original wedding date, here are a few ways to make it special:
Get dressed up and make it a special day. Splurge on your favourite foods, a cake and a bottle (or two) of champagne.
Gather your nearest and dearest in a video chatroom for a virtual happy hour and a toast. You can even write a little speech for the occasion.
Host a virtual "after-party" with your wedding VIPs. Sync up a playlist and dance your worries away.
Take a few days off work and enjoy a staycation. We've got 26 things to do with your partner in quarantine.
What should we do if our marriage license has expired?
This process varies by region, so your provincial government website can give you guidance on this. For example, BC Vital Statistics is asking that you return the expired marriage license by mail and they will issue a refund. You'll need to reapply within the appropriate time before your rescheduled wedding date (e.g. a maximum of 90 days before). For Ontario couples, keep checking this page for updates as the Ontario Government is working on a solution.
A note to our couples: we've opened up a dedicated hotline to answer any and all wedding planning questions that you may have – (833) 998-2865 or help@weddingwire.com