26 Stunning Wedding Ceiling Decor Ideas
Look up! Dress your ceremony and reception venues with eye-catching wedding ceiling decor. From extravagant to budget-friendly, we've got ideas for every wedding theme.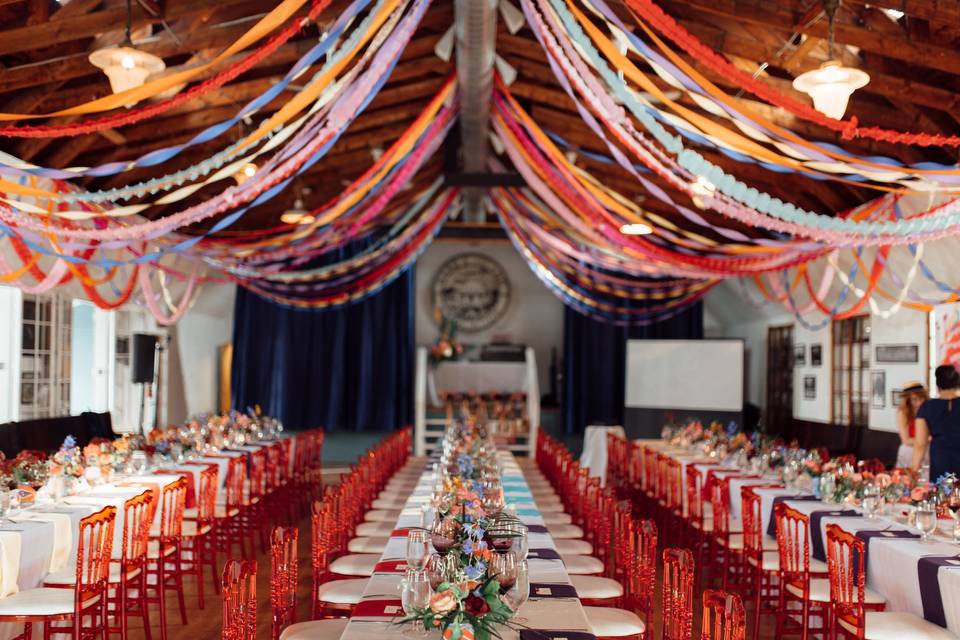 If you're looking for wedding ceiling decor ideas to dress up your ceremony and reception venues, we've got you covered. From extravagant to budget-friendly, we've gathered up wow-worthy installations, hanging floral arrangements, draped ceiling styles and lighting techniques to give all types of wedding venues that extra oomph! Take inspiration from these Canadian wedding designers and florists and start pinning your faves!
Here are 26 stunning wedding ceiling decor ideas to wow your guests.
Suspended installation
Decorated screen
How cool is this suspended round screen decorated with flowers and branches? Perfect for putting a focus on your ceremony space or dance floor at a rustic-chic or bohemian wedding.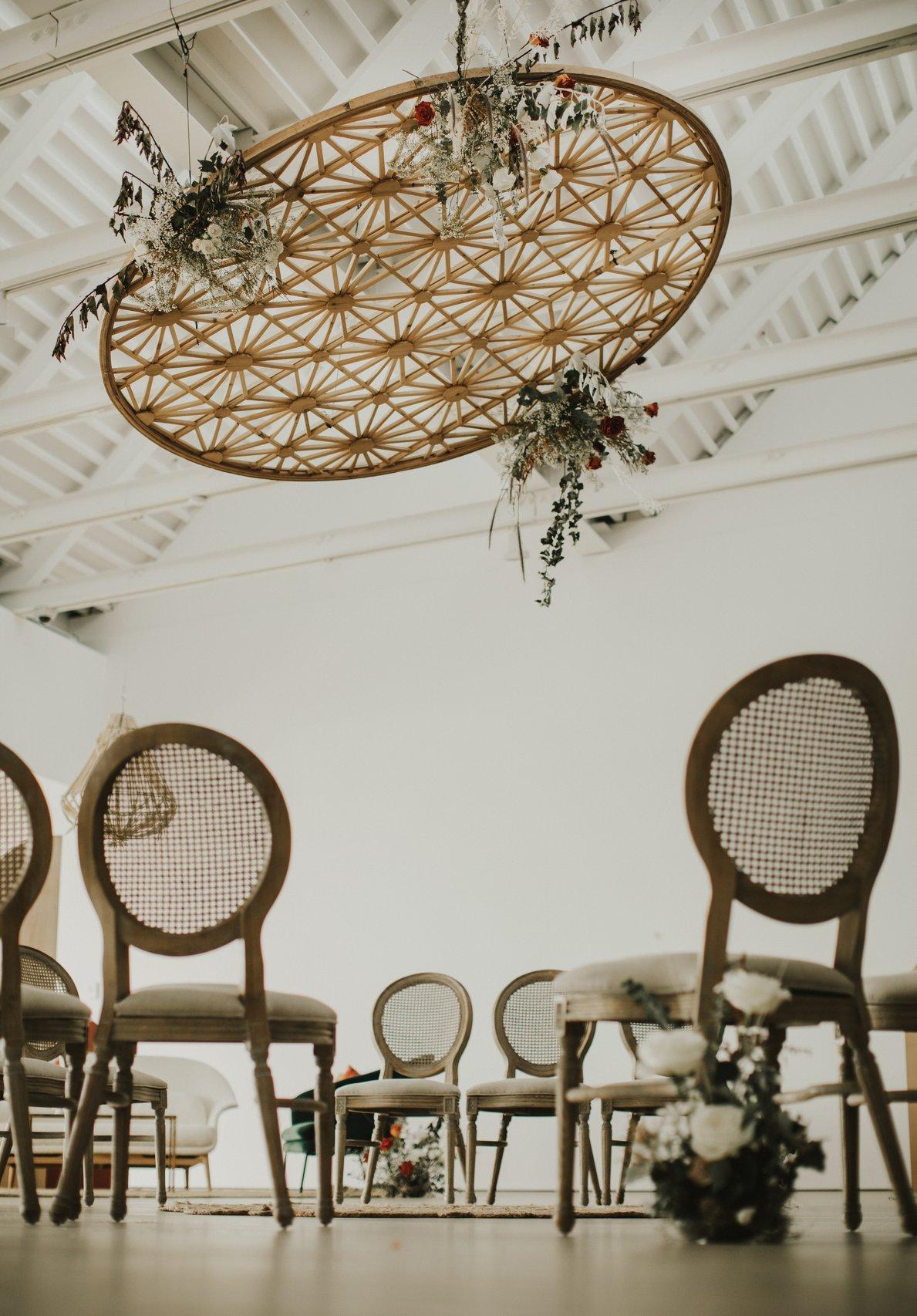 Rustic palette
Decorate a wooden palette, ladder or other barnboard structure with flora, fauna and lights, and voila, you've got an awesome conversation piece hanging overhead.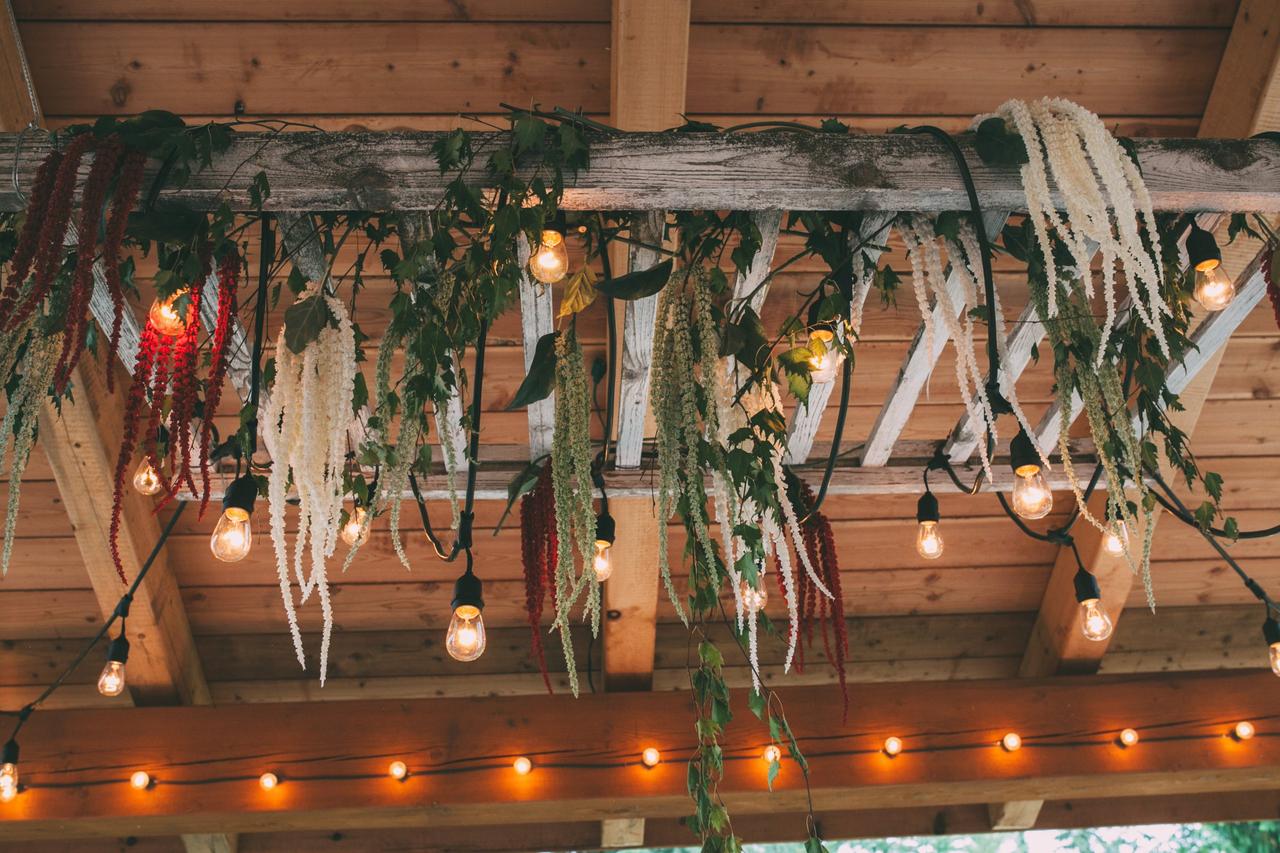 Box of greens
Here's another rustic wedding table decoration idea: a suspended wooden frame stuffed with greenery. Just a few of these will add a pop of colour to a wood-heavy space.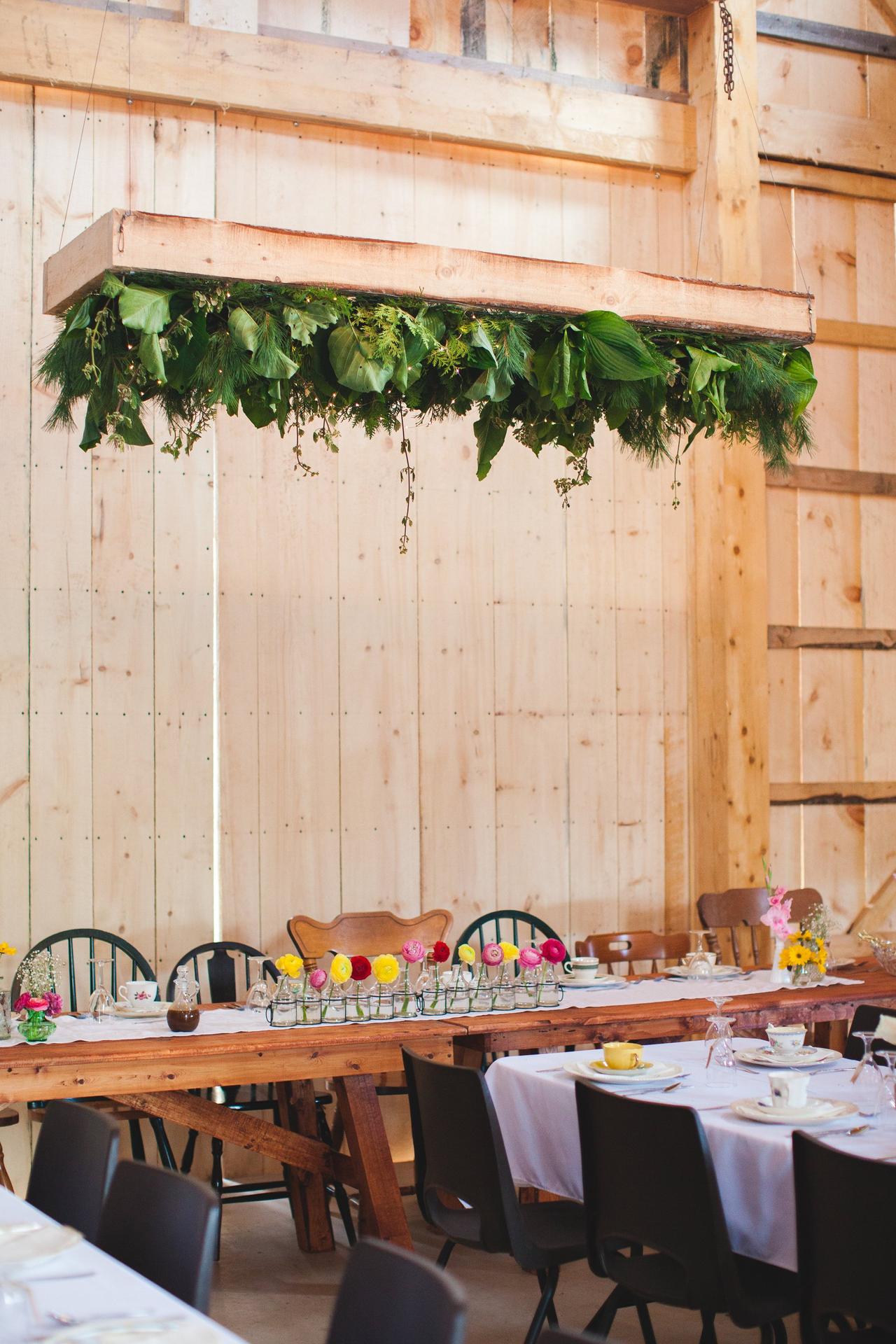 Tiered decorations
These festive multi-tiered ceiling decorations above the newlywed's stage definitely celebrate their VIP status and will most certainly wow wedding guests, too.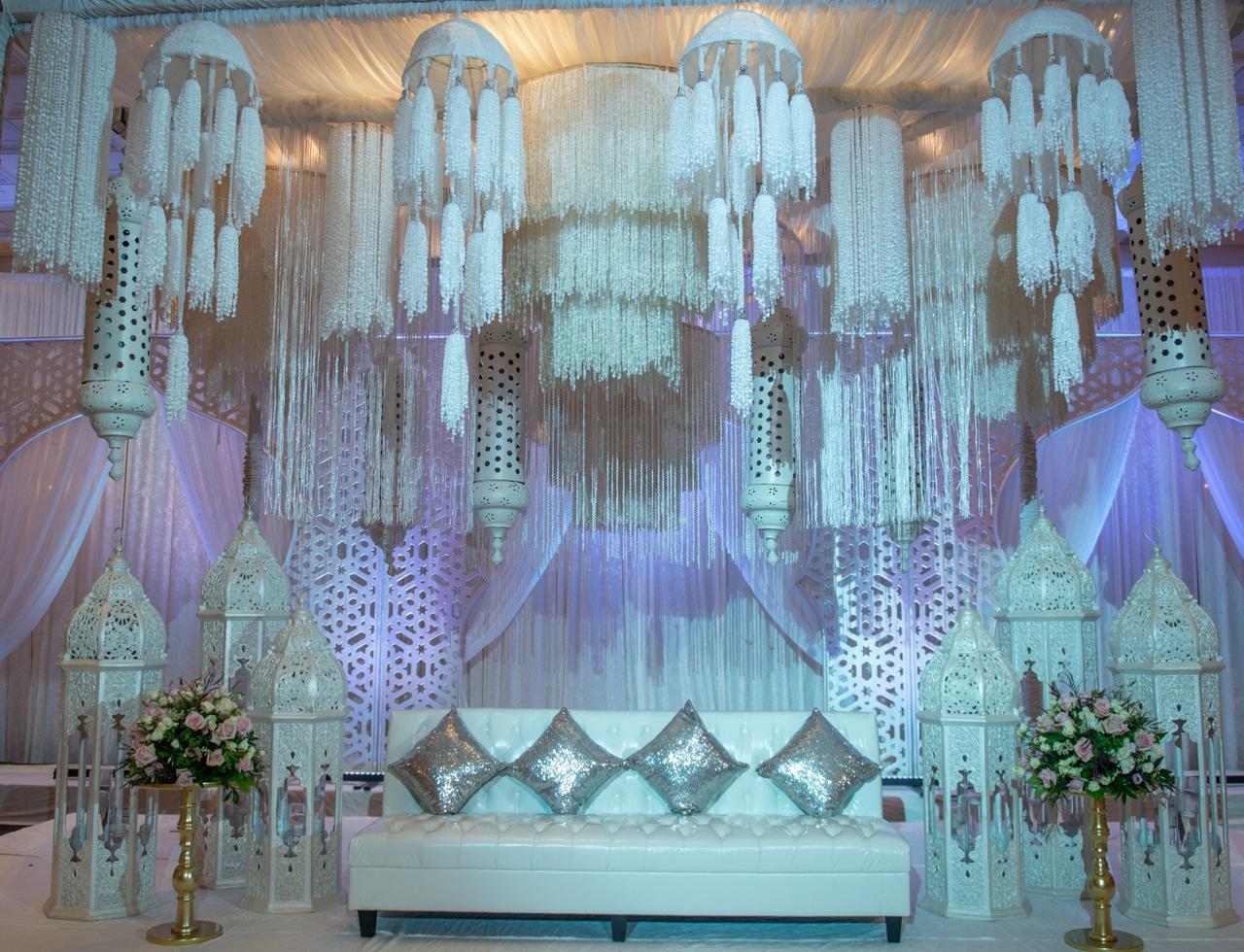 Draped fabric
Luxe swags
Add drama and warmth to an industrial-chic wedding by suspending yards and yards of fabric from the ceiling to the floor. This wedding ceiling decor idea doubles as a stunning backdrop to your head table or sweetheart table.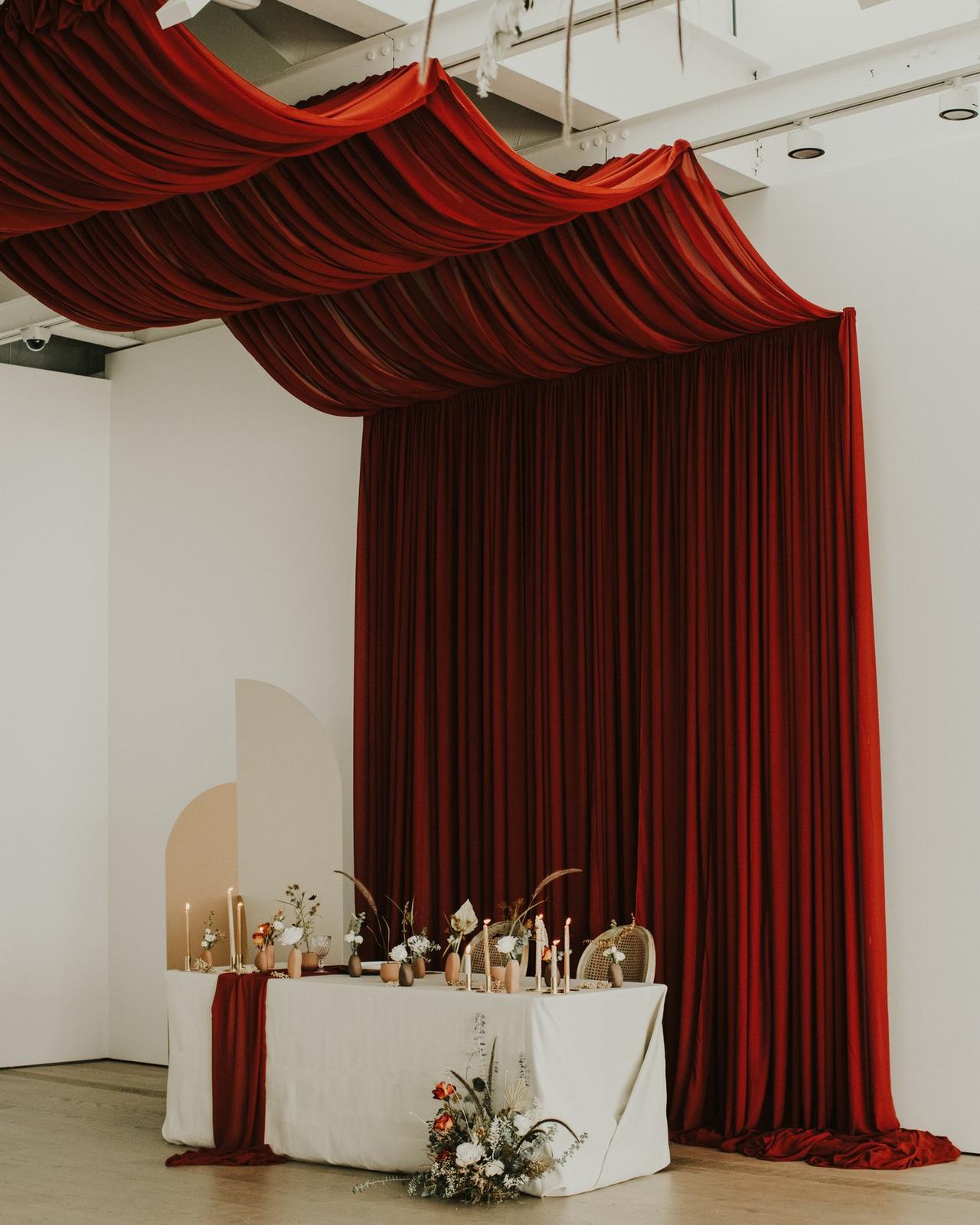 Draped ceiling
Create a tented effect with lengths of fabric draped from the middle of the ceiling to the outer walls. Finish it off with a gorgeous light fixture in the centre.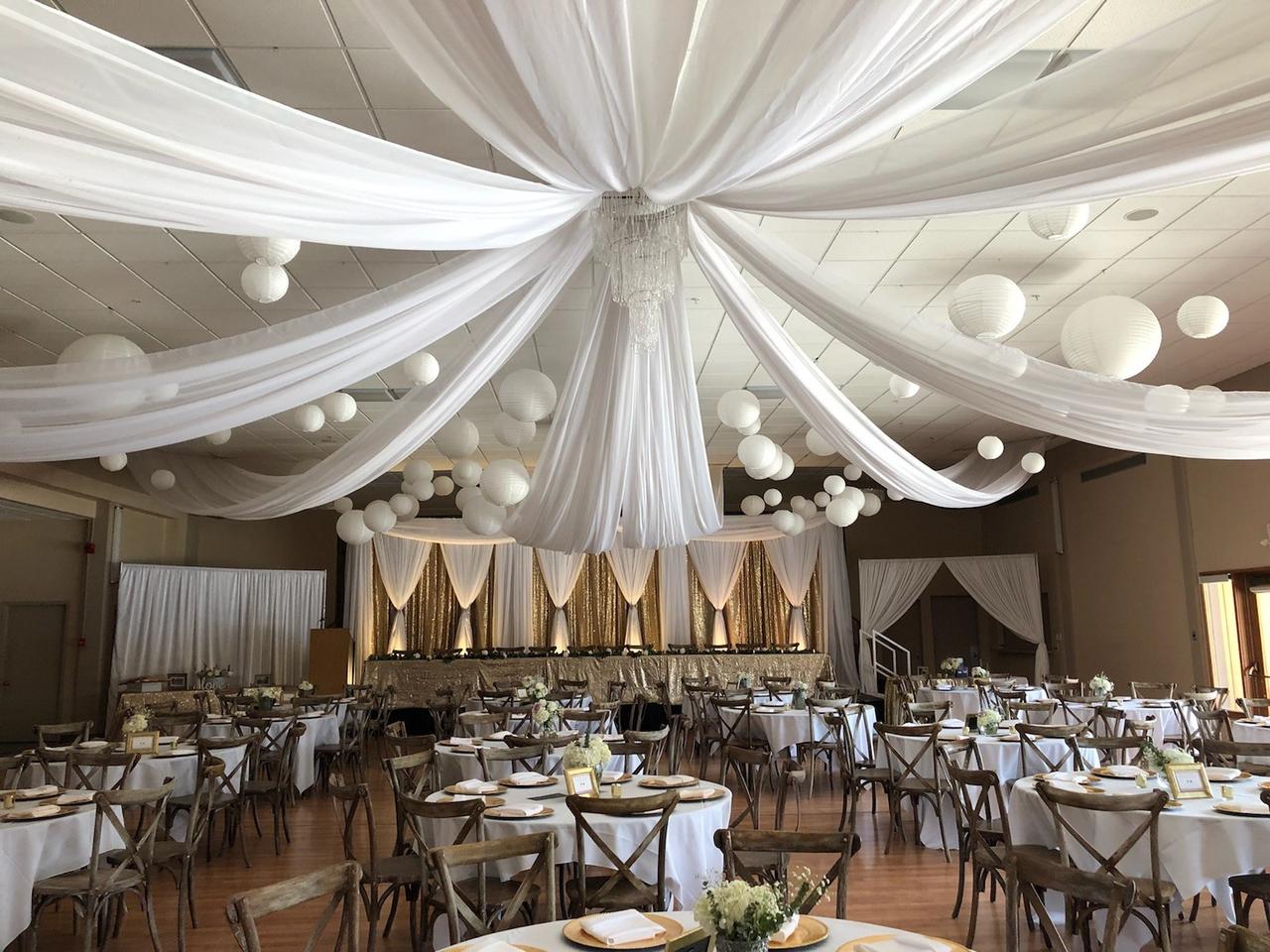 Dressed wooden beams
For a shabby chic look in a barn or loft wedding venue, drape old wooden beams with soft swags of fabric.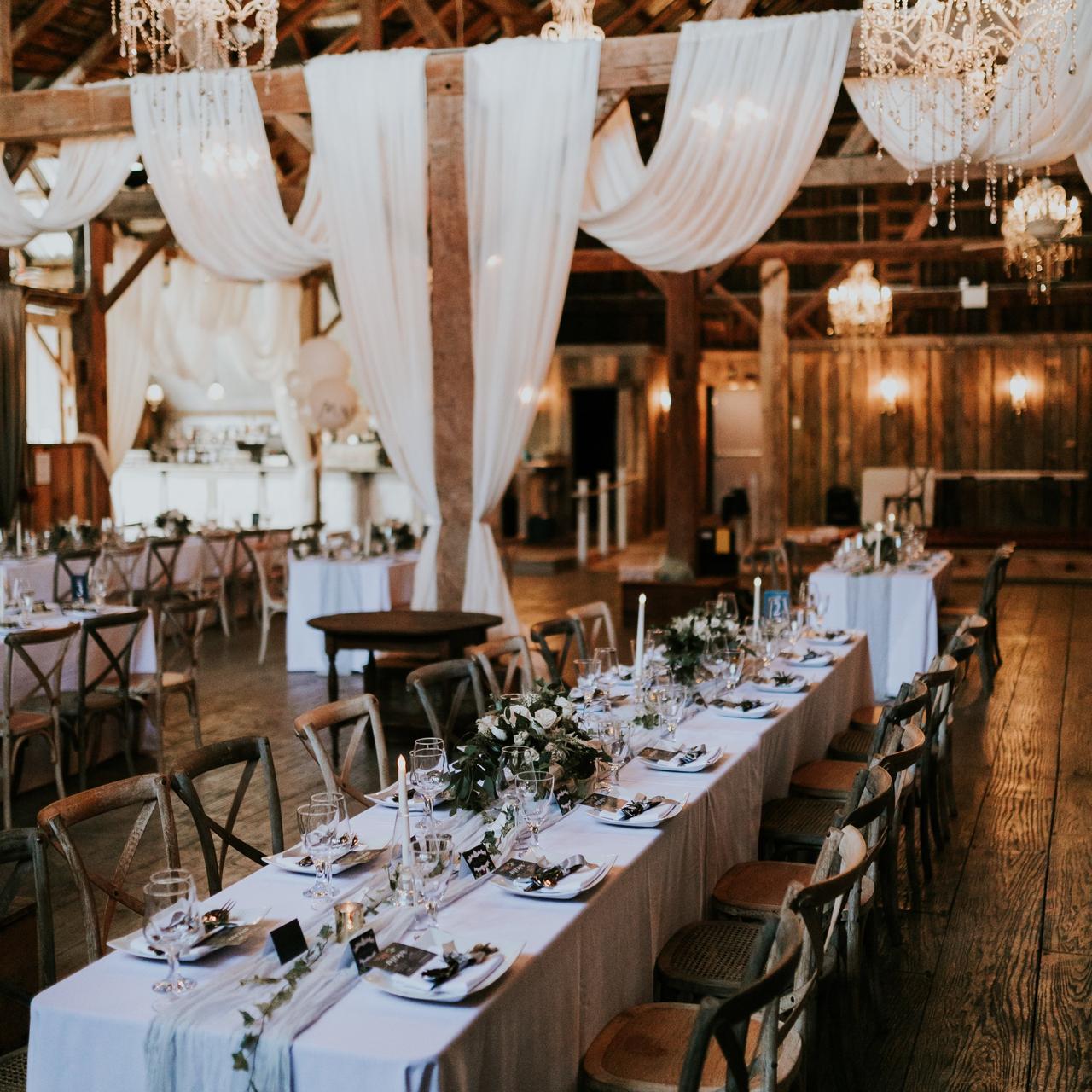 Hanging wedding florals
Altar arrangement
Traditionally, ceremony arrangements adorn either side of the wedding altar, but why not exchange your vows under one large hanging arrangement. This is ideal if you're opting for a circular ceremony seating setup.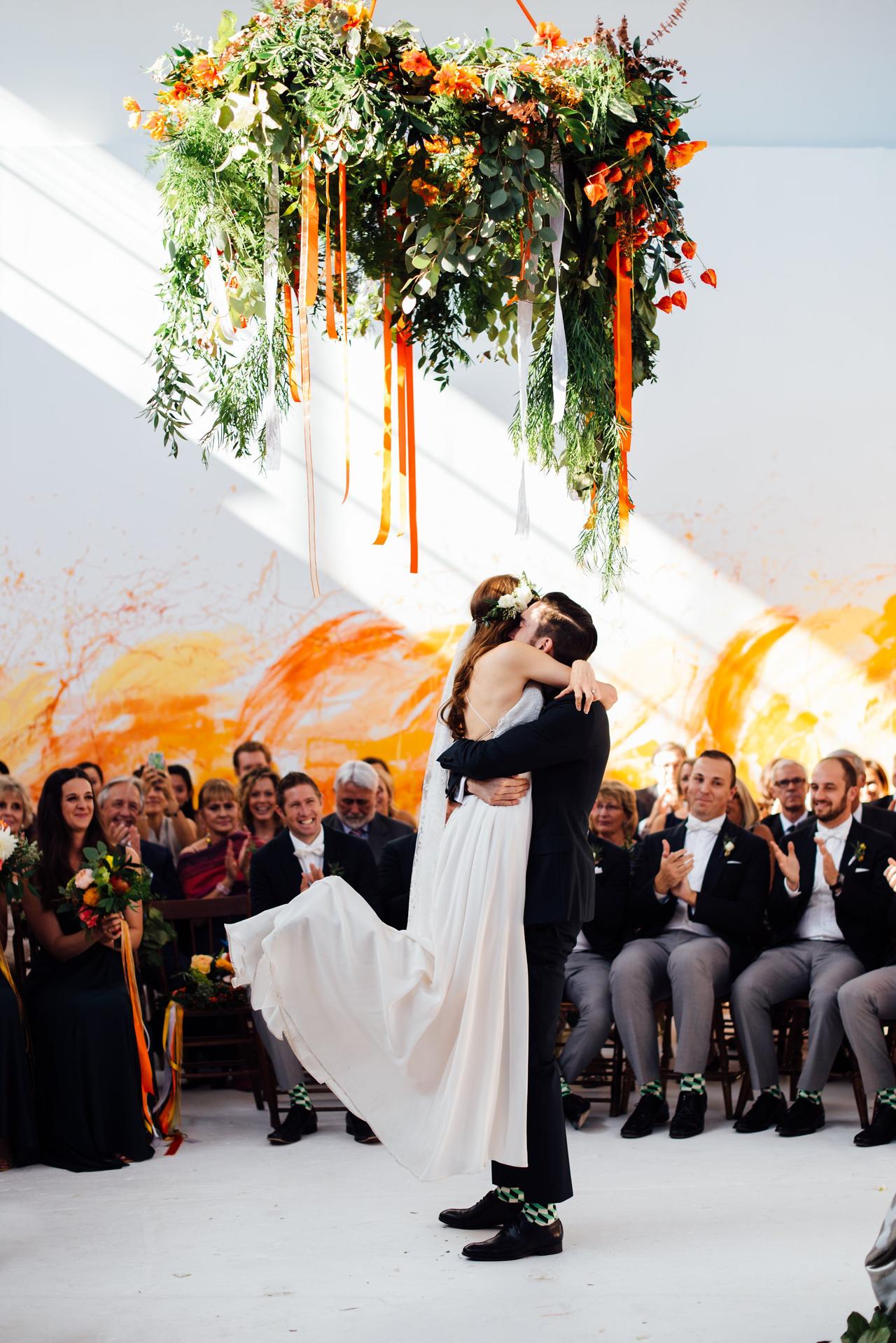 Hanging flowers upside down
How gorgeous is this wedding ceiling decor idea? A wire mesh grid holds single stems of fresh blooms cascading downwards.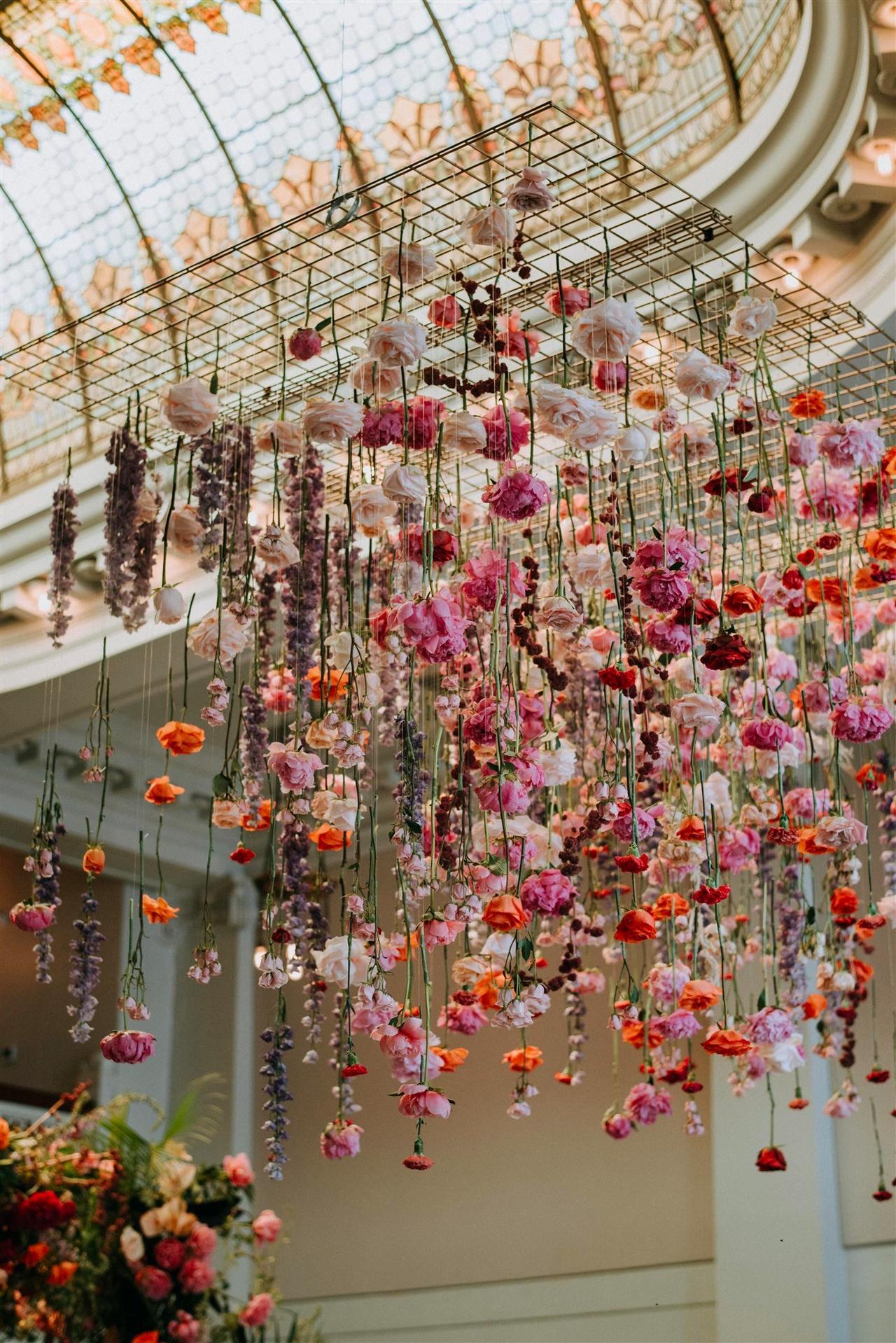 Wedding centerpieces
We love the idea of elevating your floral wedding centerpieces, too! This allows you to create a stunning look with large arrangements while keeping your reception tables clear for other items.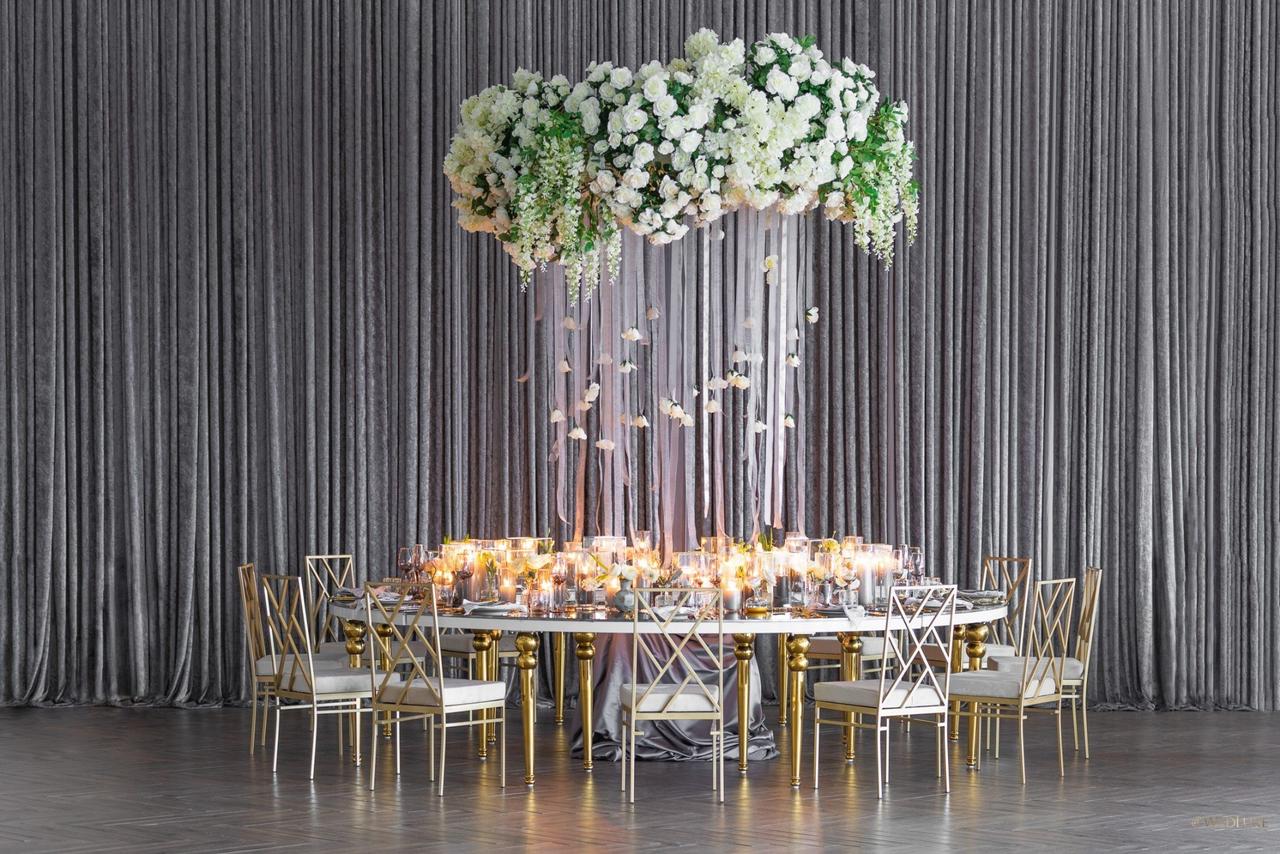 Greenery
A more budget-friendly ceiling decoration idea for a wedding reception is to suspend a few large arrangments of greenery. These look especially great hung in the centre of a vaulted ceiling.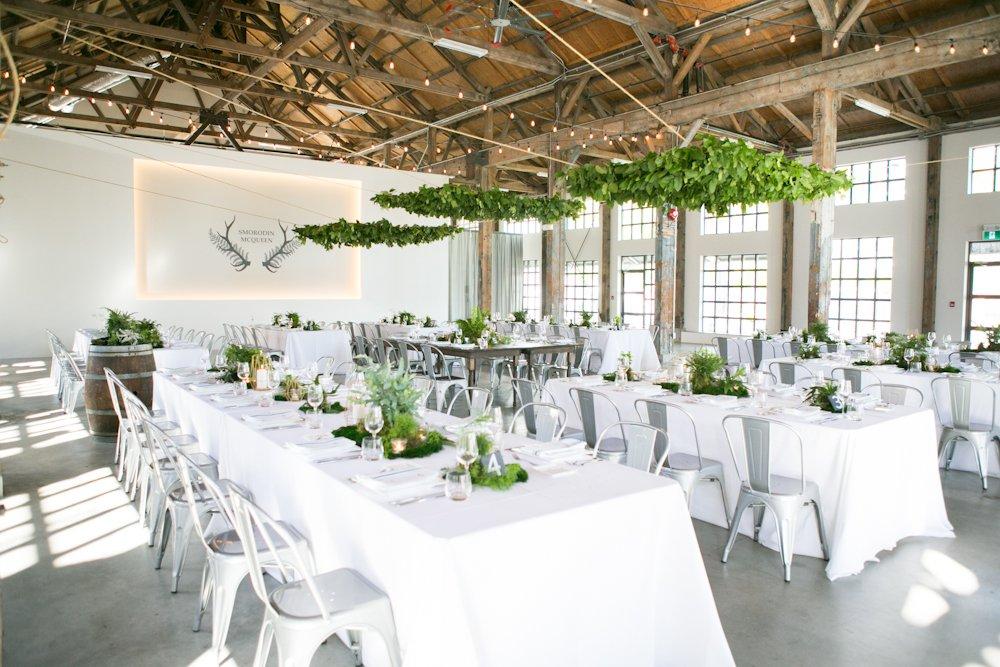 Wreaths
Wreaths made from florals or greenery are a classic wedding ceiling decor idea, especially popular as wedding tent ceiling decor.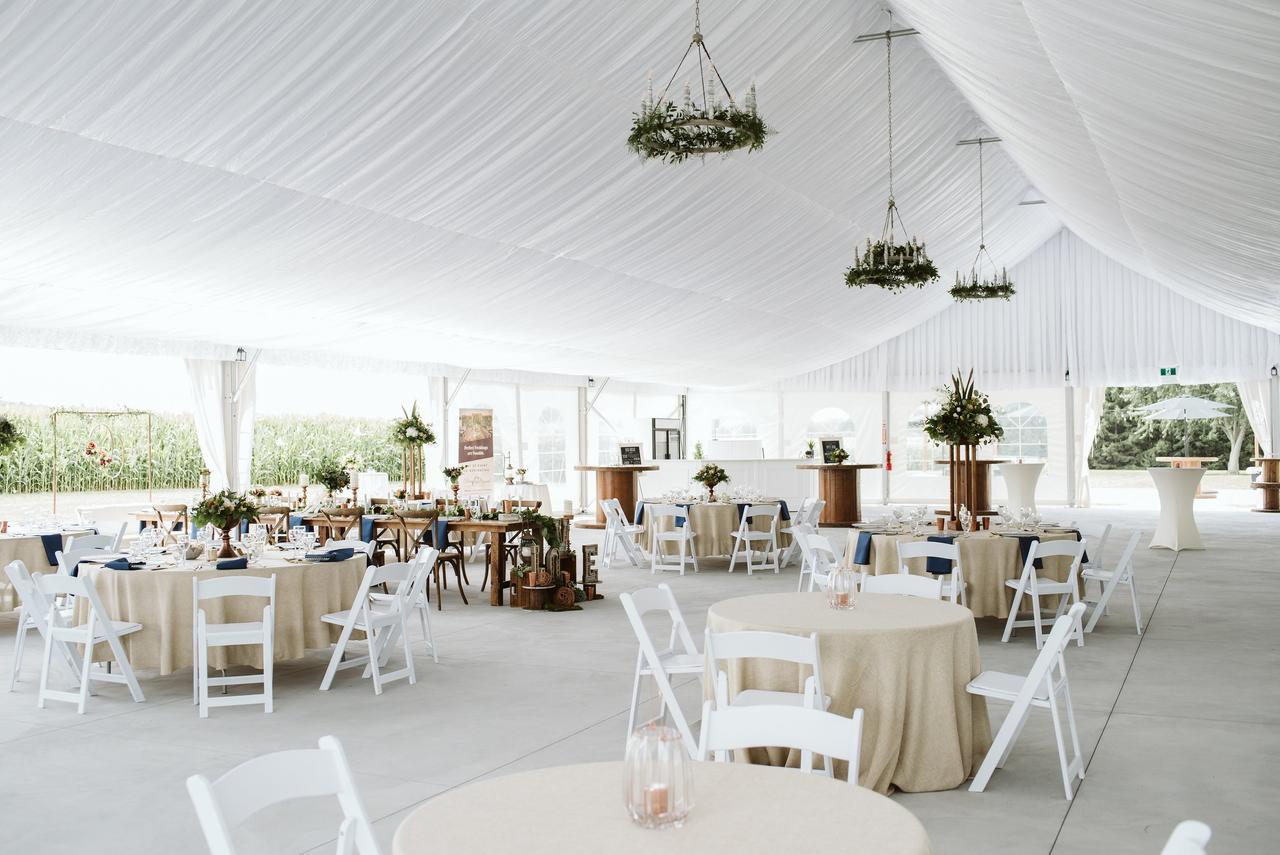 Floral hoops
If you like circles, but want something a little different from a wreath for your ceiling wedding flower decorations, ask your florist for some floral hoops to hang in your space.
Wisteria canopy
For a luxury look, rent and install a silk wisteria canopy to really dress up the stage for the bride and groom.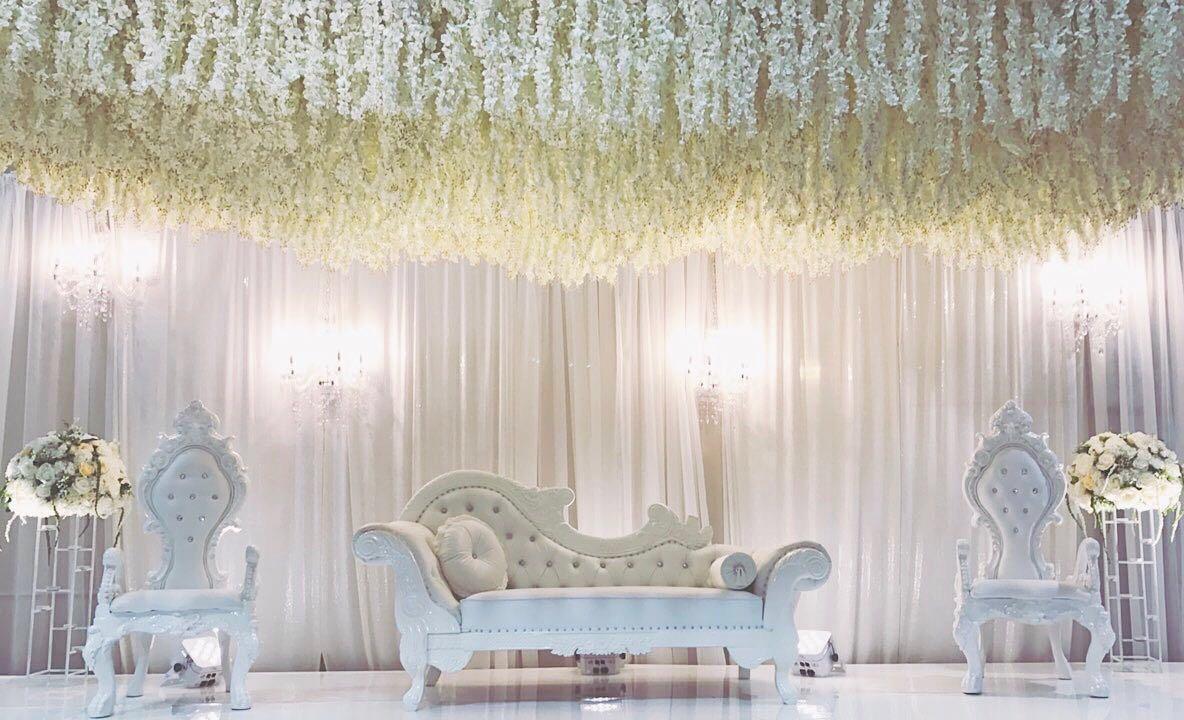 Lighting
Strings of fairy lights
For a magical effect, hanging multiple strings of fairy lights will wrap you and your guests in a twinkling glow. This looks especially gorgeous adorning the ceiling of a clear wedding tent style.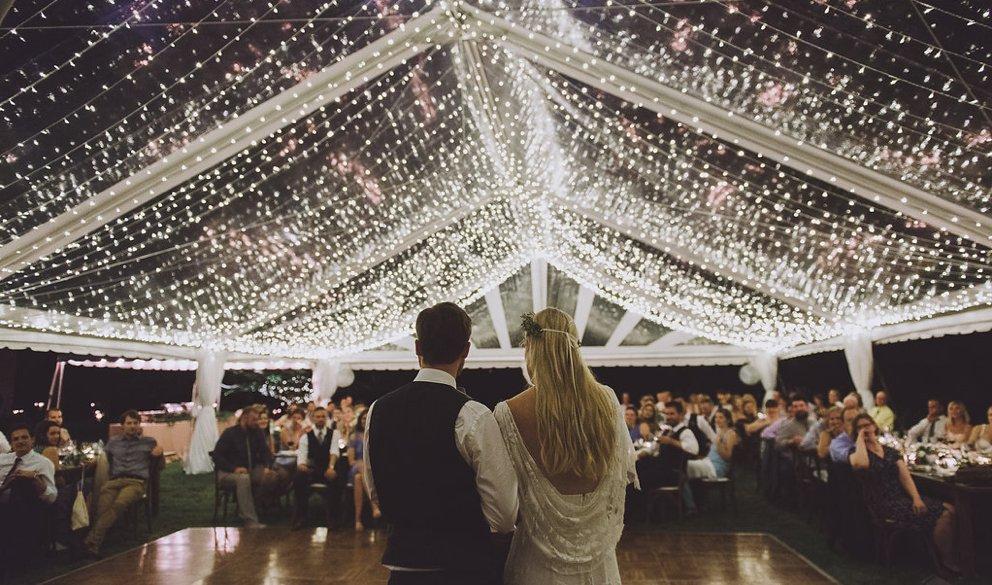 Edison bulbs
If you're looking for a vintage or rustic vibe, strings of Edison bulbs will create a warm glow.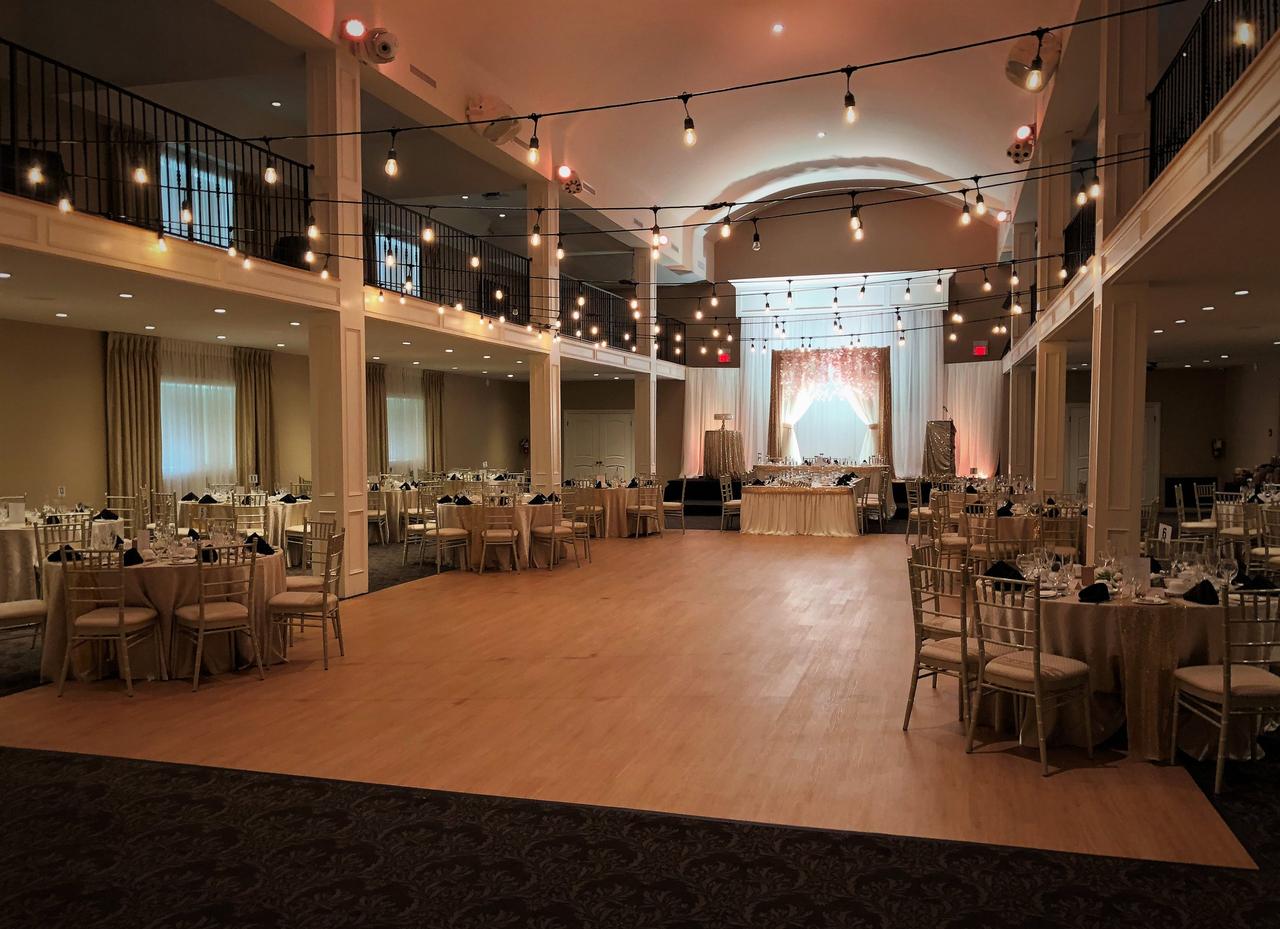 Custom light fixtures
For a more custom look, light up your venue with unique light fixtures. We love these woven shades for a boho-chic vibe.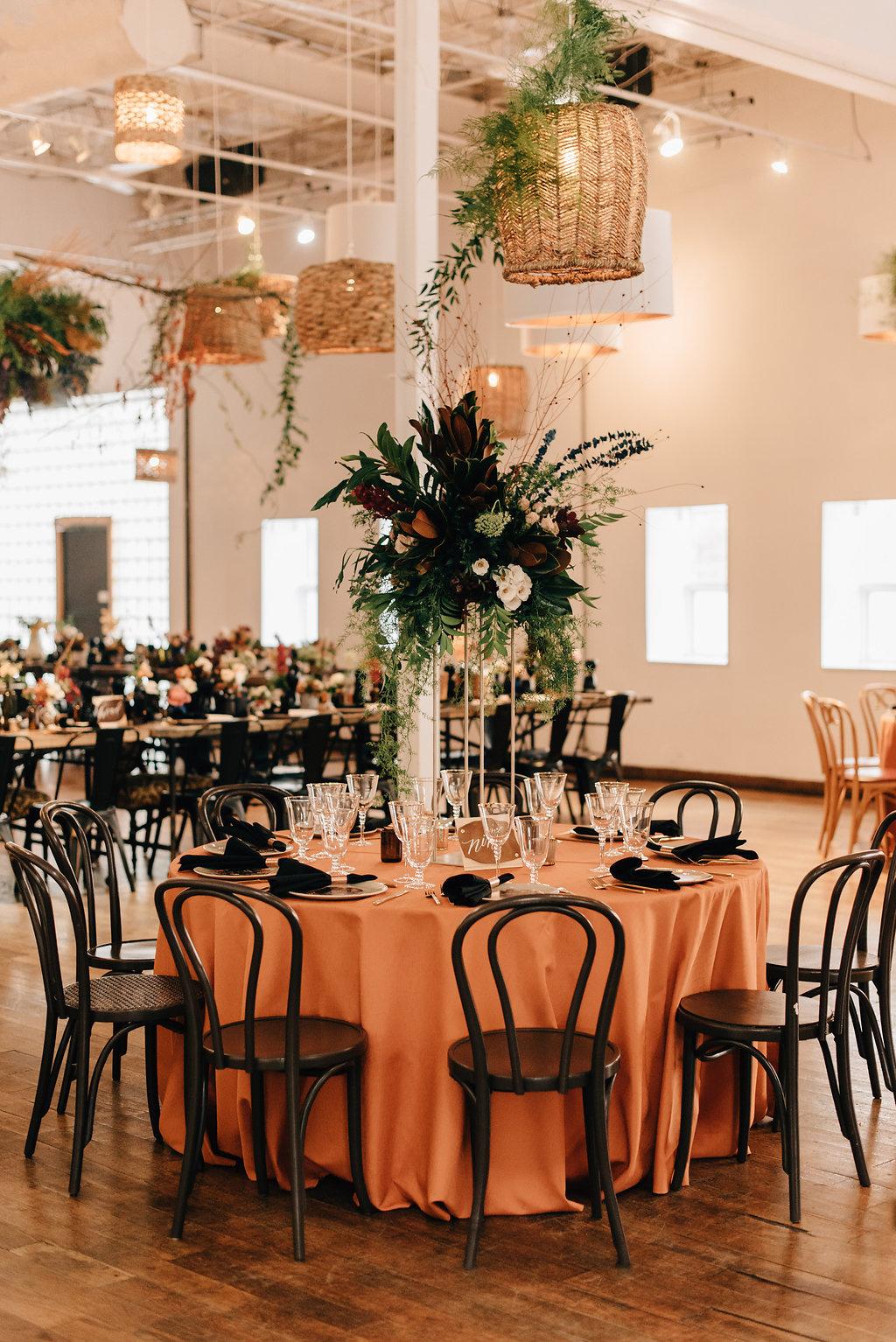 Chandeliers
You can never go wrong with chandeliers to add some sparkle to a rustic barn wedding venue or to amp up the elegance of any type of wedding reception space for that matter.
Uplighting
Uplighting is an effective way to decorate your venue ceiling without a big expense. It's easy to set up and take down too!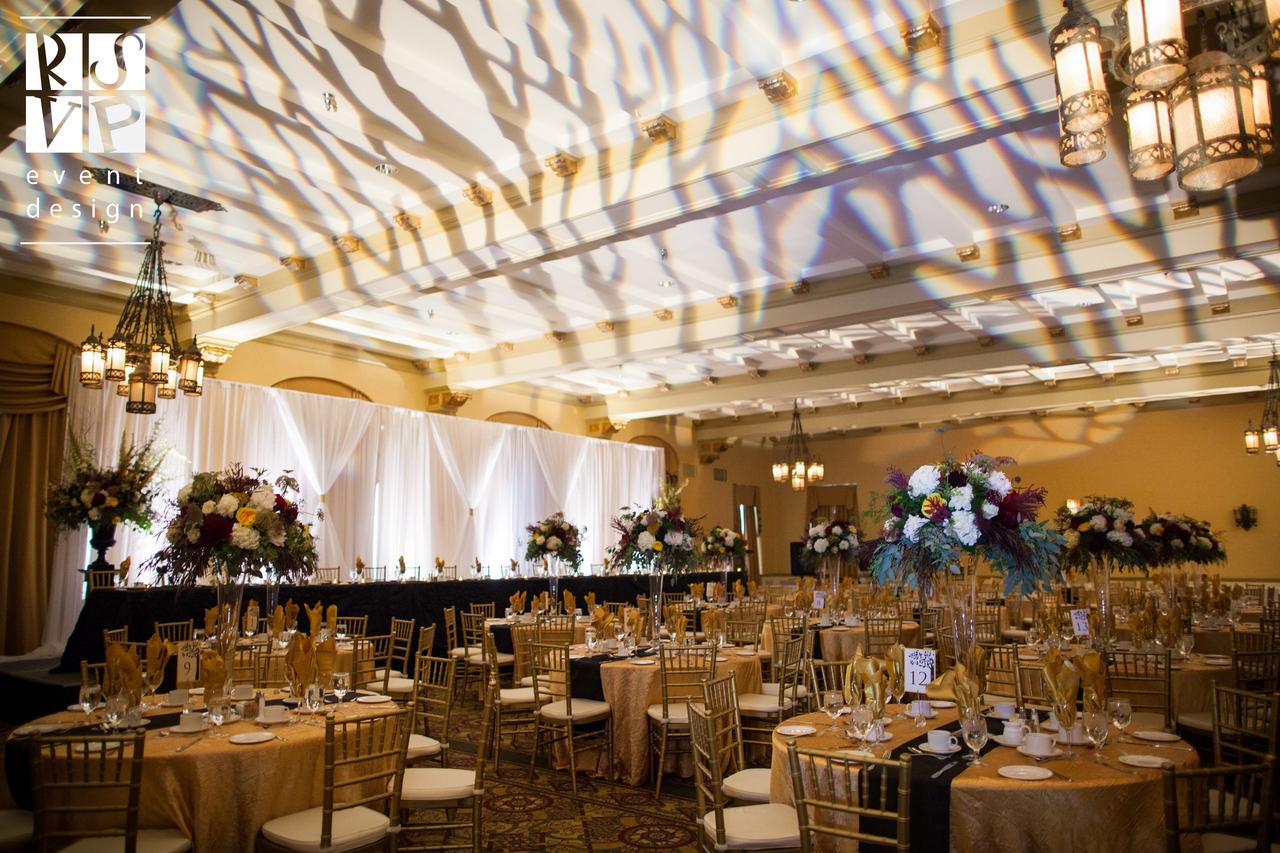 Elevated decorations
Lengths of ribbon
Ribbon decorations are colourful and festive. You can hang lengths from wreaths, create swags (as shown here) or even make wedding bunting out of ribbon. For a budget-friendly alternative to ribbon, use paper streamers instead.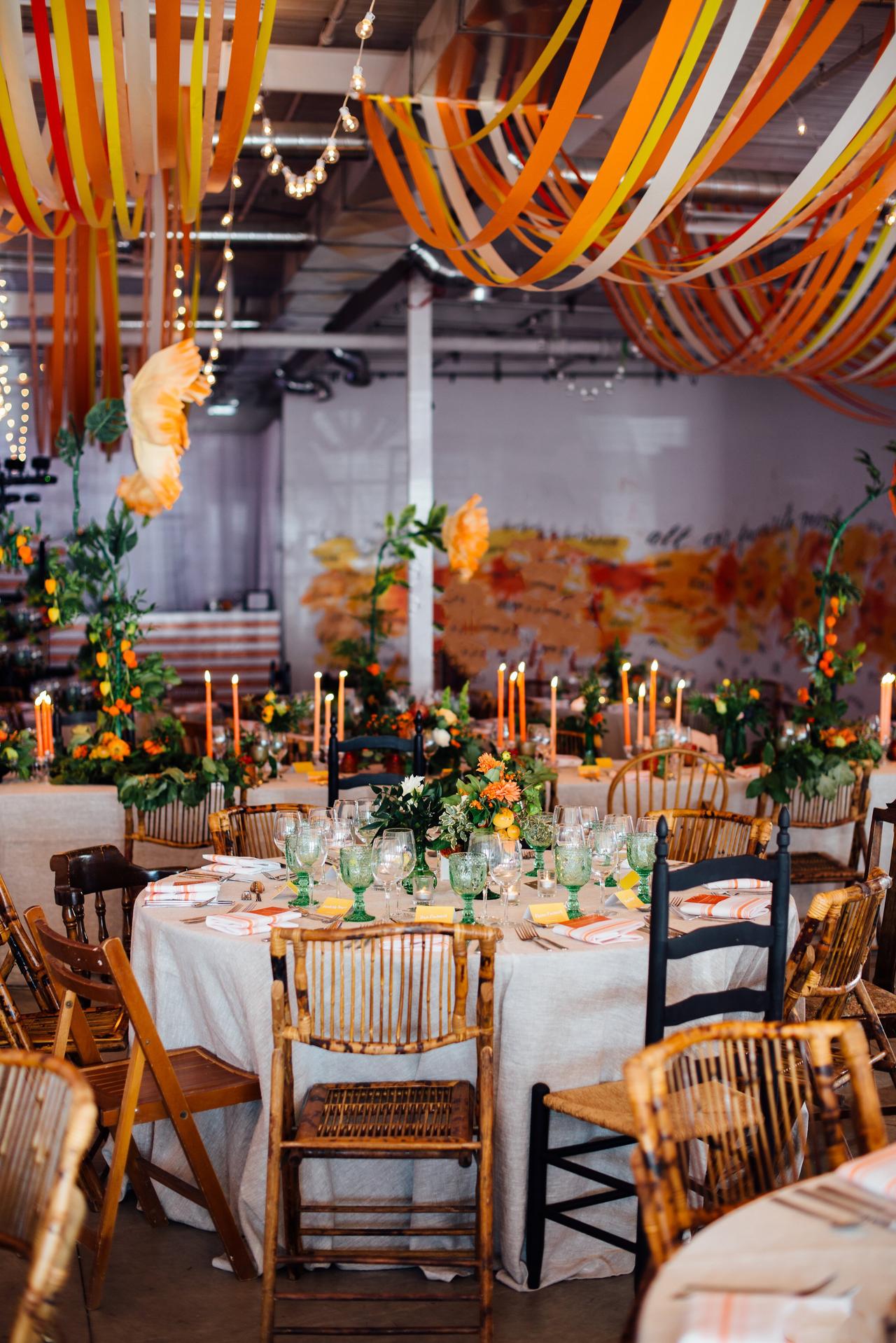 Garlands
Make your venue a little cozier with some green garlands elevated about your reception tables.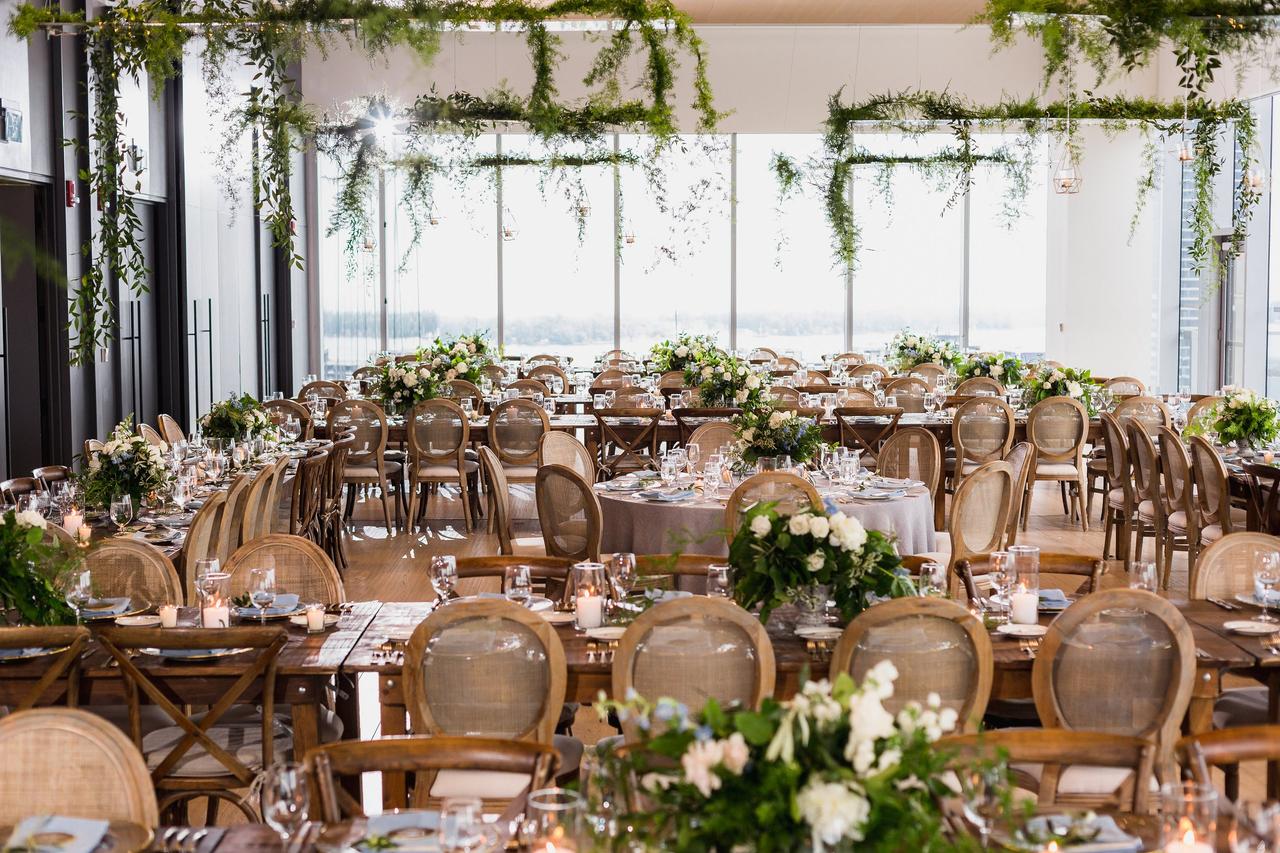 Tassels
Hang tassels in your wedding colours to add a fun and festive element to your ceiling decor.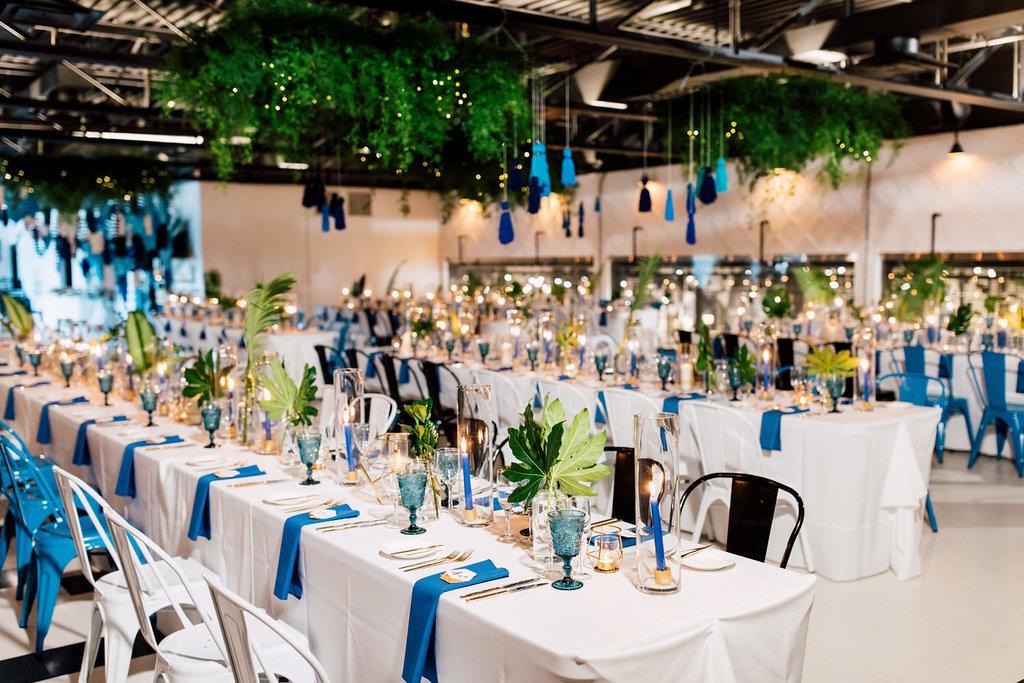 Paper lanterns
Paper lanterns in multiple sizes, either all-white or in your wedding colours packs quite the punch in any style of wedding venue.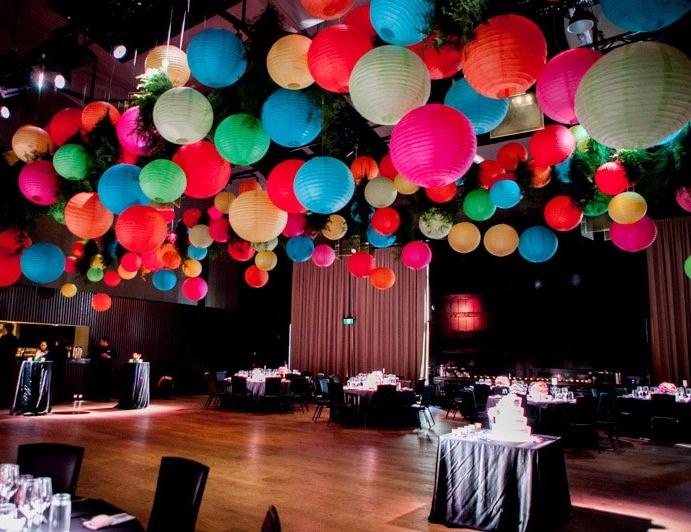 Tissue pompoms
For something a little different, we love these paper pompoms. You can even DIY them with your wedding party.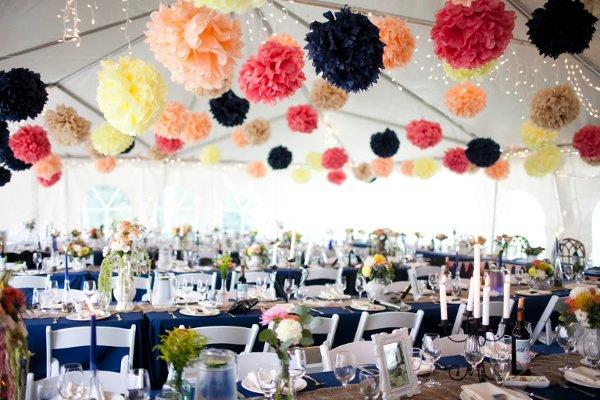 Balloons
Custom balloon decorations are a popular wedding decor trend, and it's easy to understand why. Balloons are versatile, put smiles on guests' faces and scream "let's party".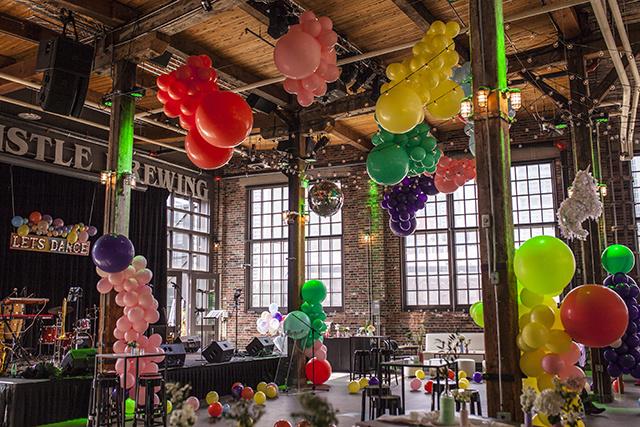 Disco balls
For the dance lovers out there, how about hanging multiple disco balls throughout your reception space. In tandem with lighting, you can create a dazzling effect.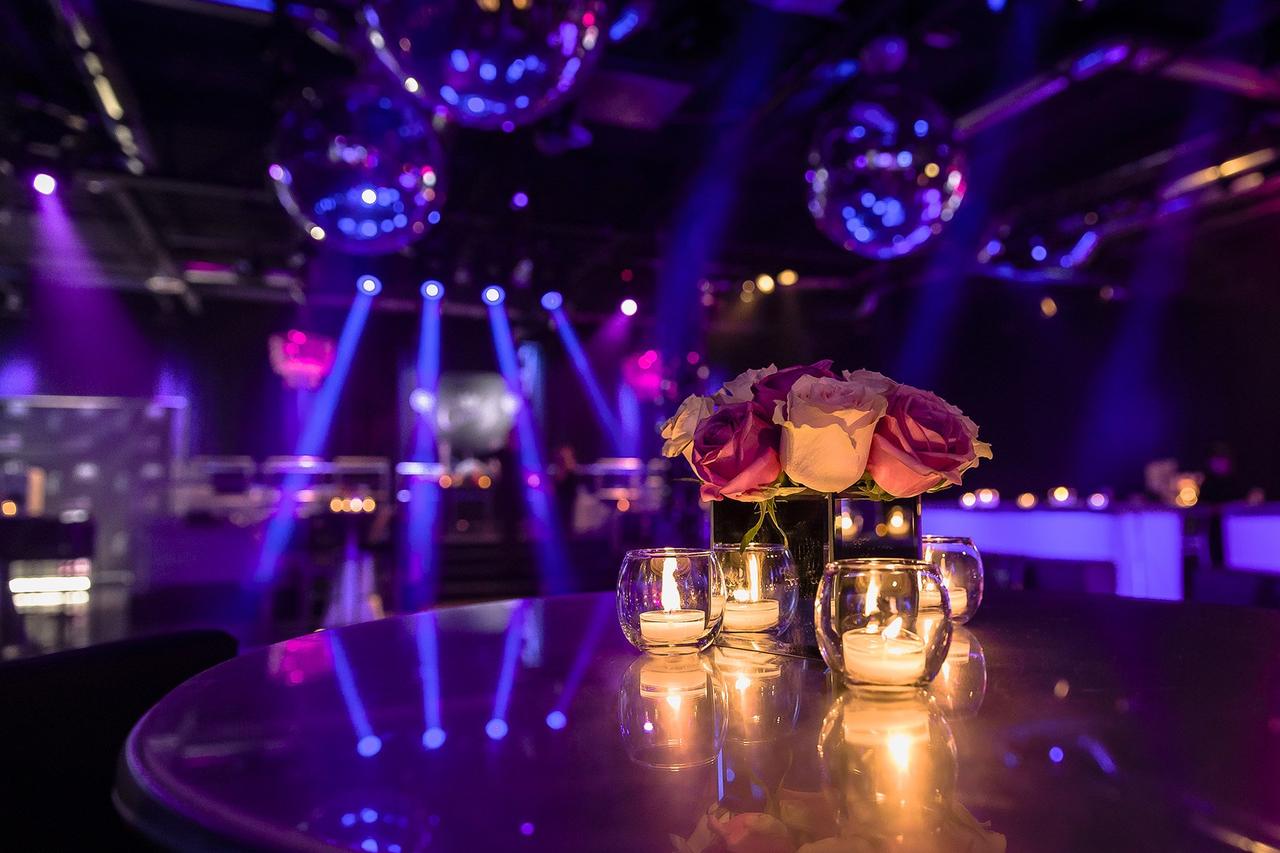 Find wedding florists, event rentals and wedding decorations on WeddingWire »