12 Ways to Make Your Wedding Guests Love You Even More
Be the host or hostess with the mostest and make sure your wedding guests have a really good time.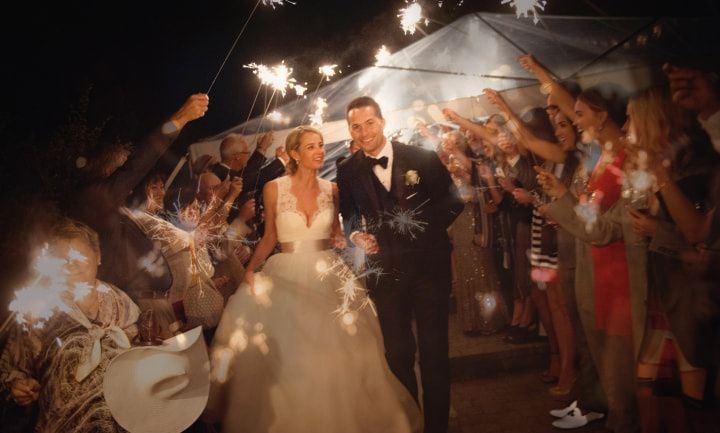 Okay, so your wedding guests already love you, that's a given. But do you want them to adore you ten times more on your big day? Duh! From hosting some pre-ceremony events to throwing in a few surprises at your reception, these are some tried and true ways to make sure your guests have a good time.
Here are a few ways to make your wedding guests love you even more.
Plan some pre-wedding group activities
Get your wedding guests mixing and mingling with a few pre-wedding activities. Host a cocktail hour before the main event or, if you've got a lot of out-of-towners on your guest list, bring them together for a welcome party before the big day.
Keep the ceremony concise
We are all for respecting traditions, but keeping your wedding ceremony interesting is key if you want to keep your guests' energy levels high. No, you shouldn't race to the altar or cut down your wedding vows, but do try to include meaningful moments and eliminate any unnecessary parts. If something bores you, there's a good chance it'll bore your guests, too.
Have an open bar
You know what always keeps a party going? An open bar. Let your wedding guests indulge a little and pick up their drink tab for them. The extra dose of liquid courage will probably have your pals pulling out some awesomely embarrassing dance moves. If this simply doesn't fit your wedding budget and you need to save money on your wedding bar, you could opt for a limited bar or toonie bar to make things a little easier on you and your guests' pocketbook.
Offer meal options
You don't have to create 27 different dishes to keep your guests happy, but having a few options available makes a huge difference. When crafting your wedding menu take your guests' dietary needs into consideration and have at least one veggie/vegan option and a few different mains. This will save your guests from getting hangry.
Set up a wedding website
It's the online source to share all your wedding details with your guests – from your wedding hashtag to itineraries. Bonus: invite them to use our WedShoots, app to instantly share their photos with you and other guests.
Reserve a block of rooms
Finding accommodations can be a pretty stressful process, so take care of it for your friends and family. Reserve a block of rooms at a hotel and ensure that your friends and family get a discounted rate. This is a cheaper and easier option than asking them to hunt for their own Airbnbs, plus it'll allow them to mix and mingle after your after party. Don't forget to post about the block of rooms you've booked on your wedding website!
Register for gifts
Your friends and family want to contribute something to your new life together, and while some may insist on choosing gifts for themselves, many just want to know what you would like or need. Make it easy for them by creating a wedding registry with a variety of gifts at various price points and make sure there are plenty of items to choose from the week before your wedding. Remember to send a thank-you note for every gift you receive.
Book transportation
Pick-ups and drop-offs are always a plus. They save your wedding guests from trying to hail cabs in the wee hours of the morning or coaxing their plus ones into being their designated drivers for the night. Bonus: giving your friends and family transportation is a surefire way to get them to stay until the end of your event.
Allow song requests
Yes, you probably spent a good chunk of time crafting an immaculate wedding playlist and giving up control is the last thing you want to do. But, hear me out. Your wedding guests may actually enhance your tracklist. After you've played all the important songs, like the first dance track and the garter toss anthem, give your guests free reign to request whatever they want. They may think of some awesome throwback songs that you forgot existed.
Be smart with your seating plan
Creating your seating plan will be a labour of love. While you may be tempted to throw your guests at any old table and carry on with planning, we urge you to do some serious thinking when it comes to planning out seating. Here are the golden rules that you should keep in mind: don't seat the elderly near the speakers, don't seat feuding guests near each other, keep children near their parents or at a designated kids table and put people with similar interests together.
Plan a few fun surprises
Keep things exciting for your friends and family by adding a few extra surprises to your reception. Need some entertainment ideas? Wedding photobooths are always a crowd-pleaser (and will probably provide them with a killer new profile pic). In the market for something a bit more activity-based? Give your musician or DJ a breather near the end of the night and hook up a karaoke machine. You'll be treated to some amazing and downright hilarious solos that will keep your guests laughing until the venue shuts down.
Host an after party
Good news, your party doesn't need to end after the reception wraps. In fact, many of your pals may still be down to party. Instead of sending your wedding guests on their way when the venue staff starts clearing up, take the bash somewhere else with a wedding after party. Whether that's your favourite bar or your hotel is your call (and remember, you can always do both). You'll have plenty of time to sleep on your honeymoon.
Set up your FREE wedding website on WeddingWire. Upgrade to Premium Design Plus for a custom domain name and to download your website as a keepsake. »