How to Plan a Wedding Welcome Party
Thinking of hosting a wedding welcome party? Here are some helpful tips for planning the perfect one.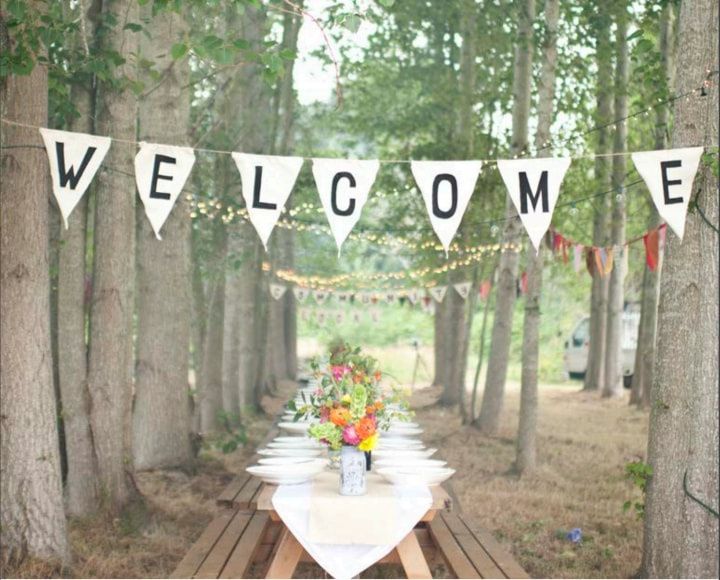 One of the final pre-wedding events is the wedding welcome party. Now, this bash definitely isn't mandatory, but it's a nice touch if you're hosting a destination wedding or have a lot of out-of-towners coming in for your big day. The aim of the event is to get your friends from afar settled in before the wedding revelry begins. It doesn't have to be super fancy, in fact, keeping things easy and breezy is the way to go.
Here's everything you need to know about planning a wedding welcome party.
Set a budget (and stick to it)
The first step, of course, is setting your budget. You'll most likely be footing the bill for this event, so work within your means. Try not to go crazy with decor or an elaborate menu, it's really all about the company.
Decide on a date
Aim to host your wedding welcome party a day or two before your nuptials. Hosting your wedding on a Sunday? Think about doing it on the Friday or Saturday night. Remember, you can always double up and pair it with your rehearsal dinner.
Craft your guest list
Doing a destination wedding? You should invite everyone who needed to take a plane, train or automobile into town to be a part of your big day (which is most likely everyone). If you're hosting your wedding near your home, you can shrink down your guest list quite a bit. To save on money (and stress) we suggest sticking to your wedding party, family members and out-of-towners.
Choose your location
Hunt for a place close to your guests' accommodations (or even in the same hotel) to make it easily accessible for your guests. They're probably a bit exhausted from the journey in, so you don't want to make them trek too far. We also recommend finding a venue that doesn't need too much decorating. You've probably already invested a ton of money in the decor for your actual wedding day, so the last thing you want to do is place another order for extra bunting, linens and centerpieces.
Send out invites
If you're on top of your planning game, you can simply add an enclosure about your wedding welcome party in with the invitations for your big day. Taken a few extra weeks to hash things out? Feel free to send something a bit more casual, like an e-vite (there's no need to be super formal with this one).
Plan your menu
Don't go crazy and plan a multi-course meal with a full bar if you can't afford it. A few simple hors d'oeuvres and a couple bottles of bubbly should do the trick. Note: if you're tacking your wedding welcome party onto the end of the rehearsal dinner, you may be able to forego the food altogether.
Prep a toast
Once you have all your guests gathered in a room, it's time to actually welcome them. Prep a quick speech to thank them for coming in from out of town. You don't have to burn the midnight oil crafting a long and eloquent toast, keeping things short and sweet is the way to go. After this all that's left to do is mix, mingle and enjoy the party.
Manage your guest list using WeddingWire's FREE Guest tool »