5 Things Every Toronto Wedding Welcome Bag Needs
Want to craft the ultimate Toronto wedding welcome bags? Here's your shopping list of Toronto-themed goodies.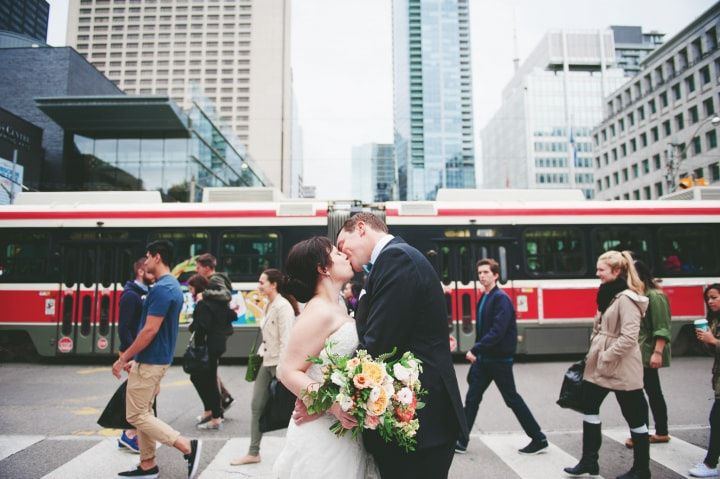 Do you have a few out-of-towners coming in for your Toronto wedding? If you're nodding your head, it's time to get to work. Flex your creative muscles and craft some welcome bags to make them feel special when they arrive. While the base of every welcome gift stays pretty much the same from city to city, you'll definitely want to add some local flavour to yours.
Here are a few Toronto-themed goodies worth adding to your wedding welcome bags.
The essential maps
Every welcome bag requires a map, but for Toronto you'll need more than one. Gift your guests with a map of the city as well as a guide to the TTC. Remember, switching from the Bloor-Danforth line to the Yonge-University line may be a slice of cake to you, but your out-of-towners may find it a touch tricker.
TTC tokens (or a day pass)
Toronto isn't a difficult city to travel around, but your guests are going to need a way to get from point A to point B. Sure, you could ask them to hail cabs or order Ubers, but don't forget about the old and faithful TTC. Slip a few tokens or a day pass into their wedding welcome bags so they can see the city like locals.
Local snacks
Your guests are probably going to be hungry when they roll into town, so give 'em something to munch on. Toronto is a foodie's paradise with no shortage of amazing eats, but we suggest sticking to something easy and snackable. The Toronto Popcorn Company creates a bevy of mouthwatering gourmet flavours (sea salt and maple, garlic parmesan and vanilla sponge cake are just a few of the options) created right here in our fair city.
Some craft brews
If there's one thing Torontonians love, it's craft beer. Stuff your wedding welcome bags with a few of your favourite ales, IPAs and lagers to show them that our local breweries do it the best. Need a bit of direction? Fan favourites include Steam Whistle, Left Field, Bellwoods, Halo and Amsterdam. Pro tip: limit it to one or two beers, you don't want your guests showing up buzzed to your ceremony.
A bit of hangover help
Want your guests partying with you until the crack of dawn? Well, they're probably going to need a bit of help rolling out of bed for your post-wedding brunch. Yes, Advil is always welcome, but why not add a bit of local flavour to their emergency kits, as well? Sneak a few bags of the Drake General Store's handy dandy Hangover Tea into their bags to help kick their alcohol-induced aches and pains in the butt.
Find wedding welcome bag gifts and favours for your guests on WeddingWire »