5 Things to Tell Your Out-of-Town Wedding Guests
Bringing in a few out-of-towners for your wedding celebration? Here's everything you need to let them know.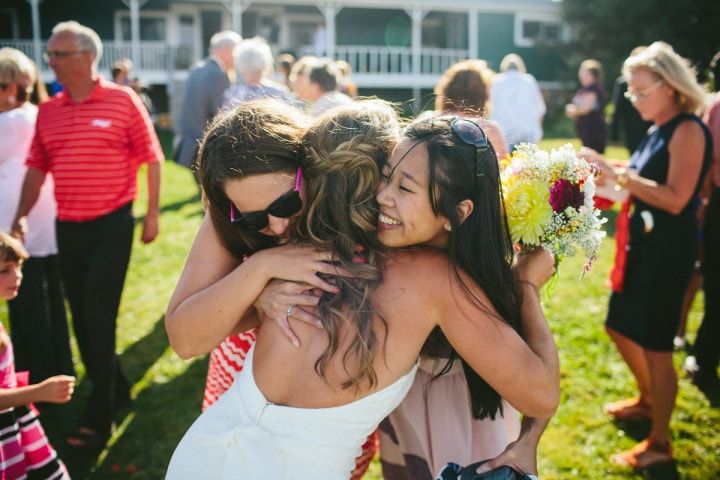 There's a good chance that not all of your wedding guests will hail from your home city. You may have a few university pals are flying in from across the country or some relatives heading over from abroad all to celebrate your big day, and that is awesome. Just remember, these guests are going to need a bit of info to get settled and prepared for your big day. From offering up event info to giving them a list of emergency contacts, this is everything you need to do to be the hostess (or host) with the most.
Here's what to tell your out-of-town wedding guests.
Event info
Don't leave your out-of-town guests to fend for themselves up until your wedding day. Try to squeeze in a few pre-wedding events to make them feel welcome. Whether you simply want to include them in your rehearsal dinner or throw them a dedicated welcome event is up to you. If these events aren't open to all guests, don't add the info to your wedding website, just let the guests know in a one-on-one convo or email.
Accommodation info
Booked a block of rooms for your friends and family at a local hotel? Make sure your out-of-towners got the memo. Consider sending those travelling from a distance an email with all the booking info along with the hotel name, address and phone number so that they know to take advantage of it. If they wait too long and miss out on reserving their spot, you can always offer up some suggestions for different hotels nearby.
Transportation info
Yes, nowadays pretty much every smartphone is equipped with maps, but don't skimp out on offering transportation and travel info. Give your out-of-towners a link to a map of your hometown and suggest a few apps that'll help them better navigate the city's transportation system (like RocketMan). Don't forget to inform them if you've hired a shuttle service to get them to and from your wedding.
Recommendations
Let them know the lay of the land. If your visiting guests aren't regulars in your hometown, you'll want give them a few pointers on the best places to scope out. Put together a list of amazing restaurants, must-see galleries and your favourite places to shop. They won't want to spend their entire stay cooped up in their hotel room, so the more suggestions the better. Tip: make you're out-of-town guests feel extra special with a welcome basket (containing snacks, keepsakes and essential info) in their hotel room. 
Emergency contacts
You'll want to let your out-of-town guests know who to reach out to in case of emergency. While you may be tempted to put your own info down first, save yourselves for a last resort (remember, you'll be tied up with planning and prepping in the days leading up to your wedding). Use a trustworthy wedding party member, like your maid of honour or best man, to help guide them through any issues that may arise.