How to Tell Your Wedding Guests Things They Don't Want to Hear
Your wedding guests will probably have a bone to pick with you about one or two things. Here are some tips on how to deal.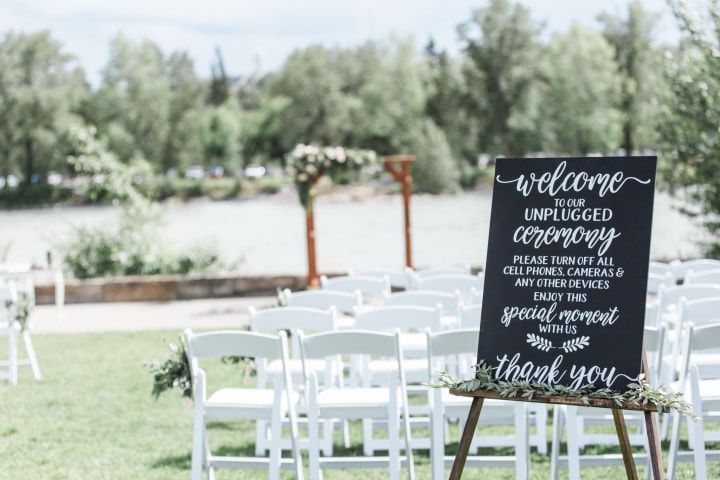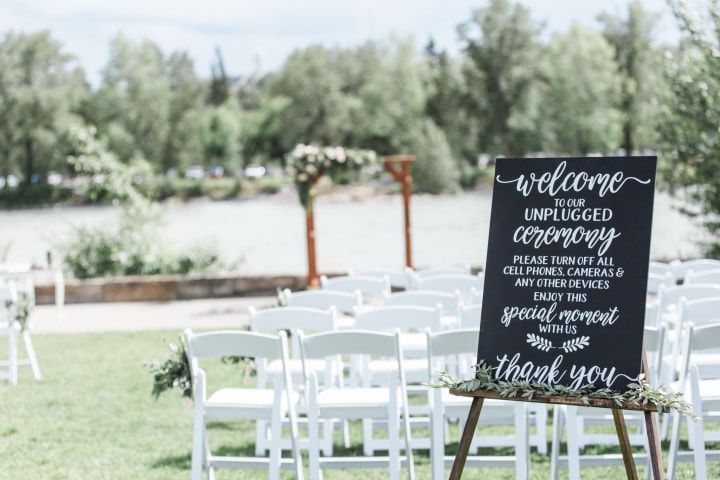 Weddings involve a lot of tough decision making, and a few of those decisions may not be so popular with your wedding guests. If you've opted not to allow plus ones or skipped having an open bar, a handful of them may not be so stoked. But, good news, there are easy ways to deal with these situations, and most of them involve using stationery and your handy dandy wedding website - so you can skip the awkward conversations.
Here's how to tell your wedding guests things they don't want to hear.
When you're not allowing a guest to have a plus one
No one likes being told that they have to fly solo at a wedding, but sometimes it needs to be done. If you're not allowing a few of your guests to bring along a plus one, make it clear on your invitations by just writing their name (no "and guest"). There's a good chance you'll receive a phone call about it, too, so be prepared with an explanation. You can keep things short and sweet by stating that you had to cut your wedding guest list down to stay within budget or simply say that you wanted to keep your wedding intimate - either way, they'll understand.
When you're not allowing kids at your wedding
If you're not inviting kids to your wedding, make it clear at the get-go by putting it on your invitations. That way your friends and relatives will have plenty of time to make arrangements before your big day. Writing "no kids" on your stationery is a far cry from good etiquette, so be specific about who you're addressing the invitation to, instead. By not including the kids' names, their parents should get the point. If all else fails, have the info clearly stated in the FAQ section of your wedding website.
When your wedding has a dress code
Having a dress code in place at your wedding probably won't come as a surprise to your guests - in fact, they'll probably be stoked that you gave them a bit of direction. After all, nobody wants to feel like Elle Woods when she showed up at that fake costume party. We suggest putting this info on invitations and including it in the FAQ section of your wedding website.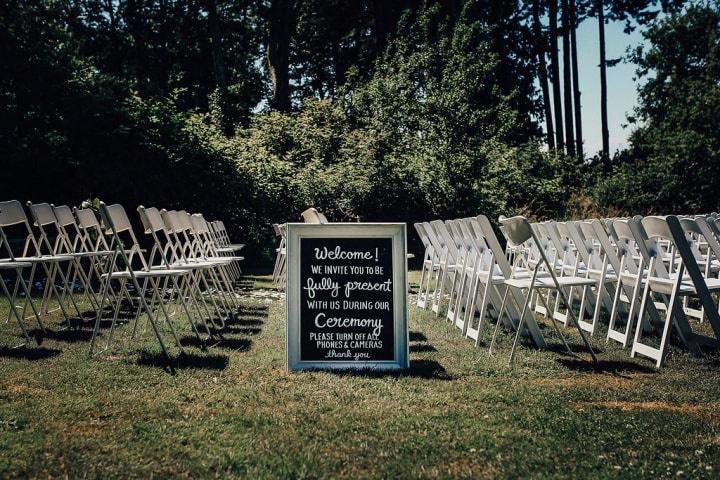 When you're not allowing phones or cameras during the ceremony
Requesting that your guests take a digital detox for less than an hour really isn't asking for much. Instead of having your MOH or best man collect your wedding guests' electronics when they arrive at the venue, let them know way in advance. Include it in your invitations, write in in the FAQ section of your wedding website and have it posted on a welcome sign near the entry of your ceremony venue. This should save you from squinting at camera flashes and having your vows interrupted by the iPhone text tone.
When there won't be an open bar
Everyone loves an open bar, but they are pricey, opting for something more fiscally responsible is totally understandable. Unfortunately, the absence of one may let down a few of your wedding guests (especially those looking to turn your wedding into a wild party). Instead of surprising them upon arrival, let them know the details on your wedding website. And, remember, no matter what type of bar you go with – cash, limited, toonie or open – your guests will find a way to enjoy themselves.
When you have reserved seating
Scenario: a guest arrives at your ceremony and tries to snag a spot in one of the front rows. Problem: those seats have been reserved for your closest friends and relatives. So, how do you remedy this situation? Well, we suggest being proactive and adding reserved signs to these chairs before your wedding guests arrive (stopping it in its tracks before it even happens). You may also want to ask one of your trusty wedding party members to keep an eye on the reserved spots and kindly usher any non-VIPs to a row farther back if they manage to miss the signage.
Set up your FREE wedding website on WeddingWire. Upgrade to Premium Design Plus for a custom domain name and to download your website as a keepsake. »