8 Ways to Handle Guests' Food Allergies and Dietary Restrictions
Serving guests with food allergies and dietary restrictions? Here's how to deal with your reception menu.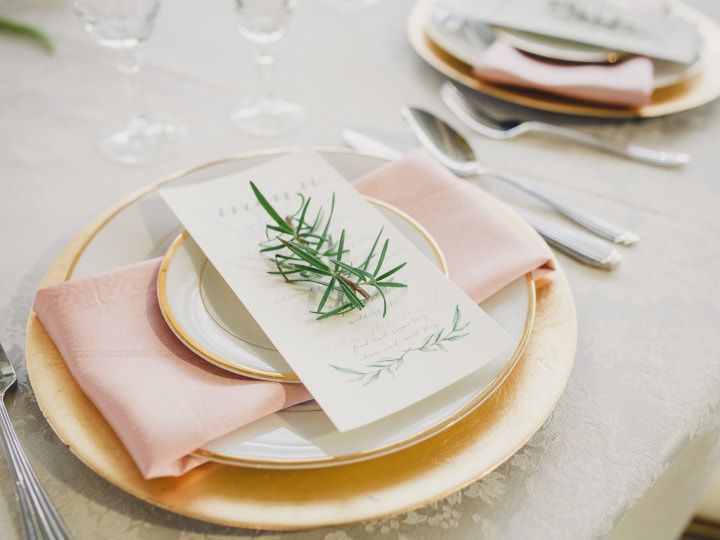 So, you've just put the final touches on your reception menu. You've figured out the perfect multi-course meal to wow your guests and you've picked out a jaw-dropping wedding cake to top things off. Awesome! But your job isn't finished just yet. You've got to sort out dishes for your friends and family with food allergies and dietary restrictions - and this may even include yourselves. From getting the info early to labelling your menu, here's what you need to do.
Here's how to handle your guests' food allergies and dietary restrictions.
Get the info
There's no way of knowing about your guests' food allergies and dietary restrictions unless you ask. Leave some space on your response cards for them to explain their sensitivities, especially if their allergies are severe. This isn't a place for your guests to explain what they'd like to see added to or omitted from your menu, it's a place where they can state if their vegan, vegetarian, pescatarian, gluten-free or allergic to certain foods.
Find the right caterer
Most caterers are cool with adjusting their dishes to suit your guests, but you'll definitely want to clear it with them first. When you sit down for a Q&A with them make a point of asking about dietary restrictions. They're trained professionals, so they probably have a few tasty tricks up their sleeves.
Show them the menu
No, giving your guests a sneak peek at your menu won't ruin your reception - it'll actually help. To avoid any snafus, ask your caterer to provide you with an ingredient list for all the dishes they plan on cooking up. You can show a copy of this to your friends with allergies or restrictions so that they can give it an OK before your big day. Tip: you can also post your menu on your wedding website for your guests' reference.
Labelling = your BFF
If you've opted for a buffet or food stations make sure you note which dishes are vegan, vegetarian, GF or nut-free. This will help your guests hunt down the dishes that they actually can eat.
Let them hit the buffet first
This is another one specific to food stations and buffets. As you know, these catering styles involve a lot of maneuvering and shuffling, especially if there are large crowds involved. This usually ends in serving spoons landing in different dishes - which can be a nightmare for people with allergies or food sensitivities. Let these guests jump the line and serve themselves first to help avoid cross-contamination. Yes, your other guests mouths may be watering, but they'll have to wait their turn.
Make them their own meals
If your menu isn't compatible with certain guests' diets, you may have to ask your to caterer whip up something special just for them. If your guests only need a few tweaks made to the dishes you're already serving, even better. Just make sure the chef knows not to cross-contaminate their meals.
Think about yourselves!
If you, the guests of honour, have certain dietary restrictions, you can base your entire meal around them. Are one or both of you vegan or vegetarian? It is totally your prerogative to serve an entirely plant-based menu to all your guests. However, if you're hosting a ton of omnivores, you may want to consider adding a few dishes outside of your dietary scope to please your entire party.
Do dessert
Just because some of your guests need to sidestep certain ingredients doesn't mean they should miss out on dessert. No, these people probably won't be indulging in a slice of your decadent wedding cake topped high with buttercream frosting, but they should still be offered a sweet treat! If you're hosting guests with food allergies or sensitivities, fill your sweet table with GF, vegan and nut-free offerings. Remember to include labels so that they know exactly what they can and cannot eat. Need a few creative dessert ideas? Read this to learn about a few of our favourite cake alternatives.