Planning Your Reception Menu
The menu is not something you can throw together as an after-thought. Here are a few things to think about while putting together the perfect menu.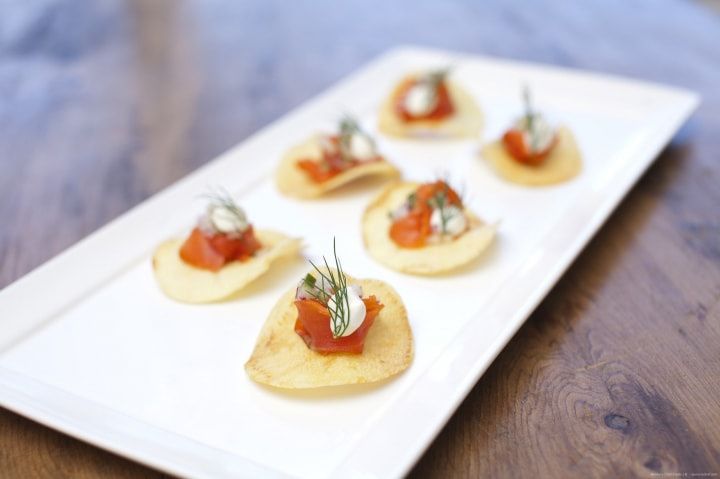 It's important you put a good amount of thought and energy into curating a delicious reception menu! It's not something you can throw together as an after-thought, especially when you've got hundreds of guests to feed. Here are a few things to think about while putting together the perfect menu.
In-house catering vs. outside catering
Find out if your venue provides you with a catering service, and if so, do they have limited options of what kind of cuisine they offer? If you'd prefer an outside caterer to come in, check with the venue and make sure that's allowed. If it is, you'll want to make sure you begin the hunt for a good wedding caterer as soon as you book your location.
Knowledgable caterers
It's best if you hire a caterer who has done weddings at the specific venue before. That way they'll be fully aware of the space, the setup and logistics, and can provide the proper rental equipment that works best for the venue. They can also give you advice on which dining style is most effective in that space.
Taste Testing
When you finally decide on a caterer and it's time to try out different menu options, don't rule anything out right away. Try everything there is to offer from the main entree to potential hors d'oeuvres. You might be surprised what delicious food you stumble upon and want to add to your menu!
Dining style
Think about how you want the food to be served. Do you want to have a sit-down dinner with multiple courses? Or would you rather offer a wide selection of food stations for your guests to choose from? A buffet is the most cost-effective style if you're looking to save money on catering. Depending on the setup of the reception and how much money you're willing to spend, those factors will determine the dining style you should ultimately go with.
Dinner vs. other meals
If you're looking to save money, keep in mind that dinner is typically the most expensive meal to serve. Luncheons, cocktail hours, and brunches won't cost as much money to put on, and can be a creative alternative to a dinner reception.
Dietary Restrictions
It's important to keep in mind the kinds of dietary restrictions some of your guests are bound to have. Think about food allergies, and offer nut or dairy-free alternatives for those who can't tolerate that kind of food. Consider the vegetarians and vegans of the group, and make sure they have options as well. You can collect this kind of information through response cards you send out with your invitations. If you're having an outdoor reception make sure you pick menu items that won't spoil in the sun.