5 Ways to Create a Healthier Wedding Menu
Trying to cut calories without sacrificing flavour? Here are some tips for crafting your wedding menu.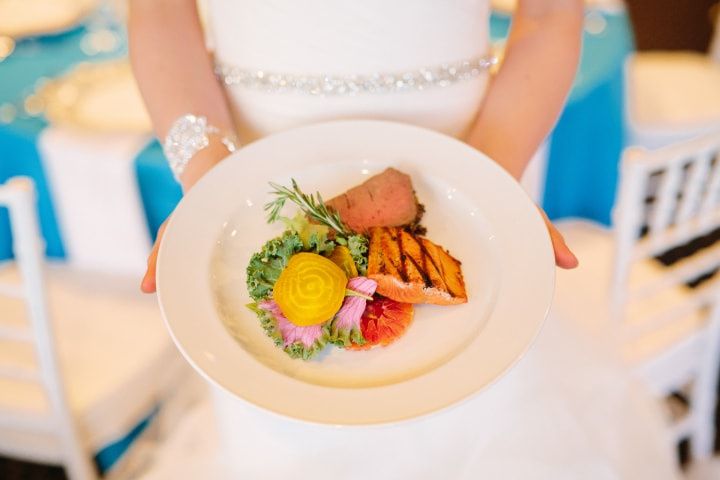 If ever there was a time to indulge, it's your wedding day. But just because you're treating yourself to some treats doesn't mean you need to go crazy with the fried foods and sweets. If you're looking to make your wedding menu a touch on the healthier side, we've got some tips for you.
Here's how to create a healthier wedding menu.
Skip the bread and butter
We all love those restaurants that serve you a basket of warm bread and butter before a meal - but you may want to rethink doing this at your wedding if you're trying to keep your menu on the cleaner side. Instead of serving a doughy starter, we suggest kicking off your meal with some green appetizers and saving the carb-heavy dishes for later. Summer rolls, lettuce wraps and crostini piled high with vegetables are all great options.
Shop local
Getting your ingredients from local suppliers means you'll be getting the freshest and best on the market. They're usually more flavourful than imported alternatives, so you won't have to load them up with salt or sauces to make them taste delicious. Also, because you know exactly where your food is coming from you can be confident that it hasn't been sprayed with any nasty pesticides, which is always a plus when you're trying to be healthy.
Make it interesting
Let's face it, salads can be really boring - so don't stick strictly to spring greens and kale when crafting your menu. There are plenty of healthy dishes that will get your guests' mouths watering without affecting their waistlines. Need some inspo? Sea bass ceviche, grilled chicken with seasonal veggies and noodle-less lasagne are all crowd-pleasers.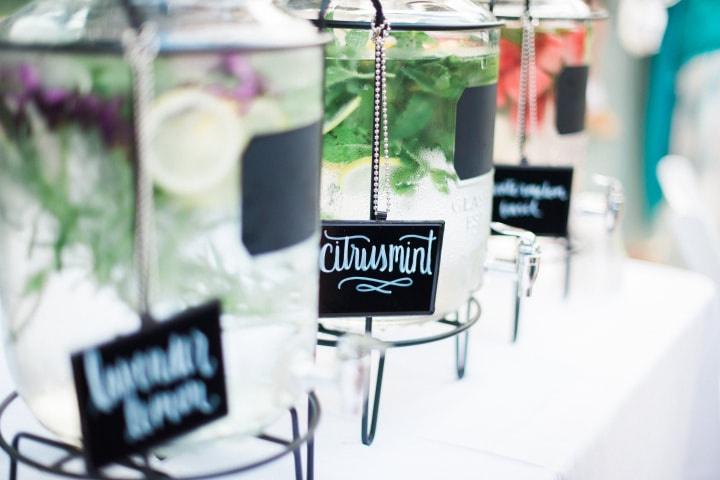 Cut the calories in your cocktails
You'd be surprised how many calories are hiding in your cocktails. Follow RHONY star Bethenny Frankel's lead and craft some skinny beverages of your own for your big day instead of serving Negronis and Moscow Mules. Also consider creating a few non-alcoholic offerings, like detox waters made with heaps of fresh fruit or a melange of iced teas.
Go veggie (if possible)
Now, you don't have to convert your entire menu to being vegan or vegetarian, but having those options is a definite plus in the health department. Try to have at least a handful of meat and/or dairy-free options on hand to balance out the heartier dishes. Bonus: it'll make your plant-based guests super excited for dinner.