Engagement Etiquette 101
Manners matter! Here's a crash course in engagement etiquette so you know how to handle every situation with grace.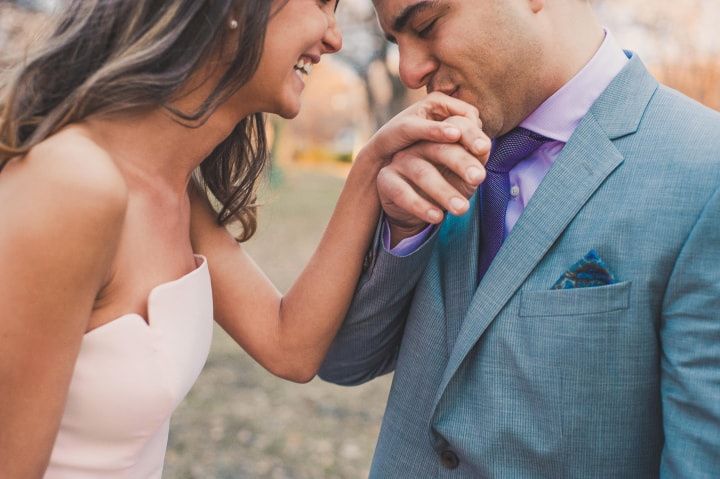 So, your relationship status just went from "in a relationship" to "engaged"? Congratulations are in order! Once you've stopped admiring your engagement ring in every kind of light and telling your fiancé(e) how much you love them, you're going to want to brush up on your engagement etiquette. These are the answers to all of your burning questions, from who should know about your engagement first to whether you really need to have an engagement party.
This is engagement etiquette 101.
Who do I share the news with first?
If you just got engaged, you're probably ready to scream it from the rooftops, but before you break out the megaphone or take to Twitter, there are a few core people you'll need to inform. Who are they? Your parents, grandparents, siblings, close family members and inner circle of friends. After they've heard the news you can start spreading the word on social media.
What do I do if I don't like my engagement ring?
This is a very delicate subject, so tread lightly. After all, your fiancé(e) put a lot of time and money into choosing what they thought would be the perfect engagement ring for you. If the issue is style, wait for a few days to go by and then let them know that while you appreciate it, it's just not your cup of tea. You should also offer to visit the jeweller with them to help pick out your new design. Note that if the reason you don't love your ring is that you don't think it's extravagant or expensive enough, you're going to have to let it slide. P.S. we have this detailed advice on what to do if you don't like your engagement ring.
How do I tell people to stop asking me about wedding dates and details?
As soon as anyone catches a glimpse of your shiny new bling, they'll probably bombard you with questions about your wedding date, venue, theme, colour scheme and every other detail of your impending nuptials. There's a good chance you don't have the answers to any of these – especially if you just got engaged during Covid-19 – so you'll need to find a kind way to say "I have no flipping clue". The easiest (and nicest) response? "We haven't reached that point yet, but I'll let you know as soon as we do".
How do I introduce my parents to my future spouse?
If your parents and your fiancé(e) have yet to meet, you're going to want to get them together as soon as possible. Arrange a meeting at a restaurant, in the comfort of your own home or by video chat (whatever you think would be more appropriate) and be prepared to field lots of questions. You'll want to give your partner a crash course on your parents so that they know what to talk about – and what topics are best left alone. Bonus: check out these 6 tips for introducing your fiancé(e) to your parents.
Do I need to have an engagement party?
Having an engagement party isn't mandatory. If you and your S.O. would rather celebrate your new relationship status alone, go for it. However, it's normal for friends and family to put together a soiree in your honour, and, if this is the case, you can't really turn down the invitation. Keep in mind that engagement parties are awesome for those looking to elope, have a destination wedding or get hitched at a courthouse.
Get started with WeddingWire's FREE wedding planning tools »