9 Factors to Consider When Setting Your Wedding Date
The process of setting your wedding date is a bit more involved than simply pointing to a day on the calendar. Here are eight important factors to consider when choosing a date for your big day.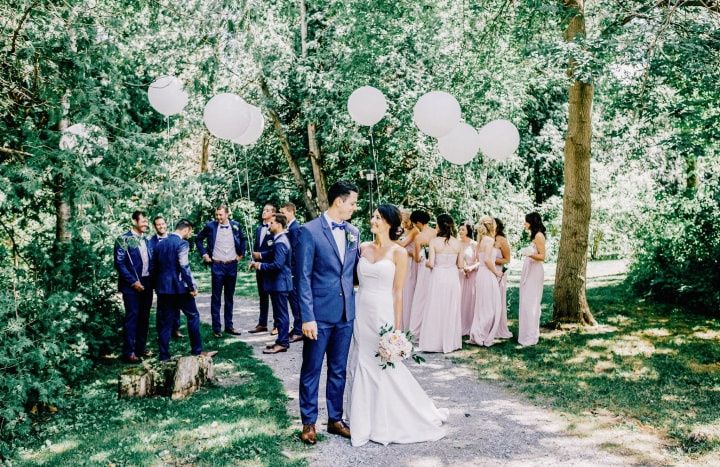 The process of setting your wedding date is a bit more involved than simply pointing to a day on the calendar. This important decision requires quite a bit of research and discussions with family and friends.
Here are nine factors to consider when setting your wedding date.
Timeline
Make sure you are leaving yourselves ample time to plan the event you've envisioned. Consider the size of your guest list, the number of vendors you need to hire, and the overall feel you want to achieve (an elaborate, formal affair will likely take more time to plan than a more casual, laid-back event). Take your personal commitments into account as well—do you have a lot of free time to spend planning your wedding or is your schedule relatively packed? The average wedding takes about a year to plan, but it can be (and has been) done in a shorter amount of time.
Venue availability
Contact your top wedding venue choices to see what dates are available. This will help narrow down dates and you can work from there. If you don't have a dream venue in mind, you can always set your date first and then start hunting for a location.
The season and weather
What time of year do you want to get married? Perhaps you've always dreamed of a spring garden wedding, or maybe you want to have a cozy indoor wedding while the snow falls outside. If you have your heart set on an outdoor wedding, it's particularly important to consider the weather conditions in your area. If summer is notoriously humid and buggy in your region, for example, an autumn wedding might be a more appealing choice.
Holidays
While national holidays certainly aren't off limits (plenty of destination weddings are held over holiday weekends, for example), it's important to be aware that many guests might be unable to attend due to family obligations or conflicting travel schedules. It's also important to consider that vendors may be extra busy with holiday events during these peak times. Pro tip: check out these Canadian wedding dates you should avoid.
Major events
When looking at the calendar, keep your eyes out for big national events like the Stanley Cup Playoffs or Canada Day—you don't want your big day to have to compete with that! Keep local events like conventions, festivals, and parades in mind, too, as these can be inconvenient (heavy traffic, higher prices, crowded streets, booked hotels) to you and your guests.
Friends and family
Before setting your wedding date, be sure to run some potential dates by your nearest and dearest to make sure there aren't any big conflicts. We're talking truly important events that would force a best friend or close family member to have to miss your wedding. Maybe your brother has a big annual work conference he can't skip, or your maid-of-honor is expecting a baby that month.
Other weddings
If possible, leave a reasonable amount of time between your wedding and that of a close friend or family member—especially if there are a lot of overlapping guests. It may be tricky for guests to travel on back-to-back weekends, so when setting your wedding date, try to leave at least a week or two between events.
Your work schedules
Setting your wedding date close to a major deadline or an important event is a recipe for stress. Try to find a date during a time or season that's relatively calm for you and your fiancé(e) at work.
Budget
July, August and September are the most popular months to get married, so getting married during these peak times is likely to cost you more money. Opting for a less popular month, like January or February, could be a more budget-conscious choice.