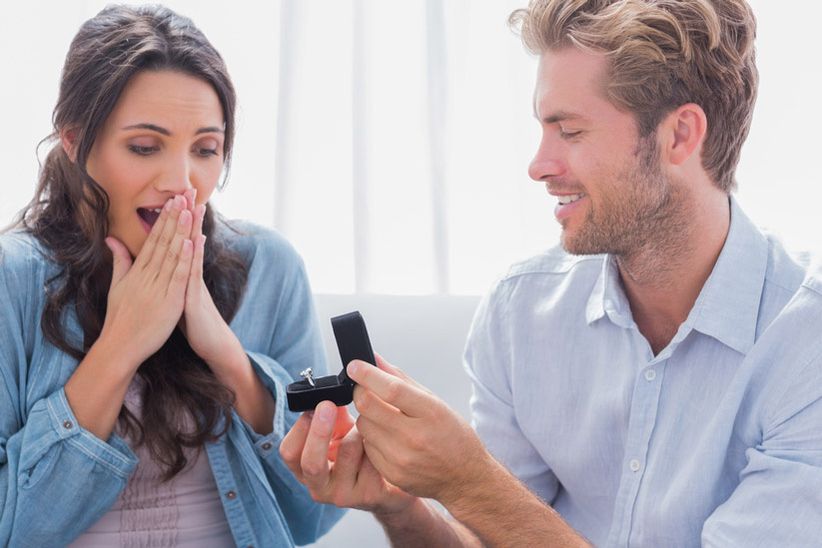 Scenario: your partner plans the perfect marriage proposal, but when they open the ring box you're less-than-impressed with what's inside. If you hate your engagement ring, your first instinct may be to tell them how you feel in the moment, but you definitely don't want to do that. We've created a little etiquette crash course so that you and your fiancé(e) don't duke it out over your new rock.
Here's what to do if you hate your engagement ring.
Don't diss the ring at the get-go
Your partner probably spent months labouring over what type of engagement ring to get you. There's a good chance they had friends and family members do a little recon, snooped around your jewellery box and they took note of what you wear on a day-to-day basis, so the last thing they want to hear is that they did a bad job and you hate your engagement ring. On the day of the proposal, focus on the good stuff and save the critique for later - you don't want to sour the situation with anything negative.
Try not to jump to conclusions
If you've had an image of your dream ring floating around in your brain for a while, and it's nowhere near what your S.O. purchased for you, you're understandably pretty disappointed. Instead, of deciding right then and there that this is not the ring for you, spend a little time wearing it and see if it grows on you. If you still hate your engagement ring after a day or two, it's probably time to sit down with your partner and have a little chat.
Have a conversation
Once you and your partner come down from cloud 9, ask them to have a conversation in private. Let them know how much you appreciate their effort and you understand all the hard work that went into creating or choosing your engagement ring (that'll soften the blow a bit), then cut to the chase. Practice sensitivity and use language that lets them know you love them, but the ring just isn't the style for you.
Brace yourself for a bit of backlash
Your partner probably won't be too thrilled if you hate your engagement ring. They may try to talk you into loving it or do a bit of wallowing, and that's more than valid. Let them express their feelings and offer to work with them to choose something that's sentimental and suits you a little better. Empathy and compassion are key in this situation.
Make an exchange
Now it's time to hit the shops! The last thing you should do is leave them out of the process completely, so go with them to make the return and find something new. If they had it custom made for you, the jeweller may be able to tweak the original design to fit your style. Tip: after you get your engagement ring, here's what you need to do next.
Image: Shutterstock