How to Get the Engagement Ring of Your Dreams
Want to land yourself a truly dreamy engagement ring? Here's how to master the art of dropping hints.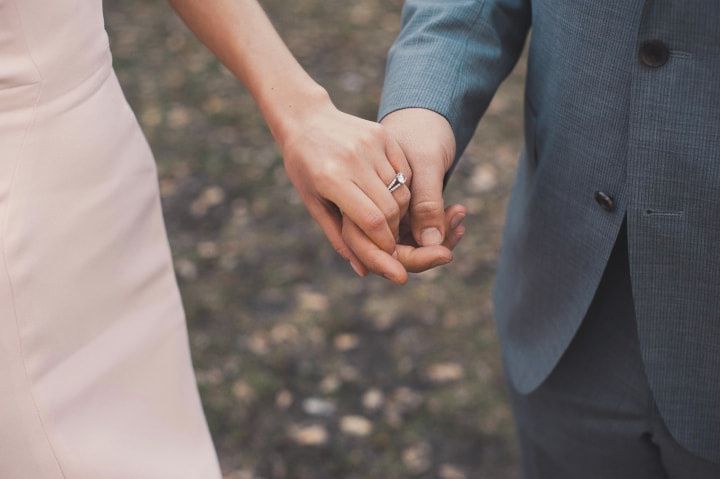 If you know you've got a proposal on the horizon, you've probably already started hunting for that perfect piece of bling. While you may think picking out an engagement ring is a cinch, your soon-to-be fiancé(e) probably feels a bit differently. Instead of leaving it all up to fate, stack the deck in your favour by dropping some hints about your favourite bands and stones. From crafting a Pinterest board to having a serious talk, there are a few things you can do to make your engagement ring dreams a reality.
Here's how to get the engagement ring of your dreams.
Use the internet
Every engagement ring is just a few clicks away, so put your gadgets to good use and start pinning and liking rings that you're into. Creating a private Pinterest board filled with your favourite sparklers is a great way to figure out exactly what you're looking for. If you're not a Pinterest queen, screenshot the ones you see around the web and in our wedding jewellery vendor galleries. Once you've narrowed it down, it'll be a lot easier to point your soon-to-be fiancé(e) in the right direction.
Point them out IRL
If you've got a few newly engaged pals in your friend group, they can be a huge help. Take a look at their bling and point out what you love about it to your partner. Maybe it's the princess cut diamond? Or perhaps you can't stop ogling that rose gold band? Voice these opinions to your bae. Tip: You don't have to limit this to your friends. If you have a waitress, bartender or teller with a particularly awesome rock, point those out, as well.
Hint at your favourite brand and store
Are you a real Tiffany's gal or is Birks more up your alley? Let your partner know! This will save them from running around your city looking for engagement ring shops (and possibly ending up at one you don't love). The salespeople can help point them in the right direction once they've arrived, and if you're a huge fan of the brand, they'll be able to help your S.O. pick out a ring that'll make your heart flutter.
See what celebs are sporting
Unless you're getting hitched to a multi-millionaire, you probably won't end up with a rock like Blake Lively's. However, you can get some amazing engagement ring inspo from celebs. Pay attention to the cut of the diamond, its colour, what type of band they have and all those little details. Point out your favourites to your boyfriend or girlfriend to give them an idea of your preferences. Tip: this doesn't just have to be IRL, movie and TV characters often land stunning rings in fictional proposals, so keep your eyes peeled for those, too.
Rally the troops
Your close friends and family members may be called upon when your S.O. starts hunting for an engagement ring, so make sure they know your style. When you're brunching it up with your girl squad make a point of discussing your favourite cuts, colours and bands. Make sure to send off a few photos (or give them the link to your Pinterest board) for good measure, visuals aids are always a plus!
Have a talk
You and your partner have probably had a couple of serious chats about marriage and you're bound to have a few more before they pop the question. While most of these will probably be focused on your life as spouses, don't be afraid to steer the conversation toward engagement rings. Let them know what you love and what you don't love. If surprises aren't your thing, the two of you can ditch tradition and pick the ring together.