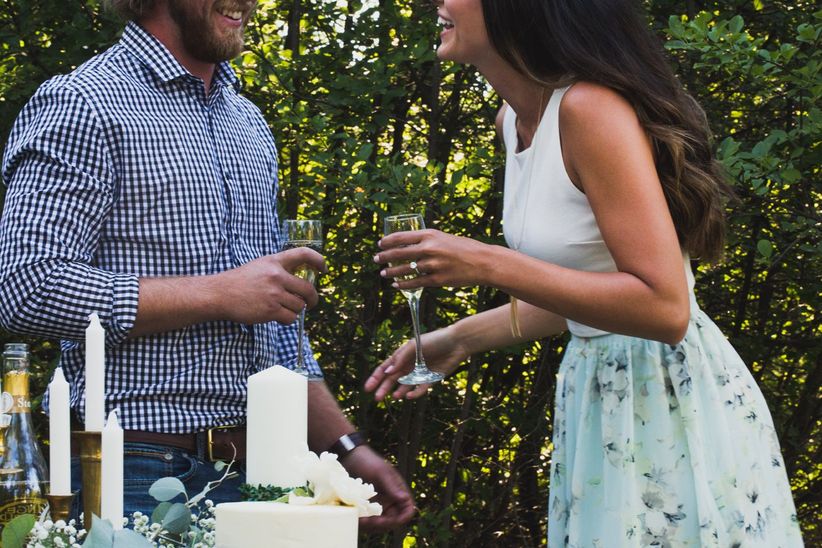 Want to nail that perfect #justsaidyes pic? Well, you're going to need more than just a killer manicure and your engagement ring. These tried and true poses will leave you with a seriously swoon-worthy photo that'll impress your friends, family and followers. Don't forget to share a few details about your engagement in the caption, everyone loves a good proposal story!
Here are the best poses to show off your engagement ring.
With your partner
Include your better half in your photo by having them pose alongside you. There are plenty of options for this one, from embracing to goofing around. Find something that suits your personalities and roll with it. This is definitely the most popular option of the bunch, for obvious reasons.
Holding hands
Want to really show your sparkler? A close-up of you and your partner holding hands is a tried and true engagement ring photo featuring both of you.
With a killer view
Was your proposal's backdrop downright stunning? Put it to good use for your engagement announcement photo! Hold up your hand and snap a shot of your bling and the beautiful place where your S.O. got down on one knee. You may want to blur the background so everyone's focus is on your rock.
With your furry friend
If there are two things the internet loves, it's pets and weddings (I mean, have you been on Pinterest?!). Involving your little fur baby in the post is guaranteed to rake in the likes and comments, so get them groomed and ready to pose.
With your favourite outfit or props
If you're a borderline fashion blogger, you may not want to mess up your feed with a sappy couple photo. Well, good news, you don't have to. Post a pic of you holding onto your most beloved accessory or make a flat lay involving a few of your favourite things (including your ring, obvi). This will make your post extra rebloggable.
A candid from your engagement
Sometimes the best photos aren't staged. If your fiancé(e) hired a friend or photographer to sneakily capture your engagement, steal one of the candids from your proposal for your feed. It'll give your friends and followers a sneak peek into the moment you said yes.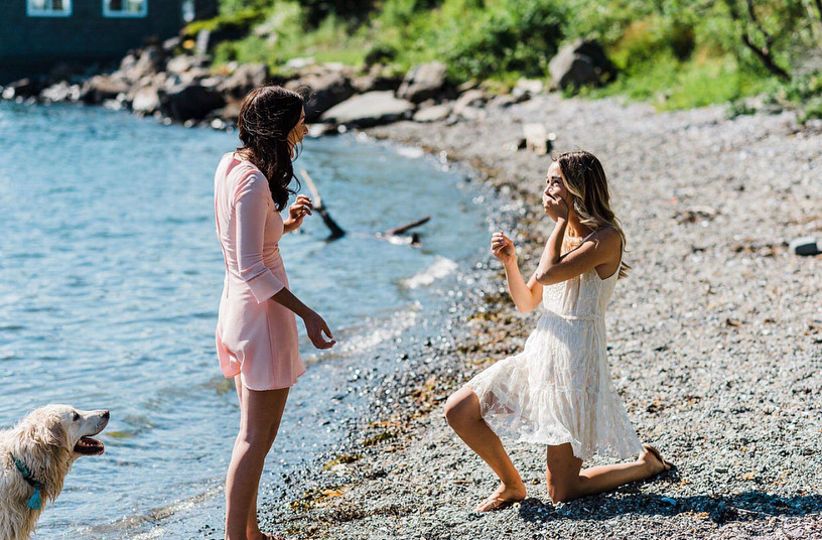 Follow WeddingWire Canada on Instagram and tag us with your #justsaidyes photos »